Champagne and raspberries lend a tangy acidity to a rich low carb creme brulee. This fantastic sugar-free baked raspberry custard recipe is the ultimate in keto desserts.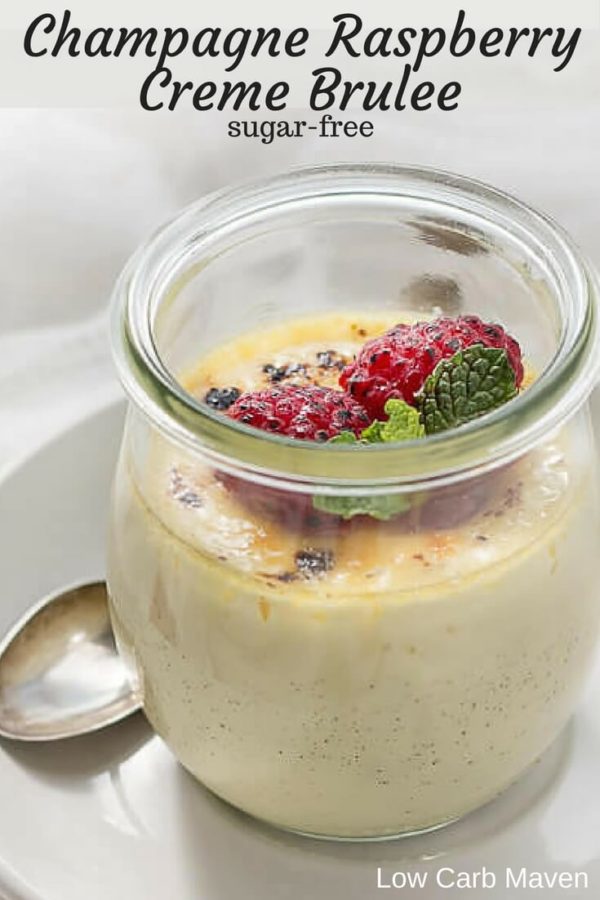 I've shared several recipes for low carb and sugar-free creme brulee this year. My favorite was a decadent chocolate truffle creme brulee followed by coffee creme brulee then I made a vanilla bean creme brulee for my friend at Wholesome Yum. They've all been lovely.
If you haven't made creme brulee before, you're in for a treat. It's one of the most simple desserts around. Have you wondered how to make creme brulee? Pour hot sweetened cream (or coconut milk) over egg yolks, add your flavorings, pour the custard into custard cups or ramekins and bake in a water bath. Chilling brings it all together. Top this baked custard dessert with whipped cream or finish with a burnt sugar top (brulee).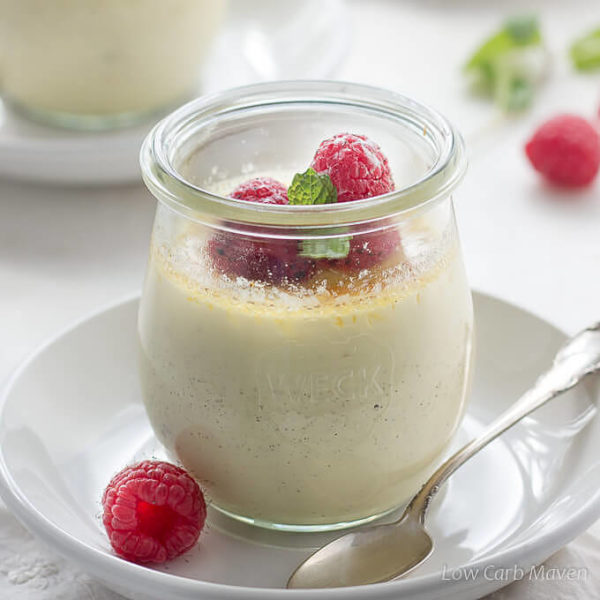 What I really enjoy about creme brulee, even low carb creme brulee, is that it's easy to flavor. Brandy or spiced rum impart a vanilla flavor and a little espresso powder balances richness and brings out flavors in chocolate. Vodka, gin, or champagne cut the richness in creme brulee while whisky adds a sophisticated flavor. There is much experimenting to be done!
For this raspberry creme brulee, I reduced brut Champagne (very dry champagne) to concentrate its flavor and added a few raspberries to the custard. The combination is amazing.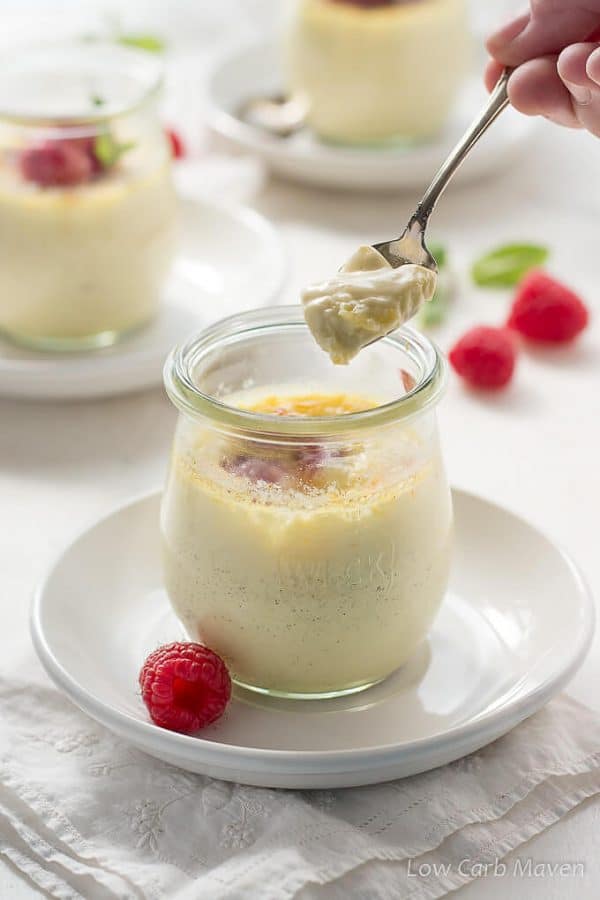 To make sugar-free or low carb creme brulee, simply replace the sugar with a low carb sugar alternative such as erythriol or xylitol. I use an erythritol-stevia blend, Sukrin, but others use Swerve or a Monkfruit sweetener. Everything else is the same.
As I mentioned this custard can be topped with whipped cream. To get the characteristic burnt sugar top or "brulee" sprinkle the top with sweetener and brown with a culinary torch.
Raspberry custard is very delicious, but packs quite a wallop in calories and fat. It's definitely a special occasion treat. Although the recipe states 4 servings, it can easily be made into 6 servings. Use smaller ramekins or fill your custard cups less full. Enjoy!
This delicious Low Carb Raspberry Custard (Creme Brulee) with Champagne is 5 net carbs per serving.
[Post and recipe may contain affiliate links.]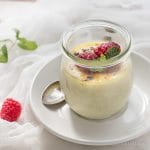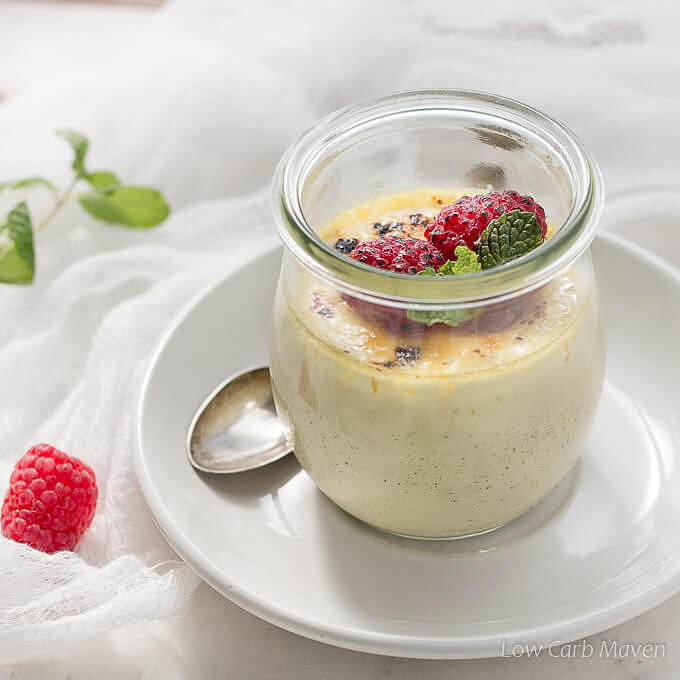 Low Carb Raspberry Custard (Creme Brulee) with Champagne
Brut Champagne and raspberries lend a tangy acidity to a rich low carb creme brulee. This fantastic sugar free baked custard recipe is the ultimate in keto desserts.
Ingredients
1

cup

Brut Champagne

1 2/3

cups

heavy cream

6

large

egg yolks

1/3

cup

Sukrin Melis Icing Sugar (or Swerve Confectioners)

1/4

tsp

stevia glycerite (or more Sukrin to taste)

1/4

tsp

vanilla bean powder (or 1/2 tsp vanilla extract)

2

ounces

raspberries
Instructions
Preparation:
Simmer the champagne over medium low heat - low heat until approximately 2-3 tablespoons are left. Be careful not to burn it. Pour into a small glass bowl to cool.

Preheat oven to 350 degrees and place rack to the middle position. Heat water in a tea kettle until hot, but not boiling. Find a pan large enough to fit 4 ramekins and deep enough to add water halfway up the sides of the ramekins.
Method:
Add the yolks and 1 tablespoon of the sweetener to a medium bowl. Beat well to completely break up the yolks. Remove any chalazae that remain.

Pour the heavy cream into a small pot and add the remaining sweetener and vanilla bean powder (if using extract, add later). Place the pot over medium heat and heat, stirring occasionally with a whisk, until bubbles begin to simmer around the edge of the pot. Turn off the heat and begin pouring the egg yolk into the hot cream mixture – very slowly in a thin stream, while quickly whisking all the while. Whisk in the reduced champagne and stevia glycerite (and add the vanilla extract if you are using that instead.)
Bake:
Place 3 raspberries in each ramekin. Divide the crème brulee mixture evenly between 4 ramekins. Place the ramekins into the pan and fill the pan with hot water half way up the sides of the ramekins. Carefully place the pan into the oven and bake for 30 minutes or until the very enter of the crème brulee is softly set.

Cool the crème brulee in the water bath for an hour before removing to a rack to cool completely. Cover with plastic wrap and refrigerate at least 4 hours (overnight is better).

Before serving, sprinkle 1/2 teaspoon sweetener over the top of each crème brulee. Melt the sweetener with a culinary torch until it caramelizes, turning brown. Alternately, add a dollop of whipped cream to the top. Serve. Garnish with additional raspberries if desired. (Custards will keep in the refrigerator up to 3 days - any longer than that and the raspberries begin to release water.)
Recipe Notes
Nutrition Facts
Low Carb Raspberry Custard (Creme Brulee) with Champagne
Amount Per Serving
Calories 391
Calories from Fat 306
% Daily Value*
Total Fat 34g 52%
Total Carbohydrates 6g 2%
Protein 5g 10%
* Percent Daily Values are based on a 2000 calorie diet.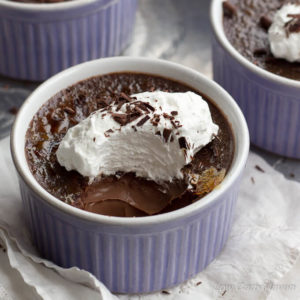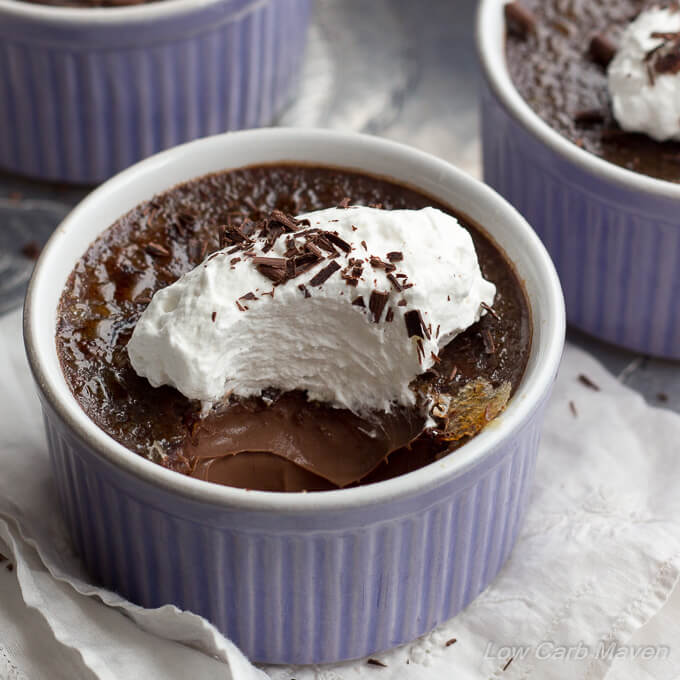 Low Carb Chocolate Truffle Creme Brulee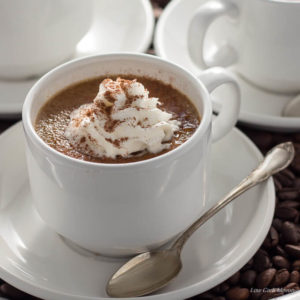 Sugar Free Coffee Creme Brulee
Signup for my Newsletter
Subscribe to get our recipies by email.