We all love them. We love that nutty shortbread cookie texture of the snowball cookies and Mexican wedding cookies we grew up with. I'm super pleased with this keto pecan sandies recipe. Buttery and crispy with enough "tooth" so they don't crumble, this is a butter pecan cookie I'm proud to include on my holiday cookie tray.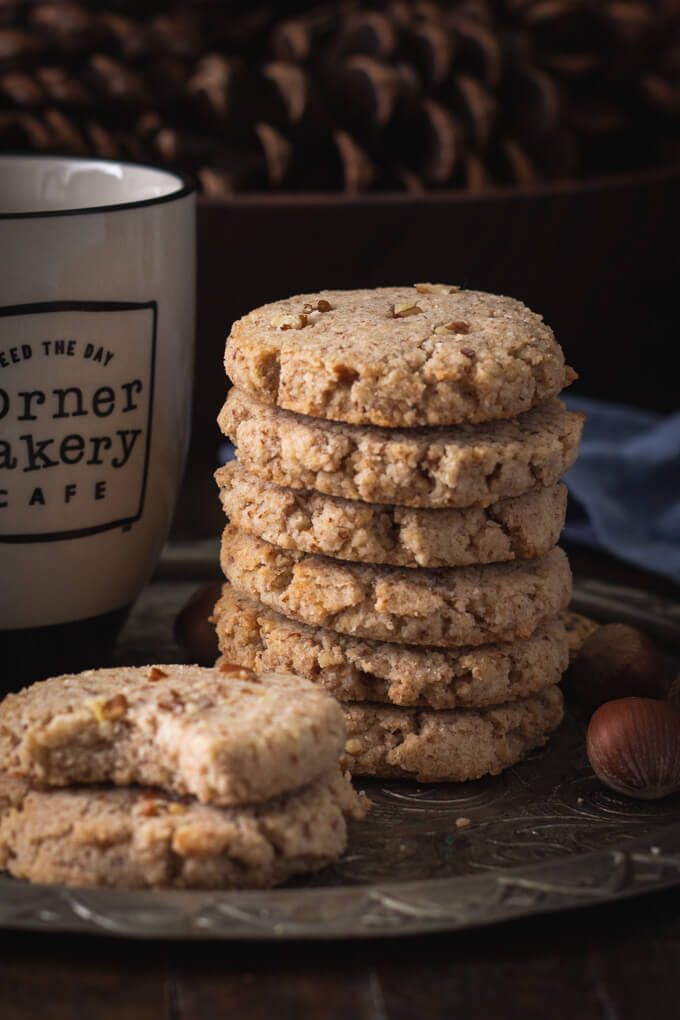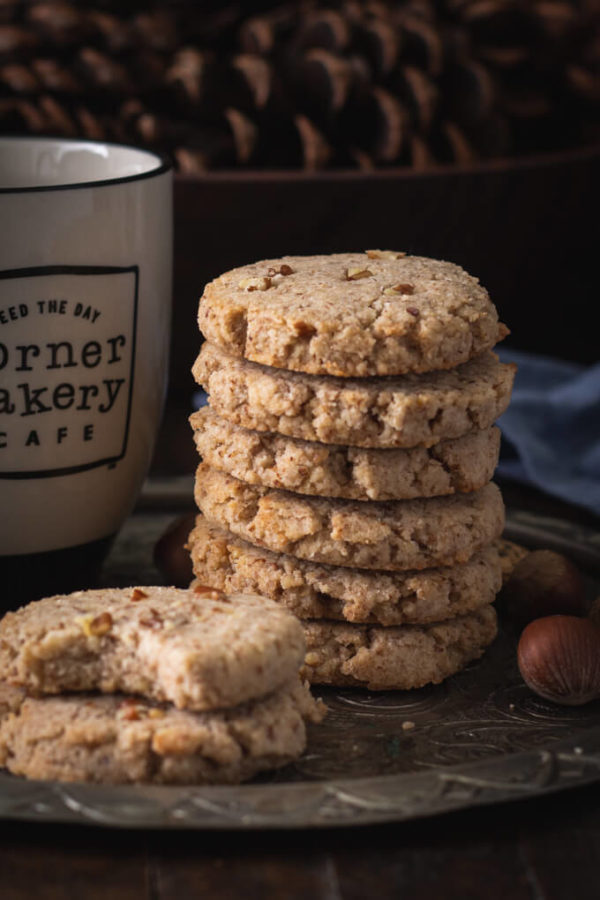 THIS POST INCLUDES AFFILIATE LINKS TO SHARE THE THINGS I LOVE.
Low carb cookies have a reputation of being cake-like confections and not cookie-like at all. But I found the secret to great low carb cookies: setting aside my knowledge of traditional cookie recipes and embracing the variety of low carb ingredients available. The result is a gluten free cookie with the perfect cookie texture, like these low carb oatmeal cookies which would fool anyone! However, these sugar free pecan sandies are my hands-down favorite cookie to date.
The Trick to Great Keto Pecan Sandies
All you need for great keto pecan sandies is cold butter and a food processor! Cutting the cold butter into the dry ingredients and holding the mixture together with an egg white results in that shortbread cookie texture we expect with pecan sandies.
While expensive, a food processor is an absolute work horse in the kitchen and built to last. The trick is to buy them on sale. A full-sized food processor is the perfect item to add to wedding registries and Christmas lists. I find a mini food processor handy for smaller amounts of food items.
NOTE: If you don't have a food processor you might get similar results with using a pastry cutter and a hand mixer, but I haven't tried this method.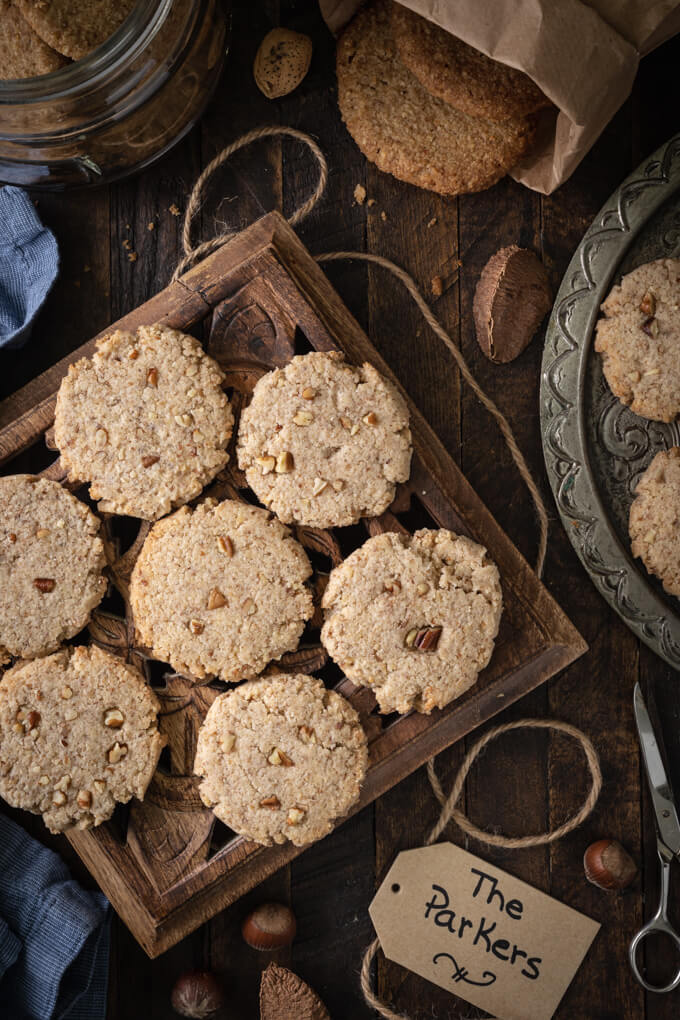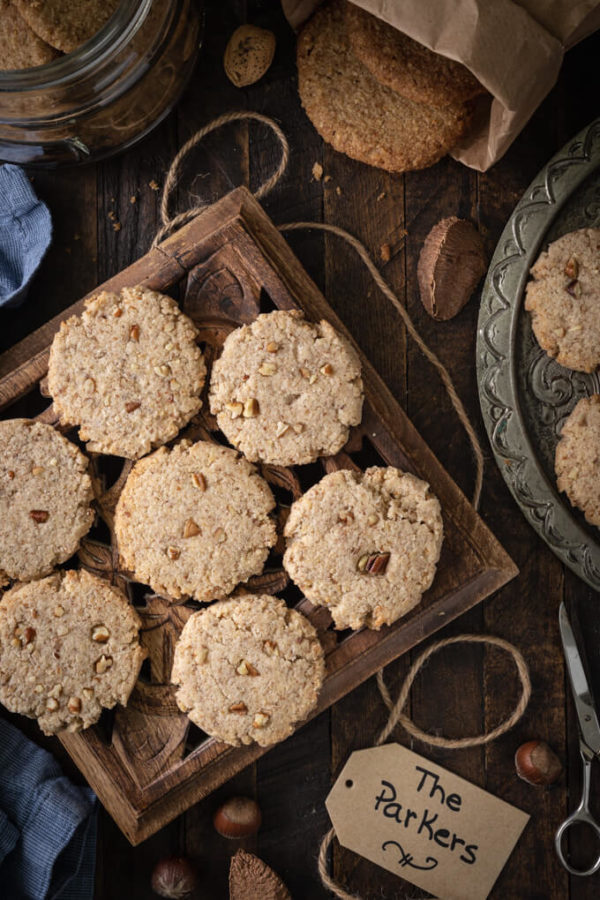 Low Carb Pecan Sandies Ingredients
It turns out I needed several ingredients to make these low carb pecan sandies go from good to GREAT. Almond flour, oat fiber, low carb sugar, xanthan gum, gelatin (optional), salt, baking soda, pecans, butter, vanilla and one egg white.
Like similar sugar free cookie recipes, these start with almond flour. I buy almond flour in my grocery store, the health food store, Amazon and at Costco. It's the best base for keto cookies recipes and other sugar free baking.
The next ingredient is chopped pecans. You can't have a keto pecan cookie without pecans! Process them until chopped, but not dust. They will chop up further with the other ingredients.
BEHOLD THE MAGIC OF OAT FIBER! Many low carb readers may not have heard of it, but THM followers have. Oat fiber is the ground papery husks of oat groats and virtually pure fiber. Although it it's been around for many years, I've been using it more and more.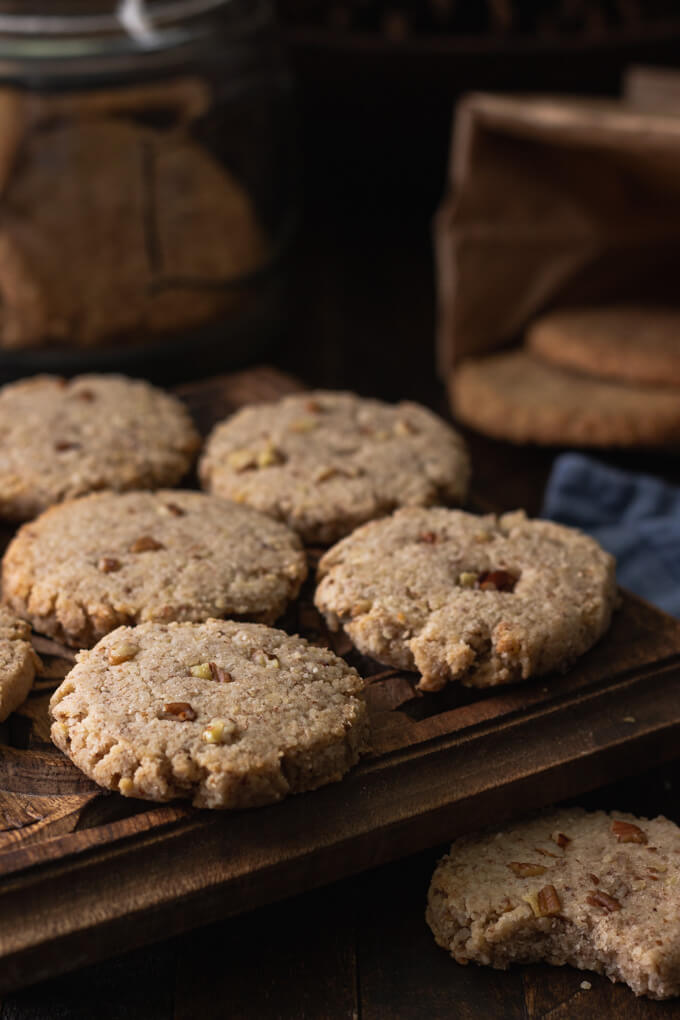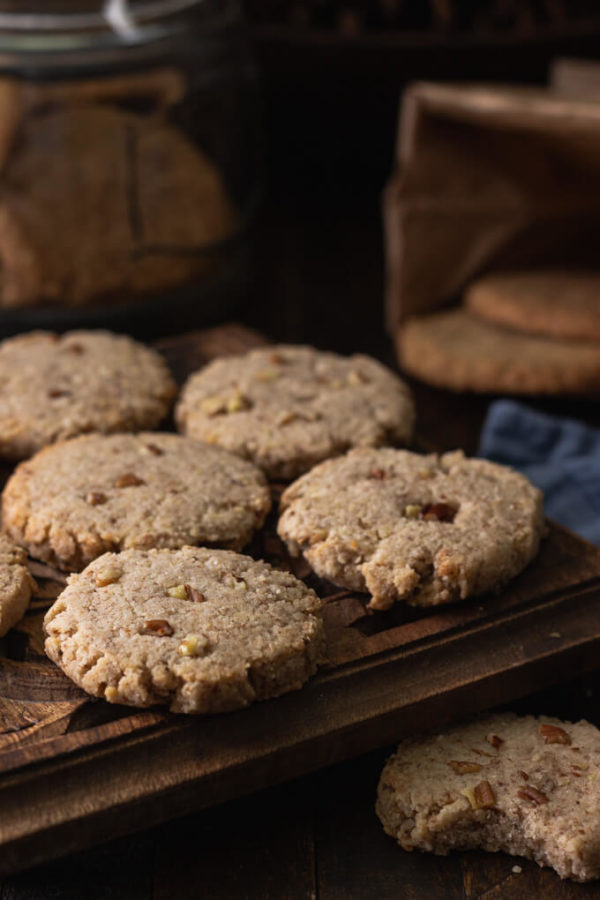 Oat fiber helps keto baked goods achieve a more standard taste by cutting the flavor of almonds. It fluffs-up recipes like coconut flour but doesn't absorb quite as much liquid as coconut flour does. Although a higher total carb count compared to coconut flour, it's offset by its fiber content returning a net carb of zero.
NOTE: Not all oat fiber is the same. It should be white and smell faintly of oats. If it's darker and has a strong smell, it is rancid. I once purchased rancid oat fiber from Amazon so be careful which brand you buy. I've linked to the brand I prefer. Store it in an airtight container in cool dry place.
The last noteworthy ingredient is xanthan gum which is a white powdered thickener and binding agent. Gluten free baking recipes need something sticky like to help bind ingredients together. When xanthan gum particles absorb moisture they swell producing a thick gel. This property enhances texture, serves as an ingredient binder and thickens batters, sauces, ice cream and smoothies. A small package lasts several years.
Can I Sub Gelatin for Xanthan Gum?
While you might get away with subbing gelatin for xanathan gum in some recipes, it doesn't work in this recipe. Omitting the xanthan gum results in crumbly cookies, which are still good, but don't hold together as well.
Baking Low Carb and Keto Cookies
It's very important to let your cookies cool on the cookie sheet for at least 3-5 minutes before moving to a cooling rack. Keto cookies are very delicate until they cool and the erythritol and fats in them harden. Try to eat a cookie before it's completely cool and it will crumble. Let these keto pecan sandies cool at least 2-4 hours before enjoying.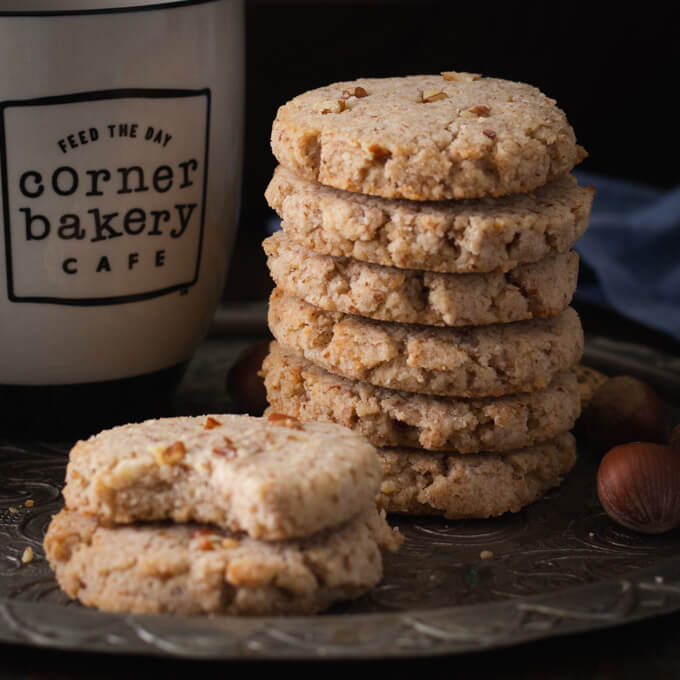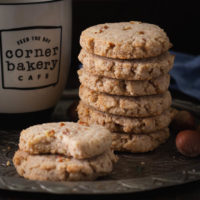 Buttery Keto Pecan Sandies Cookies Recipe
Buttery keto pecan sandies with almond flour and chopped pecans in an easy melt-in-your-mouth shortbread cookie that's also sugar-free. You will love them.
Print
Pin
Rate
Equipment
Food Processor

Sheet Pan 18×13 inch

Parchment Paper

2 tbsp Cookie Scoop
Ingredients
1

cup

Pecans

(4 oz/ 113 g)

1

cup

Almond flour

(90 g)

1/2

cup

Oat fiber

(34 g)

1/2

cup

Low carb sugar

(90 g)

2

tsp

Gelatin

(optional)

1 1/2

tsp

Xanthan gum

1/4

tsp

Baking soda

8

tbsp

Cold salted butter

cut into small pieces

1

Egg white

beaten

1

tsp

Vanilla

Extra sweetener for dipping tops (2 tbsp)
Instructions
Preheat oven to 350 and place rack to middle position. Line a sheet pan with parchment paper.

Pour pecans into food processor and chop into small pieces. Add the next 6 ingredients and pulse to mix.

Cut butter into small pieces and add to food processor, processing until incorporated. It will not come together as a dough.

In a small bowl, beat the vanilla into the egg white. Pour mixture evenly around the ingredients in food processor and process until dough is evenly moist. It may or may not form a ball of dough but should hold together if squeezed lightly in the hand. If not, add 2 tsp water and process again.

Cover and refrigerate dough for 1 hour.

Scoop dough, pushing it firmly into the scoop on the inner side of the bowl. Place cookie dough on parchment lined baking sheet 2 inches apart. Dip tops into sweetener to prevent sticking while flattening. Using a piece of waxed paper and a flat bottomed glass or measuring cup, flatten the cookies – they will not spread.

Bake 10-15 minutes or until cookies begin to brown around the edges. Let sit for 5 minutes before transferring to a cooling rack. Do not eat the cookies until completely cool, about 2-4 hours.

Makes 18 cookies with each cookie having 0.80 g NET CARBS PER COOKIE.
Notes
Store the cookies in an airtight container on the counter for a week, in the refrigerator for several weeks or in the freezer for several months. I have not tried baking from frozen, but consider freezing cookie portions and thawing what you need in the refrigerator before shaping and baking.
Nutrition
Serving:
1
cookie
|
Calories:
126
kcal
|
Carbohydrates:
3.2
g
|
Protein:
2.33
g
|
Fat:
12.16
g
|
Cholesterol:
14
mg
|
Sodium:
57
mg
|
Fiber:
2.4
g
|
Sugar:
0.46
g