A silky, creamy, sugar free coffee creme brulee that tastes like a delicious cup of coffee. Who said low carb keto diets were hard? Suitable for low carb diets like Atkins, Keto, LCHF and THM.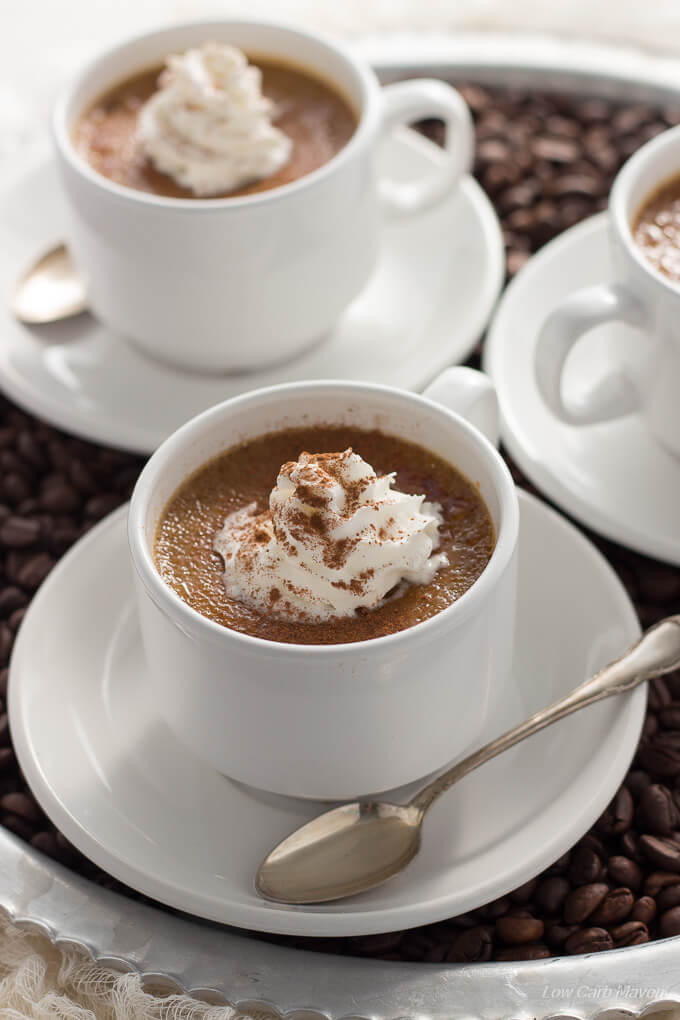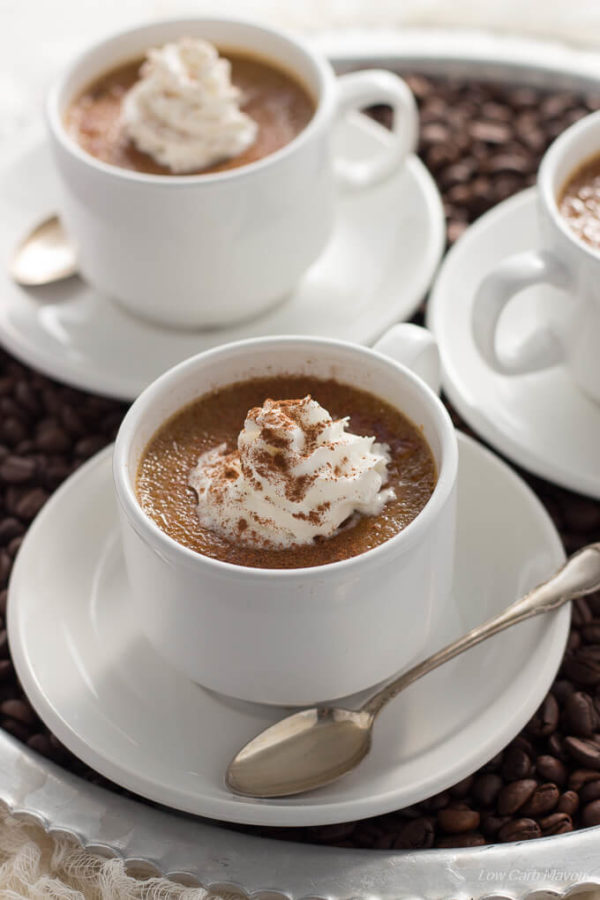 Sugar Free Coffee Creme Brulee… Where have you been all of my life?
I'm not going to lie to you. This is one of the best dessert I've had since posting the Chocolate Truffle Cheesecake in December. Not only is it silky and creamy but it tastes just like a delicious cup of coffee. My children loved this sugar free coffee creme brulee and my tea drinking husband thought is was fabulous.
Some of you have ordered creme brulee at restaurants and others have yet to experience the divine. Creme brulee is a luxurious custard with a crackly caramelized sugar top. The ingredients are uber simple: egg yolks, heavy cream, and sugar. There are many types of creme brulee and every once in awhile you'll see a recipe for a savory version although trasitionally it's served as a sweet dessert.
Thanks to modern natural low carb sugar alternatives, this incredible dessert can even be made low carb. Yes, this coffee creme brulee is absolutely a low carb, ketogenic and sugar free recipe. But even so, it's full of calories so make sure to save it for special occasions.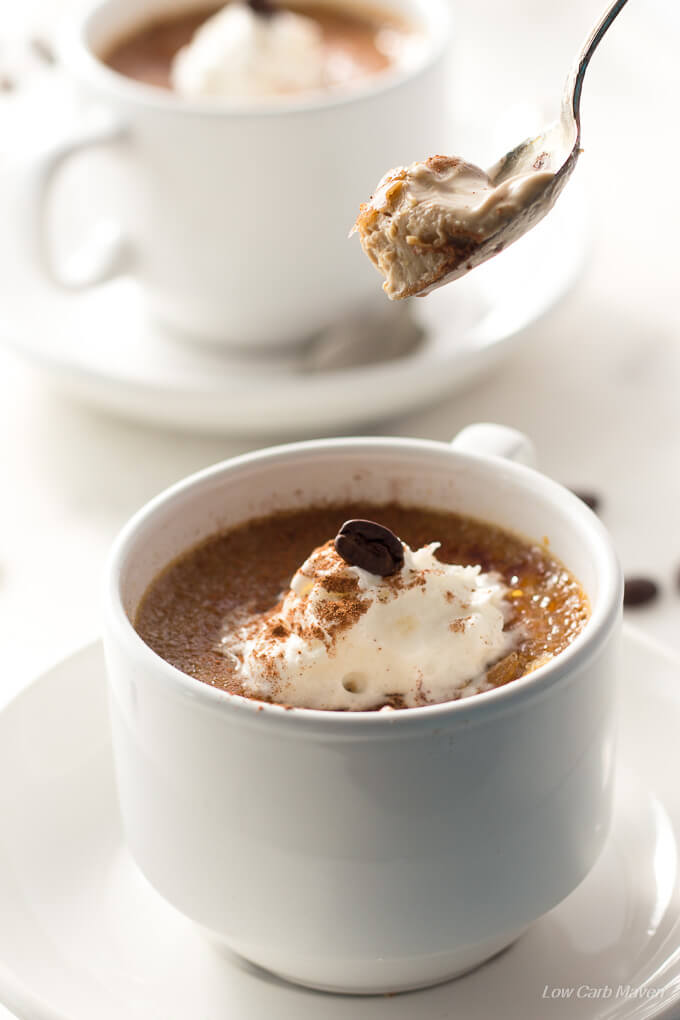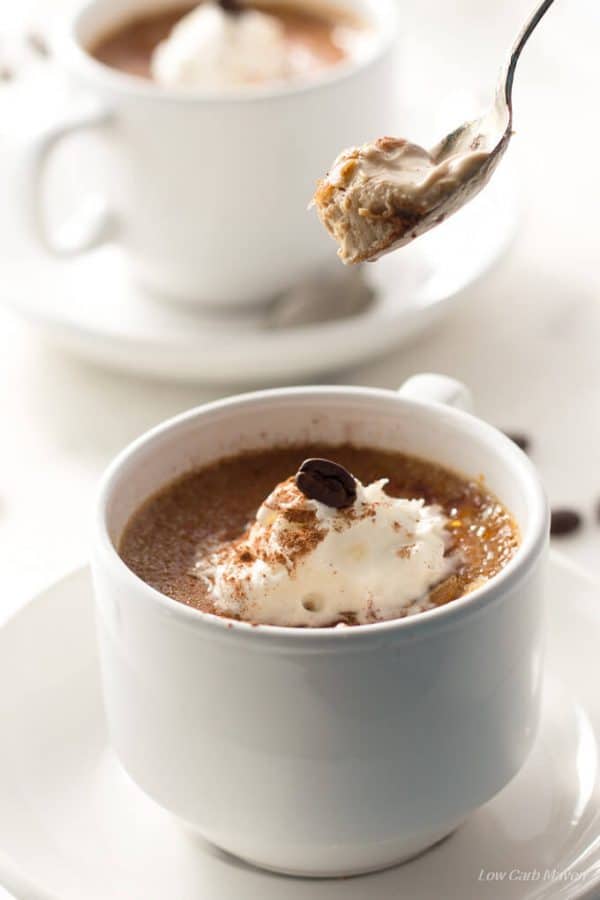 The only tricky thing with this recipe for sugar free creme brulee, and all low carb creme brulee in general, is getting that crackly top. I tried several low carb sweeteners to get that expected "crack" and the sweetener that worked the best was Lakanto Monkfruit Sweetener with Swerve Granulated a better than average second.
You all know how I love my Sukrin products but unfortunately, I didn't like how the Sukrin, and plain erythritol for that matter, performed when I torched the top. I have two culinary torches but this safest torch from Ingeniosity is my favorite. Take heart, a crackly crust on creme brulee is not required, simply add a nice dollop of whipped cream to the top instead.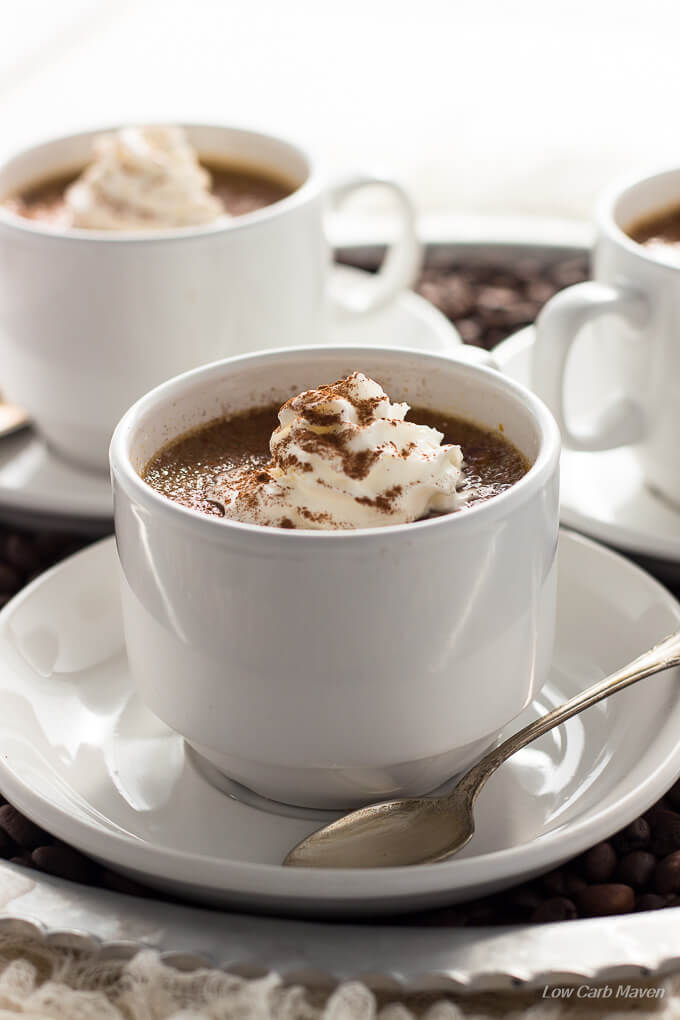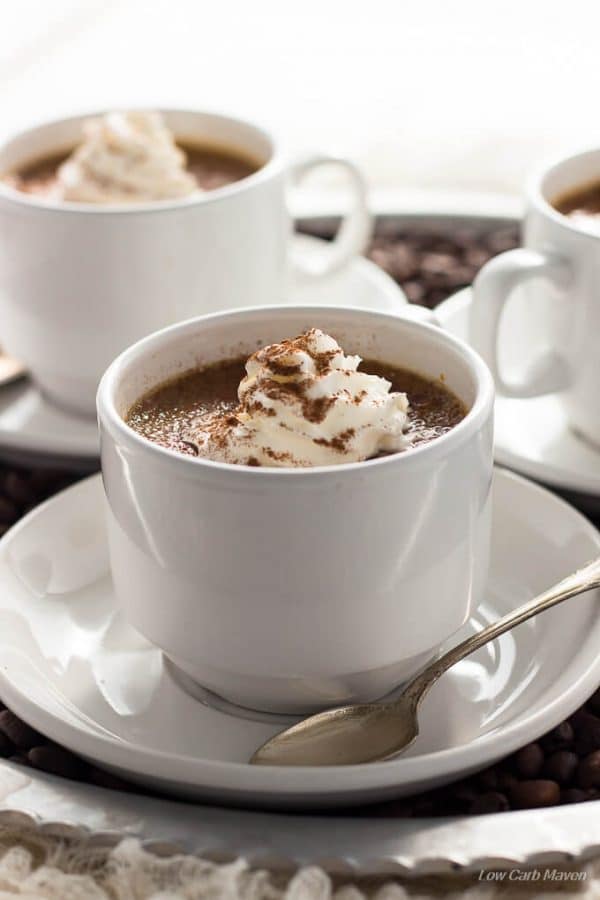 [RECIPE TIPS:] If you have standard porcelain ramekins or glass custard cups your custards will be cooked in 20-30 minutes. It depends on how hot the water bath is initially. Remove the pan from the oven when just the barest center of the dessert looks unset and still jiggly – about the size of a nickel. It will continue to cook in the water bath for a while. My coffee cups needed 30-40 minutes to properly cook because the porcelain was thicker.
Instant espresso resulted in a delicious rich coffee flavor that I do not believe instant coffee could achieve. The brandy gives a nice sophisticated spicy-vanilla flavor to the coffee, but rum would be nice, too. I like V.S.O.P brandy (the bottle with the blue label and top) and spiced rum. As an aside, I use brandy all of the time in my cooking and a bottle will easily last me 2 years.
I don't like to toot my own horn, but this easy dessert is FABULOUS! I wish I could sub this for my daily cup of Joe because that would be awesome.
This Sugar Free Coffee Creme Brulee is 4 net carbs per serving
[This post and recipe contain affiliate links.]
Sugar Free Coffee Creme Brulee (low carb, keto)
A silky, creamy, sugar free coffee creme brulee that tastes like a delicious cup of coffee. Who said low carb keto diets were hard? 4 net carbs per serving.
Ingredients
2

cups

heavy whipping cream

6

large

egg yolks

1/4

cup

Sukrin 1, Swerve granulated or Lakanto Monkfruit Sweetener*

divided

1

tbsp

plus 1 tsp instant espresso

1

tbsp

V.S.O.P Brandy (or rum)

1/4

tsp

stevia glycerite
Optional Toppings
additional sweetener for melting on top*

whipped cream

cinnamon
Instructions
Preparation: Preheat oven to 350 degrees and place rack to the middle position. Heat water in a tea kettle until hot, not boiling. Find a pan large enough to fit the 4 ramekins and deep enough to add water half way up the sides of the ramekins.

Method: Add the yolks and 1 tbsp of the granulated sweetener to a medium bowl. Beat well to completely break up the yolks.

Pour the heavy cream into a small pot and add the remaining granulated sweetener, espresso, and stevia glycerite. Place the pot over medium heat and heat, stirring occasionally with a whisk, until bubbles begin to simmer around the edge of the pot. Turn off the heat and begin pouring the egg yolk into the hot cream mixture - very slowly in a thin stream, while quickly whisking all the while. Whisk in the brandy.

Bake: Divide the coffee creme brulee mixture evenly between 4 ramekins. Place the ramekins into the pan and fill the pan with hot water half way up the sides of the ramekins. Carefully place the pan into the oven and bake for 30 minutes or until the very center of the creme brulee is barely jiggly - about the size of a nickle or a dime.

*See recipe notes in post.

Cool the sugar free coffee creme brulee in the water bath for an hour before removing to a rack to cool completely. Cover with plastic wrap and refrigerate at least 4 hours but overnight is better.

Before serving, sprinkle 1/2 teaspoon of Lakanto Monkfruit Sweetener or Swerve Granulated over the top of each creme brulee. Melt the sweetener with a culinary torch until it caramelizes, turning brown. Alternately, add a dollop of whipped cream to the top and some cinnamon. Serve.
Notes
[NOTE] This is in the post, but not everyone reads the posts...
*Use any sweetener you want Sukrin, Swerve, Lakanto, or your favorite. To torch the top, Lakanto worked best with Swerve at second. You don't have to torch the top. Simply adding a dollop of whipped cream was very nice, too.
Nutrition Facts
Sugar Free Coffee Creme Brulee (low carb, keto)
Amount Per Serving
Calories 510
Calories from Fat 459
% Daily Value*
Fat 51g78%
Carbohydrates 4.5g2%
Protein 7g14%
* Percent Daily Values are based on a 2000 calorie diet.
Nutrition
Calories:
510
kcal
|
Carbohydrates:
4.5
g
|
Protein:
7
g
|
Fat:
51
g
|
Sugar:
0.47
g