A creamy keto chocolate pudding recipe for those in-love with the idea of avocado pudding but unsure of the reality. This chocolate avocado pudding appeals to everyone because you can't taste the avocado!
Want a quick chocolate snack or dessert? Look no further. Enjoy two perfectly portioned servings of pudding in mere minutes. Make this chocolate avocado pudding keto, choose a good quality keto friendly sweetener.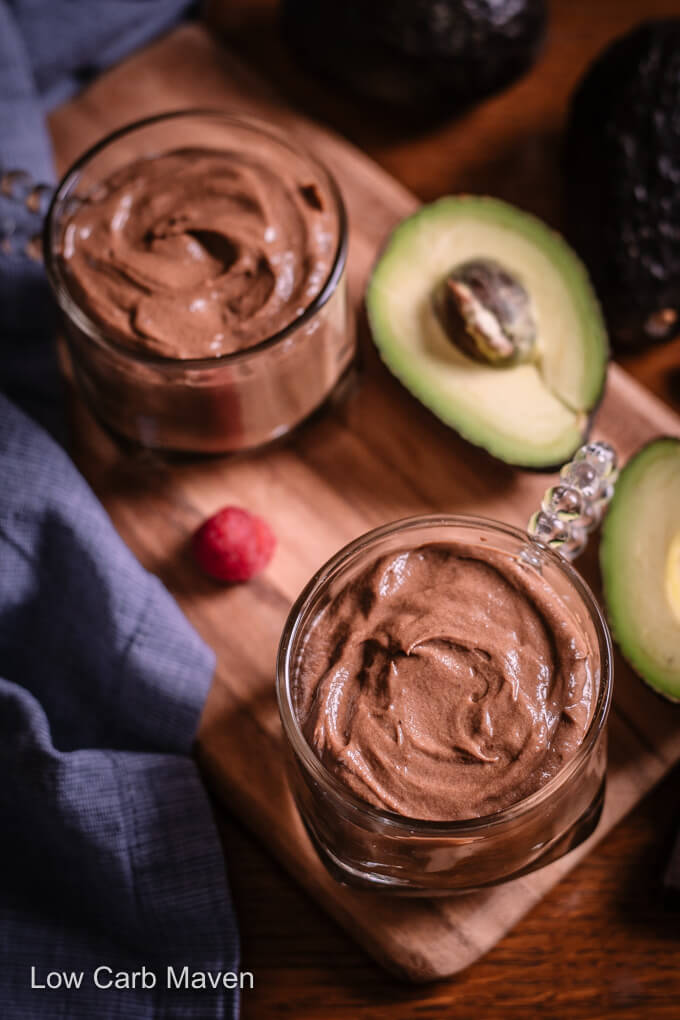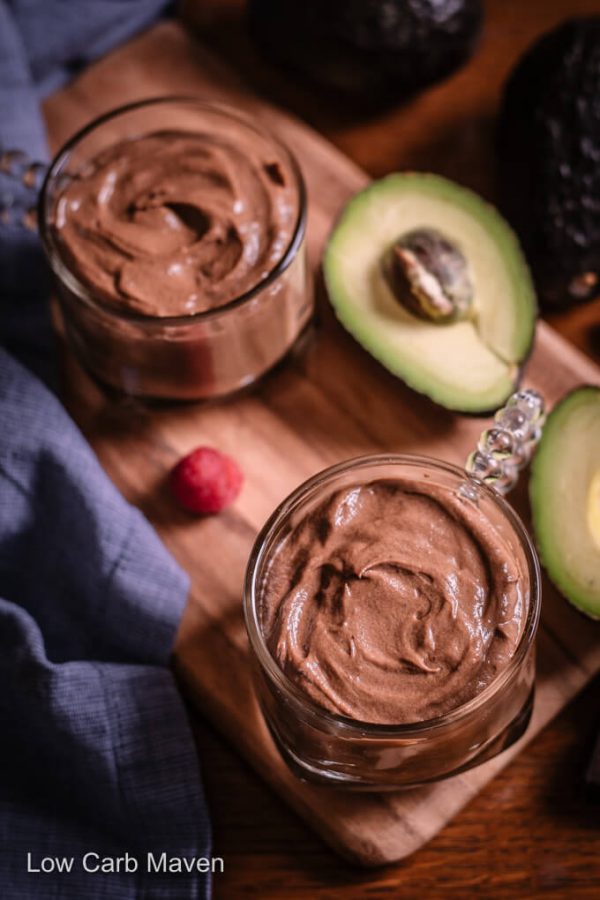 THIS POST INCLUDES AFFILIATE LINKS TO SHARE THE THINGS I LOVE. LCM may earn small commissions through the Amazon affiliate program and others.
For the chocolate pudding lover watching carbs, an easy keto-friendly pudding is a bit of a unicorn. Sugar-free chocolate pudding from the store is mostly starch and hydrogenated oils – yuck! And, low carb pudding made the old fashioned way (like my keto chocolate pastry cream) requires cooking and chilling – too slow.
Luckily, this indulgent keto chocolate avocado pudding is a no-cook recipe that's ready in minutes. Winning!
Why Use Avocados for Pudding? Are Avocados Healthy?
Avocados are high in heart-healthy monounsaturated fat and rich in potassium. One small avocado has roughly 120 calories, 11 g fat, 5 g fiber, 370 mg potassium and is 1.37 net carbs. And while a store-bought sugar-free pudding may have zero grams of sugar it has a whopping 9 net carbs. Clearly, avocado pudding is the healthier keto option.
Keto Chocolate Avocado Pudding Ingredients
The ingredients for this sugar free chocolate pudding are simple.
Ripe avocado
Greek yogurt
Unsweetened cocoa powder (Bensdorp)
Vanilla extract
Pinch of salt
Keto sweetener to taste
Notice that this is NOT a 3-ingredient chocolate avocado pudding. The sugar-free 3-ingredient versions lack proper pudding texture and taste.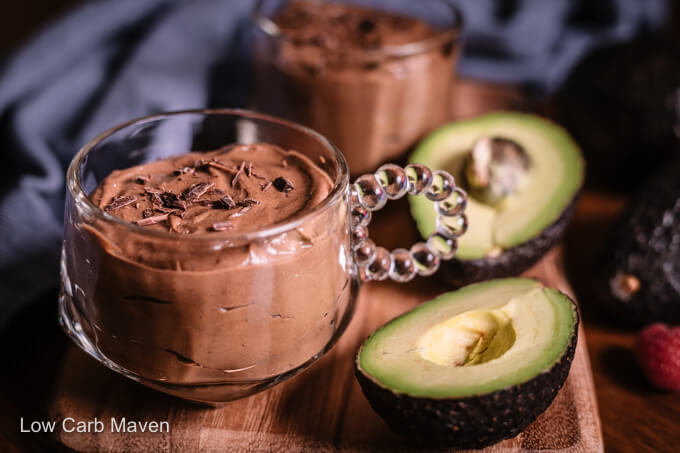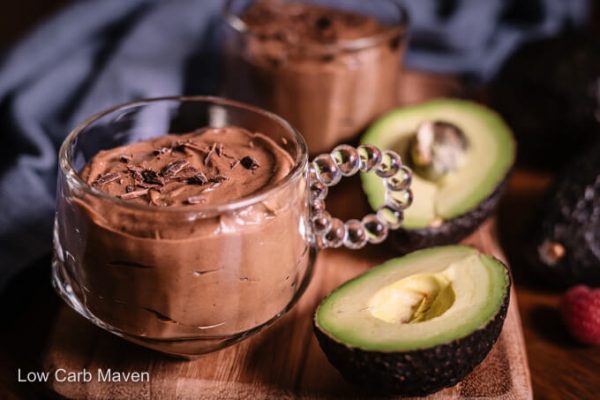 The Best Cocoa For Chocolate Avocado Pudding
Through much experimentation, I found Bensdorp the best tasting unsweetened cocoa in this pudding. It's my very favorite cocoa powder. It has a rich red-brown color and smells just like a chocolate bar. My double dark cocoa was bitter and turned the pudding grey and Hershey's didn't deliver on chocolate flavor (and was a bit acidic).
What Sweetener Should I Use?
Aren't we lucky there are so many low carb keto sweeteners available today? I happened to use a monk fruit erythritol blend, but use your favorite sweetener.
NOTE: Do not use only stevia to sweeten the chocolate pudding. The bitter compounds in chocolate and stevia magnify each other resulting in a terribly bitter product. Also, if using a granulated sweetener opposed to a powdered, make sure to stir long enough for it to completely dissolve.
Do I Need to Use an Immersion Blender?
Although you can use a fork to mash the avocado and mix the ingredients together, an immersion blender creates an unbeatable creamy texture. Look for one that comes with a beaker and a mini food processor for ultimate convenience. It makes for a luxuriously creamy avocado pudding.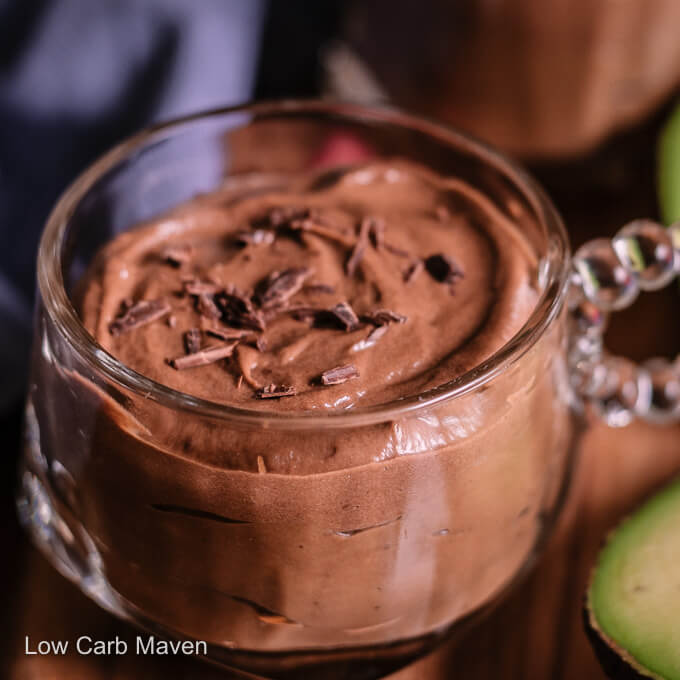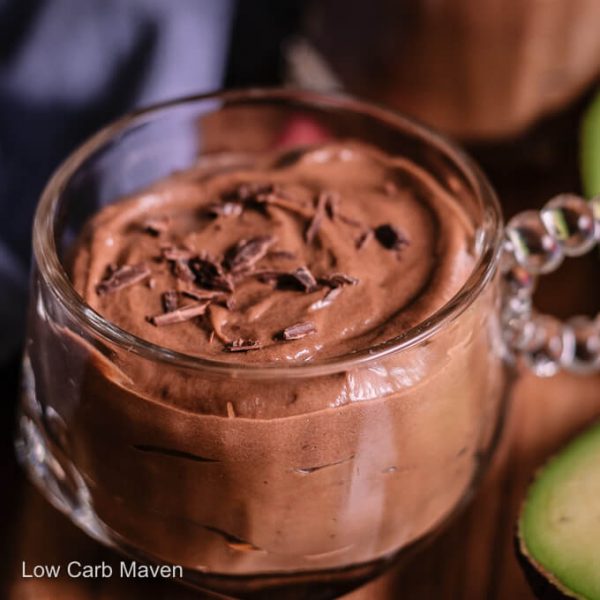 Customize Your Chocolate Avocado Pudding
Try flavor extracts: banana, hazelnut, raspberry (not almond – it fights the avocado)
Add grated orange zest
Top with orange zest, whipped cream, grated chocolate or raspberries
More Keto Avocado Recipes for Avocado Lovers!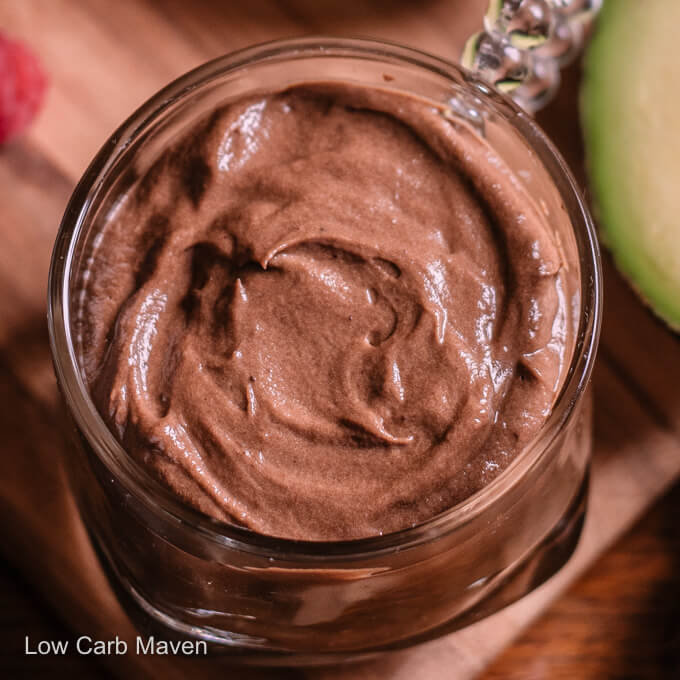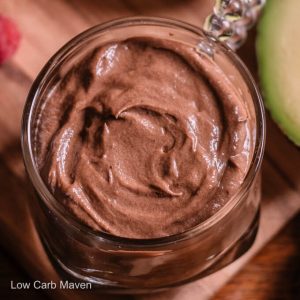 Keto Chocolate Avocado Pudding
Mashed avocado, Greek yogurt and cocoa powder make a great keto chocolate pudding that's ready in minutes. Enjoy as a quick snack or dessert and satisfy those chocolate cravings.
Print
Pin
Rate
Instructions
Add all ingredients to a small bowl and blend with an immersion blender until smooth and creamy. (For a rustic texture, mash with a fork.) Taste and adjust sweetness per you.

Divide between two containers and serve. Makes approximately 3/4 cup.

Store covered in the refrigerator up to 3 days.
Serves 2 at 4.82 NET CARBS per serving.
Notes
(NOTE ONE) Use a RIPE avocado. Unripe avocados have a stronger "green" flavor and a firm, watery texture opposed to buttery, creamy texture.
(NOTE TWO) To make dairy-free and Paleo use 1/4 cup coconut cream and coconut sugar to taste. The pudding will be soft but firm up in the refrigerator as it chills.
(NOTE THREE)
Be careful using stevia with chocolate as they make each other very bitter.
(NOTE FOUR)
One third tablespoon is 1 teaspoon.
Bensdorp, a red cocoa, produces the best color and flavor – It's really wonderful. Black or dark cocoa will turn the pudding gray. Make sure the cocoa powder is free of lumps or you will use more than intended and the pudding may be bitter.
Nutrition
Serving:
0.5
g
|
Calories:
180
kcal
|
Carbohydrates:
13.3
g
|
Protein:
8.86
g
|
Fat:
13.36
g
|
Cholesterol:
6
mg
|
Sodium:
104
mg
|
Potassium:
464
mg
|
Fiber:
7.8
g
|
Sugar:
2.39
g
|
Vitamin A:
5
IU
|
Vitamin C:
7.6
mg
|
Calcium:
19
mg
|
Iron:
1.54
mg