This easy keto snickerdoodles cookie recipe will have you reaching for one more! Surprise your family with the soft, fluffy texture and proper chewiness of regular snickerdoodle cookies without all of the carbs. If you're a fan of sugar cookies and cinnamon you'll love this low carb cookie recipe.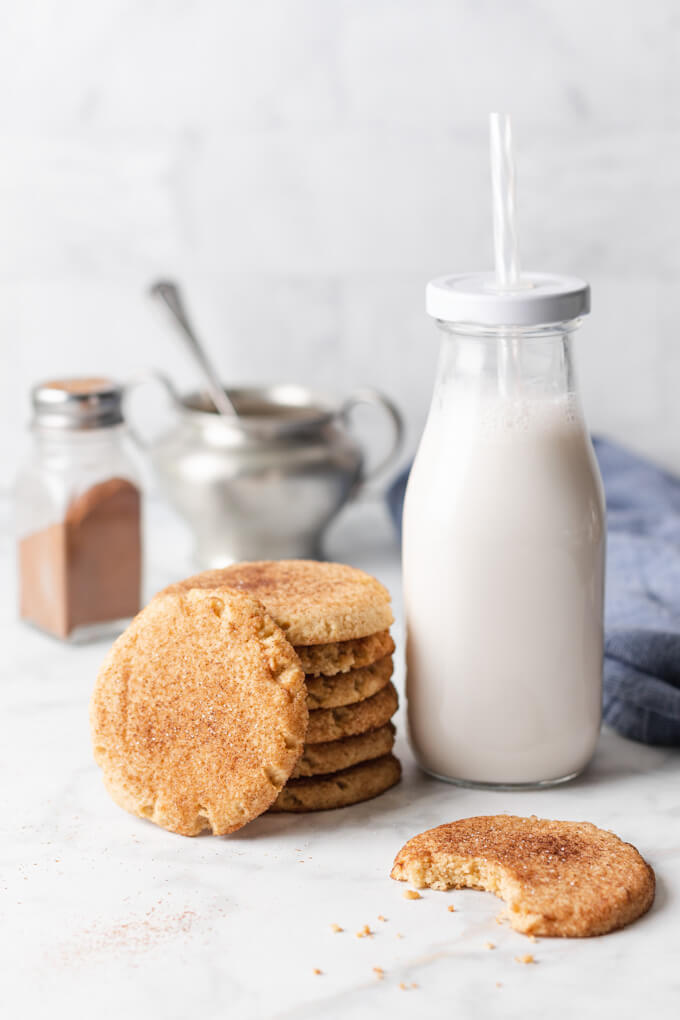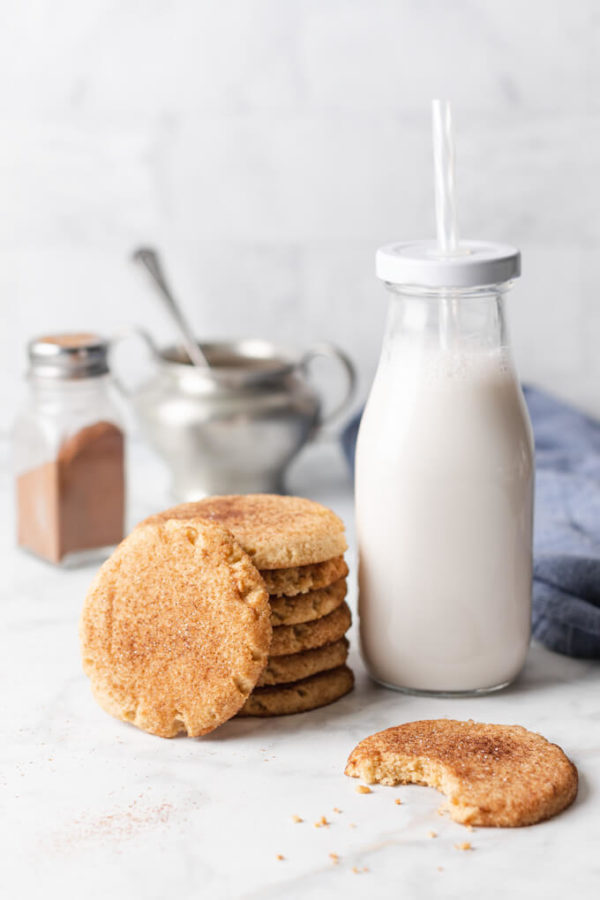 THIS POST INCLUDES AFFILIATE LINKS TO SHARE THE THINGS I LOVE.
The holiday season is the time I shine and so can you. I test my low carb recipes for weeks before sharing them because nobody wants to deal with a recipe fail at Christmas. Holiday baking should be fun! Feel confident including these snickerdoodle cookies, keto pecan sandies or sugar free oatmeal cookies on your holiday cookie tray. Dazzle your friends at the next cookie exchange!
The Ever-Popular Snickerdoodle Cookie
Snickerdoodles are tender buttery sugar cookies with a characteristic fluffy-but-chewy texture and a cinnamon sugar coating. They're easy to make and one of the few recipes for which you're guaranteed to have all of the ingredients on hand. Snickerdoodle cookies are popular all year, and for good reason!
The difference between a regular snickerdoodle cookie recipe and a keto snickerdoodle recipe is more than the difference in carbs. To get a good sugar free cookie recipe with low carb ingredients you need to forget everything you know about making regular cookies.
Keto Snickerdoodle Cookie Ingredients
The challenge of low carb baking is getting familiar texture from gluten free and sugar free ingredients. Keto desserts and keto cookies never have the exact texture as the "real thing", but come pretty darn close. The trick is finding gluten free ingredients that mimic the binding powder of gluten.
For these keto snickerdoodles we need almond flour, oat fiber, low carb sugar, butter, salt, baking soda, cream of tartar, xanthan gum, vanilla, stevia and an egg. For those new to gluten free baking and low carb ingredients, some of the items will seem strange. I assure you they each have a purpose and combine to give the best possible result.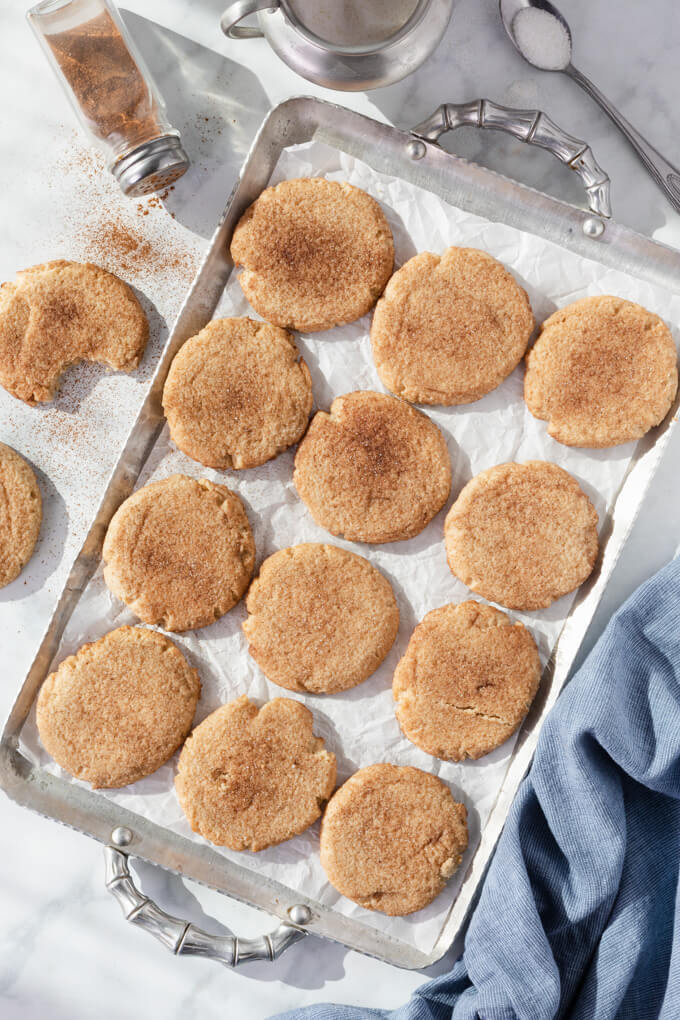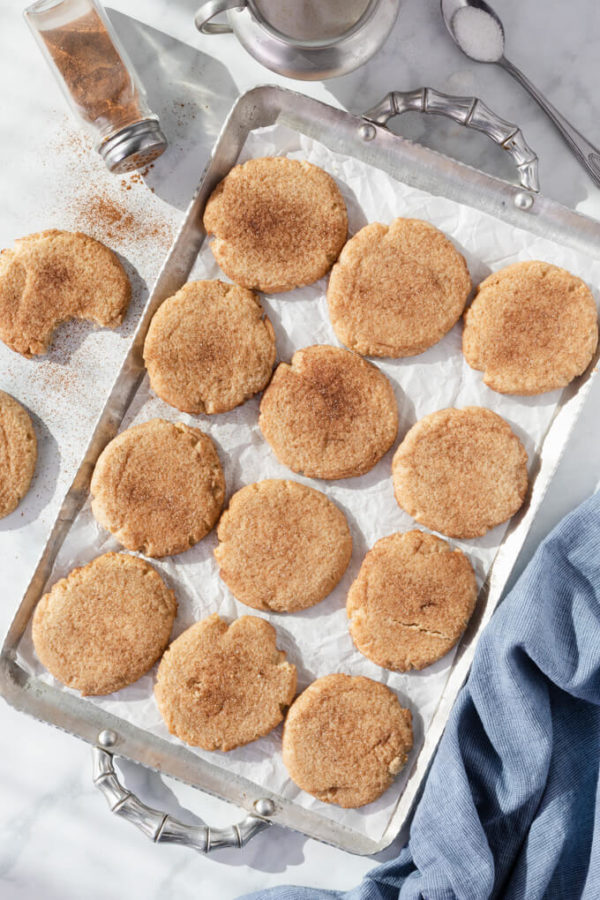 ALMOND FLOUR: The best low carb keto cookies start with finely ground blanched almond flour. Don't be tempted to use whole ground almond flour with the skins – it doesn't bake the same way. Almond flour is available everywhere now. Look for it in the baking aisle or bulk bins at your local grocery, Walmart, Trader Joe's, Costco, health food store or even Amazon.
OAT FIBER: Oat fiber is the ground papery husks of oat groats and virtually pure fiber. Oat fiber helps keto baked goods achieve a more standard taste by cutting the flavor of almonds. It fluffs-up recipes like coconut flour but doesn't absorb quite as much liquid. Although a higher total carb count compared to coconut flour, it's offset by its fiber content returning a net carb of zero.
CREAM OF TARTAR: Snickerdoodle cookies wouldn't be the same without it. Cream of tartar is a naturally derived potassium product of the wine industry. It's an acidic baking aid (tartaric acid) used to boost the leavening action of baking soda. It causes snickerdoodles to raise quickly in the oven and slump upon cooling, forming characteristic surface wrinkles.
XANTHAN GUM: Xanthan gum is a white powdered thickener and binding agent. Gluten free baking recipes need something sticky to help bind ingredients together. When xanthan gum particles absorb moisture they swell producing a thick gel. This property enhances texture, serves as an ingredient binder and thickens batters, sauces, ice cream and smoothies. A small package lasts several years.
LOW CARB SUGAR: The sweetener of choice for low carb keto diets is erythritol, a naturally occurring sugar alcohol. Erythritol is not digested so it contributes zero calories or carbs. Since erythritol is less sweet than sugar, it's combined with enough stevia, monk fruit or chicory root fiber to measure 1:1 with sugar. (Read more about the best low carb sweeteners and how to use them.) Like other sugar alcohols, erythritol produces a cooling effect upon melting so I use the least amount possible and bump sweetness with stevia glycerite.
How to Make the Best Keto Snickerdoodle Cookies
In the low carb cookie world, texture is king. Unfortunately, many low carb and keto cookie recipes result in cake-like cookies or cookies that crumble apart with the first bite. To get the best keto snickerdoodle cookie the right procedure is as important as the right ingredients. Spending a few extra minutes is all it takes.
First, fluff-up the almond flour with a whisk to break up any lumps BEFORE measuring. Don't pack the almond flour into the measuring cup. Level it off with a straight edge. Then, measure all of the dry ingredients (except the low carb sugar) into a small bowl and whisk to combine.
Next, cream the butter and low carb sugar until light and fluffy. Although the erythritol won't dissolve completely, the simple act of creaming the ingredients produces micro-bubbles which improve texture. This step should take about two minutes. Look for the color of the butter to lighten considerably and the mixture to almost double.
Add the cold egg, vanilla and stevia glycerite to the butter and sugar and mix to combine. The mixture will break (separate) but that's normal. Add all of the dry ingredients to the butter and sugar and beat until combined. Cover and chill for 1 hour.
Preheat oven to 350F. Meanwhile, line a cookie sheet with parchment. Scoop the cookie dough with a cookie scoop (I have a 2 tablespoon scoop) and place onto the cookie sheet two inches apart. Roll each portion into a ball and roll in a mixture of cinnamon and low carb sugar. Flatten cookies to 1/3 inch because they don't spread.
PRO TIP: To flatten cookies quickly and easily. Cut off the zipper end of a quart zipper-loc freezer bag. Cut along the seams of the bag to make two pieces of plastic. Place one on a cookie and press down with a flat bottomed glass or cup measure. Repeat. Wash to reuse over and over. This works better than a piece of waxed paper or cling film.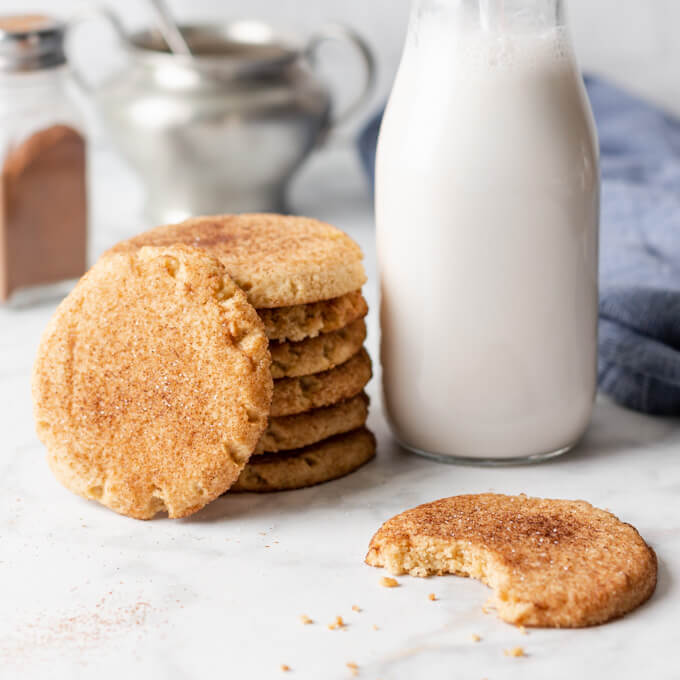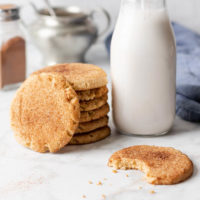 Keto Snickerdoodle Cookies Recipe
Soft and buttery keto snickerdoodles made with almond flour have the perfect cookie texture and a delicious cinnamon sugar coating.
Print
Pin
Rate
Equipment
Cookie Sheet

Parchment Paper

hand mixer

2 tbsp Cookie Scoop
Instructions
Preparation:
Whisk the almond flour and the next 5 ingredients in a medium bowl and set aside.

Cream the butter and low carb sugar until light and fluffy, about 2 minutes. Add the vanilla, stevia glycerite and egg and beat until incorporated. The mixture will break (separate). That's okay, don't over-mix.

Add the dry ingredients to the butter mixture and beat until completely
incorporated, but don't over mix. Cover and refrigerate the dough for 1 hour.
Baking:
Preheat the oven to 350 F and line a sheet pan with parchment paper.

Using a two tablespoon cookie scoop, scoop the dough onto parchment lined paper. Roll the tops in cinnamon sugar, then flatten with a flat bottomed glass or measuring cup. (See post for tips.)

Bake for 12-14 minutes or until the cookies puff up and the edges
begin to brown slightly.

Let the cookies cool on the pan for five minutes before transferring to a cooling rack. Do not touch them until they are completely cool and the erythritol has set – at least 2 hours.

Store in an airtight container in the refrigerator or freeze. The cookies stay crisp in the refrigerator but soften considerably if kept on the counter.

Each cookie has 0.84 g NET CARBS.
Notes
REFRIGERATE raw cookie dough for up to 5 days. Refrigerating longer than an hour will cause the batter to get very stiff. Let it warm up on the counter for 30-60 minutes before scooping and baking for easier handling and best baking results.
FREEZING: Freeze the raw dough to use at a later time. Thaw in the refrigerator before shaping and baking. Let the dough warm up on the counter for 30-60 minutes before scooping and baking for easier handling and best baking results.
TO FREEZE INDIVIDUAL PORTIONS: Scoop the dough with a cookie scoop and place onto a sheet pan to freeze. Then place the individual dough balls in a zip loc freezer bag. Thaw portions in the refrigerator, then let them warm up on the sheet pan for 20 minutes before flattening and baking in the oven.
NOTE: Although I haven't tried, you may substitute 1/4 cup coconut flour for the oat fiber. I do not have a sub for the xanthan gum. You may try konjac powder or psyllium powder, but I do not know how much. Gelatin powder is not an appropriate substitute for xanthan gum.
Nutrition
Serving:
1
cookie
|
Calories:
100
kcal
|
Carbohydrates:
2.24
g
|
Protein:
1.97
g
|
Fat:
9.37
g
|
Cholesterol:
27
mg
|
Sodium:
30
mg
|
Fiber:
1.4
g
|
Sugar:
0.28
g