An easy low carb bagels recipe with fathead dough which results in perfect keto bagels every time. Have bagels ready in minutes for your next breakfast or lunch. (Nut-free option.)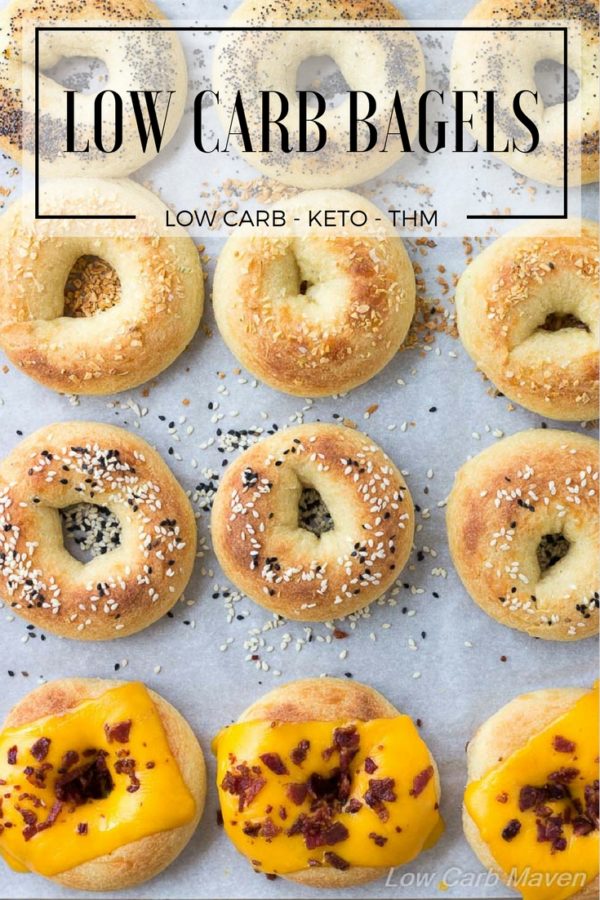 Do you miss having bagels as much as I do? I admit to being a former bread addict and bagels are a weakness of mine. Sesame bagels are a favorite, especially with bacon and scallion cream cheese like Bruegger's Bagels makes. Mmmm. But sometimes, I enjoy my bagel toasted and slathered in butter and sugar-free jam; my favorites are strawberry, raspberry and blueberry.
A blogger friend, Maya from WholesomeYum, recently posted a recipe for bagels using the fathead pizza crust recipe. Imagine healthy low carb bagels made with almond flour and mozzarella cheese! As you probably know, we low carb bloggers use this simple mozzarella dough recipe for almost everything. It's a forgiving recipe accepting tweaks of all kinds for both sweet and savory applications – like bagel dogs.
I've tested this low carb bagel recipe extensively the last several weeks and finally have the recipe and technique down. Don't worry. The recipe is extremely easy. I test my recipes several times before sharing.
…