Low Carb Chocolate Truffle Creme Brulee is rich, chocolaty and decadent! No one would believe that this dessert is low carb and low in sugar. It's outstanding.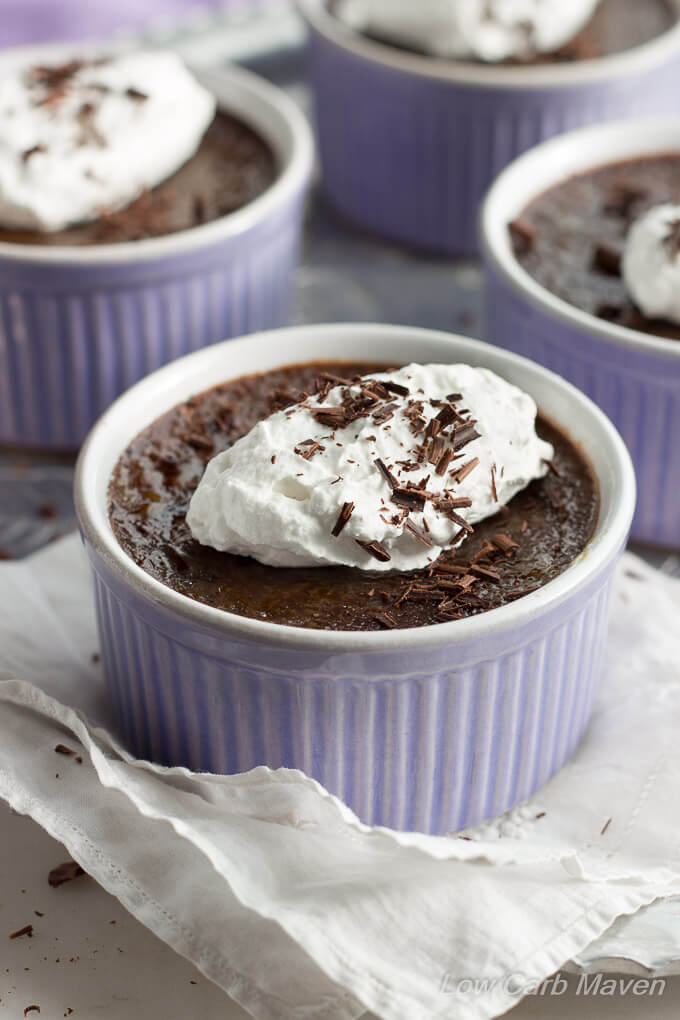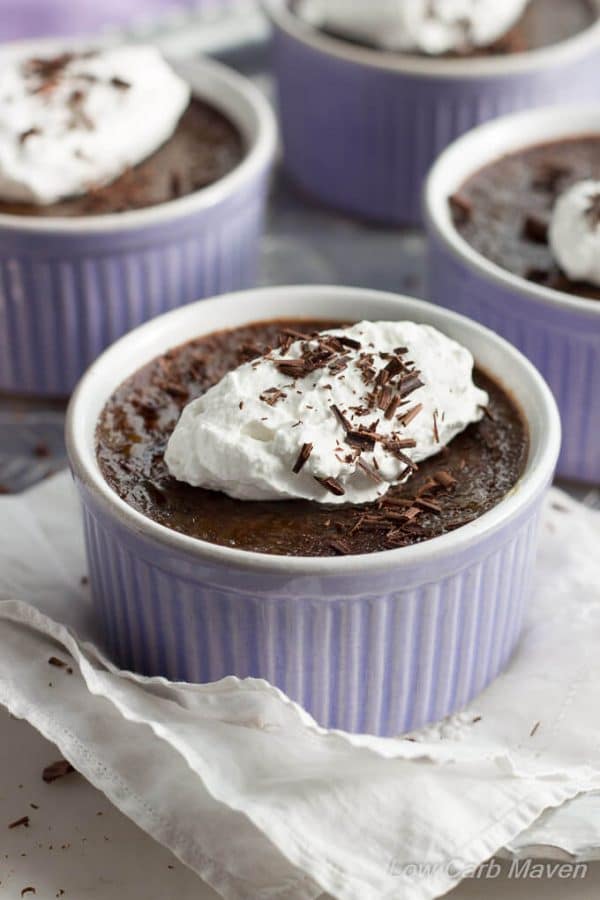 Oh, BOY! You're going to love me for this Low Carb Chocolate Truffle Creme Brulee recipe. I think it's the perfect dessert for Valentine's Day. It's rich and silky just like a chocolate truffle but in custard form. I have worked on 4 creme brulee recipes over the past few weeks, like the Sugar Free Coffee Creme Brulee I posted last week, and they've all been great. This recipe, however, is really special.
As many of you know, I really love chocolate – evidenced by the number of low carb chocolate desserts I have on the blog. One of the most amazing desserts to date is the Low Carb Chocolate Truffle Cheesecake I posted in December which incorporates Sugar Free Chocolate Truffles flavored with brandy. It's the recipe that inspired this low carb chocolate truffle crème brûlée.
If you have never known the extreme pleasure of eating a good creme brulee, read below to discover what you are missing and how easy the dessert is to make.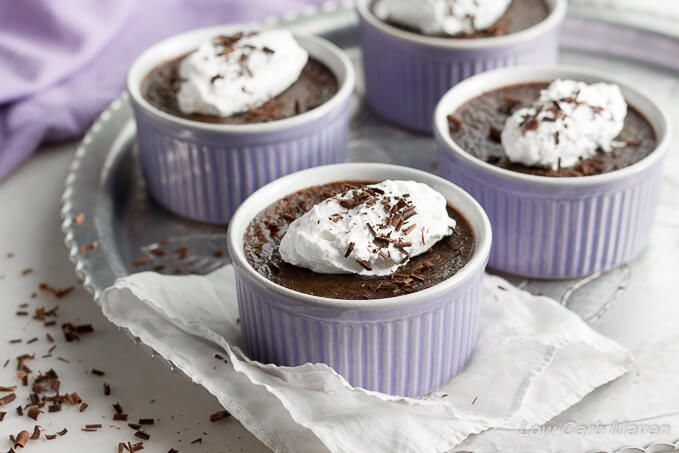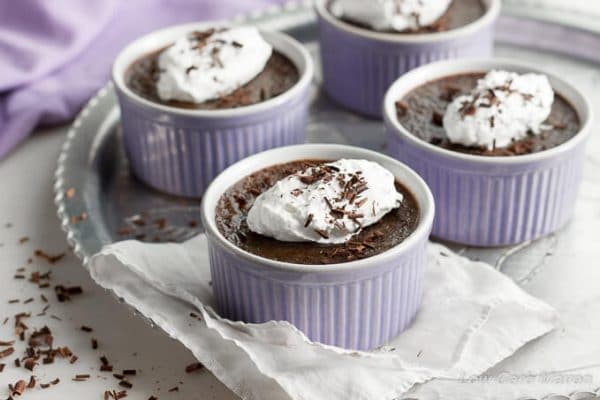 What is Crème Brûlée?
Creme brulee is a decadent creamy custard made of heavy cream, egg yolks, and sugar. After cooking and chilling, sugar is sprinkled over the custard and browned with the use of a culinary torch or by putting the dessert under the broiler. This contrasting layer of caramelized sugar (brulee meaning burnt) gives creme brulee a nice textural interest as well as adds to the overall flavor.
Upon hearing the words creme brulee, one's mind may evoke an image of a special dessert once enjoyed at a favorite fine dining establishment. Since our generation has somewhat lost the knowledge and ability to cook from scratch without the use of convenience items, desserts like creme brulee are surrounded by a bit of mystery. I'm happy to tell you that nothing is further than the truth!
Low Carb Creme Brulee
Low carb creme brulee is just as easy to make as regular creme brulee. In fact, I enjoy the low carb or sugar free versions more. Erythritol and stevia have become the standard low carb sugar alternatives for low carb recipe blogs nowadays. Because erythritol is not broken down by the body, calories are not absorbed and it doesn't spike your blood sugar.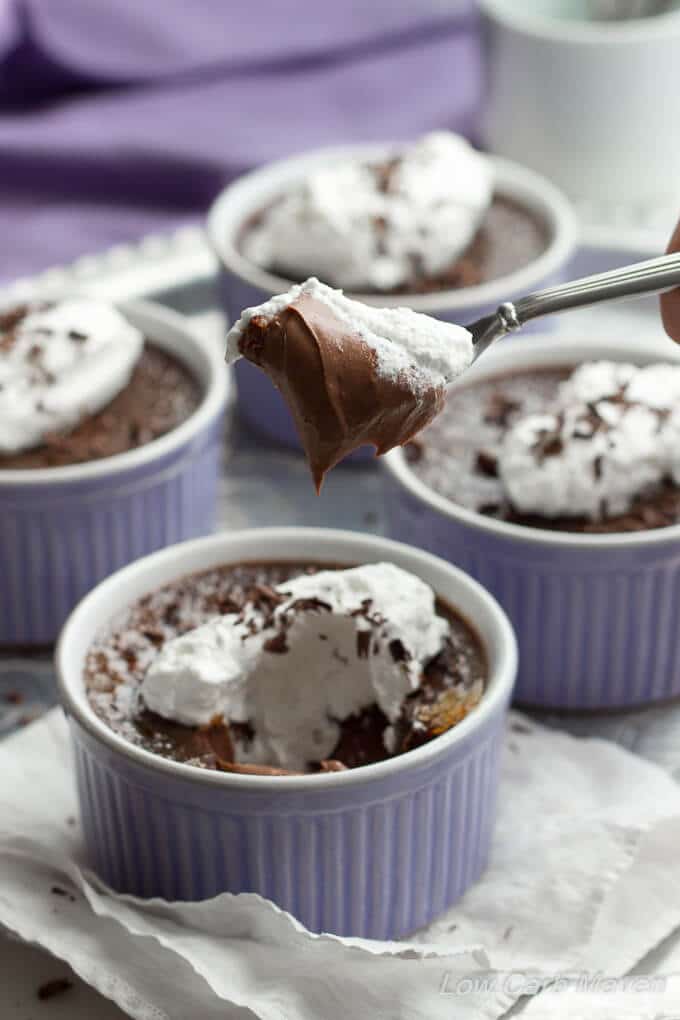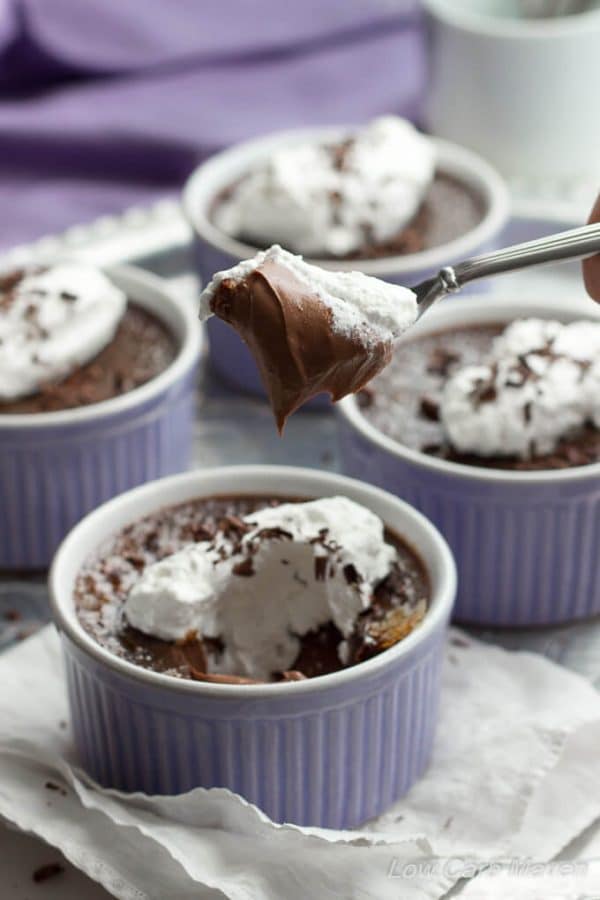 Stevia is an extremely concentrated herbal sweetener often used to augment the sweetness of low carb sugar alternatives. Since low carb subs are expensive, reducing the amount in a recipe and adding stevia helps save money. The only difference in using many low carb sweeteners is that they cool upon melting so it may take a few minutes longer for certain things to cook.
This Low Carb Chocolate Truffle Creme Brulee recipe is a little higher in carbs than other creme brulee recipes because of the chocolate. I used a good quality high cocoa dark chocolate which did have some sugar in it. I could have used sugar free Lily's chocolate chips, but the total carbs were much higher and the net carbs the same.
Because total carbs are important to watch in a low carb keto diet as well, I opted for Ghirardelli 90%. Because this dessert is very chocolatey and rich in flavor, it can be easily shared. My husband and I each shared a serving with our children, which was kinda nice. This allowed us to have dessert for two nights instead of one!
Low Carb Chocolate Truffle Creme Brulee is 8 net carbs per serving but can easily be shared.
[This post and recipe may contain affiliate links.]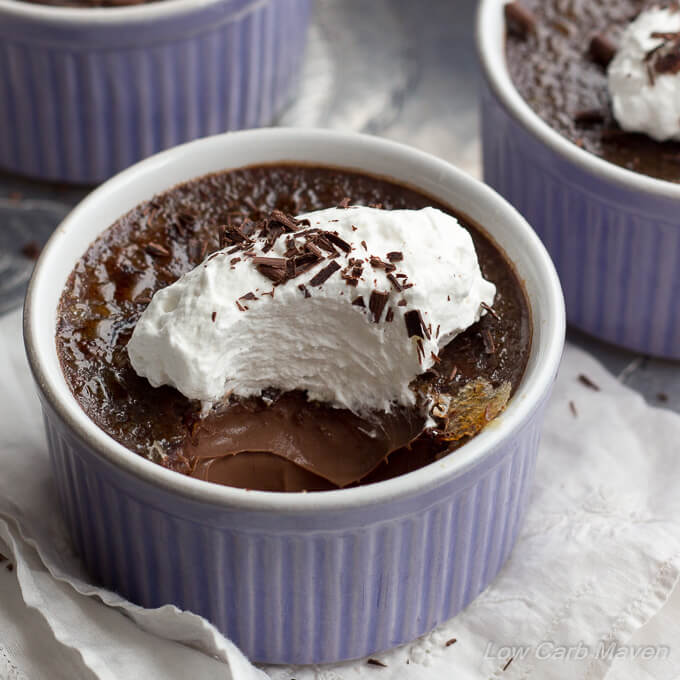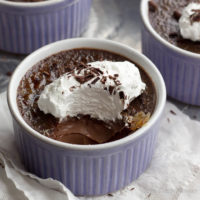 Low Carb Chocolate Truffle Creme Brulee
This low carb chocolate creme brulee is just as rich and creamy as a chocolate truffle. It's is the ultimate in low carb chocolate desserts. Its so rich, you may have to share!
Print
Pin
Rate
Ingredients
Low Carb Chocolate Truffle Creme Brulee
2

cups

heavy cream (16 oz)

5

large

egg yolks

1/3

cup

low carb sugar

divided

3.5

oz

Ghirardelli Midnight Reserve Chocolate bar (90% or 86%)

1/2

tsp

stevia glycerite

2

tbsp

good Brandy (I like V.S.O.P.)
Optional Toppings
additional sweetener for sprinkling on top

whipped cream
Instructions
Preparation: Preheat oven to 350 degrees and place rack to the middle position. Heat water in a tea kettle until hot, not boiling. Find a pan large enough to fit the 4, 6-ounce ramekins and deep enough to add water half way up the sides of the ramekins. Chop the chocolate into slivers.


Method: Add the yolks and 1 tbsp of the granulated sweetener to a medium bowl. Beat well to completely break up the yolks.

Pour the heavy cream into a small pot and add the remaining granulated sweetener, and stevia glycerite. Place the pot over medium heat and heat, stirring occasionally with a whisk, until bubbles begin to simmer around the edge of the pot. Turn off the heat and begin pouring the egg yolk into the hot cream mixture – very slowly in a thin stream, while quickly whisking all the while. Add the chopped chocolate and stir to melt and combine. Whisk in the brandy.

Bake: Divide the chocolate truffle creme brulee mixture evenly between 4 ramekins. Place the ramekins into the pan and fill the pan with hot water half way up the sides of the ramekins. Carefully place the pan into the oven and bake for 30 minutes or until the very center of the creme brulee is barely jiggly – about the size of a nickle or a dime.

Cool the chocolate truffle creme brulee in the water bath for an hour before removing to a rack to cool completely. Cover with plastic wrap and refrigerate at least 4 hours but overnight is better.

Before serving, sprinkle 1/2 teaspoon of Lakanto Monkfruit Sweetener or Swerve Granulated over the top of each creme brulee. Melt the sweetener with a culinary torch until it caramelizes, turning brown. Alternately, add a dollop of whipped cream to the top. Serve.
Notes
Nutrition Facts
Low Carb Chocolate Truffle Creme Brulee
Amount Per Serving
Calories 605
Calories from Fat 540
% Daily Value*
Fat 60g92%
Carbohydrates 10g3%
* Percent Daily Values are based on a 2000 calorie diet.
Nutrition
Calories:
605
kcal
|
Carbohydrates:
10
g
|
Fat:
60
g
|
Fiber:
2
g