Use this allowable low carb food list for Atkins Phase 1, (the Induction phase of Atkins) to help you start your low carb keto diet the right way. Included are fats, meats, eggs, dairy and the lowest low carb vegetables.
As one loses weight, other higher carb foods are added such as nuts/seeds and lower carb fruits. These foods are systematically added back in Phase Two of Atkins. Over time, higher carb foods can be added back to the diet if eaten sparingly and if they fit within one's daily carbohydrate intake. These foods are the foundation of low carb diets.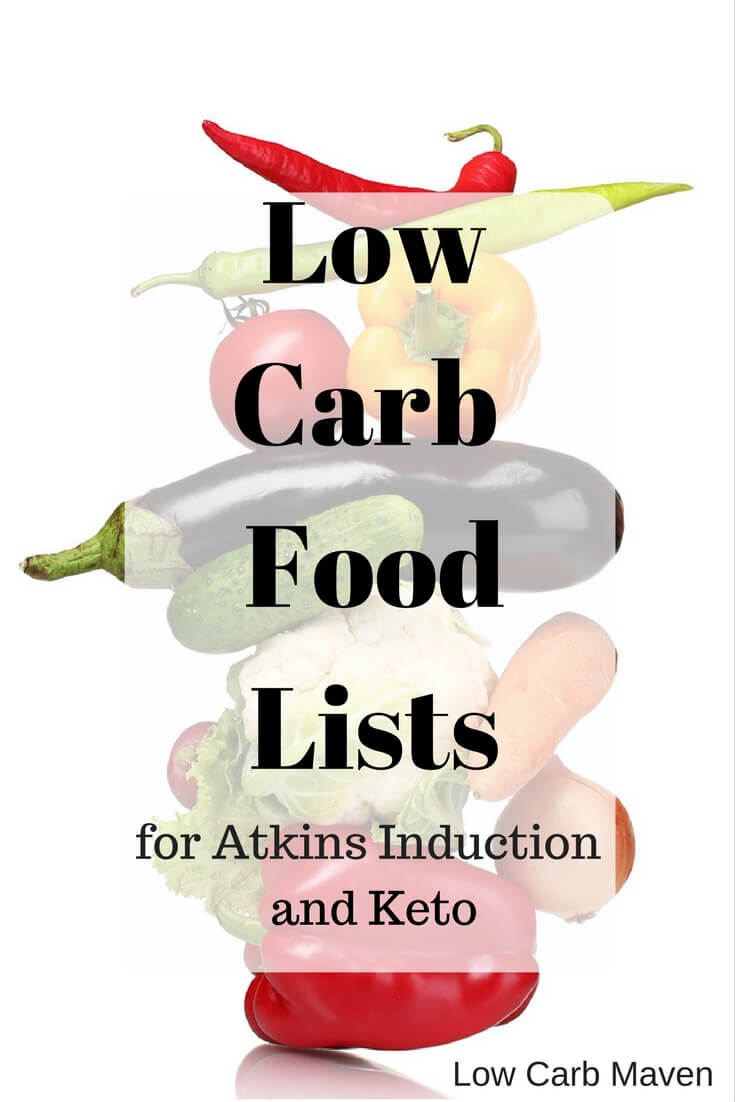 Low Carb Keto Fats
Cold pressed oils are best because they never exceed 120 degrees F. This keeps nutrients intact and avoids oxidation. Some nut oils are suitable for cooking and others are not.
Nut oils
Olive Oils
MCT Oil
Saturated Fats (tallow, schmaltz, lard, duck fat, bacon grease, etc.)
Mayonnaise
Butter, Ghee
Low Carb Keto Meats
All meats are suitable for Induction, but beware of processed meats. Many processed meats are cured with sugar or injected with flavorings that contain sugar. Look at the carb counts before buying or consuming.*
Beef, beef products*
All Fish
All Fowl, fowl products*
All Game, game products*
Lamb, lamb products*
Pork, pork products*
Shellfish (mussels and oysters are higher in carbs, so eat in moderation)
Veal
Eggs
Eggs contain all the essential building blocks for life. They are a healthy and inexpensive form of protein.
All eggs
Chicken
Duck
Geese
Ostrich
Quail
Low Carb Keto Dairy
Choose full fat dairy. Some people are sensitive to the sugar content in dairy and for them, weight loss may stall. Because dairy has some carbohydrates, limit cheese to 3-4 ounces daily and heavy cream to ¼ cup.
Fresh Cheeses
Hard Cheeses
Soft Cheeses
Ricotta Cheese
Heavy Cream
Sour Cream
Low Carb Keto Nuts and Seeds
Nuts and seeds are a great addition to low carb keto diets. They contain fairly equal amounts of protein, carbs and fat. Because they are nutritionally dense for their size, nuts and seeds should be limited. Watch portion size or you risk becoming a victim to carb creep.
Almonds

Brazil nuts

Cacao nibs

Chia seeds

Coconut

Hazelnuts (filberts)

Macadamia nuts

Peanuts (technically a legume)

Pili nuts

Pecans

Pine nuts

Pistachios

Poppy seeds

Pumpkin seeds

Sesame seeds

Sunflower seeds

Walnuts
Low Carb Keto Salad Vegetables
Arugula
Celery
Chives
Cucumber
Endive
Escarole
Fennel
Jicama
Lettuces (leaf and head)
Mushrooms
Peppers
Radicchio
Radishes
Romaine
Spinach
Sprouts
Watercress
Low Carb Keto Foundation Vegetables
Onions and garlic are naturally high in sugars, use them in smaller amounts. Avoid starchy vegetables like potatoes and sugary vegetables like carrots and beets.
Artichoke
Asparagus
Avocado
Bell Peppers
Bok Choy
Broccoli
Broccoli Rabe
Brussels Sprouts
Cabbage
Cauliflower
Chicory Greens
Chile Peppers
Collard Greens
Cucumber
Dandelion Greens
Eggplant
Escarole
Fennel
Garlic
Green Beans
Hart of palm
Jicama
Kale
Kohlrabi
Leeks
Okra
Olives
Onion
Pickle, dill
Pumpkin
Rhubarb
Rutabaga
Spinach
Sprouts
Sauerkraut
Shallot
Snow Peas
Spaghetti Squash
Summer Squash
Swiss Chard
Tomato
Turnip
Turnip Greens
Zucchini
Low Carb Keto Salad Dressings
Choose full fat salad dressings that are 1 net carbs per serving or less.
Blue cheese (Roquefort)
Caesar
Oil and Vinegar
Ranch
any dressing that is 1-2 net carbs per serving or less
Herbs, Spices and Seasonings
Use herbs, spices and Seasonings to taste, but make sure that they do not contain added sugars. Fresh herbs provide a burst of flavor to a dish after cooking.
—————
For more information about low carb diets read my Low Carb Diet Beginners Guide.