Brightened with the slight tang of buttermilk, these classic low carb vanilla cupcakes are topped with a luxurious sugar-free cream cheese frosting, delivering just the right amount of sweetness to this fun dessert. What's even better is that they are low carb and perfect for any ketogenic diet.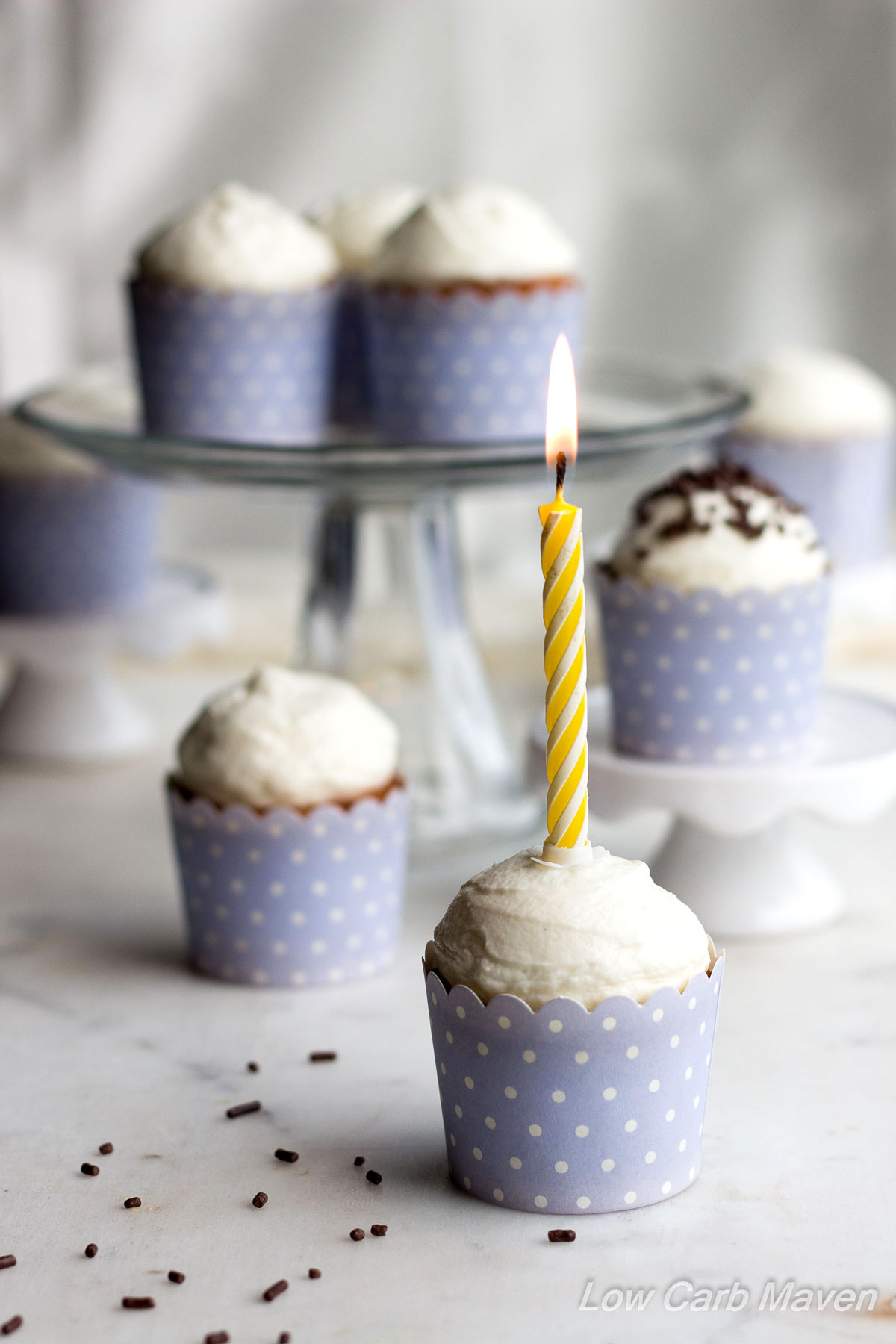 It's my birthday on Sunday and I wanted to celebrate by sharing some low carb birthday cupcakes with you!
But not just any low carb cupcakes would do — they had to have classic vanilla flavor with just enough "pow" to make 'em WOW! Okay that was super cheesy. These low carb Vanilla Buttermilk Cupcakes with Cream Cheese Frosting are everything I wanted in a fancy little birthday cake package!
I love how cupcakes have enjoyed a popularity of epic proportion over the last several years. I confess to binge watching Cupcake Wars on Food Network and I'm always blown away with what I see; creative flavors, innovative techniques and bold use of new ingredients. I, too, decided to challenge myself with flavor, technique, and the use of a new ingredient.
Flavor: This is the first vanilla cupcake I have shared on the blog

Technique: I rethought my traditional cupcake recipe and method

Ingredient: I had fun incorporating a new ingredient – Lakanto Monk Fruit Sweetener
(Just so you know, this is not a compensated post. I received some samples in the mail and all thoughts and opinions are my own.)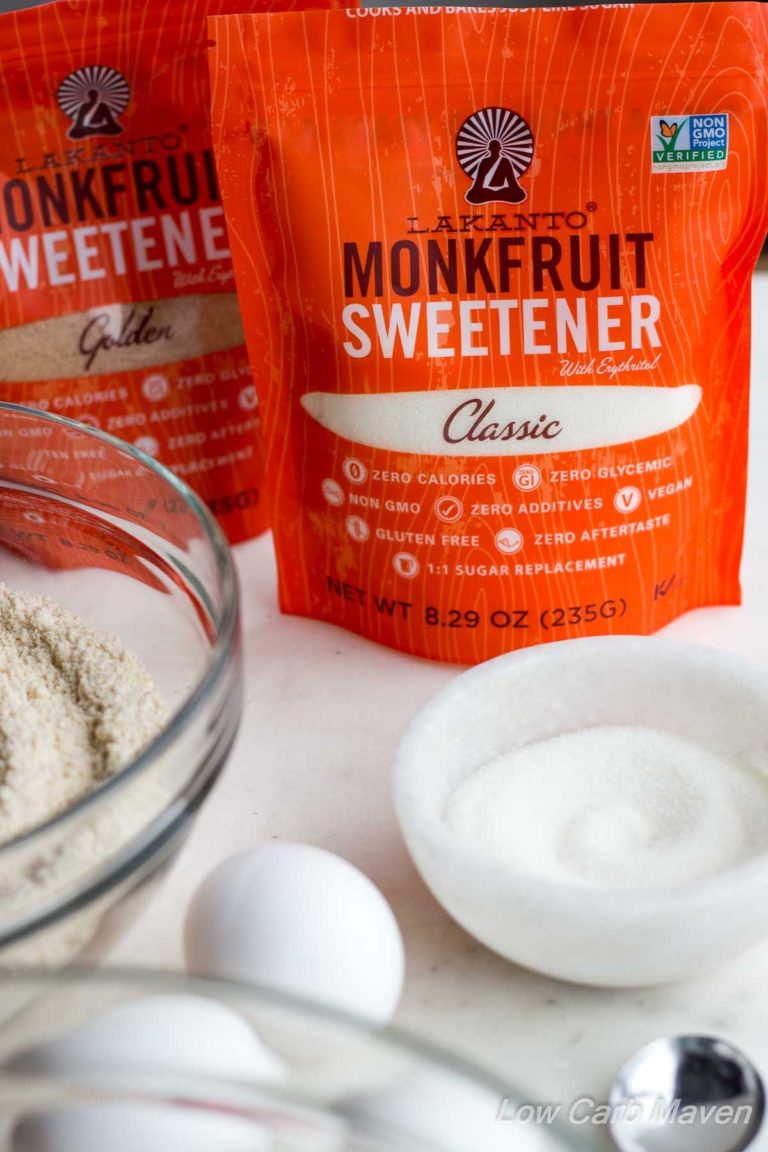 So, what is monk fruit ( lou han guo), how does it fit into a low carb, ketogenic lifestyle and what is it doing in my cupcakes?
Monk fruit is a small melon or gourd cultivated in Southern China and, like stevia, is 300-400 times the sweetness of sugar. Because the fruit does not keep well, it is typically dried and sold as an additive for cooling drinks and teas and used in traditional Chinese medicine to treat diabetes. It is dried in ovens to help reduce competing and undesirable flavor compounds and must undergo processing to purify it's sweet taste. Because it gets its sweetening power from compounds called mogrosides (think stevia) it seems to have little effect on blood sugar.
For my super-duper-special low carb vanilla buttermilk cupcakes I chose to use a couple of special ingredients to help me achieve the texture and taste I wanted. Of course I used the ubiquitous almond flour, and coconut flour, but I traded the protein powder for this premium oat fiber which I found on Amazon.
The oat fiber is almost pure fiber and has a starchy-whole-wheat flavor which I like. Oat fiber, like coconut flour, absorbs a lot of liquid. If you have used coconut flour or oat fiber in sugar-free baking before, then you know you must use a large amounts of eggs, a lot of oil, and/or a lot of liquid in order to make the recipe work. I found a way around that problem by rethinking my technique.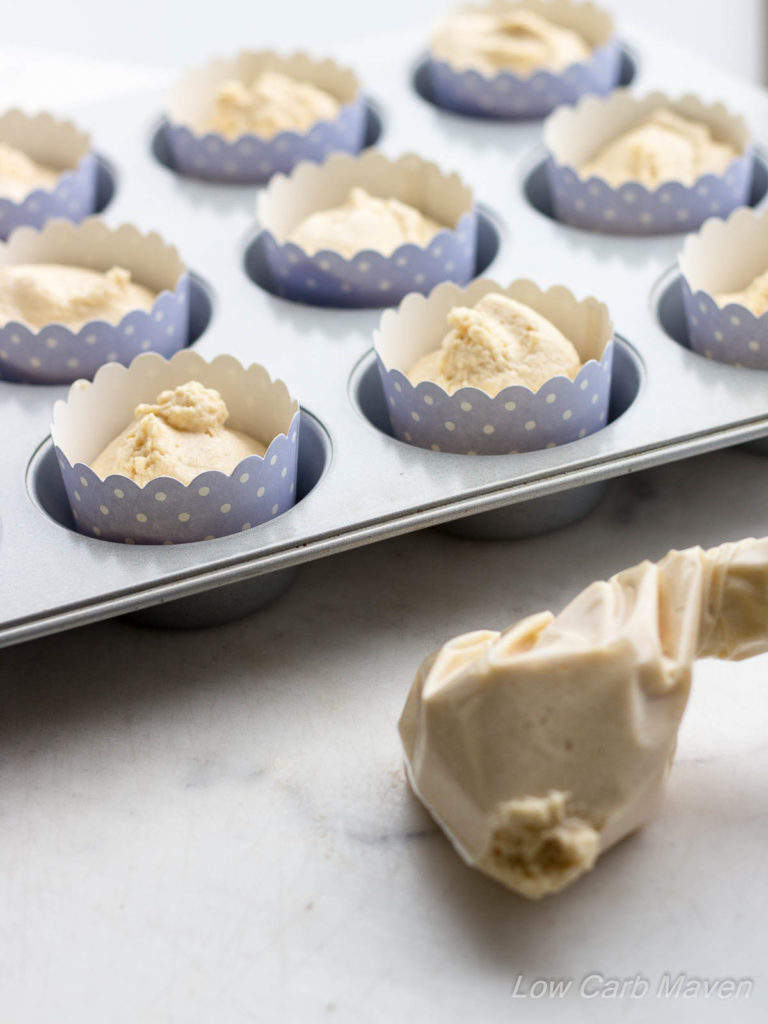 Typically, low carb creations are one-bowl-wonders and I always made mine dairy-free by using coconut milk as my fat and liquid and adding a little vinegar to give it a good rise. This time I opted for tangy buttermilk, but was worried about it's low fat content. I solved the problem by changing my cooking technique.
Instead of mixing the dry ingredients and the wet ingredients separately and then adding them together all at once, I creamed the butter and powdered monk fruit sweetener together, added an egg, and then alternated adding my dry and wet ingredients while continuing to whip air into the batter. The butter coated the coconut flour and oat fiber particles in fat, so that they absorbed the wet ingredients slowly instead of turning into a thick lumpy mess that baked into a vanilla buttermilk rocks.
The cupcakes are light and fluffy with a nice caramelized outer crust. The Lakanto Monk Fruit Sweetener promotes browning unlike other natural low carb sugar alternatives and did not leave a bitter or sharp aftertaste. It's the perfect sugar-free sweetener for those with stevia allergies.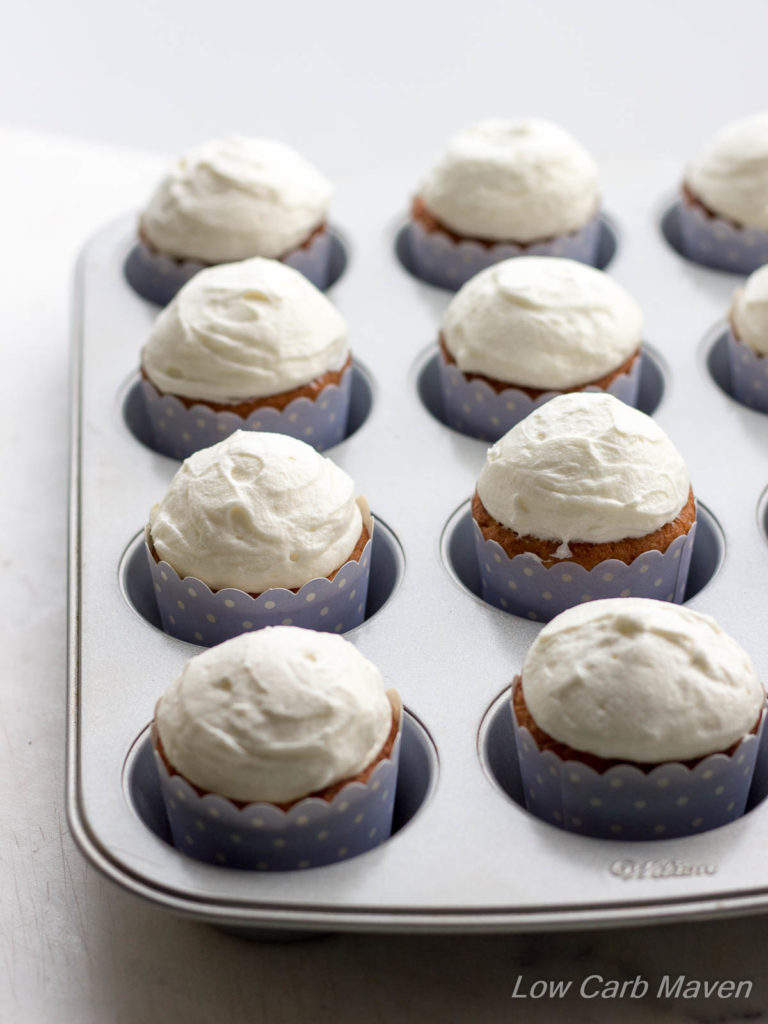 Now, I know you are rolling your eyes at me. Not only did I use a new low carb sweetener in this great vanilla buttermilk cupcake recipe, but I used another alternative flour, then I went and used buttermilk!
Don't worry, you can find lots of recipes on-line by Googling "oat fiber recipes" or you can check out the popular youtube channel Cooking Keto With Kristy. She has lots of great recipes which incorporate oat fiber 500. And the buttermilk? I have several recipes to help you use up that tangy buttermilk: Strawberry Buttermilk Ice Cream, Blueberry Buttermilk Ice Cream and Lemon Buttermilk Popsicles. All of these recipes would be great with the addition of Lakanto's Monk Fruit Sweetener, too.
Lakanto blends monk fruit with erythritol to achieve a 1:1 sugar replacement. They offer both a 1:1 replacement for white sugar (Classic) and a 1:1 replacement for brown sugar (Golden). I used the Classic version in both the cupcake recipe and the cream cheese frosting. Did I mention that the cream cheese frosting is super silky? I was happily surprised that the Lakanto Monk Fruit Sweetener dissolved completely leaving no gritty mouth-feel. The frosting was silky smooth and at just the right degree of sweetness for my palate. I think you are going to love it.
Each Low Carb Vanilla Buttermilk Cupcake with Cream Cheese Frosting is 3 net carbs – the perfect keto cupcake!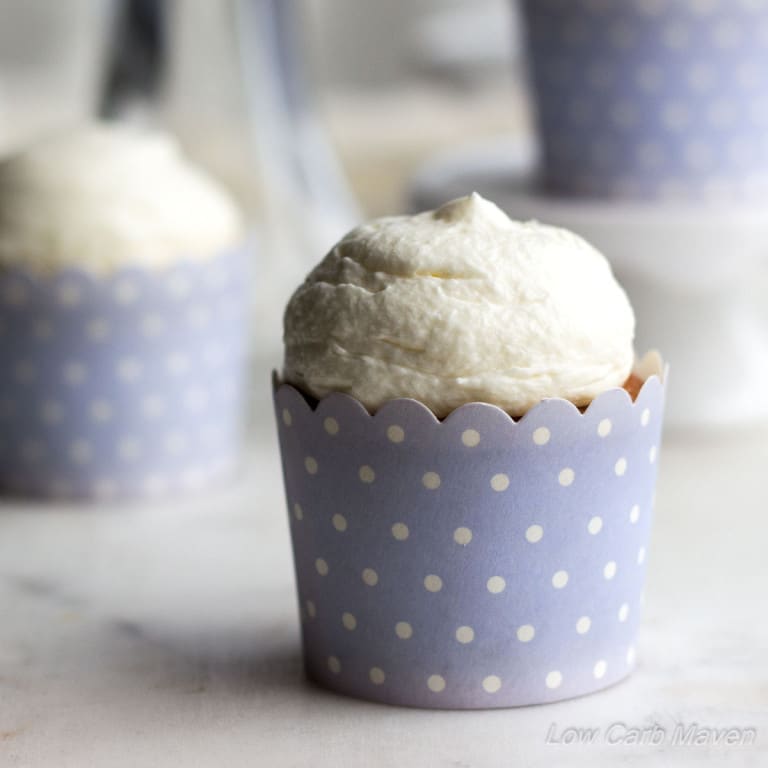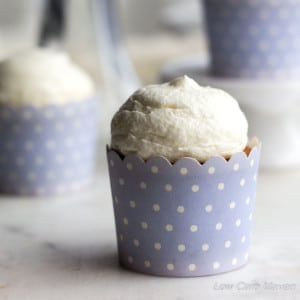 Low Carb Vanilla Buttermilk Cupcakes with Cream Cheese Frosting
Brightened with the slight tang of buttermilk, these low carb classic vanilla cupcakes are topped with a luxurious cream cheese frosting, delivering just the right amount of sweetness to this fun dessert.
Print
Pin
Rate
Ingredients
Cream Together
1

stick

salted butter

(4 oz/ 113.4 g) softened

1/2

cup

Lakanto Monk Fruit Sweetener

(155 g) powdered

1

large

egg

cold
Wet Ingredients
2/3

cup

buttermilk

2

large

eggs

cold

2

teaspoons

vanilla

1/2

teaspoon

stevia glycerite
Silky Cream Cheese Frosting
1 1/2

packages

cream cheese

(12 oz/ 340 g) very soft

1

stick

salted butter

( 4 oz/ 113.4) very soft

1/2

cup

Lakanto Monk Fruit Sweetener

(155 g) powdered
Instructions
Preheat oven to 350 and place the rack into the lower third. Place cupcake papers into a 12 hole muffin tin. Measure 1/2 cup of the sweetener and powder it in a coffee grinder.

Preparation: Ready three bowls: 2 smallish bowls and one that is medium-large. In one of the smaller bowls add all of the dry ingredients and whisk well. In the other smallish bowl (with enough room mixing with a hand mixer) add the wet ingredients. To the medium bowl, add the softened butter.

Procedure: With a hand mixer on medium speed, mix the butter until it is smooth and soft. Add the powdered monk fruit sweetener and cream the butter and sweetener together at medium-high speed for 1 minute making sure to scrape down the sides and bottom of the bowl at least once. Add 1 egg and beat again on medium-high speed for about 30 seconds until the mixture is light and fluffy and has grown in size. Make sure to scrape down the sides and bottom of the bowl and get it all mixed.

Give the wet ingredients a quick mix from the hand mixer. Pour 1/2 of the dry ingredients into the butter mixture and mix thoroughly with the hand mixer. Scrape up any dry ingredients that may be hiding at the bottom of the bowl and mix again. Add 1/2 of the wet ingredients and mix completely over medium-high speed until the liquid is completely absorbed and the mixture looks light and fluffy. Add the remaining dry ingredients making sure to mix thoroughly to coat all of the dry ingredients. Finish with the last half of the wet ingredients, again scraping the bottom of the bowl and making sure the mixture looks light and fluffy.

Fill the cupcake liners – Easy Way: The batter will be really thick and fluffy. The easiest way to fill the cupcakes liners is to put the batter into a large zip-loc bag and snip off a corner of the bag. Put the tip of the bag into the bottom of a cupcake liner and squeeze until the liner is 2/3 – 3/4 full. You don't need to swirl the batter around just squeeze and it will fill and mound itself. There will be batter left over. Lift the cupcake tin several inches above the counter and let it fall. Do this twice to redistribute any pockets of air.

Bake: Put the cupcakes in the oven and turn the heat up to 400 for 2 minutes. Then turn it back down to 350 for 20 – 25 minutes more. The cup cakes will be well browned on top if you used the monk fruit sweetener. Cool completely before frosting.

Frosting: Measure 1/2 cup of the sweetener and powder it in a coffee grinder. Whip the softened cream cheese until it is smooth, creamy, and free of any lumps. Add the softened butter and whip until the mixture is light and silky smooth. Add the sweetener and mix at medium then high speed until it almost doubles in volume and looks silky and voluminous.
Notes
Nutrition Facts
Low Carb Vanilla Buttermilk Cupcakes with Cream Cheese Frosting
Amount Per Serving
Calories 268
Calories from Fat 234
% Daily Value*
Fat 26g40%
Cholesterol 108mg36%
Sodium 369mg16%
Potassium 108mg3%
Carbohydrates 5g2%
Protein 5g10%
Vitamin A 900IU18%
Calcium 90mg9%
Iron 0.7mg4%
* Percent Daily Values are based on a 2000 calorie diet.
Nutrition
Calories:
268
kcal
|
Carbohydrates:
5
g
|
Protein:
5
g
|
Fat:
26
g
|
Saturated Fat:
14
g
|
Polyunsaturated Fat:
2
g
|
Monounsaturated Fat:
9
g
|
Cholesterol:
108
mg
|
Sodium:
369
mg
|
Potassium:
108
mg
|
Fiber:
2
g
|
Vitamin A:
900
IU
|
Calcium:
90
mg
|
Iron:
0.7
mg
[This post and recipe contain affiliate links.]