A sophisticated strawberry ice cream with a tart, acidic bite and nice depth of flavor. This low carb Strawberry Buttermilk Ice Cream, is ice cream at its best.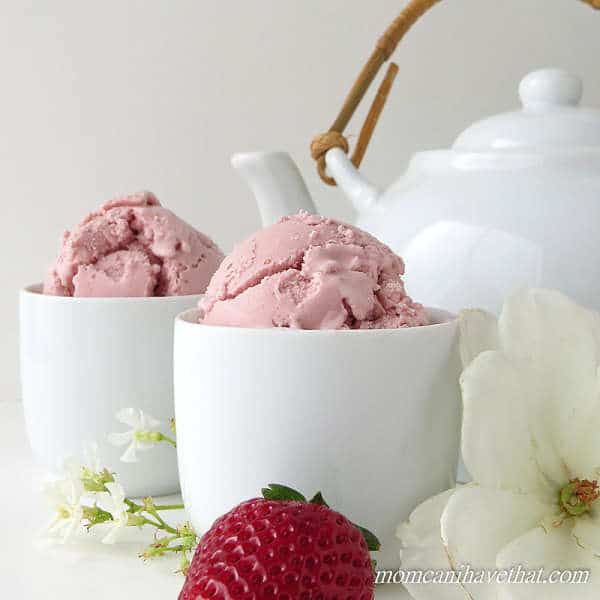 I could go on and on about how wonderful this strawberry buttermilk ice cream is. I could talk about how strawberry ice cream is my daughter's absolute favorite ice cream flavor, but has never been my favorite. I could also tell you that this vanilla-loving girl has begun to appreciate out-side-the-box flavor combinations because of this amazing recipe! It was an absolute pleasure to test!
Just so you know, I'm not the only person on the planet who has made buttermilk ice cream. It's been around f-o-r-e-v-e-r- and one can find recipes for it all over the internet. Maybe a reader or two remembers the Lemon Buttermilk Popsicle I made last month? They were really nice and I will definitely make them again when the weather turns hot.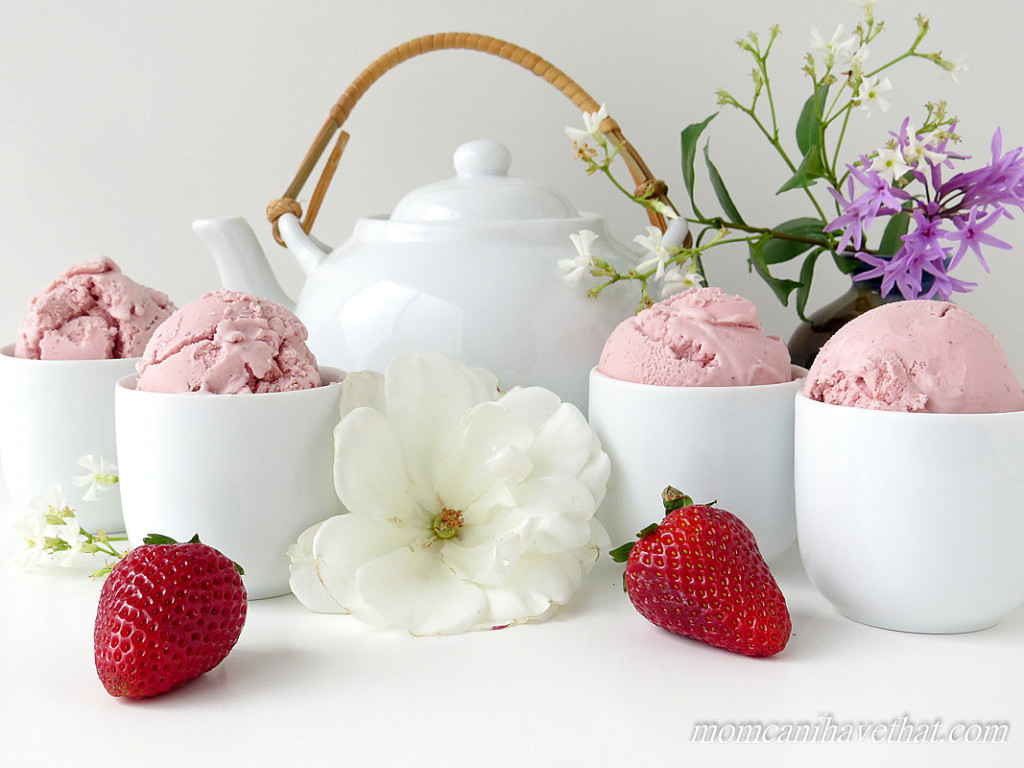 The next buttermilk creation I share will be a blueberry buttermilk ice cream, which I have to say is pretty amaze-balls. But so far, I'd have to say that this strawberry buttermilk ice cream knocks me right down!
I know, some of you are shuddering at the thought of using buttermilk. I know, low carbers don't buy any dairy product that isn't full fat. Buttermilk is usually a "special purchase'" for use in biscuit or pancake recipes, which only call for portion of the carton. Poor buttermilk, it sits in the refrigerator *forgotten* until it spoils and you make your husband throw it away because you can't even think about what it may look like inside with-out feeling ill.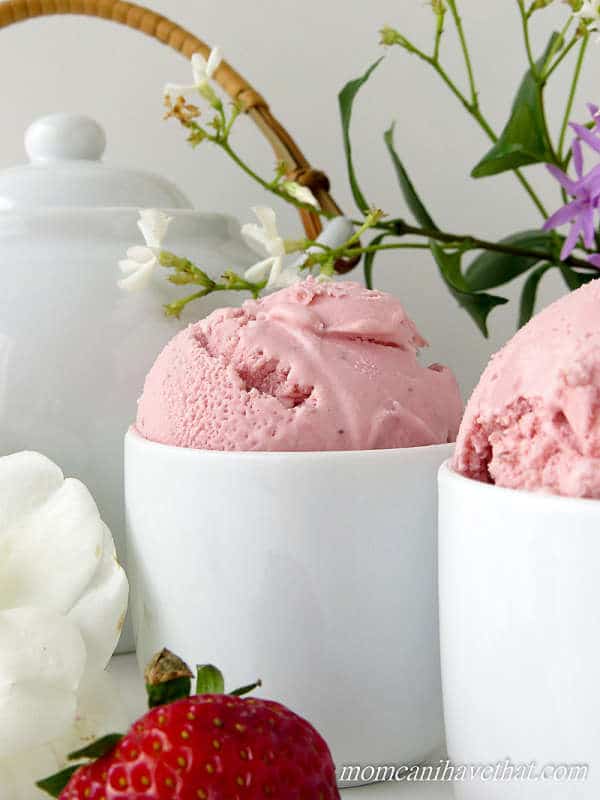 I really like buttermilk in desserts. I love the tang or pucker it adds. It plays against the sweet of the strawberry, reminding me of a nice strawberry yogurt. The addition of balsamic vinegar rounds out the flavor and mellows out the pucker. Maybe I should say that it helps bridge the gap between the tang and the sweet. We know that strawberries, especially roasted strawberries, and balsamic vinegar have a thing going on – a special affinity for each other, right? It's one of those weird gourmet co-mingling-flavor-things like prosciutto and melon or vanilla and lobster.
If you love the overly-sweet strawberry ice cream from the grocery store or local ice cream shop, then this strawberry buttermilk ice cream may be a bit of a surprise. It's a bit more tart than sweet. When I said puckery, I meant it, but it is truly wonderful. I hope you're brave enough to trust me, because it's a real treat.
Do you have a favorite ice cream flavor or ice cream store?
Mine? Anything Gelato! I……mean…….anything! But, especially chocolate hazelnut.
Strawberry Buttermilk Ice Cream is 5 net carbs per serving
[Disclosure: This recipe contains affiliate links.]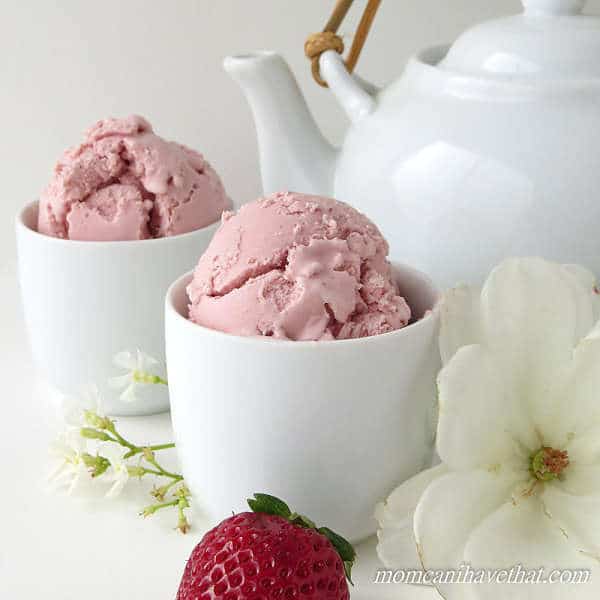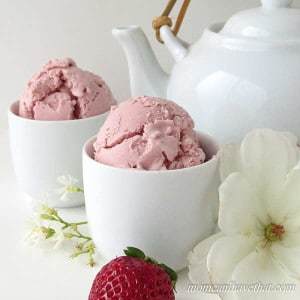 Low Carb Sugar Free Strawberry Buttermilk Ice Cream
Strawberry Buttermilk Ice cream – A sophisticated, low carb strawberry ice cream with a tart, acidic bite and nice depth of flavor.
Print
Pin
Rate
Ingredients
Cooked Strawberry Puree
12

ounces

strawberries

tops removed

2

tablespoons

lemon juice

1/4

cup

erythritol
Strawberry Buttermilk Ice Cream
1

cup

cooked strawberry puree

1 1/2

cups

heavy cream

1

cup

buttermilk

1/3

cup

erythritol

2

tablespoons

vanilla flavored vodka

1 ounce, optional helps with iciness

1/2

teaspoon

vanilla extract

1/4

teaspoon

stevia glycerite

1

teaspoon

balsamic vinegar reduction

1

pinch salt
Instructions
To make the Strawberry Puree:

Wash the berries and cut off the tops. Put the berries in a blender or food processor and blend until pureed. Put the puree in a smallish pot with the 1/4 cup of erythritol and 2 tablespoons of lemon juice, and place over medium heat until it begins to boil and foam. Turn down the heat and simmer until the mixture cooks down to 1 cup. This may take as long as an hour so make sure to stir the mixture about every 10-15 minutes so the strawberries don't burn on the bottom. Cool in the refrigerator.

To make the Balsamic Vinegar Reduction:

Pour 1/4 cup of balsamic vinegar into a small saucepan and simmer until it reduces by half. Let cool. 1 teaspoon will be used. The rest can be poured back into the vinegar bottle.

To make the Ice Cream:

Make sure all of the ingredients are cold. Add the cooled strawberry puree, heavy cream, buttermilk, erythritol, vodka, vanilla, stevia glycerite and salt in a blender and blend on the lowest speed until mixed. Turn the speed up to medium for just a few moments so the mixture can increase in volume. There should be about 4 cups.

Follow the instructions for making ice cream on your ice cream maker. While the machine is running, add the balsamic vinegar. When the Buttermilk Strawberry Ice Cream reaches the consistency of soft serve ice cream, stop the machine and scoop the ice cream into an air tight, freezer proof container.

Before serving, let the ice cream sit out on the counter for 20-30 minutes to soften.
Notes
*** When I buy balsamic vinegar, I buy two bottles and simmer the contents down to the volume of one bottle. The reduction of the vinegar both mellows and intensifies the flavor.
Serving size is 1/3 of a cup.
Nutrition Facts
Low Carb Sugar Free Strawberry Buttermilk Ice Cream
Amount Per Serving
Calories 187
Calories from Fat 153
% Daily Value*
Fat 17g26%
Cholesterol 62mg21%
Sodium 66mg3%
Potassium 147mg4%
Carbohydrates 6g2%
Protein 2g4%
Vitamin A 700IU14%
Vitamin C 32.2mg39%
Calcium 70mg7%
Iron 0.2mg1%
* Percent Daily Values are based on a 2000 calorie diet.
Nutrition
Calories:
187
kcal
|
Carbohydrates:
6
g
|
Protein:
2
g
|
Fat:
17
g
|
Polyunsaturated Fat:
1
g
|
Monounsaturated Fat:
5
g
|
Cholesterol:
62
mg
|
Sodium:
66
mg
|
Potassium:
147
mg
|
Fiber:
1
g
|
Vitamin A:
700
IU
|
Vitamin C:
32.2
mg
|
Calcium:
70
mg
|
Iron:
0.2
mg
Blueberry Buttermilk Ice Cream