This low carb pot roast recipe is flavorful and delicious. Beef roast and vegetables are slow cooked in a delicious broth gravy until the meat is fall-apart tender. A comfort food classic!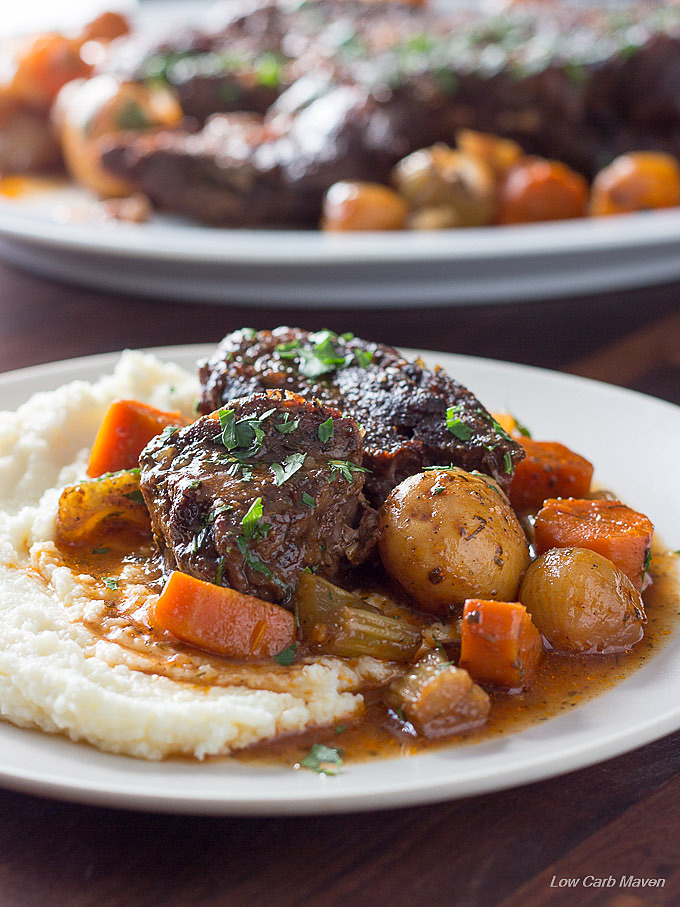 Hooray for cooler weather and my favorite time of year. This month I look forward to brisk after dinner walks with my family followed by cozy evenings spent in front of the fireplace (or t.v. – let's be real). It's time for fuzzy sweaters and curling up with a good book (or iPhone) and the resident animal foot-warmer.
Festive gatherings mark the season and provide us with a chance to shine by sharing our best recipes with family and friends. Whether it's grandmother's recipe for cheese pie or a great comfort food favorite like pot roast, everyone has a star recipe.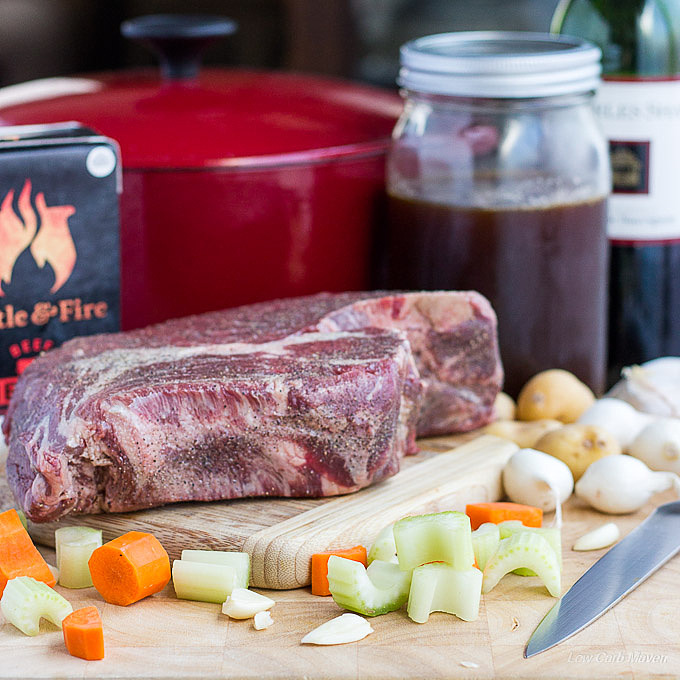 Pot roast is classic comfort food which delivers melt-in-your-mouth, fall-apart tender beef. But, let us not forget those savory cooked vegetables, in a broth so rich in body and flavor, that it will have you making excuses to sit at the table longer. And, pot roast is one of those fix-it-and-forget it meals that's super easy to prepare. Sure it takes a good 15-20 minutes to get everything ready to go, but after that, it's hands-off until it's done.
I've worked on this low carb beef pot roast recipe on and off for over a year. It's mouthwatering delicious and fairly easy to make. I've prepared it both in the crockpot and in the oven and prefer this oven method simply because it concentrates the flavors – and I'll take flavorful over fast and less flavorful any day. Luckily, this pot roast recipe is pretty easy and it does most of the cooking by itself.
The recipe starts with a chuck roast. I like to use chuck roast for my pot roast because the meat is marbled throughout and there is a lot of connective tissue between the muscle. If it's cooked long enough, all of the fat and connective tissues melt out providing a beautiful "body" to the broth and leaving the meat, fork-tender. My chuck roast was 2 ¼ pounds and after cooking was enough for 6 generous portions or 8 smaller portions. Since chuck roast is a fatty cut, I like to remove any visible fat on the outside of the roast before beginning.
I DID use potatoes in the recipe and 1 medium carrot. Some will balk at this – and that's okay. There are many ways to follow a low carb diet and I allow higher carb ingredients in very tiny amounts in my recipes if they do not add more than 1-2 net carbs per serving. You may sub according to how you follow your low carb diet. I am confident in saying this recipe is suitable for Atkins or any ketogenic or LCHF diet.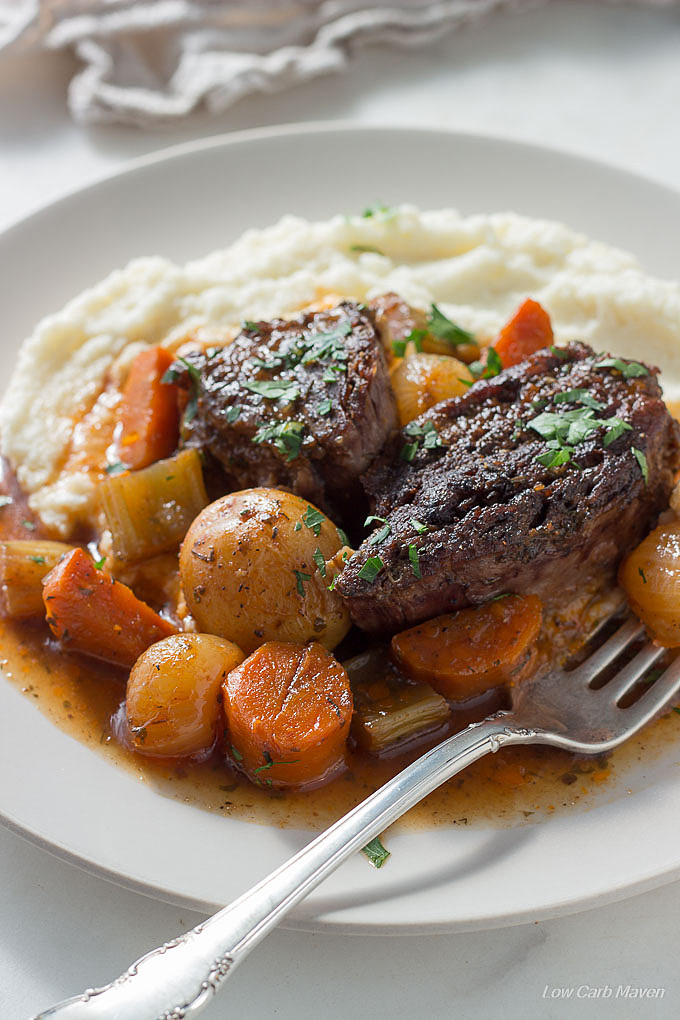 Anyway, I found the smallest waxy potatoes I could – about the size of a quarter. My 10 tiny potatoes equaled 1/4 pound, yielding 1 – 1 ½ potatoes per person, which is well within carb limits in terms of a whole meal.
I did test this low carb pot roast recipe with turnips and rutabaga last year but the root vegetables tasted dirty and became waterlogged and mushy. Radishes, too, lost their texture and became mushy. Lastly, I tested celery root which tasted good, but also mushy. Tiny new potatoes were perfect.
The perfect accompaniment to this oven pot roast is mashed cauliflower mixed with aged cheddar cheese. It 's a delicious low carb meal the whole family loves.
This fantastic low carb pot roast is 6 net carbs per serving!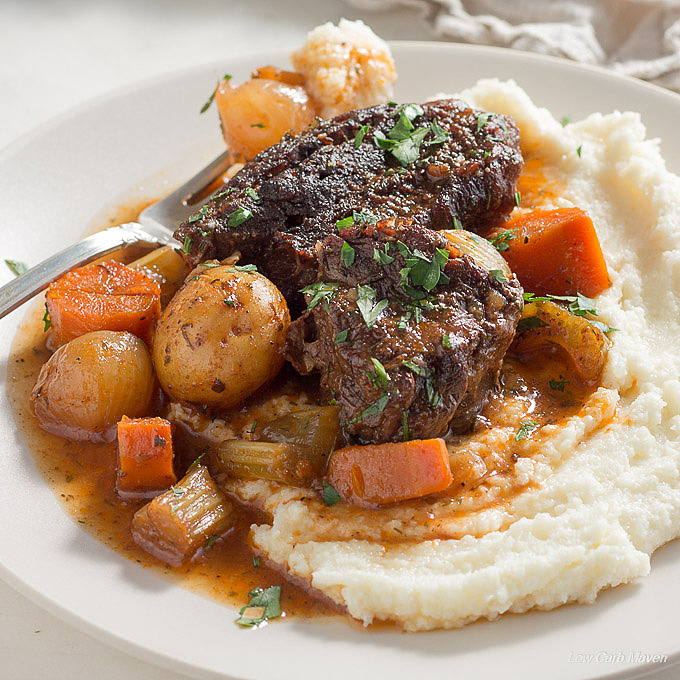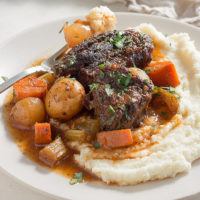 Low Carb Pot Roast
This low carb pot roast recipe is flavorful and delicious. Beef roast and vegetables are slow cooked in a delicious broth gravy until the meat is fall-apart tender.
Print
Pin
Rate
Ingredients
The Roast
2 1/2

pounds

chuck roast

1

tablespoons

bacon fat or oil of your choice

salt and pepper for seasoning
Vegetables
1/4

pound

(4 oz) very small wax potatoes

(or sub turnips or radishes)

6

ounces

pearl onions

skinned, left whole

1

medium

(5-6 oz) carrot,

peeled and cut into big chunks,

2

large

stalks celery,

sliced

2

cloves

garlic,

sliced
Seasoning
1

teaspoon

dried parsley

1

teaspoon

dehydrated onion flakes

1/2

teaspoon

granulated garlic

1/2

teaspoon

dried thyme

1/2

teaspoon

dried dill

1/2

teaspoon

salt

1/2

teaspoon

pepper

1/4

teaspoon

celery salt
For the Gravy
1

cup

unsalted beef broth

stock or bone broth

1/2

cup

dry red wine

1/4

cup

(2 oz) tomato paste

– extra water as needed

if your pot has a loose fitting lid
Instructions
Preheat the oven to 300 F and place the rack to the middle position. Trim any visible fat on the outside of the roast. Measure the seasonings into a small bowl. Peel the pearl onions by first slicing off the stem end, then using the blade of a paring knife to help coax the thin skin off of the onion. It will take several minutes to skin them all.

Heat a large dutch oven over medium heat. Dry the chuck roast with a paper towel and season both sides well with salt and pepper. When the pot is very hot, add the fat and swirl to coat the bottom of the pot. Brown the chuck roast on one side for 4-5 minutes then flip and brown the other side for another 4-5 minutes. Turn the heat to low.

While the dutch oven is heating and the meat is browning, start preparing the vegetables, adding them to a large bowl as you go. Then, nestle the vegetables in the pot around the browned pot roast. Add the seasonings, sprinkling them evenly over all.

In a medium bowl, add the wine to the tomato paste little by little while mixing with a small whisk or fork. Then add the beef broth. Pour the mixture over the ingredients in the dutch oven. The liquid should be almost to the top of the roast. If not, add a little more broth until it is. Turn the heat up to medium until the liquid is hot and begins to simmer.

Cover and place the pot roast into the oven to cook for 3 hours or until the roast is fall-apart tender. It's done when a fork pierces easily all the way through the meat and/or it shreds easily with a fork. Check after 3 hours but it may take as long as 4 depending on how thickly cut the chuck roast is.

**Check the pot every hour to add water if you have a lose fitting lid. At the end of cooking, replenish the gravy with water and scrape the caramelized bits (spatters) from the side of the pot into the gravy. Skim the fat and check the gravy or for seasoning.

Turn off the oven and return the pot roast to the oven to keep it warm for up to two hours. Make sure to add more water if needed. If left on the stove top it will keep hot for up to an hour.
NOTE: The nutritional information listed reflects the ACTUAL ingredients and quantities listed in the recipe. It does NOT reflect carb counts using subs – that's misleading and I don't play games. This is a LOW CARB recipe. It is low enough in carbs to be considered at keto carb levels. Keto is a metabolic state (brought on by eating at or below 50 total carbs (about 20-25 net carbs)) a day, and is not a particular food. I offer appropriate subs for the carrot (0.62 oz per person) and waxed potatoes ( 0.50 oz per person) in the post. If you don't want to use the new potatoes or carrot, use one of the subs offered in the post. I think you'll agree that a traditional recipe for pot roast uses many more carrots and potatoes as well as a gravy thickener and is many more carbs per person that this recipe. This recipe is delicious, low carb, and I stand behind it.
Notes
I always need to skim quite a bit of fat off the top of the broth after cooking. I don't skim all of it off, but I try to leave about 1/8 – 1/4 inch of fat at the top before adding any extra broth and scraping and incorporating any browned spatters from the pot into the gravy.
Nutrition Facts
Low Carb Pot Roast
Amount Per Serving
Calories 312
Calories from Fat 180
% Daily Value*
Fat 20g31%
Cholesterol 74mg25%
Sodium 563mg24%
Potassium 630mg18%
Carbohydrates 8g3%
Protein 21g42%
Vitamin A 4750IU95%
Vitamin C 16.5mg20%
Calcium 40mg4%
Iron 3.2mg18%
* Percent Daily Values are based on a 2000 calorie diet.
Nutrition
Calories:
312
kcal
|
Carbohydrates:
8
g
|
Protein:
21
g
|
Fat:
20
g
|
Saturated Fat:
8
g
|
Polyunsaturated Fat:
1
g
|
Monounsaturated Fat:
8
g
|
Cholesterol:
74
mg
|
Sodium:
563
mg
|
Potassium:
630
mg
|
Fiber:
2
g
|
Vitamin A:
4750
IU
|
Vitamin C:
16.5
mg
|
Calcium:
40
mg
|
Iron:
3.2
mg
Mashed Cauliflower and Celery Root (keto, low carb)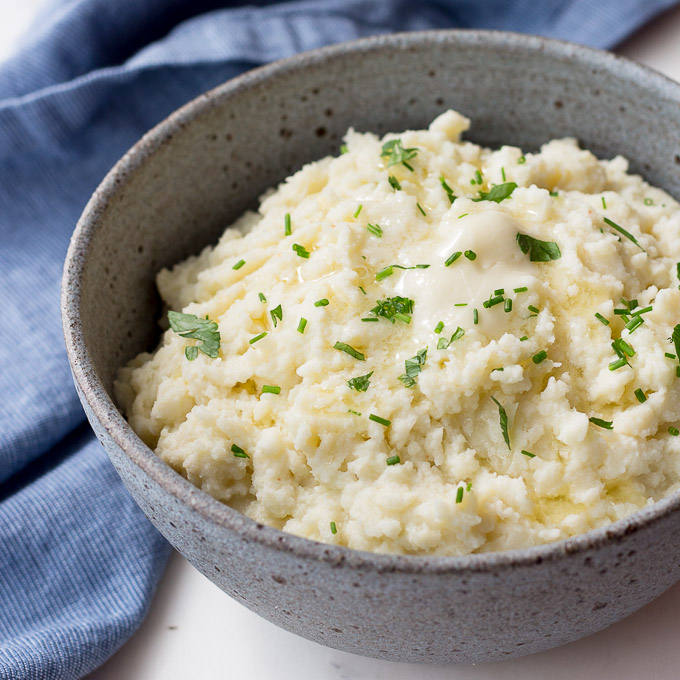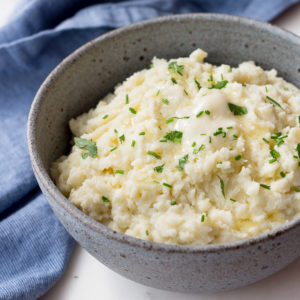 Loaded Cauliflower Mash (keto, low carb)