A healthier shepherd's pie recipe made with ground lamb & low carb root vegetables in a rich brown gravy topped with cheesy cauliflower mashed potatoes.
Looking for something that will warm you up from the inside? Shepherd's pie. Wondering what you can make with a package of ground lamb and vege? Make keto shepherd's pie. Want to prepare a dinner your family will gobble up and thank you for? This shepherd's pie recipe will do it and it's low carb to boot!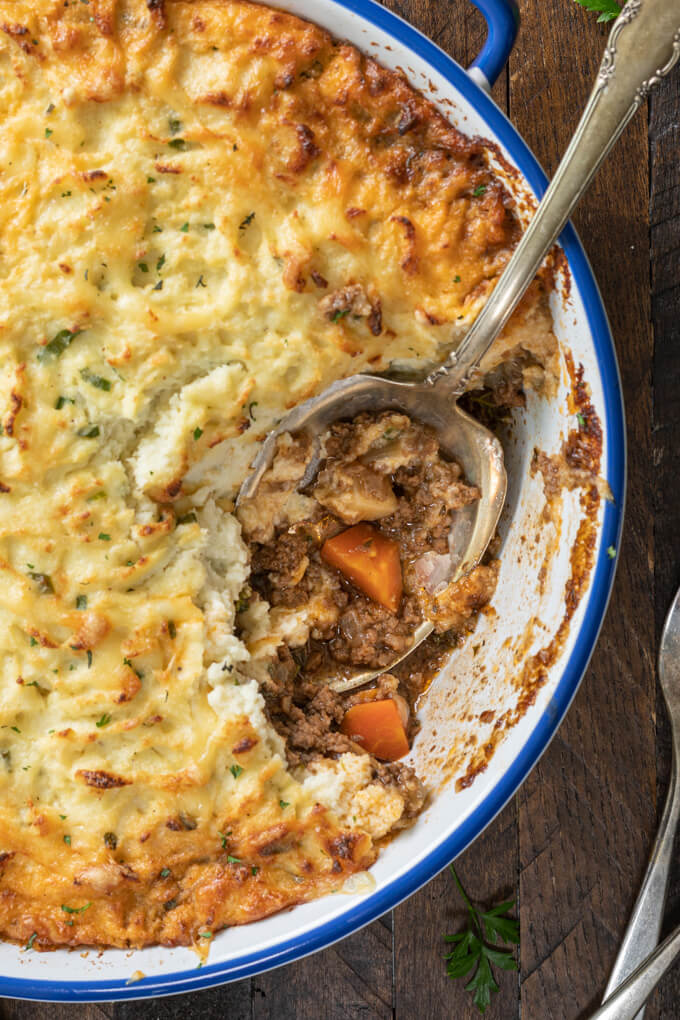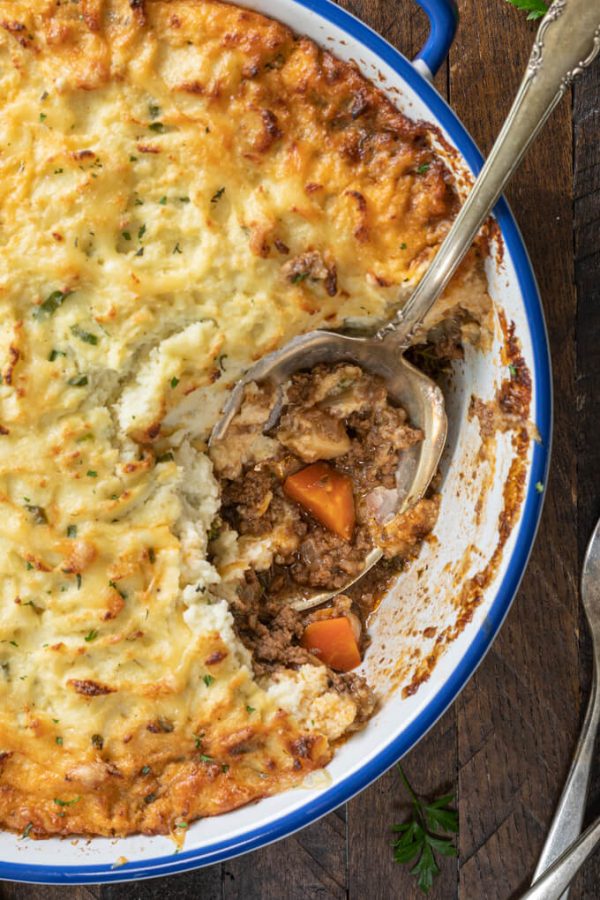 THIS POST INCLUDES AFFILIATE LINKS TO SHARE THE THINGS I LOVE.
KETO SHEPHERD'S PIE TLDR: Use low carb root vegetables, thicken shepherd's pie with xanthan gum and tomato paste, make low carb shepherd's pie with mashed cauliflower instead of potatoes.
Like a good low carb beef stew, shepherd's pie is a comfort food winner. There's a reason it's called comfort food, my friends. Each bite tastes like "coming home" and feels like a hug for the soul. The small amount of extra hands-on and cooking time are absolutely worth it when this comes out of the oven beautifully browned and bubbly.
I made this delicious keto shepherd's pie with mashed cauliflower several times the last month. My family fought over the leftovers each and every time! Although the gravy has no flour, it has a rich taste and heartiness that satisfies. You won't miss the potatoes because the cheesy mashed cauliflower topping is even better.
HINT: To make Cottage Pie, use ground beef instead of ground lamb.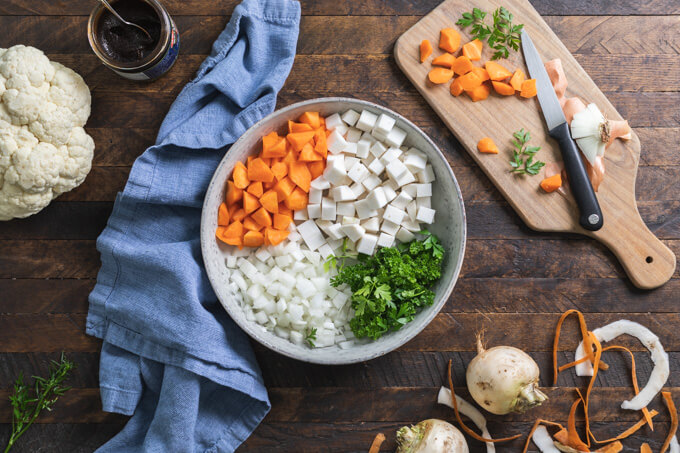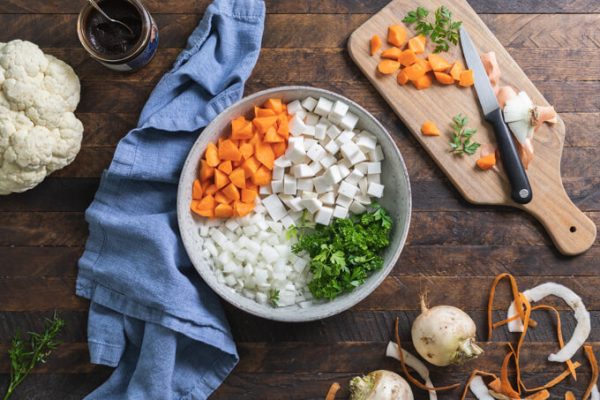 Keto Shepherd's Pie
Lowering the carbs to make a shepherd's pie keto is easy but does require knowledge of low carb ingredients and flavor. A low carb food list is invaluable as is an understanding of keto products. Traditional gravy thickeners contribute to a satisfying mouth-feel that low carb versions lack. So, it's important to add even more flavor to low carb dishes to satisfy the taste buds.
This healthier shepherd's pie recipe reduces carbs and increases flavor without the use of flour or cornstarch. To reduce carbs, swap starchy vegetables with lower carb root vegetables and top the dish with cheesy mashed cauliflower.
Tomato paste and xanthan gum slightly thicken the gravy and dried porcini powder (optional) adds amazing rich flavor. Aromatics, herbs and spices bump flavor even more.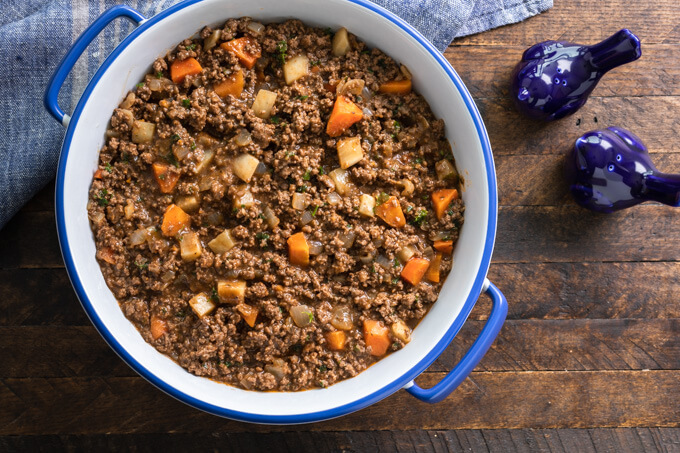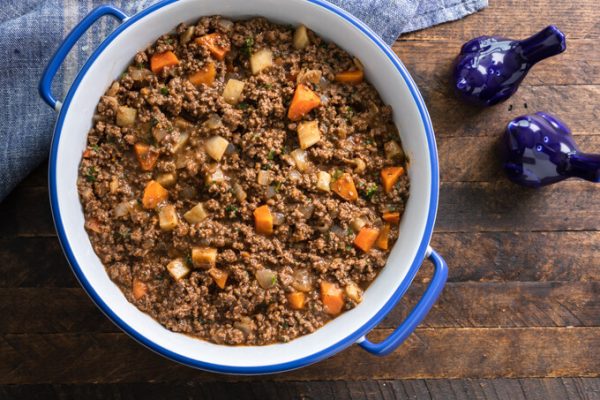 I found the best vegetables for my keto shepherd's pie filling were a smallish carrot and a medium turnip. While similar to radishes in flavor, turnips look like potatoes and mellow in flavor when cooked.
Not everyone likes cauliflower, but most people like my recipe for loaded cauliflower. Keeping that in mind, the mashed cauliflower topping includes cream cheese for creaminess, sour cream for tang and cheddar or Gruyere cheese for both texture and taste. Chopped scallion tops make it even better.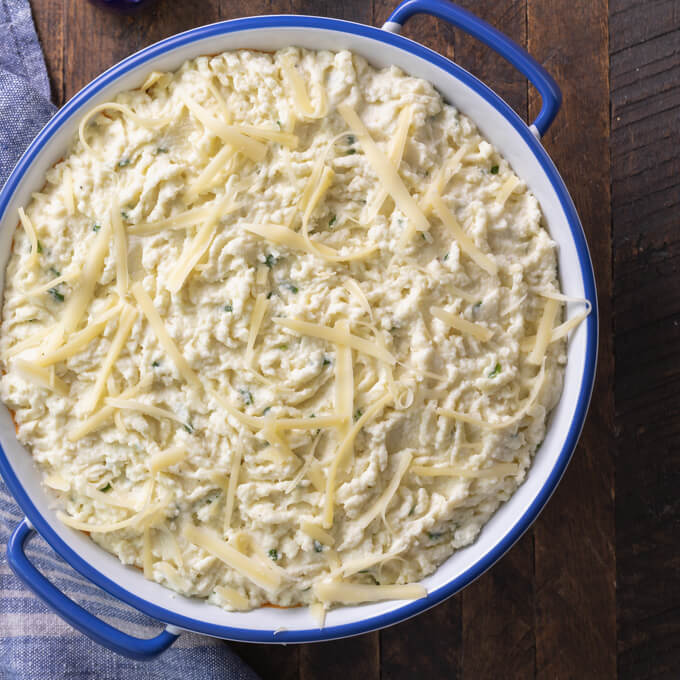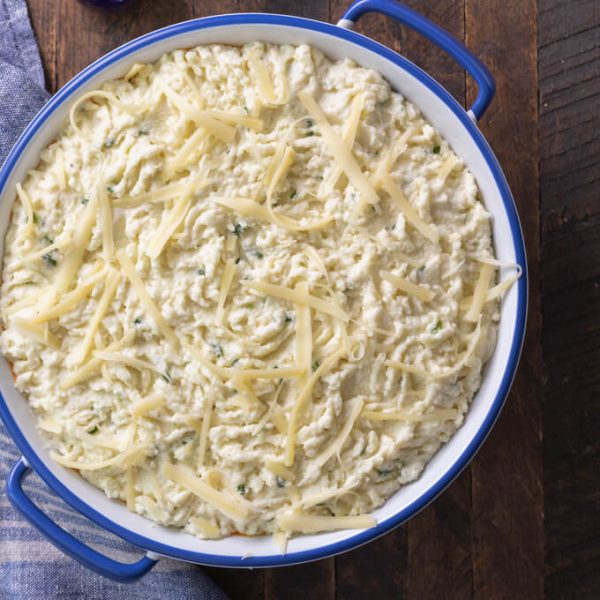 NOTE: Roll the carrot 1/4 – 1/3 turn while cutting. This produces many shallow chips that looks like more carrot than was used and they cook faster.
Other Low Carb Ingredient Options for Shephard's Pie
Bell pepper
Garlic
Green beans
Mushrooms
Radishes
Rutabaga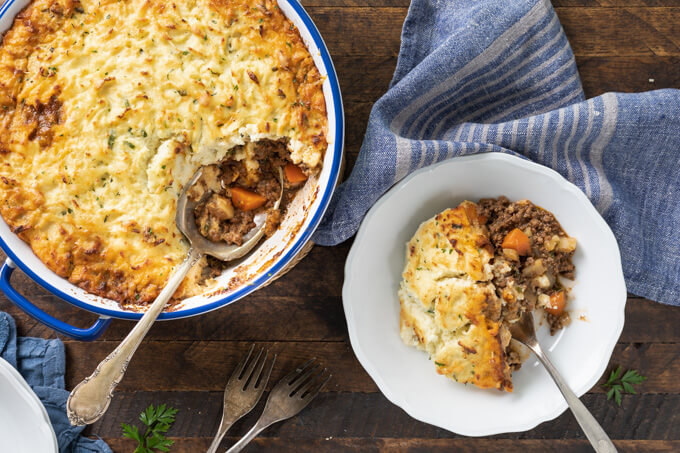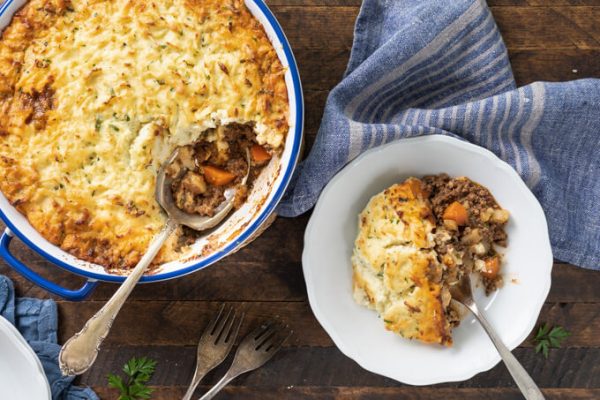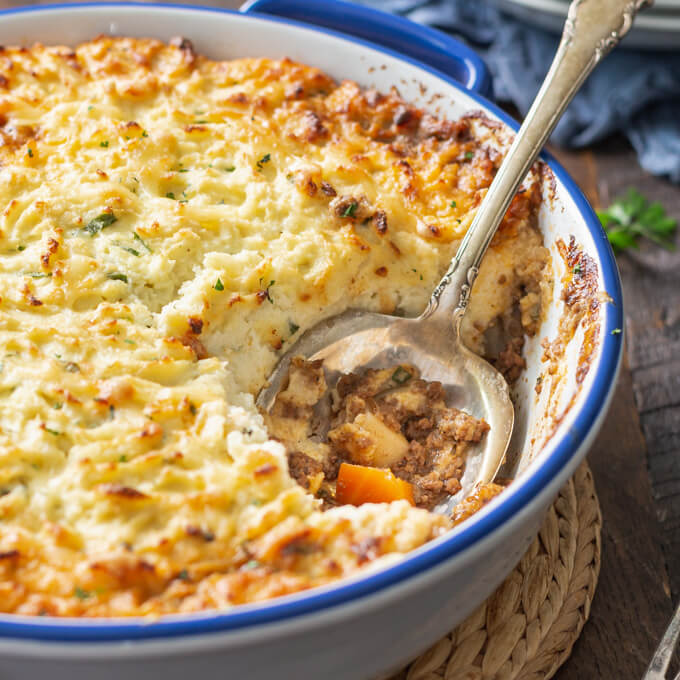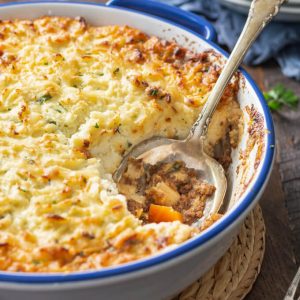 Keto Shepherd's Pie
Like a good low carb stew, shepherd's pie is a comfort food winner. This keto shepherd's pie recipe is made with ground lamb & low carb root vegetables in a rich brown gravy. The cheesy mashed cauliflower topping flavored with scallions is better than any traditional mashed potato topping.
Print
Pin
Rate
Ingredients
1 1/2

pounds

ground lamb or beef

(24 oz/680 g)

1/2

cup

diced onion

1

medium

carrot, rolled

(4 oz/113 g)

1

medium

turnip, peeled and cubed

1

tsp

Better Than Bouillon Beef Base

2

tsp

Worcestershire Sauce

1

tbsp

tomato paste

1

tbsp

dried porcini powder

(optional)

1

tsp

dried thyme

1/2

tsp

salt

1/2

tsp

black pepper

1/4

tsp

xanthan gum

(optional)

2

cups

water or unsalted beef broth

1/4

cup

chopped fresh parsley
Mashed Cauliflower Topping
1

pound

cauliflower floretes

steamed until tender

2

oz

soft cream cheese

1/4

cup

sour cream

1

cup

grated Gruyere Cheese

(or white cheddar or Monterey Jack)

1/2

cup

sliced scallion tops

1/4

tsp

each, salt and white pepper
Instructions
Preparation
Cut cauliflower into small florets. Peel and roll carrot, peel and dice turnip and dice onion (put them together in a bowl). Slice scallion tops and chop parsley (keep them separate on cutting board or plate). Grate the cheese.

Measure the spices and xanthan gum into a small bowl or ramekin and stir thoroughly; this ensures the xanthan gum doesn't form clumps when added to the recipe.

Ready a microwaveable bowl or a pot with water for steaming the cauliflower. Fit the food processor with a metal blade.
Cottage Pie Filling
Add ground lamb to the cold pan/skillet placed over medium heat. Work the ground lamb into small bits as it cooks. (Starting in a cold pan takes longer to cook, but it's the secret to achieving small uniform pieces.)

Turn the heat to medium-high. Add the vegetables, beef base, Worcestershire sauce, tomato paste, mixed spices, and water or broth. Stir to distribute ingredients and to dissolve beef base and tomato paste. Bring to a simmer.

Cover and simmer over low to medium-low heat for 20 minutes or until the carrots and turnips are tender. Turn up the heat and simmer uncovered until the gravy is a rich reddish-brown, slightly thickened and reduced until it clings to the ingredients but isn't dry. Stir in the parsley. Adjust seasoning. (If it needs a little "something" and you don't know what, add 1-2 tbsp sugar free ketchup.)
Mashed Cauliflower Topping
PREHEAT OVEN TO 375 F AND PLACE RACK IN MIDDLE POSITIION.

While the filling simmers, steam the cauliflower until tender. (I use my microwave: place cauliflower florets in large microwaveable bowl with 2 tbsp of water. Cover with cling film and microwave for 8 minutes on high power stirring half way through.)

Drain cauliflower and add to a food processor. Process until crumbly. Add the cream cheese, sour cream and salt and pepper. Process until smooth and adjust seasoning. (Or mash well by hand and whip with a hand mixer.)

Remove the mashed cauliflower to a bowl and stir in the cheese and sliced scallion tops. (Adding the cheese in the processor gets the blade all gummy and is hard to clean.)
Assembly
Spray a 9 1/2 x 2 1/2 inch casserole dish with olive oil. Scrape the shepherd's pie filling into the casserole and spoon the mashed cauliflower over, making sure to gently spread it to the edges of the dish. OPTIONAL: Grate 1/4 cup more cheese to put on the top.

At this point the shepherd's pie can be covered tightly and frozen. Cool completely, first!
Bake
Place assembled shepherd's pie on a sheet pan to catch drips and bake for 40-50 minutes or until hot and bubbly. Brown under broiler if desired.
Serves 6. Each hearty serving is 7 g NET CARBS.
Notes
Cover and refrigerate up to five days or cover and freeze up to 3 months. Reheat portions in the microwave.
To reheat previously cooked shepherd's pie: Thaw completely in the refrigerator. Reheat individual portions in the microwave. To reheat the whole recipe, place thawed shepherd's pie on the counter for 30 minutes. Preheat oven to 375 F and bake covered for 40-50 minutes or until the center is hot.
To reheat frozen, unbaked whole shepherd's pie: Thaw completely in the refrigerator. Let the shepherd's pie come to room temperature on the counter for 30 minutes. Preheat oven to 375 F. Place on a sheet pan and bake uncovered for 50-60 minutes or until the shepherd's pie is bubbly and the center is hot.
Nutrition
Serving:
1
sixth of recipe
|
Calories:
476
kcal
|
Carbohydrates:
10
g
|
Protein:
26
g
|
Fat:
37
g
|
Cholesterol:
107
mg
|
Sodium:
516
mg
|
Potassium:
691
mg
|
Fiber:
3
g
|
Sugar:
4.5
g
|
Calcium:
14
mg
|
Iron:
2.49
mg