You want an easy weeknight meal? Keto stuffed peppers have saved me again and again. I make stuffed bell peppers almost every week. My current favorite? Keto lasagna stuffed peppers! Tender cooked bell peppers stuffed with ground beef, marinara sauce and three cheeses: ricotta cheese mozzarella cheese, and Parmesan cheese! What's not to like?
Bake these keto peppers in the oven or cook them in the slow cooker. I include instructions for both. Peppers are great for meal prep and can be made ahead for cooking later. Cooked peppers freeze beautifully. Enjoy!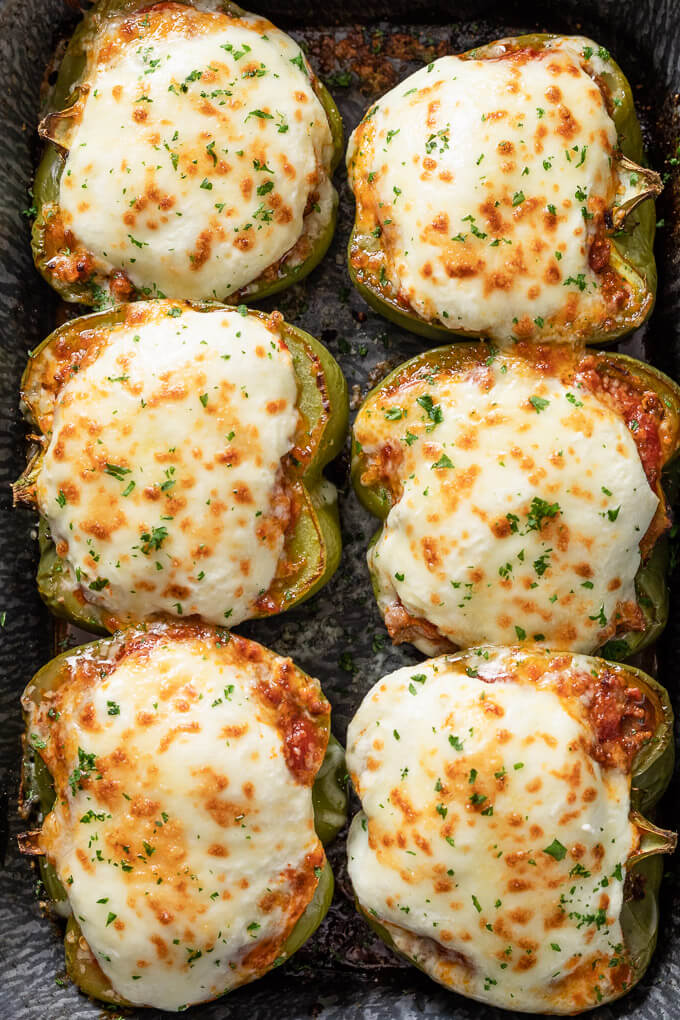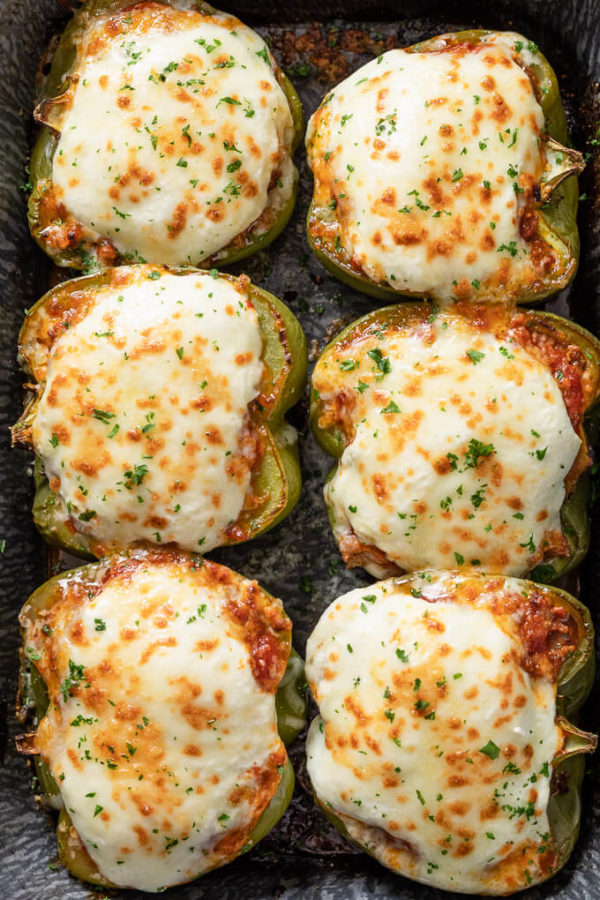 THIS POST INCLUDES AFFILIATE LINKS TO SHARE THE THINGS I LOVE.
A medium 6 oz bell pepper has 5.5 g net carbs so, to me, bell peppers are the perfect low carb vessels for holding yummy things. I've stuffed them with ground beef like these sloppy Joe stuffed peppers and delicious Philly cheesesteak stuffed peppers. A keto stuffed pepper with ground beef is always popular.
And bell peppers stuffed with shredded chicken are just as tasty. You gotta try these Buffalo chicken stuffed peppers or pulled chicken stuffed peppers – they're so good.
Making Stuffed Peppers Keto and Low Carb!
Traditional stuffed pepper recipes call for carby rice or breadcrumbs, which are not keto friendly. A few easy low carb substitutions is all you need to make delicious keto friendly stuffed peppers!
Follow these tips to make your favorite stuffed pepper recipe keto:
Substitute low carb cauliflower rice for regular rice
Skip the breadcrumbs and use cheese instead – or- make a microwave flax muffin and crumble it into bread crumbs
Dairy free? Bind the filling with a beaten egg instead of cheese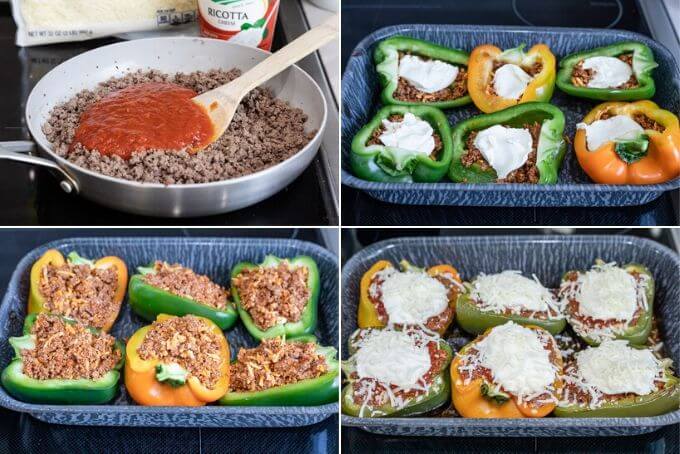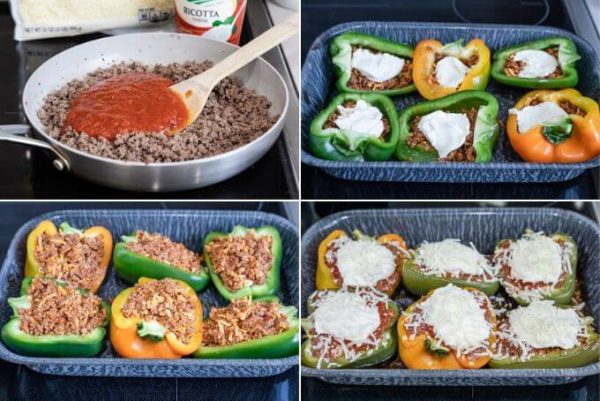 How to Make Lasagna Stuffed Peppers
Making keto lasagna stuffed peppers is easy and only requires four main steps:
Make the meat sauce
Prep the bell peppers
Stuff the bell peppers
Cook the stuffed peppers (oven or crockpot)
Prepare the peppers as per recipe. Then, bake in the oven or cook in the slow cooker. You can also prepare the stuffed peppers ahead for cooking later. Just cover and refrigerate the stuffed peppers up to 2 days before cooking.
Baked Keto Stuffed Peppers
Cover the lasagna stuffed peppers with a piece of parchment, then cover tightly with foil. The parchment prevents the acid from the tomatoes from reacting with the aluminum. (At this point refrigerate up to two days if making ahead but remove from the refrigerator for 30 minutes before baking.) Preheat the oven to 350 F and bake for 30 minutes covered and 10 minutes uncovered.
Remove the peppers from the oven and then top each pepper with 1 ½ tablespoons of ricotta cheese and the remaining mozzarella cheese. Finally, place the peppers under the broiler until the cheese is lightly browned. Sprinkle with Parmesan cheese and serve.
Refrigerate leftover stuffed bell peppers in an airtight container for up to 5 days.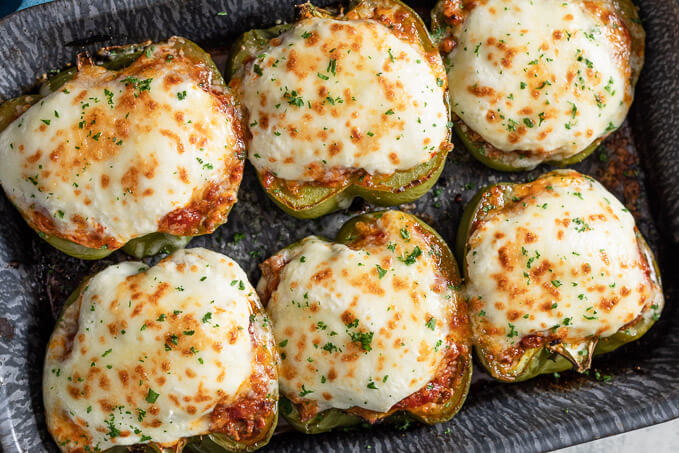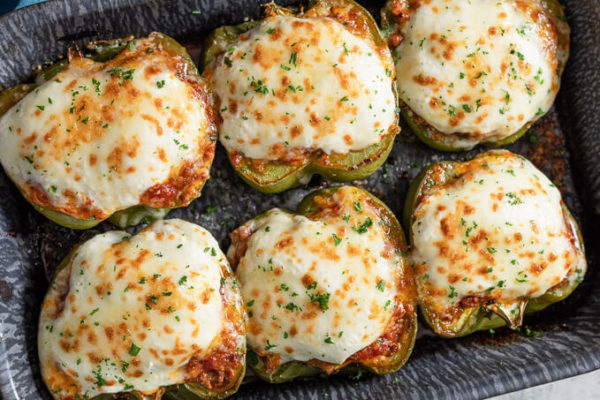 Keto Stuffed Peppers in the Crockpot (Slow Cooker)
Arrange the lasagna stuffed peppers in the bottom of your crockpot or slow cooker. This casserole slow cooker is my favorite for keto stuffed peppers recipes. There is no need to cover the stuffed peppers with parchment since slow cookers are a moist cooking method.
Cook the peppers on high for 3-4 hours or low for 6-8 hours. After cooking, top with ricotta and mozzarella cheese and cover until the cheese melts. Top with Parmesan cheese and serve. Alternately, remove the peppers to a 9×13 inch casserole or a sheet pan and place under the broiler to brown. Top with Parmesan cheese and serve.
Refrigerate any leftover lasagna stuffed peppers in an airtight container for up to 5 days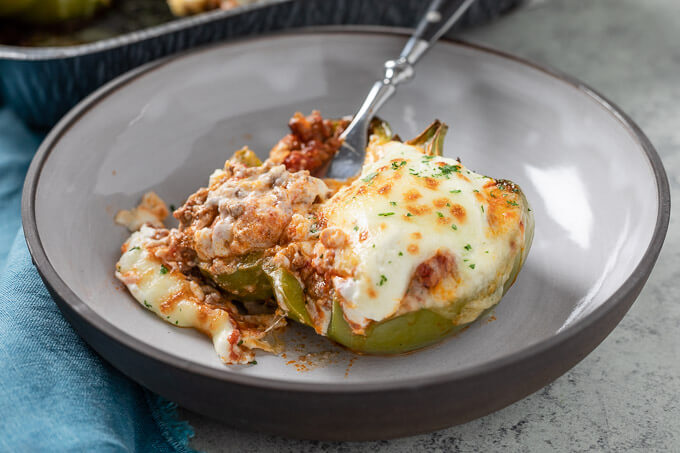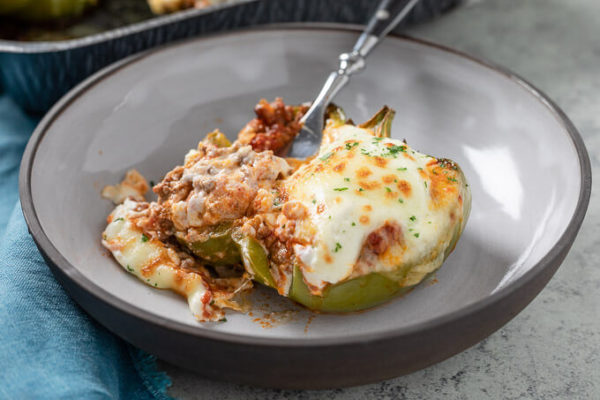 Can You Freeze Stuffed Peppers?
Yes, you can freeze stuffed peppers for up to 3 months. Let them cool completely before freezing them. Freeze the whole recipe together in a pan or freeze the peppers individually. Freeze individually for a quick, portable keto lunch for work or school. Freezing the whole recipe for an easy pre-made, low carb dinner for a busy weeknight.
TO FREEZE: It's best to freeze cooked peppers. If wrapping the stuffed peppers in foil, first fold a piece of parchment paper around the peppers. The acidity in the sauce will dissolve the aluminum. Wrapping the peppers in parchment first prevents this from occurring. No one wants a side of aluminum with their peppers. If freezing in a recyclable aluminum pan, line the bottom of the pan with a piece of parchment before adding the peppers.
REHEAT: Place the frozen peppers in the refrigerator to thaw the night before you wish to serve.
For an Individual Serving: Place the thawed pepper in a microwaveable bowl and cook at 50% power for 5 minutes. Check the middle to see if it's warmed through. Alternately, cover the stuffed pepper and place in a 350 F preheated oven for about 20 minutes.
To Reheat the Full Recipe: Let the thawed stuffed peppers come to temperature on the counter for 30 minutes. Place in a cold oven and set the temperature for 375 F. Cook for 20-30 minutes after the oven comes to temperature.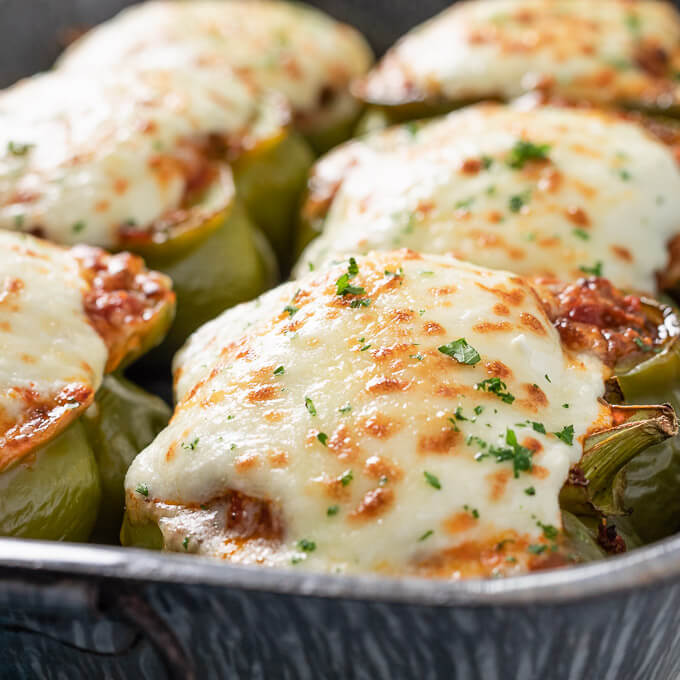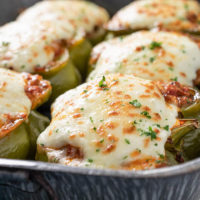 Keto Lasagna Stuffed Peppers
Tender bell peppers stuffed with ground beef, marinara sauce, ricotta and mozzarella cheese taste like lasagna. These low carb ingredients combine to make a filling and satisfying meal. Oven or slow cooker recipe.
Print
Pin
Rate
Equipment
Medium frying pan

9×13 inch baking dish

Parchment Paper

aluminum foil
Ingredients
3

large

bell peppers

1

tsp

olive oil

1/4

tsp

fennel seeds

1

pound

lean ground beef

1

cup

keto tomato sauce

(or your favorite sauce)

1 1/2

cup

shredded mozzarella cheese,

divided use (6 oz)

1

cup

whole milk ricotta cheese

1/4

cup

Parmesan cheese
Instructions
Preparation
Preheat oven to 350 F and place rack to middle position. Halve the peppers lengthwise and remove the seeds and white pith with a spoon. Place in a 9×13 inch baking dish or in the bottom of a slow cooker.

Add the olive oil to a medium pan set over medium heat. When hot, add fennel seeds and cook stirring quickly until fragrant. Then, cook the ground beef in the pan, breaking it up into small pieces until cooked through. Stir in the tomato sauce (marinara or your favorite) and cook until thickened. Cool and mix in 1/2 of the mozzarella cheese.

Spoon the meat sauce into the peppers, filling half way. Spoon a scant 1 1/2 tbsp ricotta cheese into each pepper followed with the remaining meat sauce.

Cover the peppers with a piece of parchment paper, tucking the access around them. Then, cover the dish tightly with foil. [At this point the stuffed peppers can be refrigerated up to 2 days. Let sit on the counter for 30 minutes before baking.]
Oven
Bake covered for 30 minutes. Then, remove the foil and parchment and top with remaining ricotta and mozzarella cheeses. Bake uncovered for an additional 10-15 minutes. Place under broiler for additional browning. Top with Parmesan cheese and serve.
Slow Cooker
Layer the ingredients in the peppers as per steps 2 and 3 above. Place the peppers into the slow cooker and cook on high 3-4 hours or on low for 6-8 hours. When done, divide the remaining ricotta and mozzarella cheeses among the peppers. Cover and heat until the cheese melts. Top with Parmesan cheese and serve.

Serve with a green salad with oil and vinegar dressing.
Makes 6 pepper halves. Serves 6 at 8.63 g NET CARBS PER SERVING.
Notes
Freeze cooked peppers individually or together as a whole meal in an air tight container or zip bag. Thaw overnight in the refrigerator. Reheat in the microwave or bake covered at 350 F until heated through. 
Nutrition
Calories:
323
kcal
|
Carbohydrates:
9.92
g
|
Protein:
26.63
g
|
Fat:
20
g
|
Saturated Fat:
9.8
g
|
Polyunsaturated Fat:
0.17
g
|
Monounsaturated Fat:
0.56
g
|
Cholesterol:
83
mg
|
Sodium:
470
mg
|
Potassium:
93
mg
|
Fiber:
1.3
g
|
Sugar:
6.24
g
|
Vitamin A:
14000
IU
|
Vitamin C:
700
mg
|
Calcium:
3450
mg
|
Iron:
7.92
mg