If you're looking for a hearty and healthy eggplant lasagna without noodles, you're in the right place. This low carb lasagna recipe has all the flavor of a regular lasagna with a fraction of the carbs. Replacing noodles with sliced, low carb eggplant results in a flavorful eggplant casserole layered with ground beef, marinara and three cheeses. Keto lasagna without noodles? You won't miss a thing!
Bake in the oven or use your slow cooker and keep the house cool.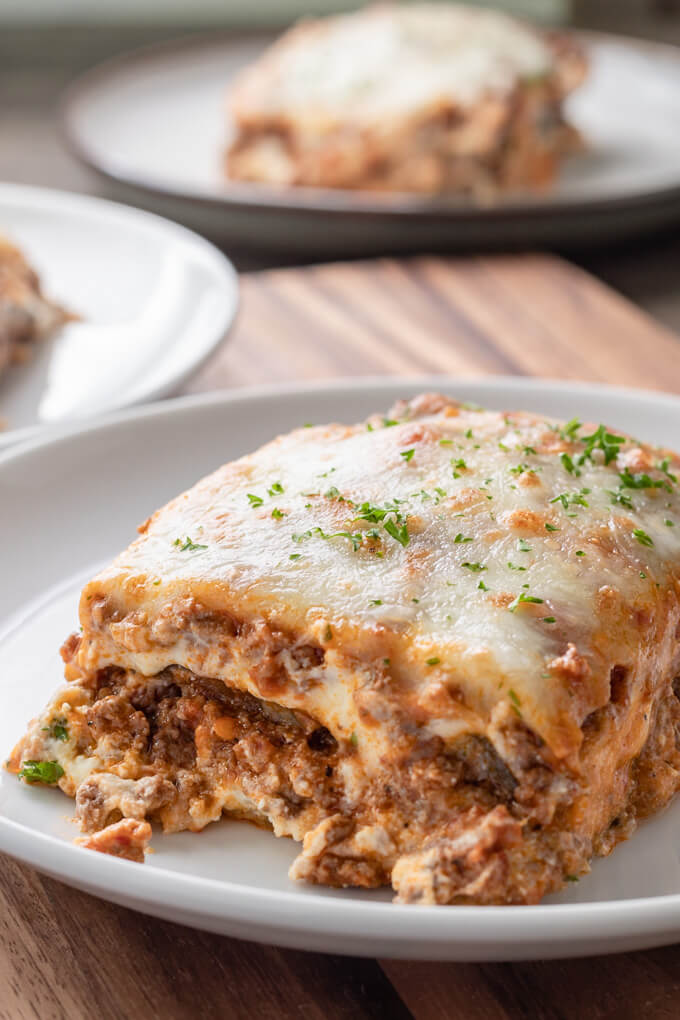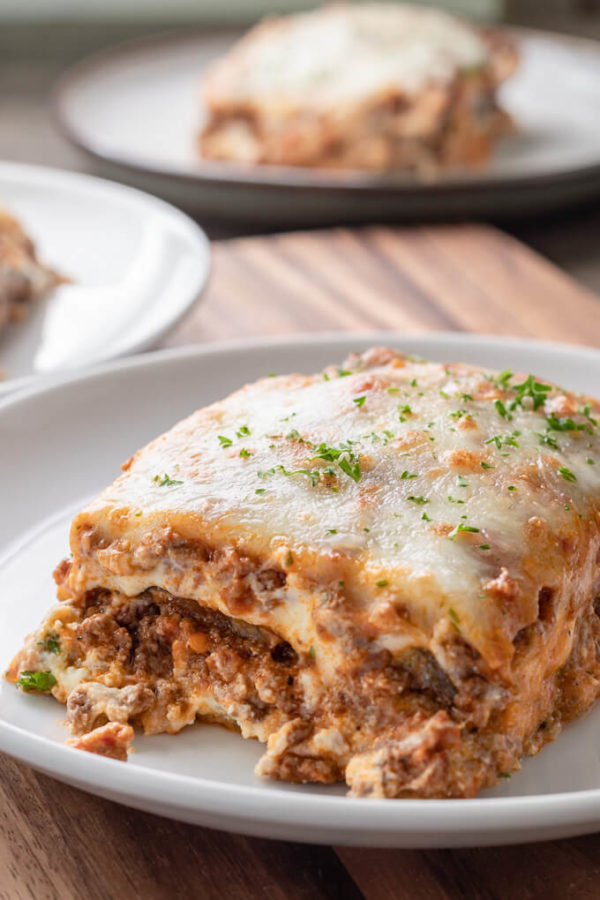 THIS POST INCLUDES AFFILIATE LINKS TO SHARE THE THINGS I LOVE.
I've mentioned in other posts that my mother's grandparents immigrated to this country from Italy. Mom grew up eating wonderful dishes prepared by her Italian grandma, mother and aunts. Fortunately, she taught me how to make a few of her specialties (some of which I've made low carb and shared with you). My keto meatballs recipe gets rave reviews as does my creamy low carb Alfredo sauce.
A labor of love…
Lasagna is one of my favorite dishes, and while it takes a little more time to prepare it's utterly worth it. Luckily, several steps can be done simultaneously, which cuts down on preparation time. The adjustments I've made to my mother's traditional recipe make this eggplant lasagna low carb, hearty, and delicious.
Keto Eggplant Lasagna with Meat Sauce
I realize that eggplant lasagna may be a first for some of you, keto or otherwise, and you may be wondering what eggplant tastes like? The flesh of eggplant has a slightly spongy texture and a slightly bitter taste which sweetens a bit as it cooks. Since it contains a lot of water, sliced eggplant is usually salted to draw out excess water and bitterness.
Through extensive testing I found that "salting" isn't necessary for this particular keto eggplant lasagna recipe. The end result is not watery and the slight bitterness of the eggplant noodles is a nice counterpoint to the sweet Marinara sauce and creamy ricotta cheese. The skin of eggplant is thick and tough (mom always peeled her eggplant) but keeping the skin on prevents the slices from turning to mush.
NOTE: Take your time cutting the lasagna to ensure that the eggplant is completely sliced through for easier serving.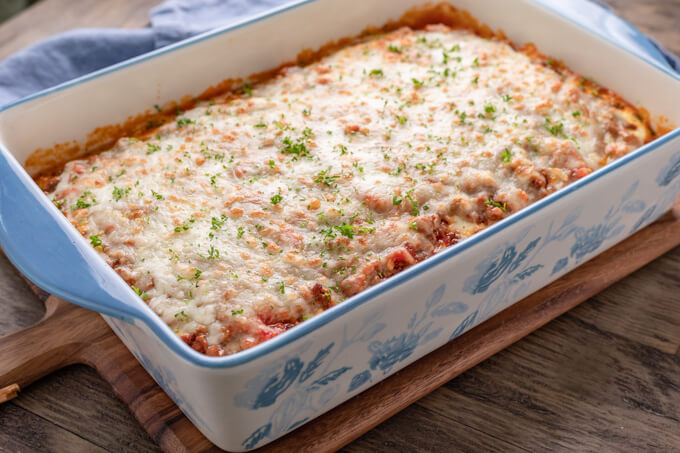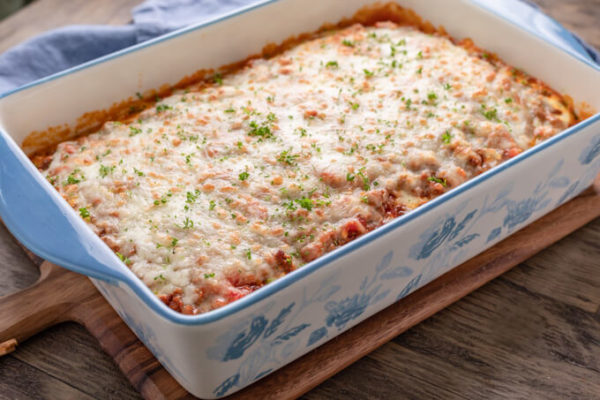 How to choose an eggplant
Mom taught me to choose eggplants with beautiful shiny skin. And while smaller eggplants have smaller seeds, choosing the right eggplant is more important than size. You want to choose a male eggplant because they have smaller and less seeds than female eggplants. To tell the difference between male and female eggplant, look at the blossom end. Male eggplants have a small, shallow round circle at the blossom end of the fruit. Female eggplants have a wider and deeper impression that looks like a line or a dash.
How to slice an eggplant
While I like round, crosswise slices for things like crispy fried eggplant or eggplant Parmesan, long lengthwise slices are preferred for eggplant lasagna. Since eggplants are round and roll, the first step is to make it safe for cutting. To do this,
Slice-off the stem end of the eggplant then slice-off the blossom end. This results in a flat, stable surface to place on the cutting board.
With a sharp knife, slice vertically from the top of the eggplant straight down, with a slight sawing motion.
Actually, the first few slices and last few slices will occur at the sides of the eggplant. You need at least eight, ¼ inch slices. Then, roast the eggplant in the oven on well-oiled sheet pans, for 6-8 minutes per side before layering in the pan.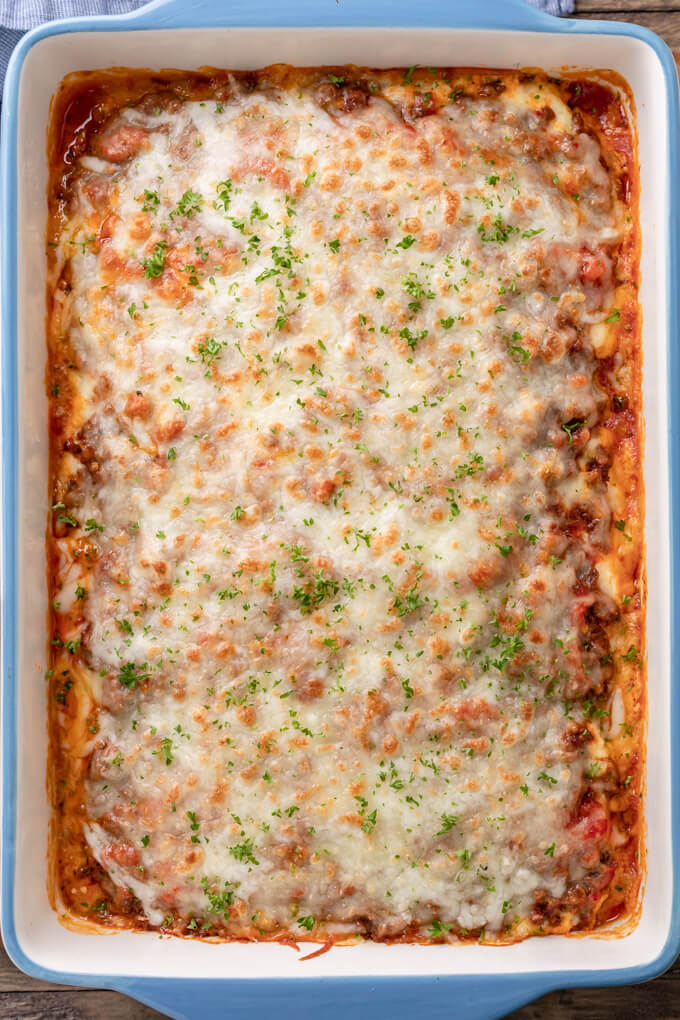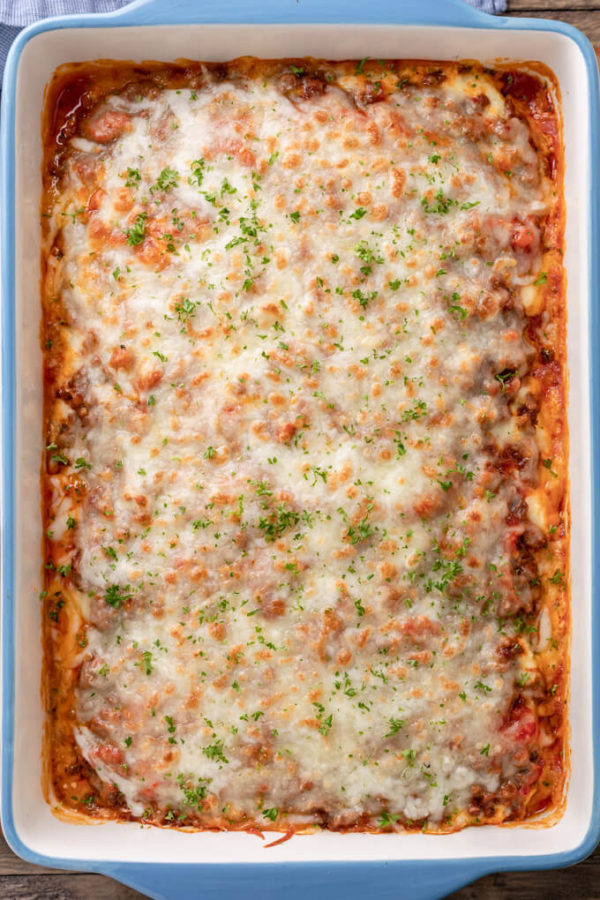 Ricotta Cheese Layer for lasagna (Yes, add an egg)
The ricotta cheese is my favorite layer in keto lasagna recipes. It's traditional to mix a beaten egg into the ricotta cheese. This prevents the cheese from thinning and becoming grainy and also helps firm it up. Equally important is stirring the mozzarella and parmesan cheeses into the ricotta. That's the way mom did it.
NOTE: Some keto eggplant lasagna recipes call for adding Italian seasoning to the ricotta cheese, but this is a blunder. One should be able to taste the sweet creaminess of the ricotta on its own and the sauce should be flavored enough to carry the seasoning in the dish. The flavor of each layer should be distinct but become something more as you enjoy them together in each bite.
Low carb keto meat sauce
Saute garlic in olive oil and cook ground beef breaking up. I use lean ground beef for two reasons: 1. Lean ground beef results in a higher yield 2. There is enough fat in the cheeses that the extra fat in a fattier grind of beef is not necessary. Once cooked, stir in 1 cup of homemade keto tomato sauce (or your favorite store bought Marinara sauce) into the cooked meat. Two popular low carb sauce brands are Rao's Marinara or Organico Bello Marinara.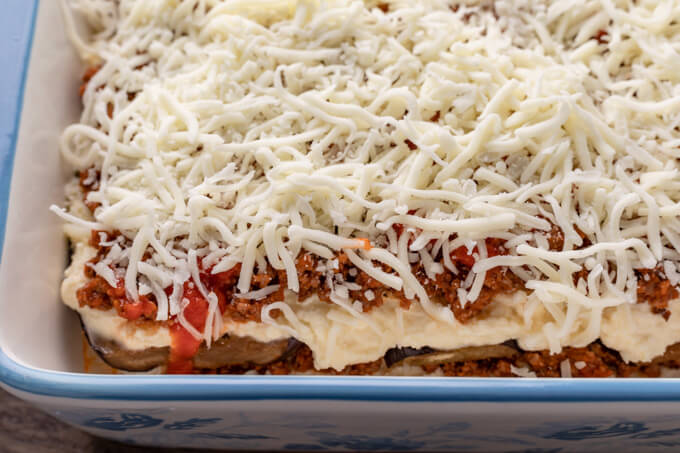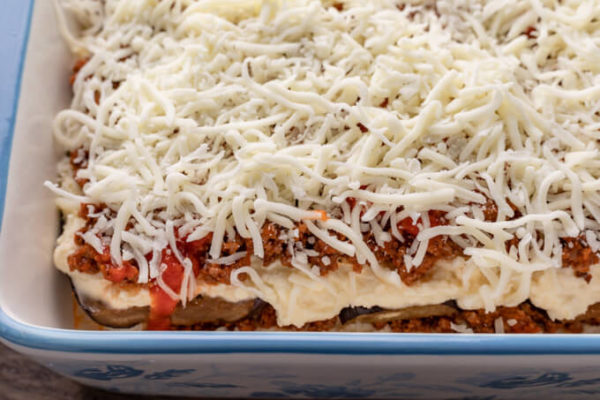 How to layer a lasagna
Lasagna's are layered in a specific way and generally have three repetitive layers of ingredients. This keto eggplant lasagna has two repeating layers which helps keep carbs low. Here's how to layer it:
Spread a thin layer of tomato sauce in the pan
Add a layer of eggplant
Spread a layer of ricotta cheese over the eggplant
Spoon meat sauce over the ricotta cheese
Repeat with a layer of eggplant, ricotta cheese and meat sauce
Top with mozzarella cheese
Bake Keto Eggplant Lasagna or Cook in Slow Cooker!
Although it's traditional to cook eggplant lasagna in the oven, this recipe can also be made in the crockpot. Since slow cookers employ a wet cooking method (in the form of trapping steam) and "make liquid" as they cook, I recommend baking the eggplant noodles in the oven to remove excess moisture before layering the lasagna in your slow cooker.
CONCLUSION
Keto eggplant lasagna is a great low carb lasagna alternative. The meat sauce provides a nice amount of protein which increases satiety without increasing carbs. Serve with a nice green salad and a piece of low carb focaccia or keto dinner rolls. The recipe serves 8 hearty portions.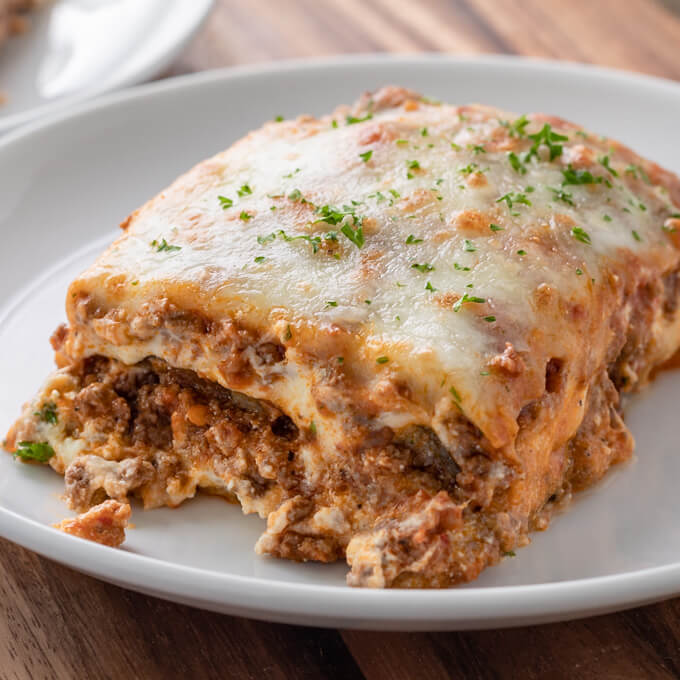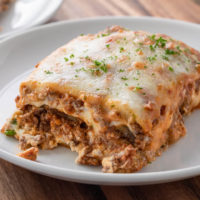 Keto Eggplant Lasagna with Meat Sauce
A hearty eggplant casserole layered with sliced eggplant, ground beef, Marinara and three cheeses. This low carb recipe is so tasty you won't miss the noodles.
Print
Pin
Rate
Equipment
9×13 inch lasagna pan

2 large sheet pans

cutting board

chef's knife

medium saute pan or skillet

measuring cups and spoons

Bowl
Ingredients
1 1/2

pounds

eggplant

3

tbsp

olive oil

divided use

2

cloves

garlic, sliced

1

pound

lean ground beef

1

tsp

Better Than Bouillon Beef Base

1/2

tsp

dried basil

1 1/2

cups

Keto Tomato Sauce

(or your favorite low carb Marinara)

15

oz

whole milk ricotta cheese

1

large

egg

3

cups

mozzarella cheese

divided use

1/2

cup

grated Parmesan cheese
Instructions
Eggplant (Preheat oven to 400 F)
Cut off a thin slice from the bottom and cut off the top. (I angle the knife under the leaves and cut them off, exposing more of the eggplant to decrease waste.) Place the eggplant standing up on the cutting board, holding the top with the fingers of one hand. Carefully cut the eggplant from top to base with a slight sawing motion, starting at the side of the eggplant. You want 8 slices about 1/4 inch thick.

Grease two large cookie sheets with 1 tbsp of oil each. Lay 4 slices of eggplant per sheet. Bake for 6-8 minutes per side then, flip, then bake for an additional 6-8 minutes. Set aside.
Meat Sauce
While the eggplant cooks, slice the garlic and put it in a medium saute pan. Add 1 tbsp olive oil, turn the heat to medium and saute the garlic until slightly softened and the oil is flavored. Add the ground beef and cook breaking it up into small pieces. When cooked through, add 1 cup Marinara sauce, beef base, and dried basil. Stir and simmer until the sauce thickens. Then cool.
Ricotta Cheese
While the sauce simmers, scoop the ricotta cheese into a 4 cup bowl. Add the egg and stir with a fork to combine. Stir in 1 ½ cup of mozzarella cheese and ⅓ cup parmesan cheese.
Layer
Spread 1/2 cup sauce in the bottom of the lasagna pan, then add 4 slices of eggplant. Spread the half the ricotta cheese mixture over the eggplant. Spoon and spread half the meat sauce over the ricotta cheese. Repeat the layers and top with remaining mozzarella and Parmesan cheese.
Bake (Preheat oven to 375 F)
Place a piece of parchment over the lasagna to prevent the acid in the sauce from reacting with the aluminum foil. Cover tightly with foil and bake at 375 covered for 30 minutes, then 10 minutes uncovered. Let the lasagna sit 10-15 minutes before cutting into 8 equal pieces and serving.
Slow Cooker
Spray the slow cooker sleeve with non-stick cooking spray. Follow the instructions except layer the eggplant lasagna ingredients in the slow cooker. Cover with lid and cook on high power for 2-3 hours or until a knife inserted into the lasagna meets little resistance. Turn the slow cooker off and let the lasagna sit covered, for 30 minutes to an hour to absorb any liquid. Cut and serve.
SERVES 8. EACH SERVING IS 6.45 g NET CARBS.
Nutrition
Serving:
1
piece
|
Calories:
410
kcal
|
Carbohydrates:
8.85
g
|
Protein:
29.55
g
|
Fat:
28.33
g
|
Saturated Fat:
13.21
g
|
Polyunsaturated Fat:
0.71
g
|
Monounsaturated Fat:
4.76
g
|
Cholesterol:
132
mg
|
Sodium:
696
mg
|
Potassium:
315
mg
|
Fiber:
2.4
g
|
Sugar:
4.19
g
|
Vitamin A:
6275
IU
|
Vitamin C:
14.4
mg
|
Calcium:
3428
mg
|
Iron:
7.74
mg