Key West chicken brings the flavors of the Florida Keys to your backyard. Let this low carb grilled chicken recipe be a staple of your keto summer barbecue.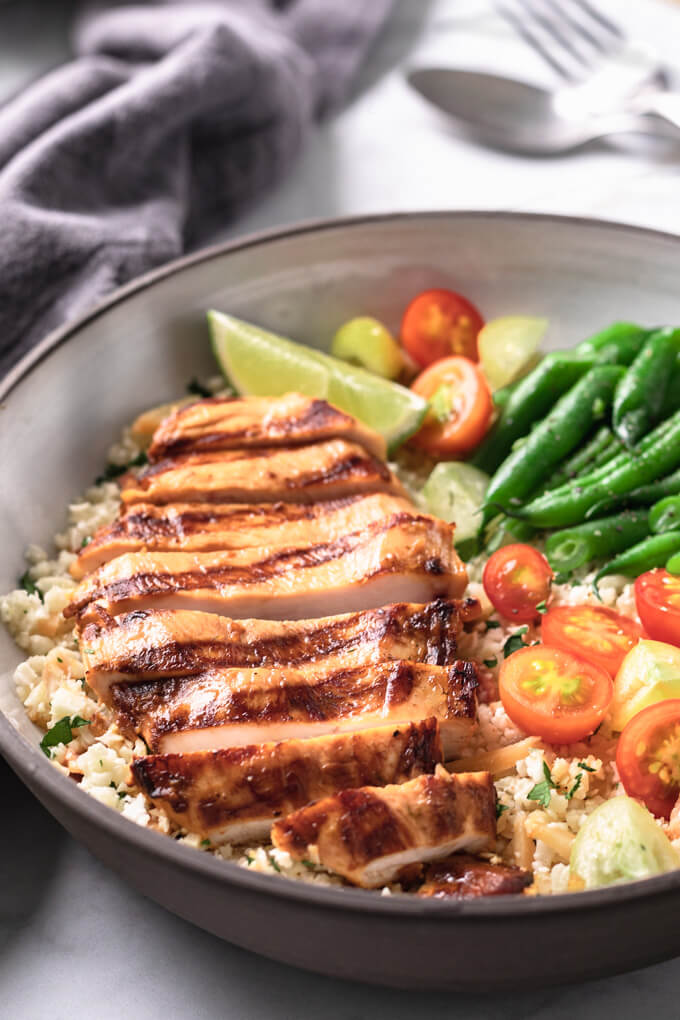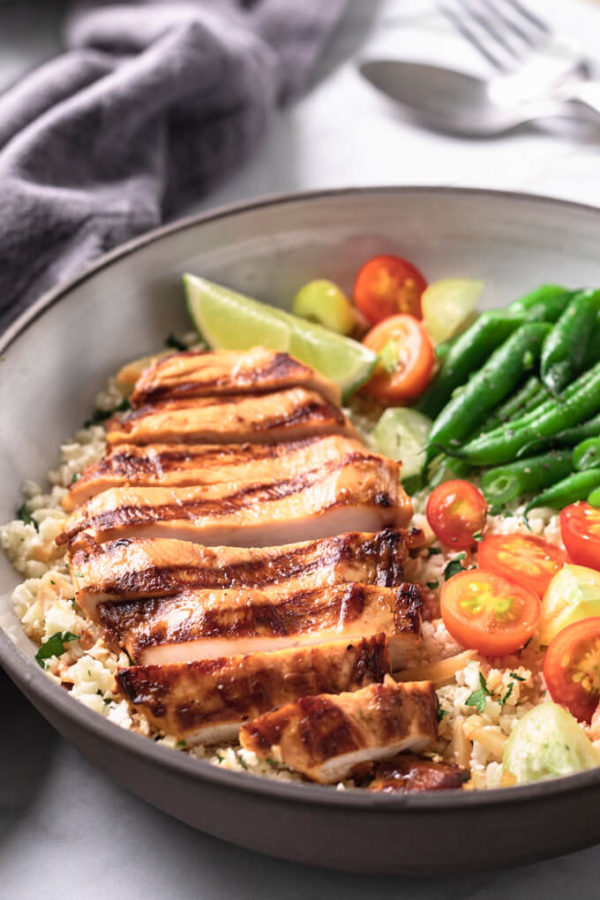 THIS POST INCLUDES AFFILIATE LINKS TO SHARE THE THINGS I LOVE.
Summer is in full swing. I don't want to be in my kitchen, slaving away over complicated meals. I'd rather make something easy but still delicious enough that would be perfect for a barbecue or a picnic with friends and family.
This keto Key West chicken is the perfect easy summertime meal to share at a picnic or barbecue. A flavorful chicken recipe with only a handful of easy ingredients and pairs so well with simple summertime sides that I love so much like this sweet bell pepper salad.
I love grilled chicken dishes. Chicken is a staple of my low carb lifestyle; my go-to protein because it's so versatile. It offers a totally different flavor profile than my favorite chicken fajita marinade I use so often.
Key West Chicken
Key West chicken is marinated in a combination of lime, soy sauce, honey, vegetable oil, and garlic, then grilled. I don't know for certain if there's a connection to Key West, other than limes, a popular ingredient in the Florida Keys, but it sure is tasty.
Honestly, this dish probably originates from the popular chain restaurant Cheddar's. Cheddar's is a full service restaurant that serves American food and pub fare. One of their most popular dishes is Key West chicken and shrimp. Their version of the dish combines honey, lime, soy sauce, oil, and garlic on grilled chicken and shrimp and is topped with Pineapple salsa.
My keto version of Key West chicken uses the same flavors but trades low carb sweetener for honey and avocado oil for vegetable oil. These substitutions keep true to the original flavors while keeping your waistline happy!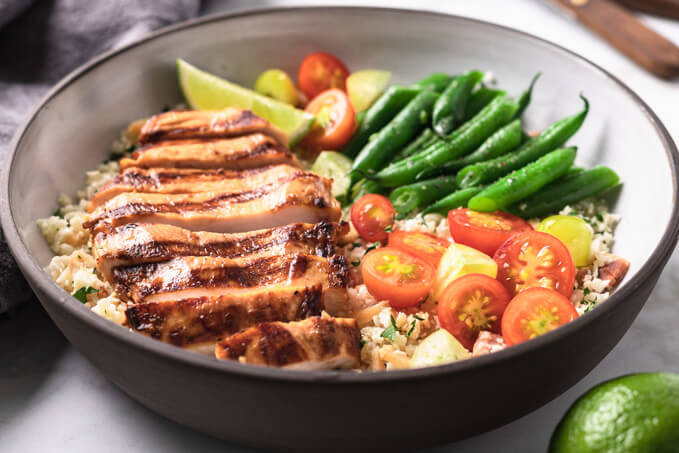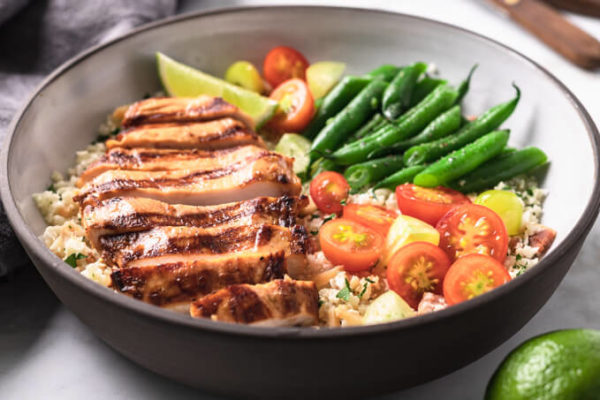 Why does Key West chicken taste so good?
You need to try this recipe because it's so darn easy. The secret to yummy goodness is in the marinade, which is soy sauce, based. Soy sauce has umami, an inherently savory quality that adds real depth to anything it's added. The fermentation process of the soybeans in the soy sauce breaks down the proteins in the soy sauce into natural glutamates. These glutamates have a complex, almost meaty flavor.
Soy sauce may be the base of the marinade show, but its supporting ingredients also contribute to the yum factor here. The marinade is out of this world delicious because it's the perfect blend of savory, sweet, and a touch salty. Plus it has a bit of zing from the garlic and enough brightness from the lime juice that it practically tastes like summer with its freshness.
I am avoiding gluten. What can I use instead of soy sauce sauce in Key West Chicken?
Trying to stay gluten-free? No sweat, I got you covered. You can substitute Tamari for soy sauce or use coconut aminos instead. Tamari is just a darker, wheat-free soy sauce. It's slightly richer and less salty than regular soy sauce. However, if you need to be gluten-free due to intolerance or Celiac disease, you'll probably want to use coconut liquid aminos.
Liquid coconut aminos have a similarly pleasant salty-savory flavor as compared to soy sauce or Tamari. They are a bit stronger than soy sauce so either dilute the marinade with more water or use a bit less of the aminos than you would soy sauce.

How to Make Low Carb Key West Chicken
This low carb Key West chicken is a snap to make. Just give the lime a good, firm roll on the counter to release its juices and juice it into a bowl. Whisk in the soy sauce, oil, sugar substitute, oil, pressed garlic cloves, water, and lime zest. Then add the chicken breast halves to the bowl, tossing them in the marinade so they are fully coated. Now, cover the bowl and put the chicken in the fridge for at least half an hour (up to 4 hours) so it can really absorb the flavors of the marinade.
Thirty minutes prior to cooking the chicken, take it out of the fridge to take the chill off. Grill the chicken over high heat on an oiled grate until the juices run clear, about 6 to 7 minutes per side. Let it rest for 10 minutes. Then, squeeze fresh lime juice on top at serving for an added zingy brightness that tastes like summer sunshine.
What can I serve with Key West chicken?
Key west chicken is super versatile. The dish pairs well with light salads, rice and cooked veggies. I serve it with this low carb cauliflower rice pilaf and a green salad. After all, Cheddar's serves their classic dish with rice and you can enjoy a take on that rice too with this meal.
Don't forget to finish your summer meal off with a nice summer dessert like this citrusy low carb lemon lush. The lemon flavor would be the perfect way to tie in the chicken's citrusy flavor to a meal experience.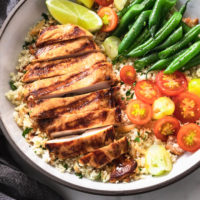 Keto Key West Chicken
Key West chicken brings the flavors of the Florida Keys to your backyard. This low carb grilled chicken recipe will be a staple of your summer keto barbecues.
Print
Pin
Rate
Ingredients
4

boneless-skinless chicken breast halves

3

tbsp

Tamari soy sauce

(or coconut aminos)

1

tbsp

Low carb brown sugar

(or your favorite low carb sweetener)

1

tbsp

olive oil

2

cloves

garlic, pressed

1

lime

zested and juiced

(about 1 tsp zesr and 2-3 tsp juice)

1

tbsp

water

additional lime wedges for garnish
Instructions
Method
Pound chicken to an even thickness for better cooking. Alternately, cube chicken to cook on skewers.

Firmly roll the lime on the counter to get the juice started. Zest the lime. Then, cut it in half crosswise and juice it into a shallow dish or bowl. Add the remaining marinade ingredients to the dish/bowl, stirring to blend.

Place the chicken into the mixture and turn to coat. Cover and marinate in the refrigerator at least 30 minutes. When ready to cook, remove the chicken from the refrigerator to warm up for 30 minutes.
Grill
Preheat an outdoor grill for high heat and oil the grill grate.

Remove chicken from the marinade and cook the chicken approximately 6-7 minutes on each side until juices run clear and the internal temperature reaches 160 F. Tent loosely with foil and let rest for 10 minutes.

NOTE: Also great cubed and cooked on skewers, but adjust grilling time.

Squeeze a wedge of lime over the chicken at serving time for a kick of bright citrus flavor.
Bake
Preheat oven to 350 F and place rack to middle position.

Remove chicken from marinade and place on a parchment lined sheet pan or in a 3×9 baking dish sprayed with oil. Bake for 30-45 minutes depending on the size of the chicken breasts and your oven. Tent loosely with foil and let rest 10 minutes before serving with a squeeze of lime juice.

NOTE: Serves 4 people. I count the carbs per serving as 1 net carb because the marinade/ingredients are left behind. For the same reason also divide the sodium numbers by three.
Nutrition
Calories:
165
kcal
|
Carbohydrates:
1
g
|
Protein:
31
g
|
Fat:
7
g
|
Cholesterol:
105
mg
|
Sodium:
300
mg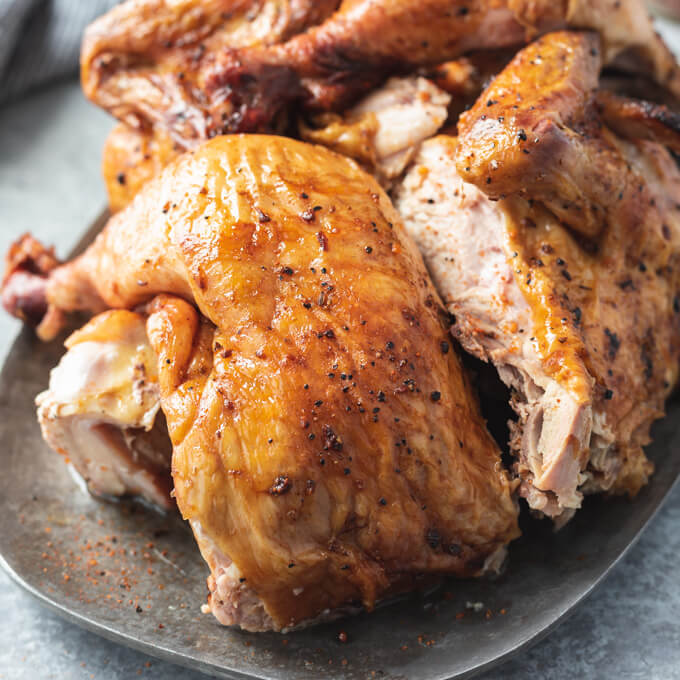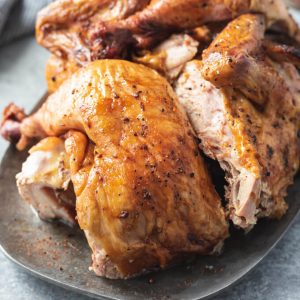 Smoked Beer Can Chicken Recipe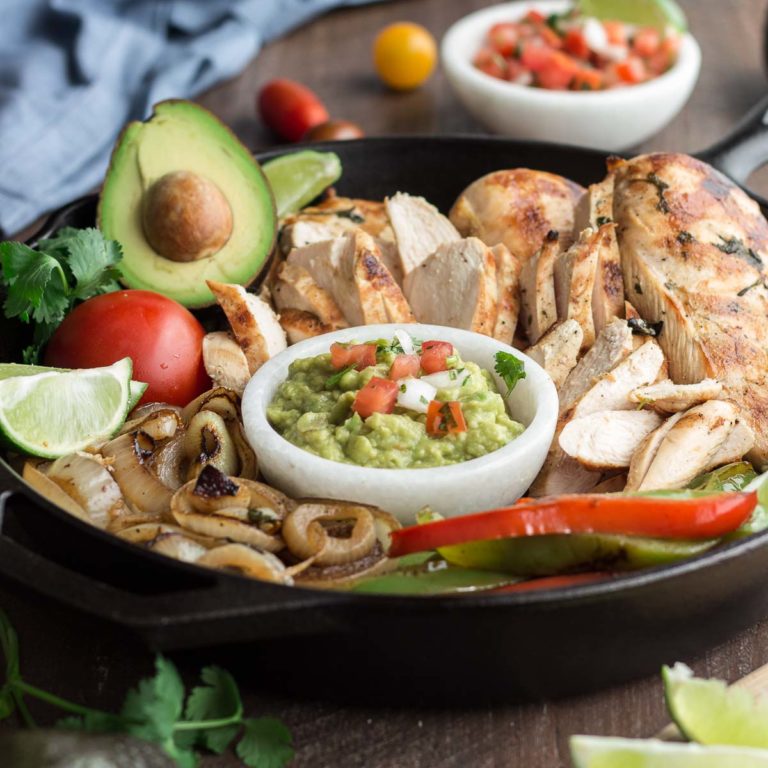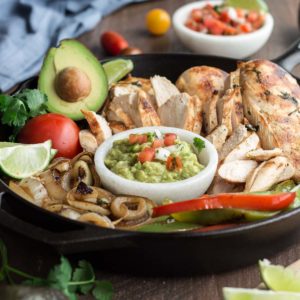 Authentic Chicken Fajitas Marinade Recipe