Using a prepared seasoning blend and employing a few tricks, ensures that this Garlic Herb Grilled Chicken cooks perfectly every time. Cook-up some extra for your weekday salads.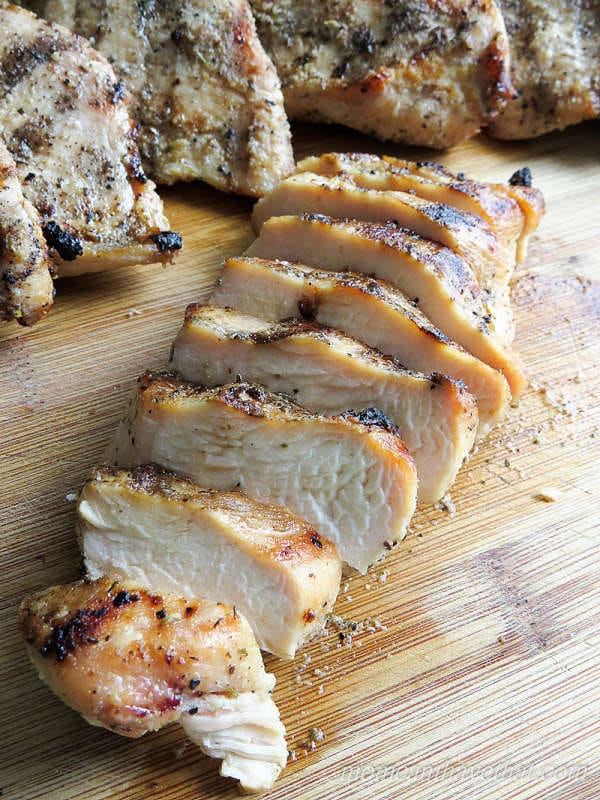 In order to keep our eating on track, I spend a little extra time in the kitchen on the weekends cooking things we will want to enjoy during the week. One thing I always focus on preparing is a protein that we can put on our lunch salads. Sometimes, it's a tri-tip that I slice very thinly, other times it's sausages, taco meat or turkey patties, but most often it's grilled chicken.
We usually buy the big bags of frozen boneless-skinless chicken breasts from Costco, but lately, I've been buying the family packs of bone-in chicken breast halves at the grocery store. There are typically 5 breast halves in each package and by doing the work myself, I save money.
From 1 family pack I typically get 10 tenders, 5 trimmed boneless-skinless breasts, and bones for homemade bone broth. I meant to include a tutorial on how I do this, remove the meat from the bones, but the pictures were terrible, so, I will link to it at another time.
Some, may be wondering why I would include a post on grilling chicken breast. Chicken on the grill is often the first thing one learns to grill. It's a basic skill. But, if you have a problem with your chicken sticking to the grill or if it comes off the grill with a dry exterior or a raw center, then I have included a tip or two to help counter some of those problems.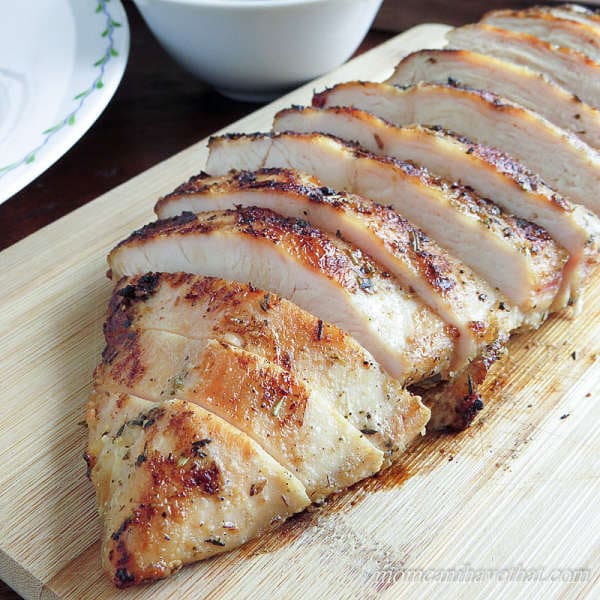 My Tips For Perfect Garlic Herb Grilled Chicken Every Time
Let the chicken come to room temperature. I let it sit in a baking dish for at least a half hour before I even think about touching it. Cooking chilled protein will result in a dry exterior and sometimes raw interior. It also shocks the meat making it tough.
Heat the grill. When hot, clean off any debris. Nobody wants burned bits from last weeks dinner on their chicken.
Once the chicken has warmed-up a bit, dry it thoroughly with a paper towel. Then, pour about 2 tablespoons of oil over the chicken and distribute it evenly over the entire surface of each piece. No, it's not going to bump up the calories, it will mostly drip or burn-off while cooking.
Season the chicken with salt and pepper BEFORE adding another seasoning unless that seasoning is very salty. Why? the flavor basically sits on the outer surface of the meat, so the seasoning needs to be strong enough to flavor the whole bite of chicken. Remember: Protein loves salt.
Pour a few tablespoons of oil into a small bowl, wad up a paper towel, pick-it-up with long handled tongs and rub the oil on the grill grate. This step cleans the grate a bit and helps make a non-stick surface.
Place the chicken on the grill and leave it in one place until the sides begin to turn white, then flip it over. I cook mine covered, but that is a personal preference. Switch the pieces of chicken around on the grill by swapping a piece from a hotter part of the grill with a piece from a cooler part of the grill. Then, leave it alone.
Cook until the internal temperature reads 160 degrees. It will continue to cook a few minutes after being removed (unless the chicken was very cold when it went on the grill).
Alternate done-ness test: I have a sixth sense when it comes to cooking chicken and just "know" when it's time to flip and take it off of the flame. I also use the scientific "finger-push" test. If the thickest part of the breast is squishy when I push on it, it's not done. If it gives just slightly, it's perfect. If it is firm as in no-give — it's over done.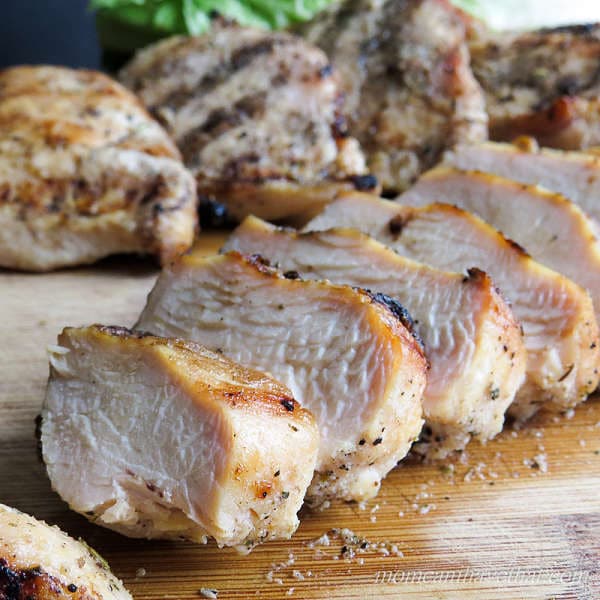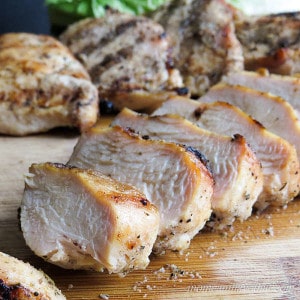 Garlic Herb Grilled Chicken Breast
Using a prepared seasoning blend and employing a few tricks ensure that this Garlic & Herb Grilled Chicken cooks perfectly every time.
Print
Pin
Rate
Instructions
Bring the chicken to room temperature by leaving it on the counter for at least 20 minutes before beginning.

Dry off the chicken breasts. Coat the breasts in olive oil.

Season them well, on both sides with salt and pepper).

Turn on the grill. When it is hot, clean the grill and oil the grill grate.

When the grill is hot again, add the chicken and cook covered until the sides of the breasts turn white. Flip them over and rearrange them by putting the pieces that were on the hotter parts of the grill onto the cooler parts and vise versa.

The chicken is done when the internal temperature reads 160 degrees UNLESS the chicken was put onto the grill COLD. If so, then wait until the internal temperature is 165 degrees.

Let the chicken rest loosely covered by a piece of foil, for at least 15 minutes before cutting.
Notes
Nutrition Facts
Garlic Herb Grilled Chicken Breast
Amount Per Serving
Calories 187
Calories from Fat 54
% Daily Value*
Fat 6g9%
Protein 32g64%
* Percent Daily Values are based on a 2000 calorie diet.
Nutrition
Calories:
187
kcal
|
Protein:
32
g
|
Fat:
6
g