An easy recipe for low carb lemon curd that's tart, sugar-free and doesn't require the use of a food processor or double boiler. Do you have 10 minutes?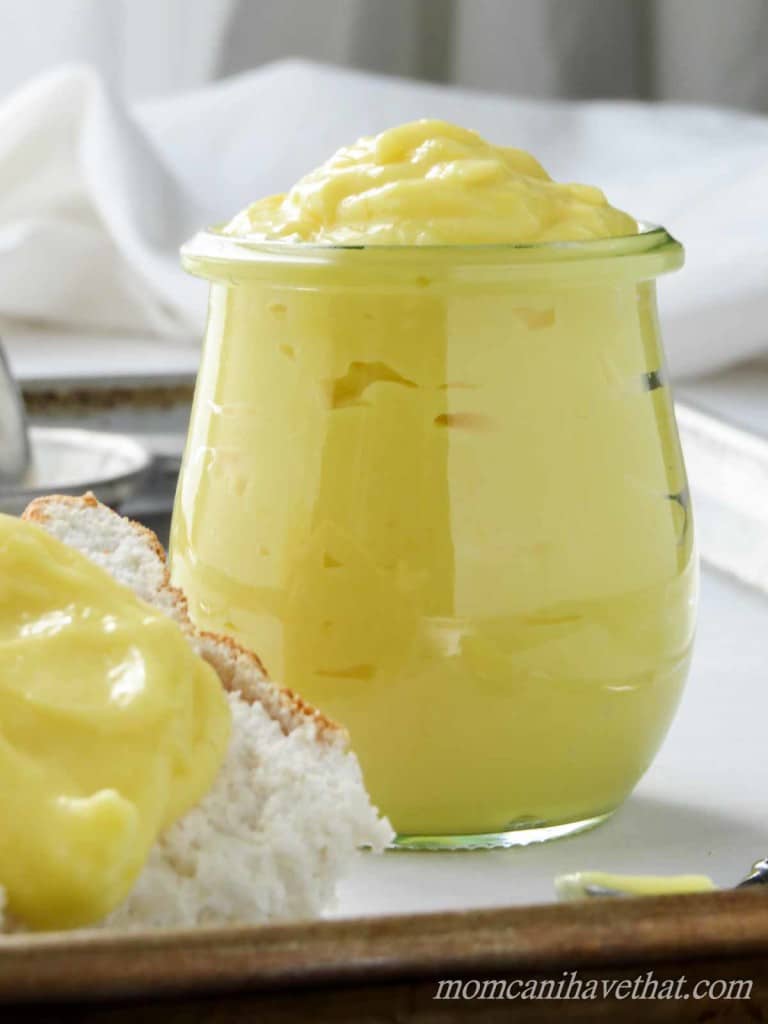 Did you think lemon curd was hard to make? Or that you needed a food processor or a double boiler to make it the right way? I'm here to assure you that lemon curd is very easy to make and only takes about 10-15 minutes from start to finish!
Well, okay, the first time you make it it might take a little longer as fear of scrambling the eggs makes one very cautious, but by the second and third time you'll be making this homemade tart lemon curd like a pro.
As you may already know… I love lemon. I was the kid ordering piccata, lemon meringue pie, lemon sherbet and Italian lemon cake at restaurants – anything lemon. And now that I'm all grown-up, I'm lucky enough to live in Southern California where I have access to good lemons year round.
I have quite a few recipes which include lemon on the blog like a fabulous Lemon Curd Pie which uses this low carb lemon curd recipe.
Not only are beautiful lemons easily found in the grocery store, but they are also found on popular back yard trees. Unfortunately, non of my citrus trees have done very well thanks to snails, lack of fertilization (my bad) and "the drought", but my neighbor has pretty big lemon trees and I'm guaranteed to get a small bag every time I drop by to say "Hello". You can bet that in return, I always make a nice tart lemon curd or lemon pie as a thank you.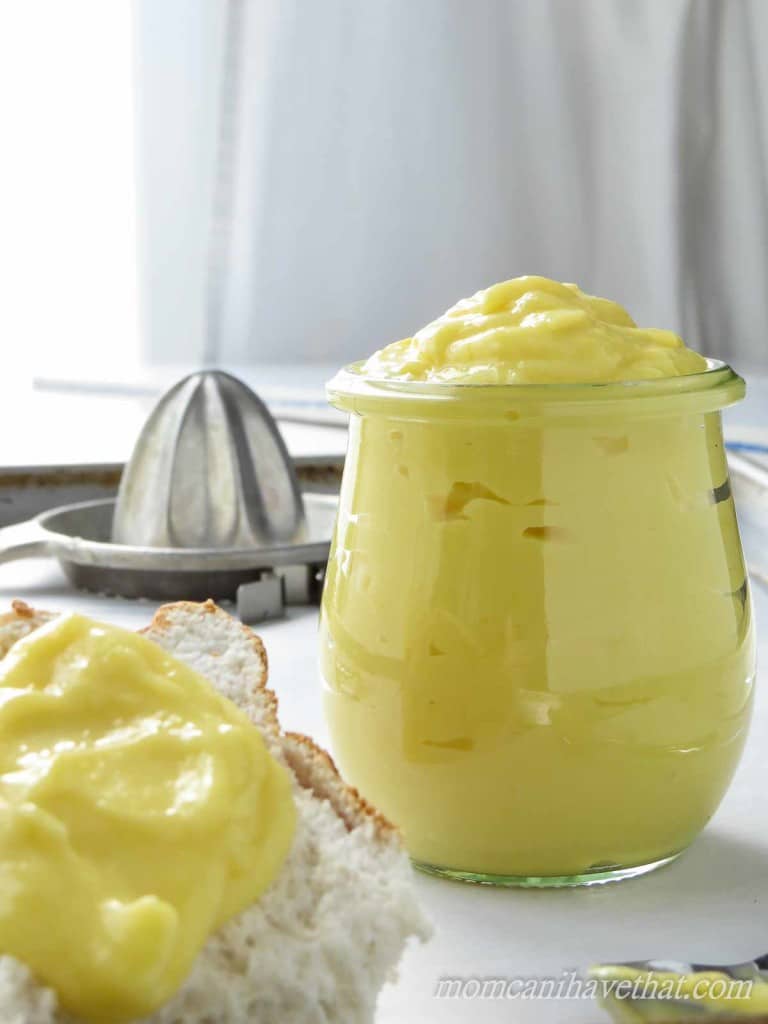 To get the nice tart zing in this low carb lemon curd, make sure to use tart lemons like Eureka or Lisbon not Meyer lemons, which are much sweeter and less acidic. If you need to tone down the tang, just add a little more of your favorite low carb sweetener.
How do I use my favorite low carb lemon curd?
low carb lemon tarts
low carb dessert crepes
slathered on low carb toast, scones and muffins
spooned over low carb angel food, bundt, and pound cakes
used between layers in low carb layer cakes
as low carb cupcake and pastry filling
low carb lemon curd pie or lemon cream pie
low carb lemon curd ice cream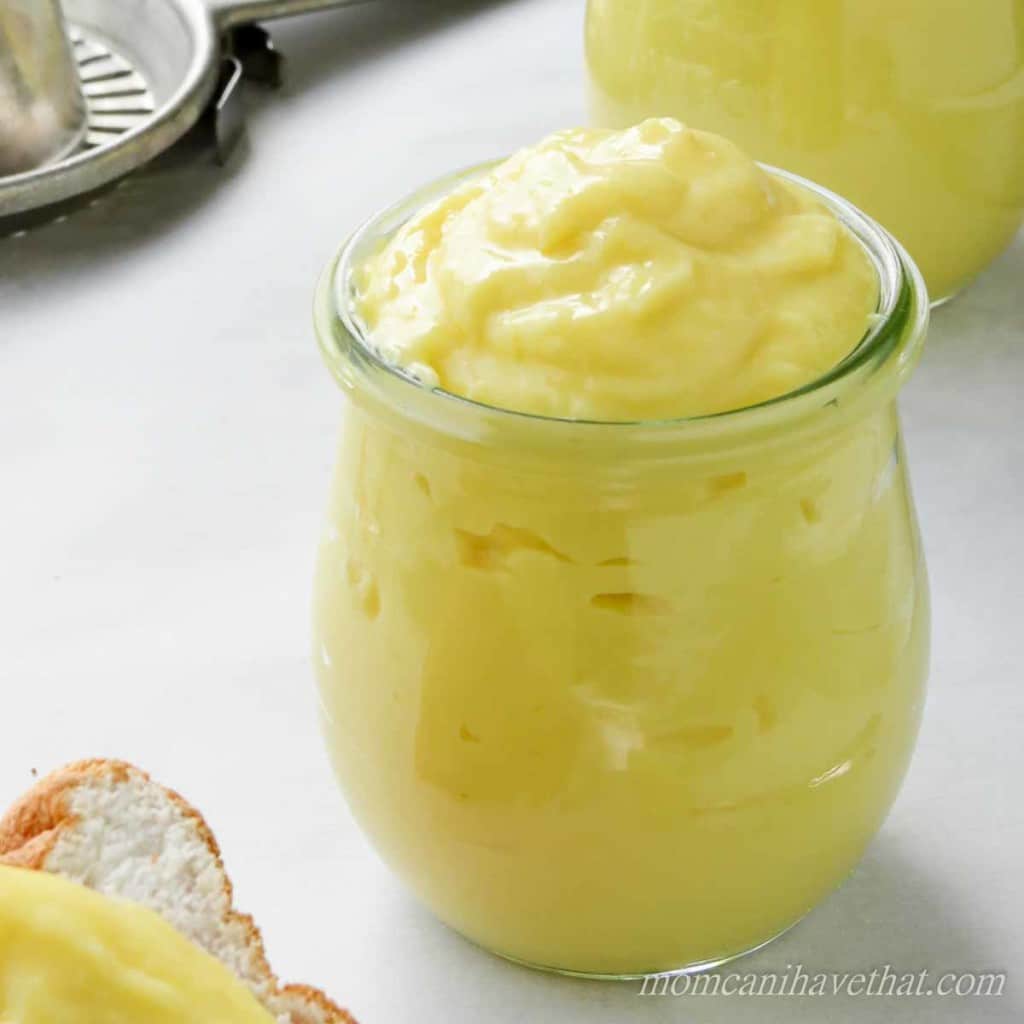 I know that to some, separating eggs provides a bit of a problem – or perhaps irritation is a better word, because of the extra yolks or whites that accumulate. I can help with that:
Leftover egg yolks can be used to make mayonnaise, pastry cream, sabayon (zabaglione), puddings and ice cream or they can be frozen.
Leftover egg whites can be used to make chocolate mousse and other flavored mousses, meringues, pavlovas, french macaron, coconut macaroons, to lighten cakes, added to scrambled eggs or omelette, to make low carb psyllium bread or they can also be frozen.
I used this same great low carb lemon curd in a FANTASTIC Low Carb Lemon Curd Pie.
My favorite low carb lemon curd is 2 net carbs for 3 tablespoons.
[Disclosure: This recipe contains affiliate links.]
My Favorite Low Carb Lemon Curd
An easy recipe for low carb lemon curd that's tart, sugar-free and doesn't require the use of a food processor or double boiler. Do you have 10 minutes?
Servings
2
cups / 10 servings
Ingredients
3/4

cup

(6 ounces) lemon juice,

about 3-4 lemons

1/2

cup

erythritol

4

large

eggs

4

large

egg yolks

the zest from all of the lemons

1/4

teaspoon

stevia glycerite

6

tablespoons

salted butter

1

tablespoon

cornstarch or arrowroot

(optional: subtract 7 carbs from recipe if omitted)
Instructions
Measure the erythritol and cornstarch (or arrowroot powder) and put them in a medium pot. Stir together.

Roll the lemons on the counter to get them juicy, then zest the lemons adding the zest to the erythritol.

Separate 4 eggs and add the yolks to the erythritol in the pot. Add the 4 whole eggs to the pot and whisk the eggs and erythritol together.

Juice the lemons and measure 3/4 cup. Strain the lemon juice and stir it into the eggs.

Turn the heat to medium and continuously whisk the mixture until it begins to thicken - it only takes a few minutes. Turn the heat down to medium-low and continue whisking. The lemon curd will thicken - all at once

Remove the pot from the heat and continue to stir with the whisk for one minute more. Pour into a clean container and add the

stevia glycerite

and salted butter incorporating completely.

To cool, place a piece of plastic wrap right on top of the low carb lemon curd and refrigerate. I like to make a water and ice bath in a larger bowl, set the bowl with the lemon curd inside of the bigger bowl and stir the lemon curd until it is cool.

Makes about 2 cups with bout 3 tablespoons per serving.
Notes
*If this recipe tastes too eggy to you, use 6 yolks and 2 whole eggs. It's the whole eggs that give the eggy flavor.
Nutrition Facts
My Favorite Low Carb Lemon Curd
Amount Per Serving
Calories 122
Calories from Fat 99
% Daily Value*
Total Fat 11g 17%
Total Carbohydrates 2g 1%
Protein 4g 8%
* Percent Daily Values are based on a 2000 calorie diet.
Nutrition
Calories:
122
kcal
|
Carbohydrates:
2
g
|
Protein:
4
g
|
Fat:
11
g