This creamy Coconut Milk Pastry Cream is perfect for your low carb desserts or on its own.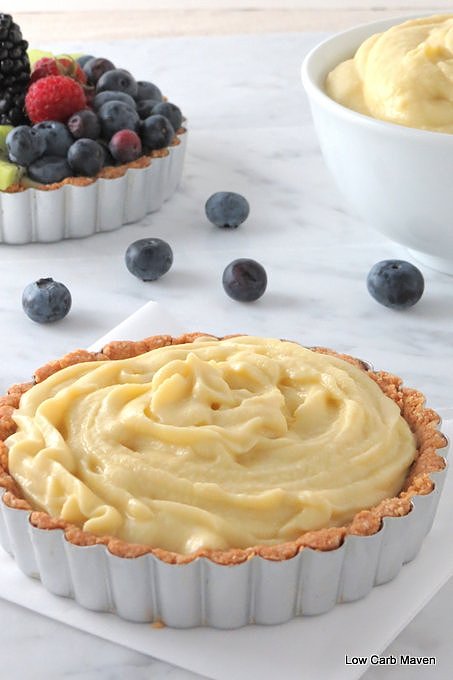 I'm so excited to bring this low carb Coconut Milk Pastry Cream to you today because it's really wonderful. This is the perfect recipe for those who need to avoid grains and dairy or are living sugar-free.
If you haven't been using pastry cream then I feel sorry for you because you have seriously been missing out. No, I'm just kidding. But seriously, you have.
What is Pastry Cream?
Pastry cream is a custard made with milk, eggs, and sugar that is thickened with either flour, cornstarch (arrowroot), or a combination of the two. The process involves heating the milk, mixing the dry ingredients together with the eggs, tempering the eggs with some of the hot milk, combining the two mixtures together, then cooking it on the stove until it thickens.
Upon refrigeration, pastry cream becomes quite firm and can even be piped to decorate a dessert. Although not difficult to make, it does take some attention so that the eggs don't curdle. I think you'll be surprised how quickly you can make a batch of this low carb coconut milk pastry cream and then you'll want to use it on everything.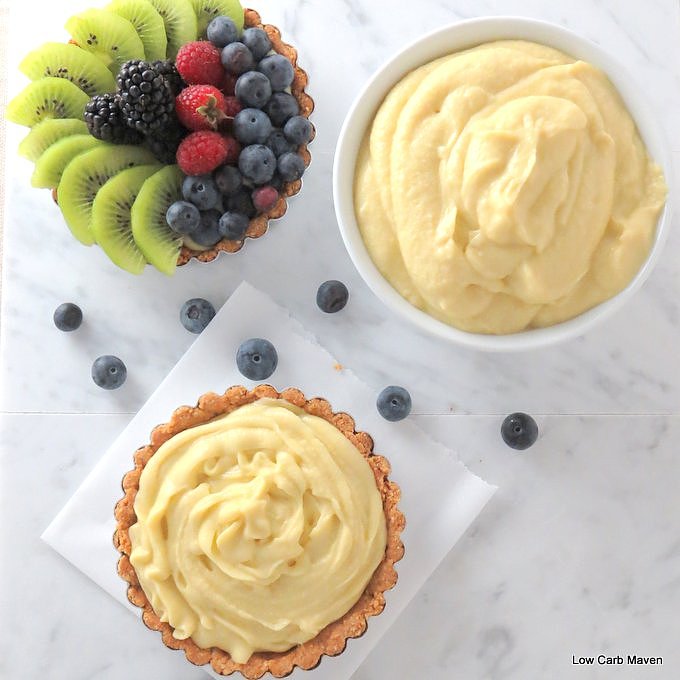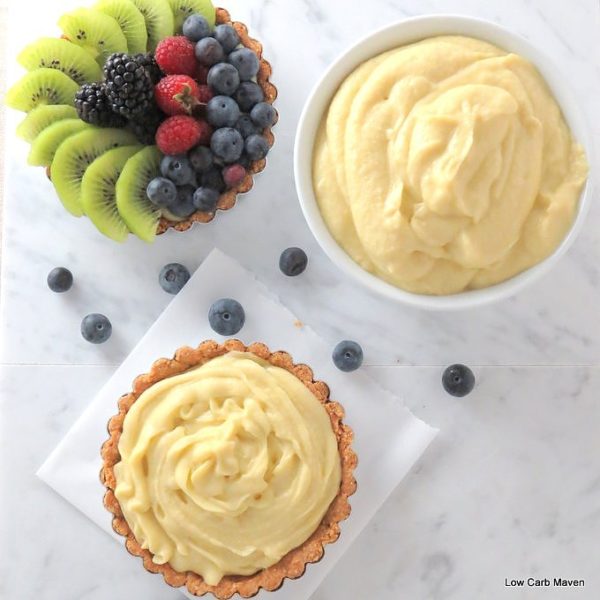 This low carb pastry cream recipe is made from coconut milk and almond milk. Coconut milk not only gives this pastry cream a distinctive flavor, but it is actually a heart healthy dairy alternative. And almond milk is mild, low in fat, and low in sugar so it is the perfect choice for those following a low carb or ketogenic lifestyle. The ingredients are wholesome and the procedure is the same our grandmother's used when making homemade pudding from scratch.
Pastry cream is not hard to make, but it does take some care. So, now that you know what it is and how to prepare it, you're probably wondering what this low carb coconut milk pastry cream can be used for…
Pastry cream is traditionally used as a filling for pastries: cream horns, cream puffs, Napoleons, eclairs, danish, and donuts come to mind. But, pastry cream can also be used between layers of cake like Boston Cream Pie or as the base for fresh fruit tarts, banana cream pie and coconut cream pie.
And this coconut milk pastry cream is soooo good that I'm going to try it in as many things as I can!
Give it a try. You won't be sorry.
One Serving (1/4 cup) of this low carb Coconut Milk Pastry Cream is 1 net carbs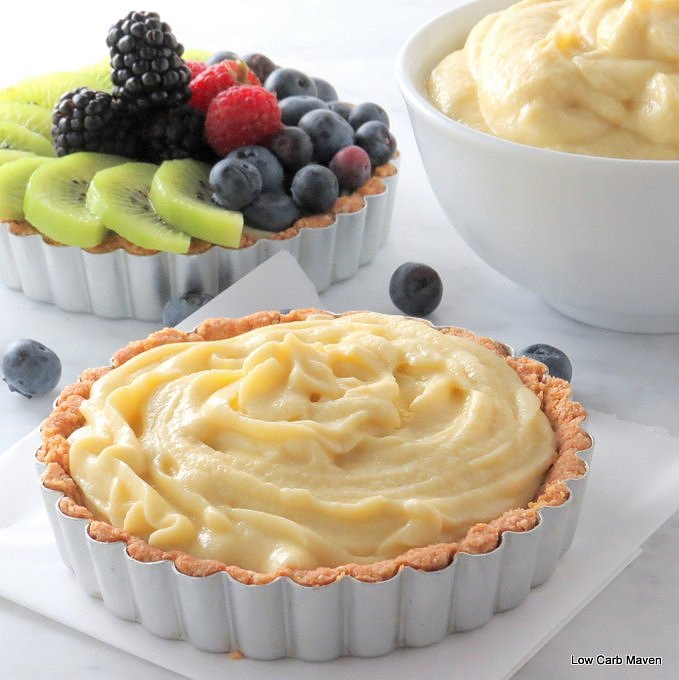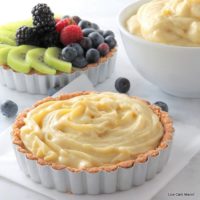 Low Carb Pastry Cream With Coconut Milk (sugar free. dairy free)
A thick, rich, vanilla custard or pudding, often used as a filling for desserts. This coconut milk pastry cream is gluten-free, dairy-free, sugar-free, and delicious.
Print
Pin
Rate
Instructions
Pour the coconut and almond milk into a 2 quart sauce pan or pot and bring to a simmer over medium heat.

In the meantime, place all of the dry ingredients into a medium bowl and whisk to combine. Add the whole egg and yolks to the dry ingredients, whisking until smooth. Set bowl near the stove. When the milk mixture begins to simmer, stir it to evenly distribute the heat. Turn off the stove. Now, using a small ladle, slowly add the hot milk to the egg mixture whisking all the while, until half of the milk mixture has been incorporated. Now pour the rest of the milk mixture into the bowl. Whisk well and pour the ingredients back into the pot.

Turn the heat to medium-low and gently stir with a whisk as the mixture heats. As the mixture begins to thicken, turn the heat to low and begin whisking more quickly. Now is the time to minimize distractions because the magic will happen all at once, and voila, you will have a thick mixture resembling a loose pudding. Once thickened, it will begin to simmer very slowly. Continue to cook the custard for a full minute.

Remove the pastry cream from the heat and stir in the vanilla and ghee (if using). Place a piece of plastic film over the pastry cream, pushing it down onto the surface. Now poke holes through the plastic and let cool in the refrigerator before using.*Note: I like to cool my pastry cream right away by placing my bowl over ice and stirring until the mixture is cool. Then I cover with plastic film and refrigerate.

The pastry cream becomes quite thick as it cools.
Notes
If using all coconut milk:
per serving – 1/4 cup
calories: 139
fat: 13
Carbs: 4
fiber: 1
Protein: 3
If for some reason a batch of pastry cream is less thick than usual, "drip-it" overnight. Line a sieve with a paper towel or a coffee filter, suspend it over a bowl, and let the excess moisture drain through.
Nutrition Facts
Low Carb Pastry Cream With Coconut Milk (sugar free. dairy free)
Amount Per Serving
Calories 104
* Percent Daily Values are based on a 2000 calorie diet.
Nutrition