A low carb fresh fruit tart using fresh low carb fruits, a gluten-free crust and low carb coconut pastry cream.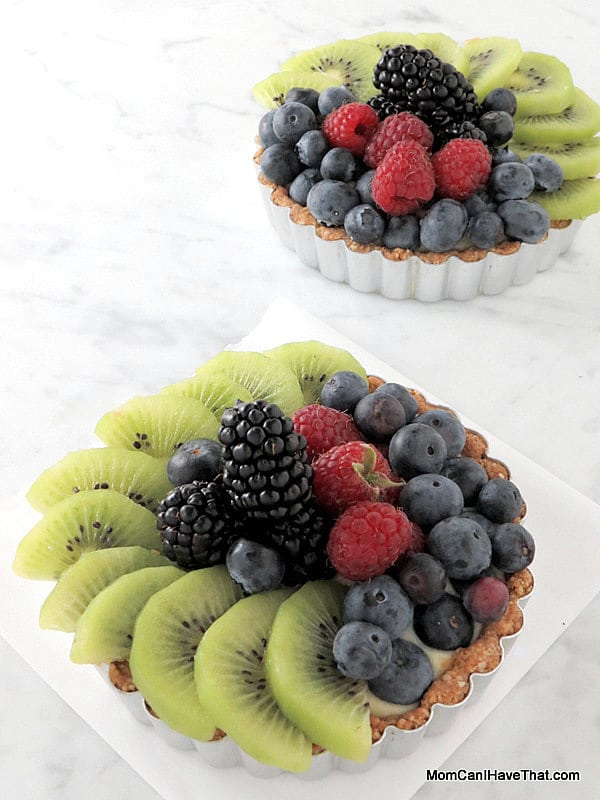 I remember the first time I saw a fresh fruit tart in a pastry case. I was a teenager and totally smitten by the colorful fruits arranged in a pretty pattern on the top and set to shining with a pastry glaze. I didn't know that desserts like that even existed! I'll tell you flat-out that I am a chocolate cake girl, but something about that tart captivated me. I can still remember the excitement I felt when my parents let me order it. Then, when my fork slid through the soft fruit and into the creamy vanilla pastry cream below, I knew I had made the right choice. Mmmm…. cool-creamy vanilla pudding, fresh-floral sent of fruit, and warm tasting buttery crunch of crust. I was a goner for sure!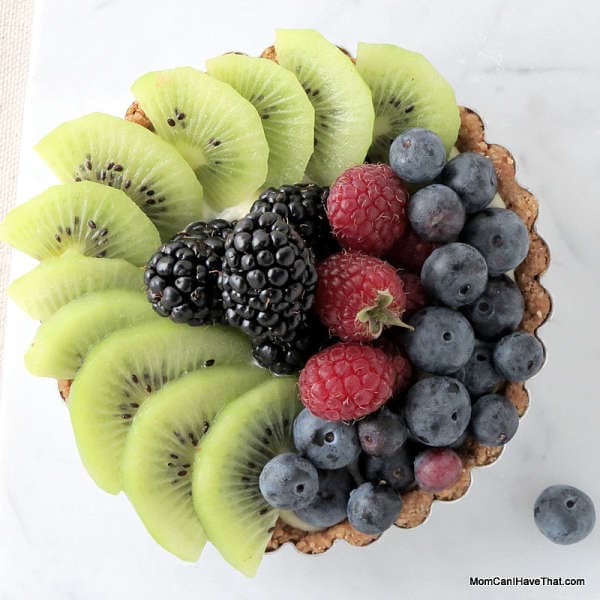 I've made my fair share of fresh fruit tarts over the years, some with raspberries, others with strawberries, some with mixed berries or even peaches. Sometimes, I prepared a glaze to encase the fruit and other times I didn't. They were all delicious.
Now that my husband and I have to watch our carbohydrates for health reasons, fresh fruit is treat we eat sparingly. Yes, it's deemed healthy and contains vitamins and antioxidants, but the high sugar content of fresh fruit puts it on our "special occasion" list, so we generally use it as a garnish opposed to eating a whole fruit or bowl of fruit. (insert sad frownie face here) For us, it's better to combine a little fresh fruit with something more substantial like a hand full of nuts or a little Greek yogurt.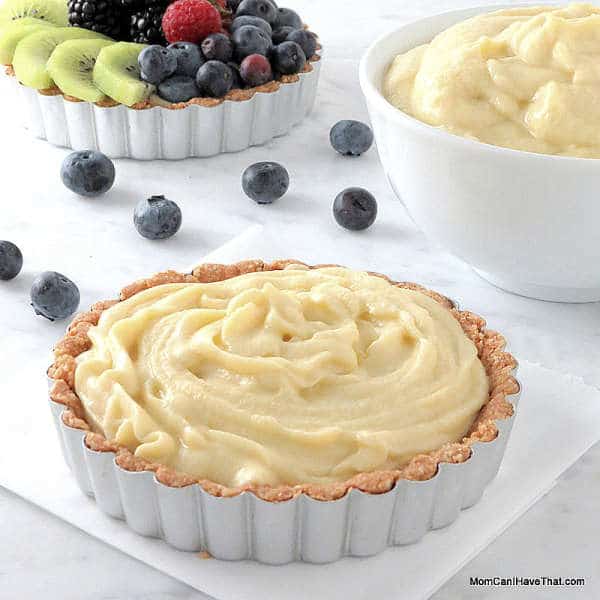 So what's a fresh fruit tart loving person to do? Luckily, wonderful low carb ingredients like almond flour, coconut flour, shredded coconut and whey protein powder make great flour substitutions. And although they do not perform exactly like flour, they do produce some very nice low carb baked goods. They also provide a dose of healthy fats and protein to temper the sugar in the fresh fruit.
Keeping the carbohydrates to a minimum in this recipe wasn't too hard, but this dessert definitely falls into the "special occasion" category for us. Skipping the glaze (which is often melted apple jelly) was easy because this tart is intended to be eaten right away and not sit in a pastry case for several days before it is consumed. The crust is low in carbs – thanks to almond flour, shredded coconut and protein powder, and the sugar-free pastry cream is dairy-free and luscious thanks to coconut milk. Arranging the fruit in a pretty asymmetrical pattern helps disguise the fact that there is less fruit on top. Okay, I added a little more for the photos. I felt I had to be honest there. But, I wanted them to look great.
The net carbs for a whole tart is 14, but 7 if you share. Not too bad for a yummy dessert showcasing some of nature's candy.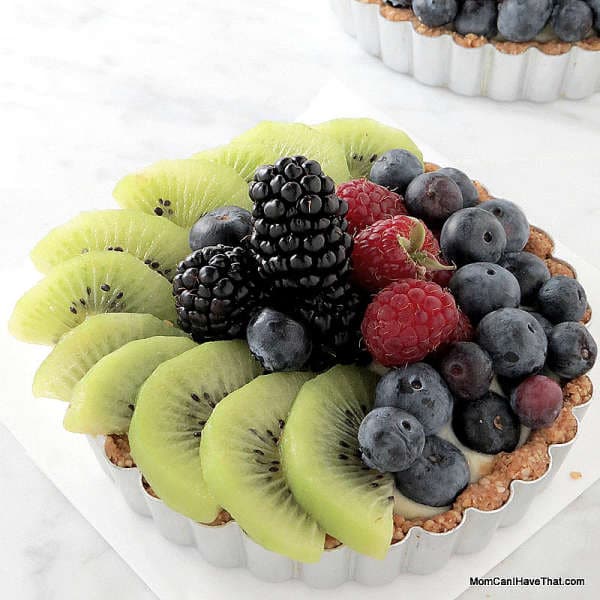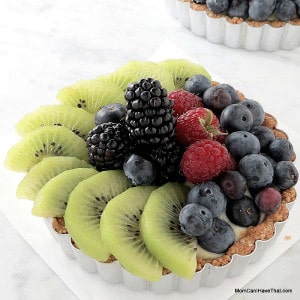 Low Carb, Gluten-Free Fresh Fruit Tart
These fresh fruit tarts are not only beautiful, they are low carb, gluten-free, casein-free, Paleo & absolutely positively delicious!
Print
Pin
Rate
Ingredients
1

recipe

Almond-Coconut Tart Crust

1

recipe

Coconut Milk Pastry Cream

Fresh Fruit Garnish

3

ripe kiwi fruit

6

large blackberries

18

raspberries

6

ounces

fresh blueberries
Instructions
Prepare the

Almond-Coconut Tart Crust

as per the recipe. They can be made several days ahead of time and kept in an airtight container in the refrigerator.

To assemble the Fresh Fruit Tarts: Remove the cold pastry cream from the refrigerator and give it a good stir. Set aside. Line the tart shells in a line on a baking sheet – I had two rows of three.

Wash and dry the fruit. Cut both ends off of each kiwi and peel the thin skin with a sharp paring knife. Cut each kiwi in half lengthwise making sure that the half moon shape will be more round than flat. Slice each half the kiwi into 8-12 thin slices.

Put 1/3 cup of pastry cream in each tart shell and smooth with the back of a spoon. Each tart will get 1/2 of a kiwi – arrange it how you like, I did mine in a fan that spanned about 1/2 of the circumference.

Place the blackberry in the middle with the three raspberries next-to and around it. Pile the blueberries in the remaining space.

Serve.
Notes
Nutrition Facts
Low Carb, Gluten-Free Fresh Fruit Tart
Amount Per Serving
Calories 272
Calories from Fat 225
% Daily Value*
Fat 25g38%
Carbohydrates 10g3%
Protein 5g10%
* Percent Daily Values are based on a 2000 calorie diet.
Nutrition
Calories:
272
kcal
|
Carbohydrates:
10
g
|
Protein:
5
g
|
Fat:
25
g
|
Fiber:
3
g