A classic graham cracker crust gets a low carb makeover with almond flour. This low carb keto graham cracker crust is the perfect keto pie crust for low carb cheesecakes and cream pies. Added bonus: this basic low carb pie crust is so easy and gluten free.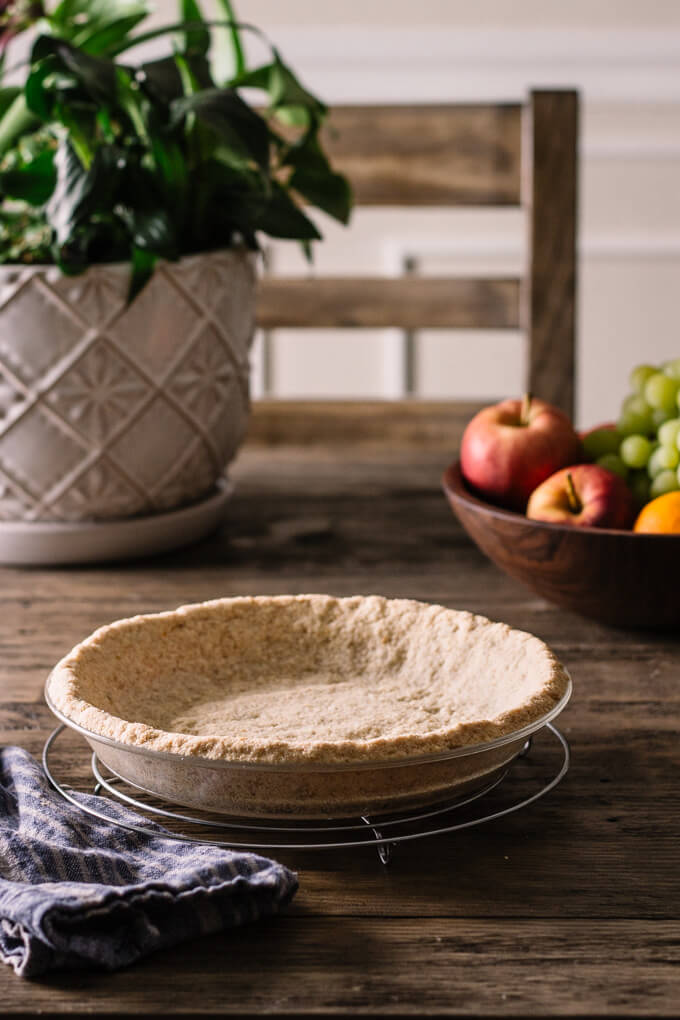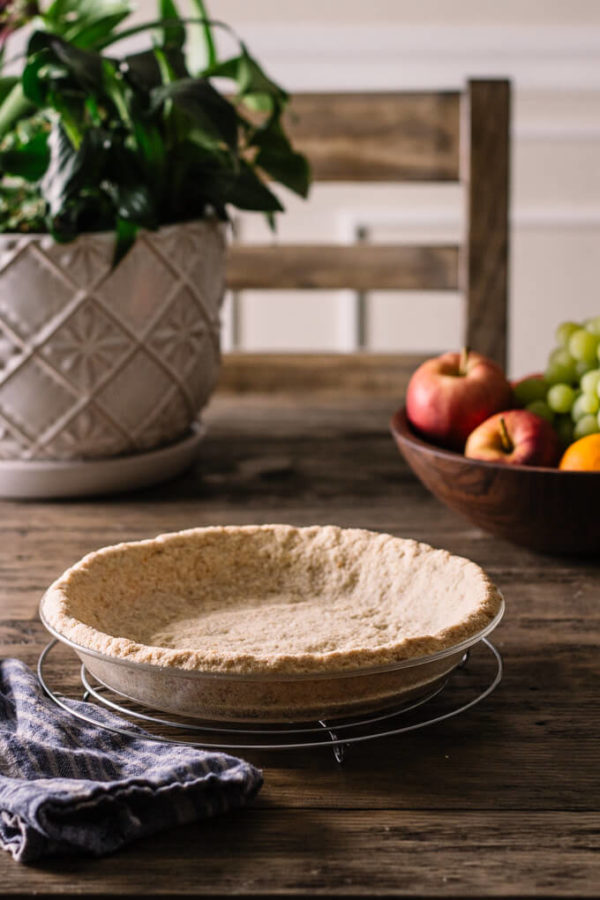 THIS POST INCLUDES AFFILIATE LINKS TO SHARE THE THINGS I LOVE.
Graham cracker pie crusts are the perfect pair of jeans of the baking world. Just like everyone should have one perfect pair of jeans in their wardrobe, every baker should master a graham cracker pie crust. Even low carb and keto bakers.
Just the perfect pair of blue jeans, a graham cracker pie crust is versatile. You can easily dress this pie crust up or down because it's a classic. This keto graham cracker crust pairs with almost any pie filling to make your low carb baking amazing.
The best low carb keto cheesecake crust or pie crust!
This low carb graham cracker style pie crust is seriously the best keto crust. I put a lot of time into testing it. The combination of ingredients and the method for preparing this graham cracker style crust results in a crust that:
Holds up perfectly for cream pies, no bake pies, and cheesecakes
Resists getting soggy, making for a perfect crunchy crumbly crust with each bite
Not only does this graham cracker crust hold up well for almost any low carb pie filling you can dream up, but it's so easy to make! It only requires a fork, which means no food processor! Plus, you don't have to fuss with making low carb graham crackers first, which means less work and fewer steps stand between you and low carb pie crust heaven!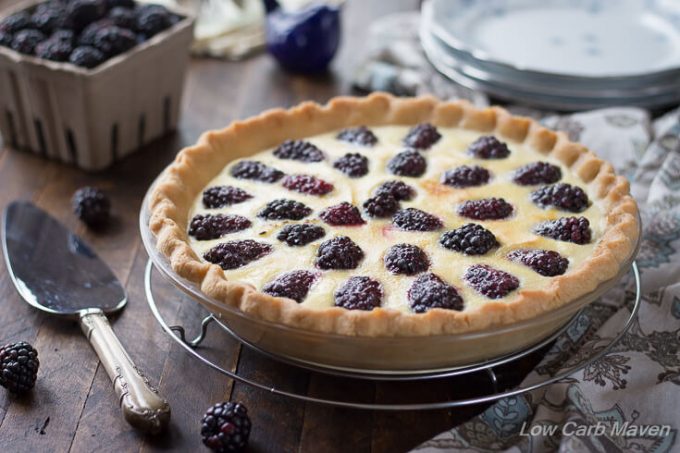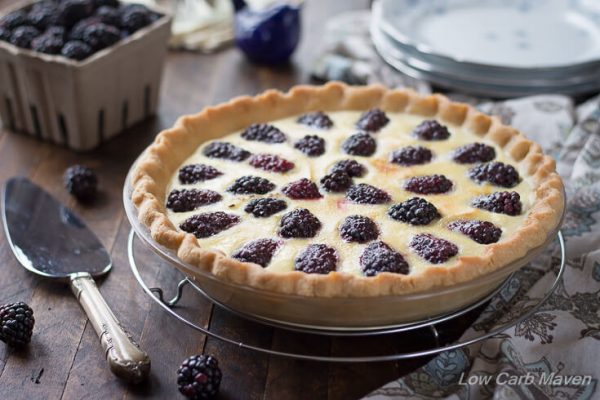 A great keto sub for graham cracker crust.
The key to making this low carb pie crust is the combination of ingredients. This blend of almond flour, golden flax meal, and protein powder creates a texture that is very similar to a store bought graham cracker pie crust.
However, like traditional graham cracker crust, this crust softens slightly as the pie filling sits but does not become soggy. Plus, the crust lifts out nicely instead of sticking to the bottom of your pie plate.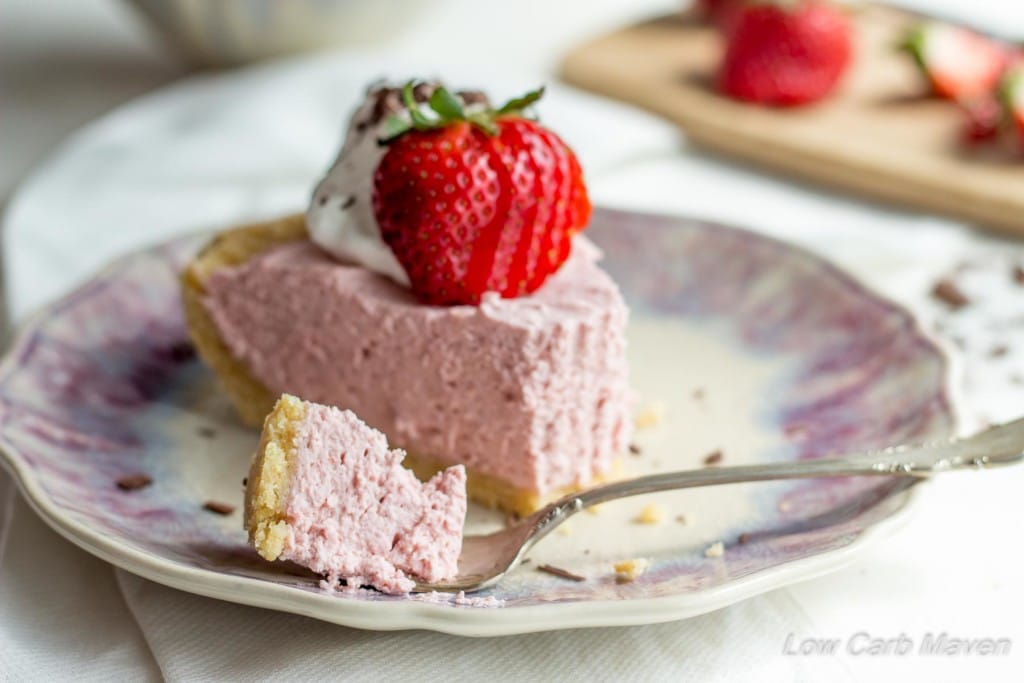 KETO LOW CARB GRAHAM CRACKER CRUST INGREDIENTS
Almond Flour: The almond flour provides an excellent base for the graham cracker style crust. Its mild nutty flavor approximates the subtle graham taste. Plus, almond flour is inherently low in carbs while being high in protein and healthy fats.
Ground Golden Flax: Golden flax meal is much more mild in flavor than brown flaxseed, making it a good choice for this very versatile crust. The flax meal also gives the crust a little resistance to the bite and helps bind the ingredients a bit.
Whey Protein Powder: With it's slightly crystalline texture, whey protein powder prevents the ingredients from creating a solid mass. The best tasting protein powder in desserts is vanilla, but I use plain because it's more versatile. I recommend Nature's Best Isopure Zero Carb Whey Protein Isolate .
If you are vegan or can't have dairy, I can't speak about how pea protein powder will work in this recipe. I have never used pea protein, so I don't know how it will perform. However if you are looking for a non-dairy alternative for the protein powder, you can try subbing oat fiber, but you may need to add additional melted coconut oil.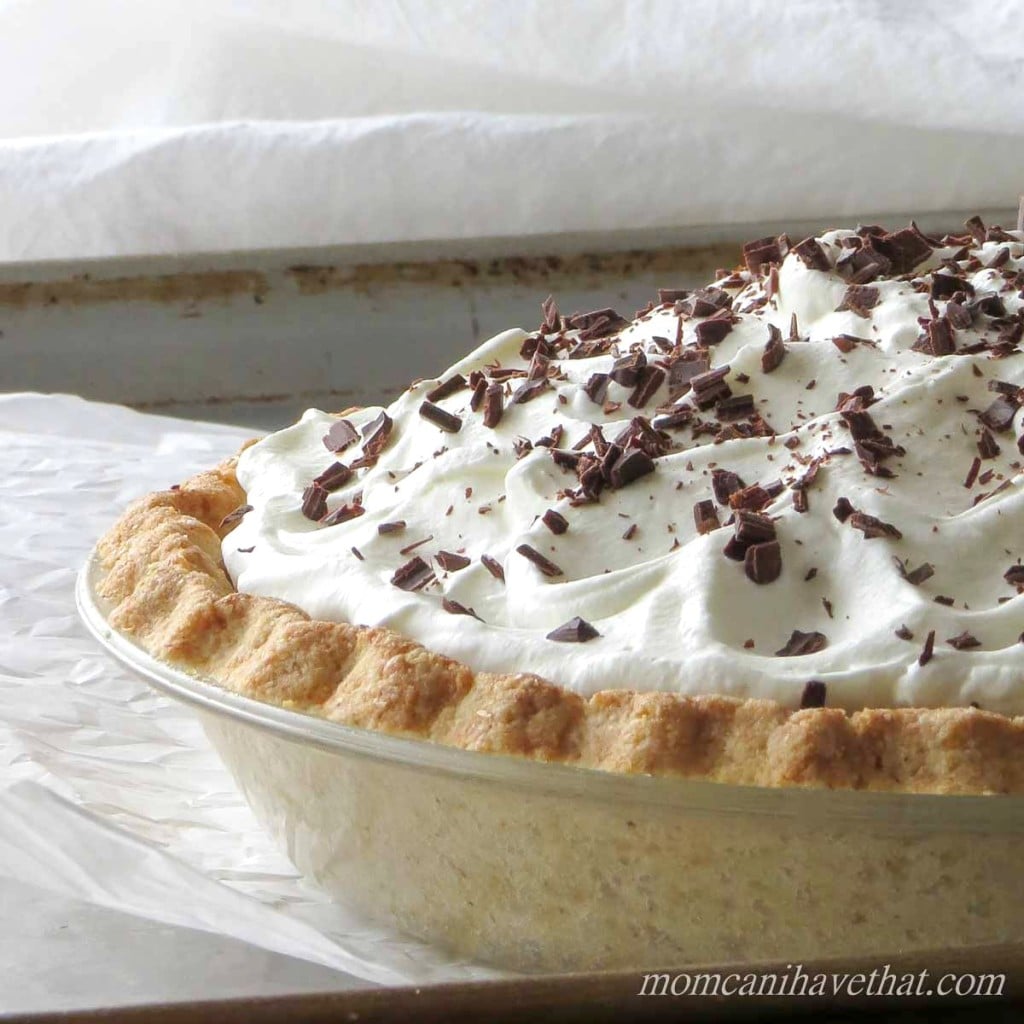 Bake or no bake- it's up to you!
This graham cracker crust is so versatile. and great for no-bake pies like my low carb lemon curd pie and this no bake pumpkin pie. Of course, I bake my crust first because browning it makes it taste best, but you don't have to bake it in the oven.
If you are going to do an unbaked version of this recipe, I recommend toasting the almond flour in a pan to enhance flavor. Toasting the almond flour gives it a richness that makes this crust extra yummy. You can also use this method when you use this crust for cheesecakes that are insulated by a water bath. Water baths prevent crusts from browning and developing that rich flavor.
To do this, toast the almond flour in a pan over low heat, stirring so it doesn't burn. Cool, then add the other ingredients. Alternately, bake the pie crust in the pan until golden brown. It enhances the flavor in the same way. Let it cool prior to filling.
What to Make with this Low Carb Pie Crust: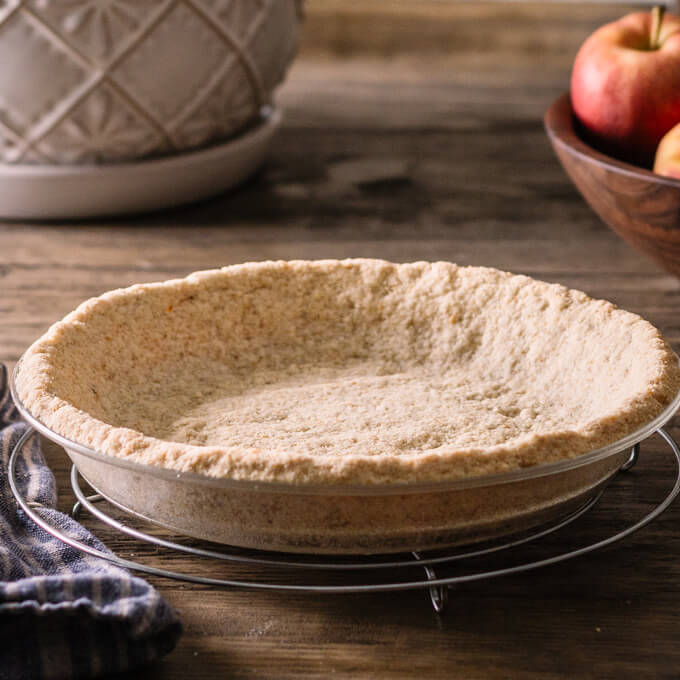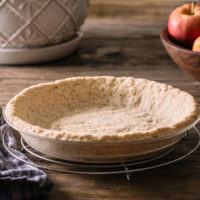 Low Carb Keto Graham Cracker Crust
This easy ow carb keto graham cracker crust made with almond flour is the perfect keto pie crust for low carb cheesecakes and cream pies. Resists sogging!
Print
Pin
Rate
Ingredients
1 1/4

cups

Almond Flour

(110 g)

1/4

cup

Bob's Red Mill Golden Flax meal

(30 g)

1/4

cup

whey protein powder

(15 g) (I use Isopure zero carb)

6

tablespoons

butter, melted

melted (80 g)

2

tablespoons

Low carb brown sugar

(Swerve Brown or Lakanto Golden)

1/4

teaspoon

salt

1/4

tsp

cinnamon

(or more to taste)
Instructions
Preheat oven to 350. Select a 9 inch pie plate.

Powder the sweetener in a coffee grinder or food processor. Measure all of the dry ingredients into a smallish bowl and mix together.

Melt the butter, ghee or coconut oil (or olive oil) and pour over the crust ingredients. Mix with a fork or a rubber spatula until the butter is incorporated and the mixture clumps. Press firmly into an oven -proof pie plate. Dock all over with a fork.

Bake about 15 minutes until golden and set. Cool before using.

Serves 8 at 1.59 g net carbs per serving.
Nutrition
Calories:
176
kcal
|
Carbohydrates:
3.49
g
|
Protein:
5
g
|
Fat:
16.68
g
|
Cholesterol:
24
mg
|
Sodium:
91
mg
|
Fiber:
1.9
g
|
Sugar:
0.69
g
|
Calcium:
4
mg