This fluffy banana cream has all the creamy, sweet banana taste you love in banana cream pie without any of the carbs. A low carb dieter's dream, this keto banana cream pie will give you all the classic banana cream pie flavor without using a single banana.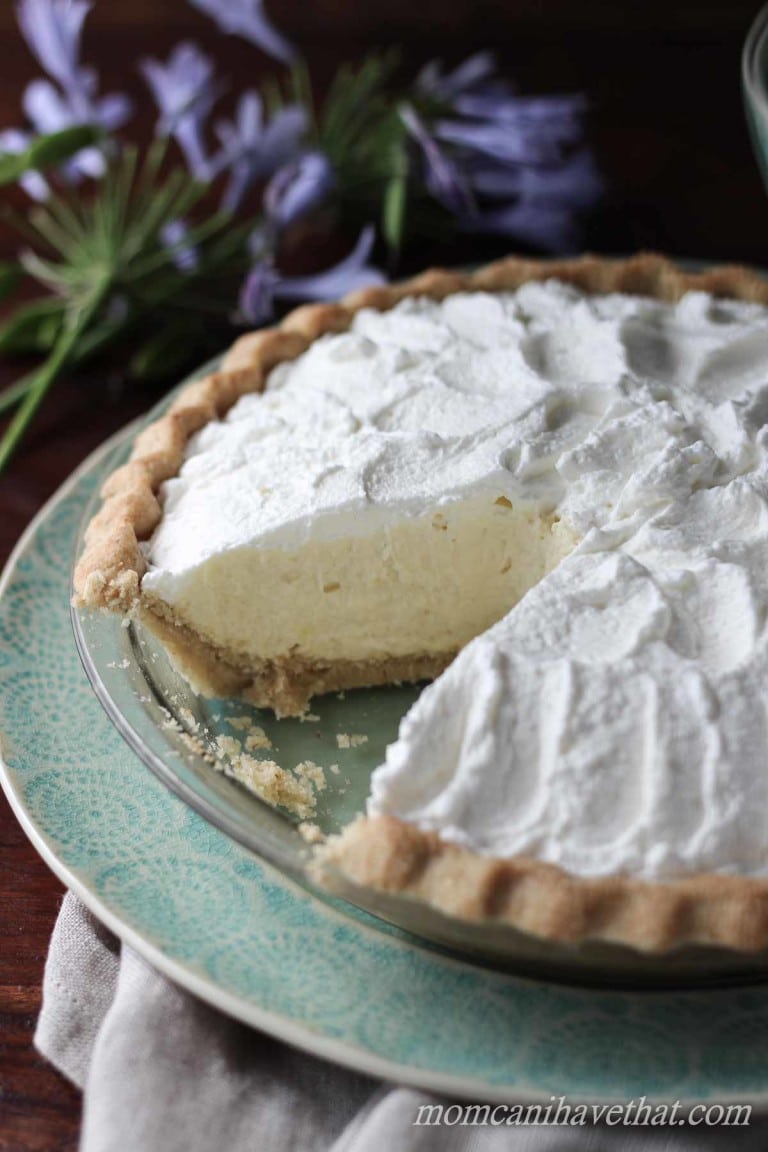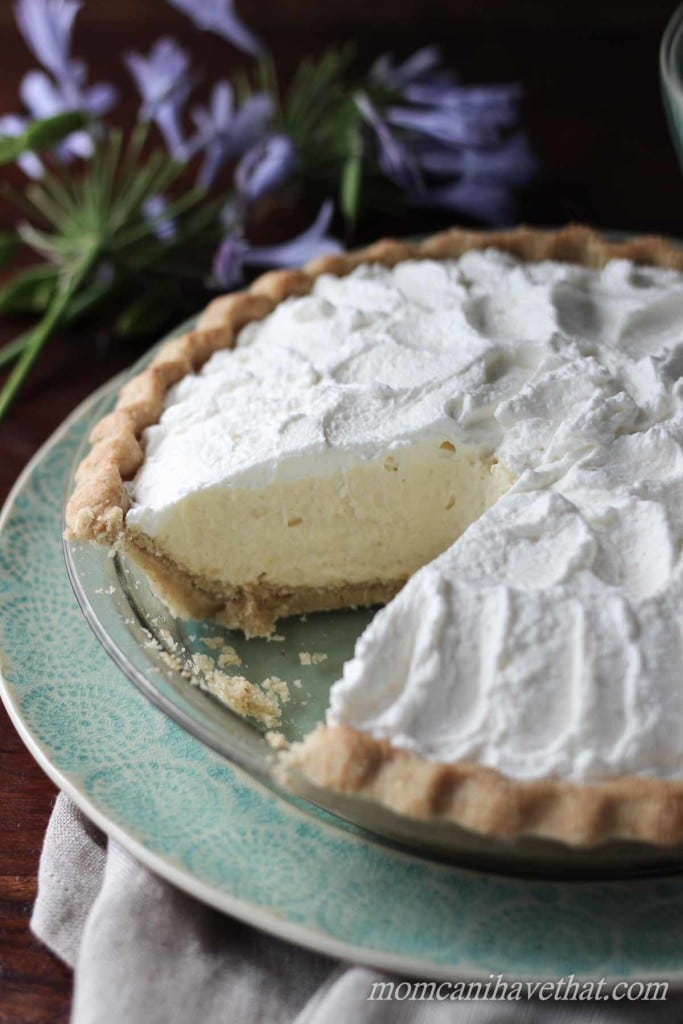 THIS POST INCLUDES AFFILIATE LINKS TO SHARE THE THINGS I LOVE.
Banana cream pie is nostalgic for me. Every time I eat a slice I'm a kid again, right back in my grandma's kitchen, begging her to have another slice. But since I'm fully committed to living a low carb lifestyle, banana cream pies loaded with slices of carb laden bananas and sugar were a thing of the past until…..
I tested and retested this dreamy low carb banana cream pie and landed on the perfect keto recipe. This keto banana cream pie has all the classic flavors I loved growing up with that perfect silky, fluffy mouthfeel. I just can't get enough.
It can be done! Make a great banana cream pie without bananas!
Traditional banana cream pie layers sliced bananas underneath cooked vanilla pudding. Bananas are not your friend if you are trying to maintain a low carb lifestyle. 1 banana has 27 grams of carbs. Most versions of banana cream pie call for 3-5 bananas. That's a low carber's nightmare.
My version has no bananas but uses a cooked, sugar-free banana pudding as the filling instead. This change results in a fluffy and luxurious banana flavored pudding filling without all the carbs.
I'm not kidding when I say the banana pudding is luxurious – It's basically a pastry cream. But, I folded in whipped cream, the filling is fluffy and light. It's absolute perfection.
The best low carb banana cream pie ever!
The rich banana filling makes this fluffy low carb banana cream pie so delicious that you will never miss the bananas. You'll be too busy enjoying the luscious pastry filling on top of the delicious walnut pie crust.
I did y'all a favor and I painstakingly tested this recipe many times over weeks and weeks. I used dozens of eggs! Each time, I kept making small adjustments, tasting and noting what worked along the way. (Twist my arm, right?! Any reason to eat more of this low carb banana cream pie!)
All my adjustments led me to the perfect combination and ratio of ingredients to create that luxurious filling.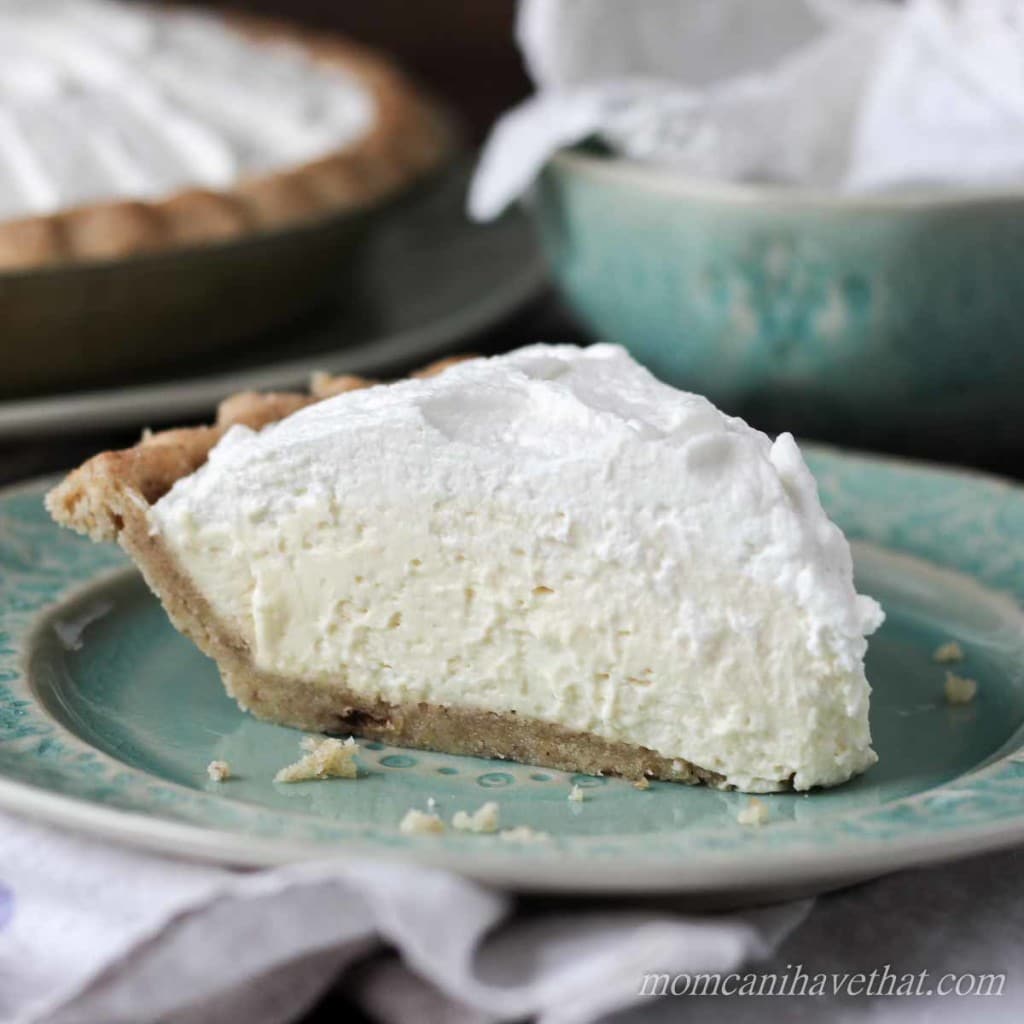 What makes the banana filling so delicious? Can't I just use instant pudding?
While you can use sugar-free instant banana flavored pudding if you really want to take a shortcut, you are missing out. This banana filling is a decadent treat. Not only does it absolutely nail the banana taste but it has that sumptuous silky mouthfeel sort of like a rich mousse.
Also, have you looked at the ingredients in Jello sugar-free instant pudding? The first ingredient is cornstarch, which means it is the main ingredient. The second ingredient is maltodextrin, a sweetener which has a higher glycemic index than sugar! A small box serves 4, at 6 g carbs each (mostly sugar and starch).
I don't know about you, but I would rather make my own filling. It only takes a few minutes – BUT it does need to sit overnight to achieve optimum thickness.
The Key to Luxurious Sugar-Free Banana Filling
For this recipe, you need basic low carb custard ingredients like heavy cream, almond milk, egg yolks for richness, whole eggs, butter, and stevia and erythritol to sweeten it. Fairly standard.
To this custard base, you are also adding elements to add flavor. To give this custard its irresistible banana flavor, I am adding a teaspoon of vanilla extract and a teaspoon of banana extract.
Apart from the standard custard ingredients, we'll add arrowroot powder, xanthan gum and gelatin for thickening. The tablespoon of arrowroot makes the pudding very smooth and helps it thicken to the right consistency. Yes, it's starch, but it only contributes 7 carbs per the whole recipe and is just a small part of the recipe.
Additionally, we use a little bit of xanthan gum to help with thickening the pudding. It's just the right amount though, do not as more. Too much xanthan gum will make the filling feel slippery, so don't skip the starch and add more xanthan gum.
Gelatin gives just the right stiffness so the filling doesn't run everywhere. I've used both grass fed beef gelatin and Knox gelatin.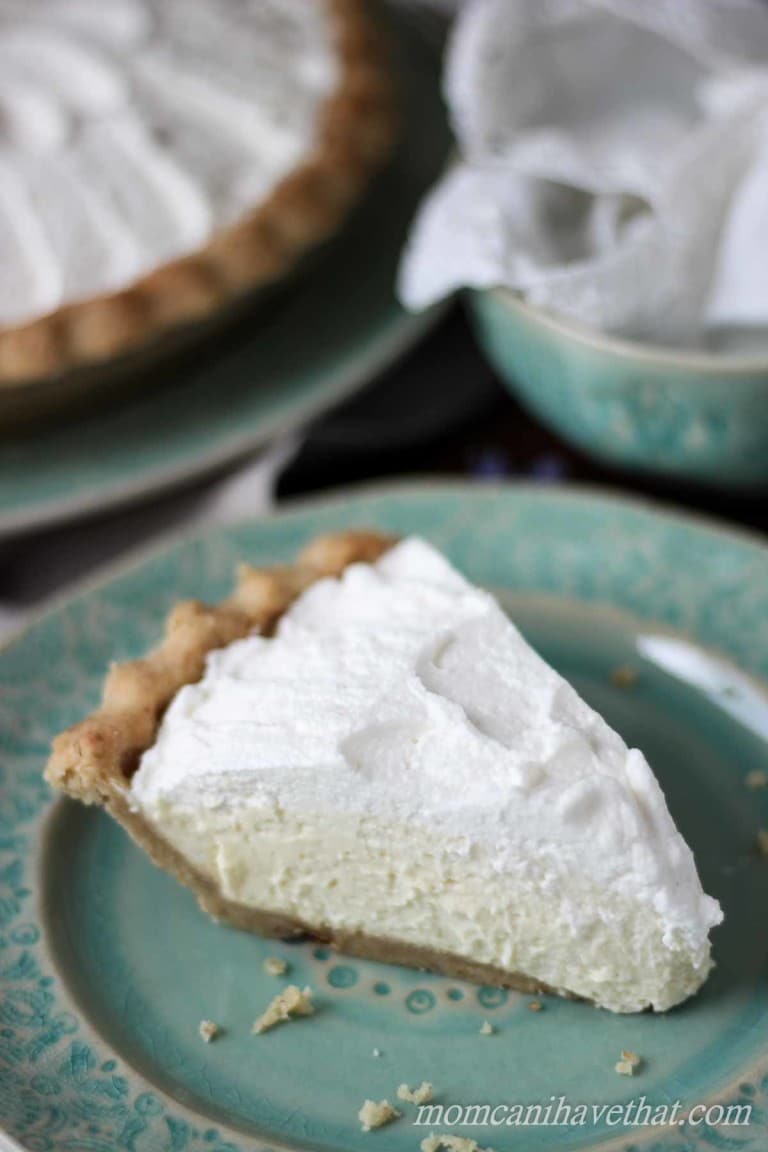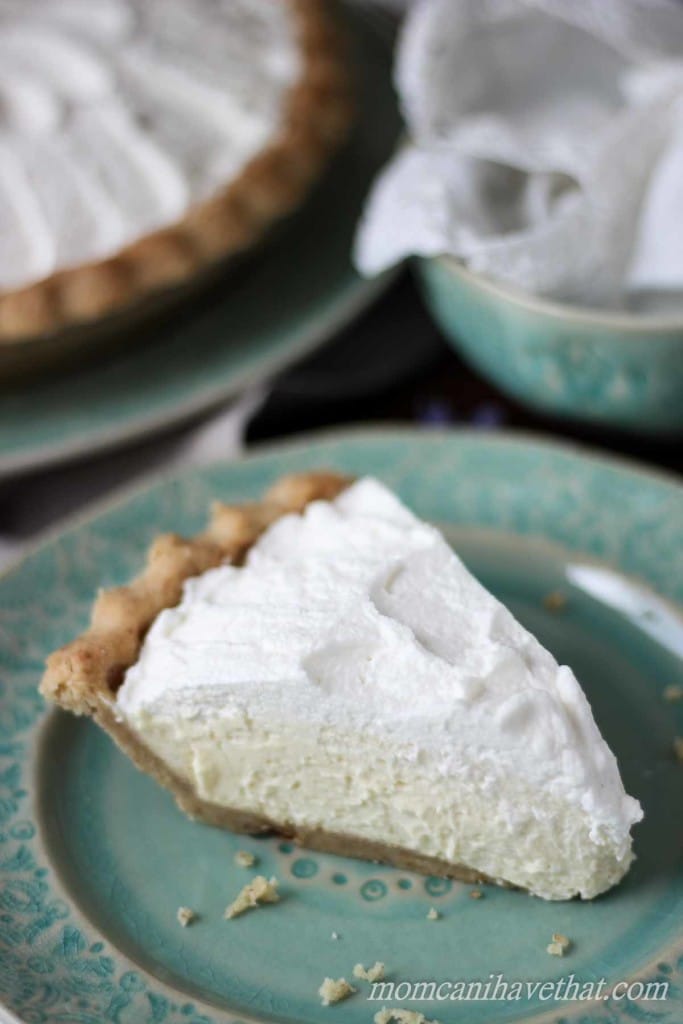 Making the keto Banana Filling
Making a homemade custard or pudding is easy to do. The hardest part is overcoming the fear of overcooking or undercooking the eggs. Everyone does it the first time. Infact, I did it twice while adjusting to my new induction top and new cookware.
The only thing to remember when cooking an egg based custard is that a whisk and a strainer are your best friend. Also, be quick to grab that pot off the heat if you think it's getting too hot!
To make the filling:
Bloom the gelatin in 1 tablespoon of water
Measure the liquids into the pot and heat over medium heat until steaming.
In a medium heat-proof bowl, whisk the dry ingredients, egg yolks and whole eggs.
In a thin stream, add the hot liquid to the eggs while whisking continuously.
Pour the custard mixture back into the pot and return to medium low heat.
Whisk continuously until the mixture thickens.
Remove from the heat and add the remaining ingredients and whisk for 1 minute.
Strain and cool overnight.
Just before you take the pastry cream out of the fridge, make your whipped cream. Fold the stabilized whipped cream into the filling in 3 batches. Spoon the filling into your crust before topping with additional whipped cream (if desired). Pop it back in the refrigerator for 4 more hours to set before serving.
Here is a video from Joy of Baking which shows how to cook a proper pastry cream.
But wait! What crust should I use?
I love this banana cream filling in my walnut pie crust recipe . The walnut pie crust recipe makes a good choice for any cream pie because it doesn't get soggy. You could also use my graham cracker crust if your would rather. And if you prefer a more traditional pie crust my flaky low carb pie crust recipe might be for you.
For a more adventurous take and a play on the classic banana peanut butter combination, you even try the peanut flour pie crust (https://www.lowcarbmaven.com/peanut-flour-pie-crust/) I have!
Banana isn't for me. Do you have any other low carb keto cream pie recipes?
Yes! While this low carb banana cream pie is delicious enough to convert any non banana fan into a banana lover, I have a ton of other low carb keto cream pie recipes.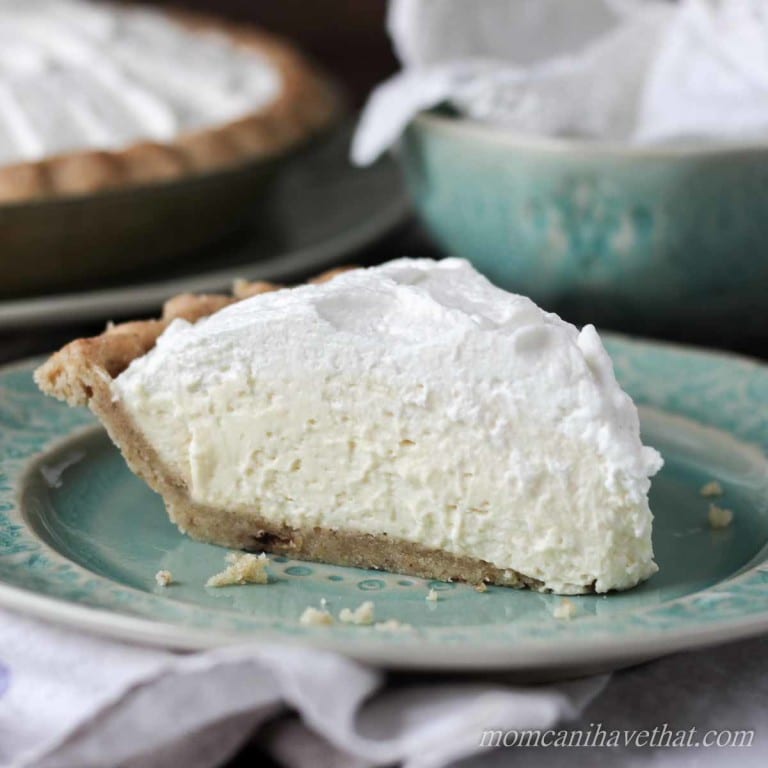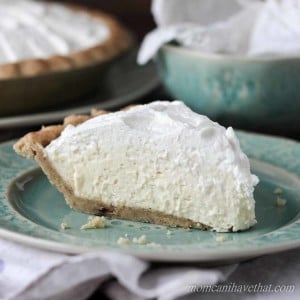 Fluffy Keto Banana Cream Pie
A banana cream pie almost like grandmother made — except that this one is LOW CARB and GLUTEN-FREE. Three basic steps makes it a breeze to put together!
Print
Pin
Rate
Ingredients
Banana Pudding (refrigerate over night)
1

cup

heavy cream

1/3

cup

almond milk

1/2

cup

low carb sugar

(Swerve granulated or Lakanto)

1

tbsp

arrowroot powder

1/8

tsp

xanthan gum

1 1/4

tsp

gelatin powder

1

pinch

salt

3

large

egg yolks

2

large

eggs

2

tbsp

butter

1

tsp

vanilla

1

tsp

banana extract
Whipped Cream (for folding into the Banana pudding)
Instructions
Crust
Make the Low Carb Walnut Pie Crust as per instructions or use your favorite recipe for low carb pie crust. Cool completely. Can be made several days ahead.
Preparation
Ready a strainer by the stove. Sprinkle the gelatin over 1 tbsp of water to bloom.
Banana pudding
Place the cream and almond milk in a medium sauce pan, and turn the heat to medium until the milk steams and forms bubbles around the sides of the pan.

In a medium bowl, whisk together the sweetener, arrowroot, xanthan gum and salt. Add the egg yolks and whole eggs and whisk to combine.

In a thin stream, pour the hot milk into the eggs mixture while whisking continuously. Then, pour the custard back into the sauce pan, turning the heat to medium-low. Place the sieve over the bowl.

Continuously whisk the custard. Nothing will happen for about 2½ minutes and then it will start to thicken-up slightly. Whisk a little faster. At about the 3 – 3½ minute mark, it will begin to thicken. Whisk briskly and cook for 1 minute more BUT don't let the mixture boil or the eggs will scramble. NOTE: You may need to remove the pot from the heat if it gets too hot.

Turn off the heat and remove the pot from the stove, still whisking briskly for another minute. Whisk in the gelatin, vanilla, banana extract, and butter. Then, pour the pastry cream through the strainer, catching any cooked egg bits.

To cool, push a piece of plastic wrap right on top of the surface of the pastry cream and place in the refrigerator OR make a water bath by putting ice and water in a large bowl, setting the smaller bowl with the pastry cream into the water bath, and stirring until completely cool. Cover and refrigerate overnight.
Assembly
Put sweetener and heavy cream in a small bowl and beat with a hand mixer until soft peaks form. Sprinkle the xanthan gum over the top and beat until the cream is very stiff.

Remove the banana cream filling from the refrigerator and gently beat with a hand mixer for a few seconds. Add 1/3 of the whipped cream to the filling and fold it in with a rubber spatula. Add another 1/3 of the whipped cream, again folding it into the filling. Repeat.

Put the filling into the crust and smooth to the edges. Refrigerate uncovered at least 4 hours before serving.

Serves 8, at 5.5 net carbs per serving.
Notes
NOTE: This pie actually needs a day to make as the pudding needs to chill overnight.
Make the crust and pudding the night before.
Assemble in the morning.
Let it chill at least 4 hours or until needed. 
Nutrition
Calories:
526
kcal
|
Carbohydrates:
9.8
g
|
Protein:
11
g
|
Fat:
47
g
|
Fiber:
4.3
g
|
Sugar:
0.3
g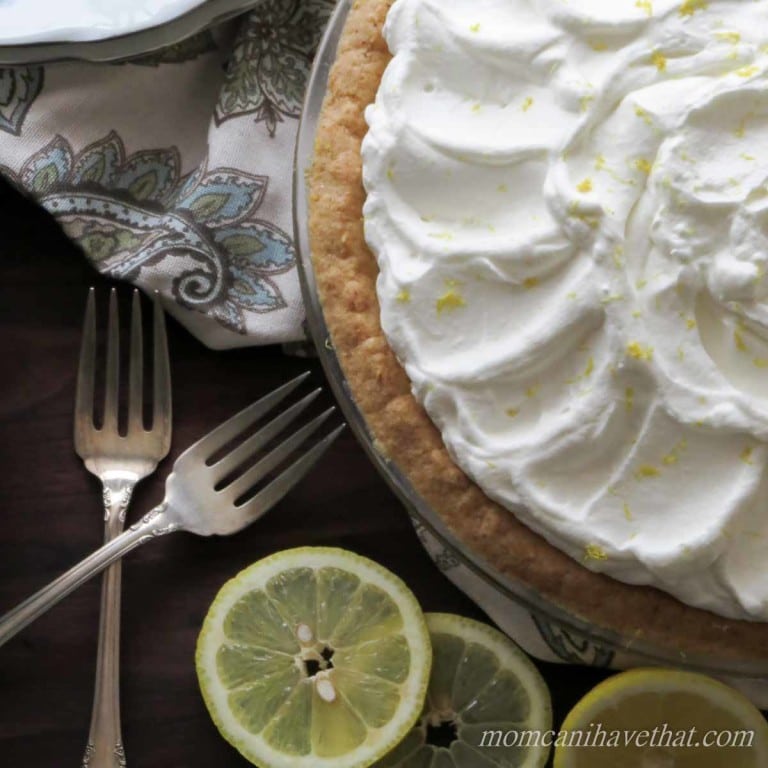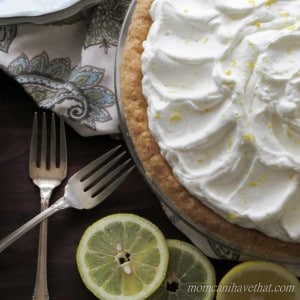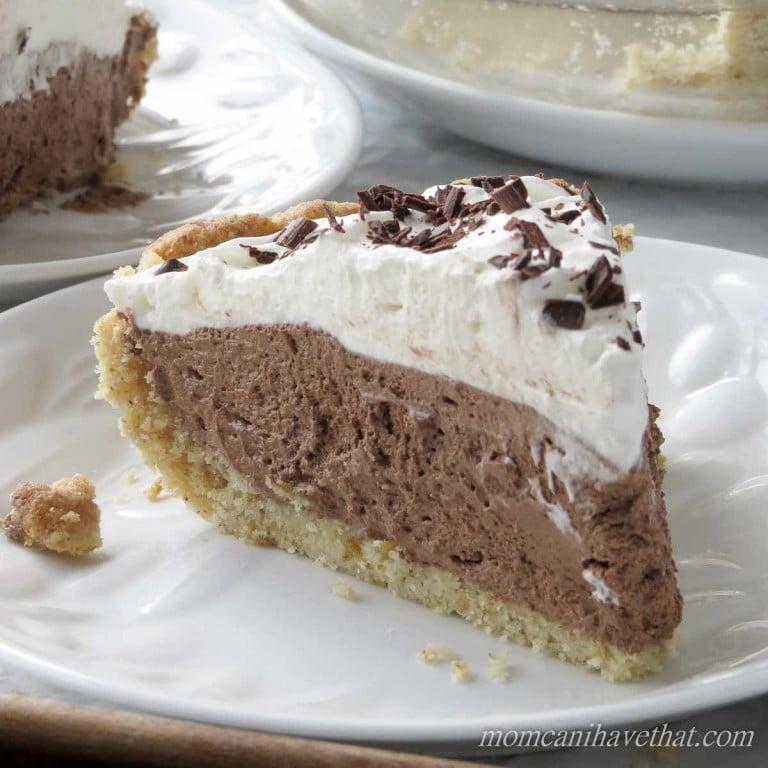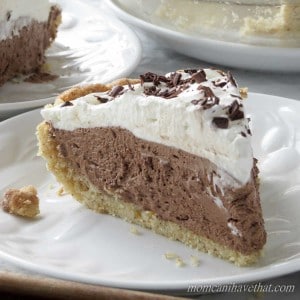 Keto Chocolate French Silk Pie