Marinated feta cheese with fresh herbs and olive oil is an easy appetizer to serve for entertaining. This marinated cheese also makes a lovely hostess gift.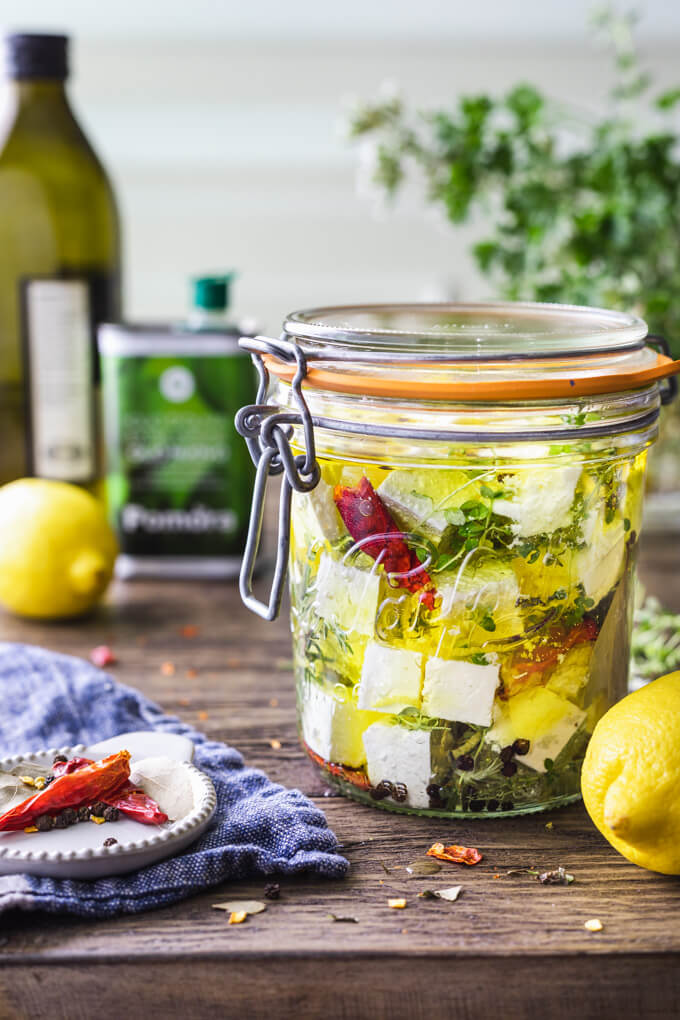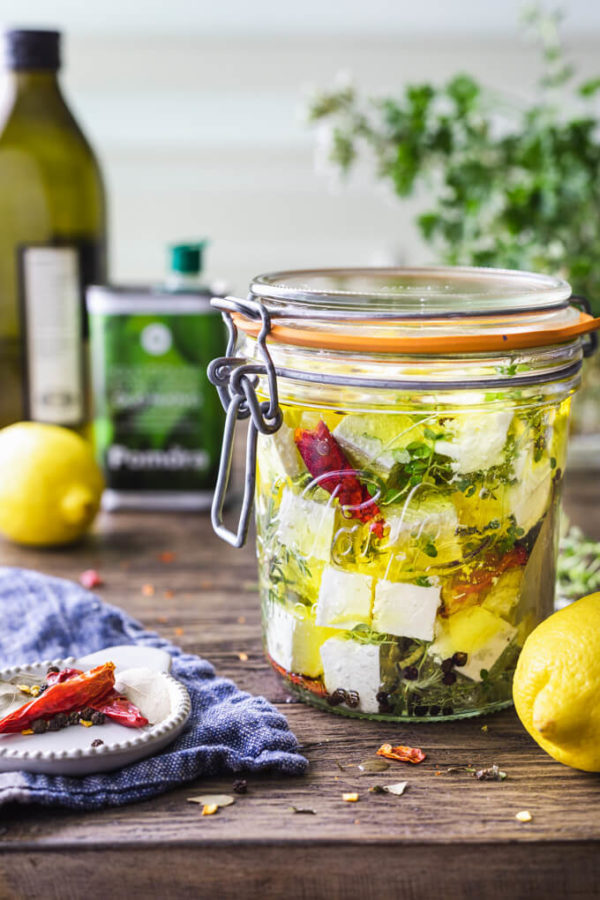 THIS POST INCLUDES AFFILIATE LINKS TO SHARE THE THINGS I LOVE.
Is there anything better than cheese? Not to me, especially when we're talking about salty, tangy feta cheese drippy with herb infused olive oil like this marinated feta cheese.
You may be thinking to yourself, "But, Kim, wait a second. What is marinated feta cheese? I've never heard of it." Prepare yourself to be amazed at the simplicity of this appetizer recipe…
Marinated feta cheese is cubed cheeses mixed with olive oil and a combination of herbs and spices. That's it. As it sits, the herbs infuse the olive oil with flavor, which soaks into every nook and cranny of the feta cheese. In fact, the nooks and crannies in feta are part of the reason why I love using feta for marinated cheese. The texture really allows the oil to cling to the cheese's surface nicely. And, it's super delicious.
If you're wondering how to make marinated feta cheese and thinking it might be hard, breathe a sigh of relief. Making this marinated feta is easy and only takes a few steps.
Wash and dry the herbs (rosemary, thyme, lemon thyme, marjoram, basil)
Bruise the herbs to encourage them to release their flavors
Zest a lemon
Cube the feta cheese
Layer the ingredients in a bowl, zip-bag, or jar
Cover with olive oil (use less if marinating in a bag)
To bruise the herbs, gently tap with the back of a chef's knife or rub/crust the herbs gently with the back of a spoon. Zest the lemon with a zester or grater.
If marinating overnight, it's okay to put the ingredients into a zip-bag or a covered bowl and leave it on the counter. Use enough olive oil to saturate the herbs. Gently stir the ingredients or reposition the bag every few hours to distribute the ingredients and flavor.
NOTE: Maybe you noticed that I didn't mention garlic in the ingredient list. I did that on purpose. Don't add garlic to the marinated cheese unless you plan on serving it the next day. Garlic, stored in olive oil can develop botulism and no one wants to get sick! If you are planing to marinate the cheese overnight, go ahead and add some garlic or even a little shallot.
I like to make marinated feta cheese a few weeks in advance or have a jar in the refrigerator for a quick appetizer that always impresses guests. I carefully layer the herbs, lemon zest and feta cheese in a pretty jar, then completely cover with olive oil. The olive oil does solidify in the fridge, so let it come to temperature on the counter for an hour before serving.
TIP: Marinated feta cheese layered with pretty herbs and lemon peel makes a pretty hostess gift. I like these French canning jars or these Weck jars, for gifting. They are pretty and practical.
What do I serve with marinated feta cheese?
Although a winner to snack on by itself, marinated feta cheese is great served with grilled meats and vegetables or on salads. Or, serve it with marinated olives as an impromptu appetizer for last minute guests.
I like including marinated feta cheese as part of a mezze platter (Mediteranean appetizer tray). Serve it with cauliflower hummus, roasted eggplant dip and tzatziki cucumber yogurt dip with vegetables. Round out the appetizers with rosemary almonds and crispy low carb crackers.
Looking for more options for marinated cheese?
Check out this option for marinated cheese for those who may not like feta from my friend Katie at A Fork's Tale.
What do I do with the leftover oil?
Once the feta cheese is gone, use the flavored oil in salad dressings, as a tasty bread dip, or drizzle it over sautéed veggies and grilled meats. It's great over beef, lamb, or chicken.
The leftover oil also makes an excellent marinade for veggie kebabs and would be a lovely accent to grilled portabella mushrooms.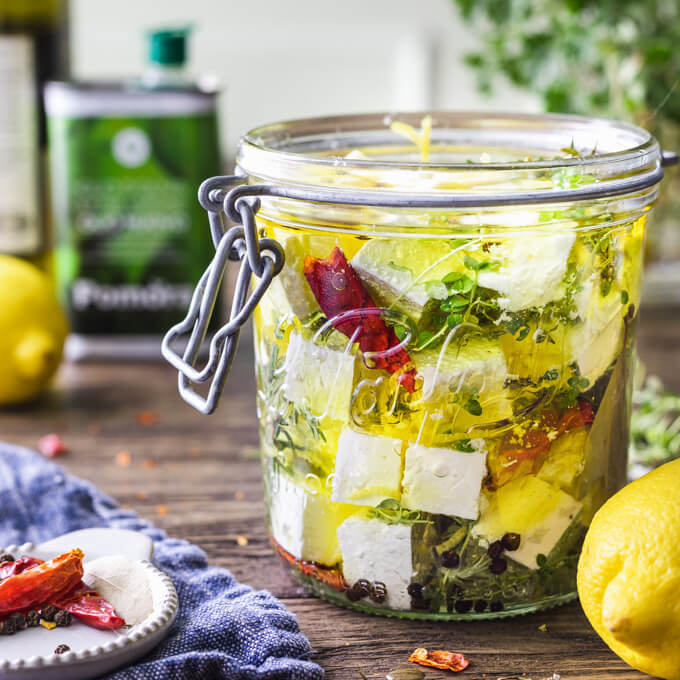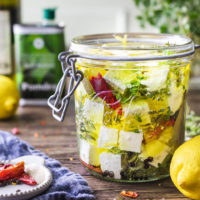 Marinated Feta Cheese
Marinated feta cheese with fresh herbs and olive oil is an easy appetizer to serve for entertaining. This marinated cheese also makes a lovely hostess gift.
Print
Pin
Rate
Ingredients
4

oz

feta cheese block

(cut into 24 cubes)

1/2

cup

good olive oil*

1

lemon

(using zest only)**

fresh rosemary sprigs

(or basil, marjoram, oregano)

fresh thyme sprigs

(or lemon thyme)
Optional Ingredients
cracked black pepper corns

dried red peppers

bay leaves
Instructions
* I used half light olive oil and half extra virgin olive oil. Much of the olive oil will remain behind.
** Feel free to mix the lemon juice with the olive oil and cheese just before service. I've found that marinating cheese with acid can make the cheese tough as the acid cooks the milk proteins.
Wash and dry the herbs, then gently bruise them, rubbing and pushing into them with the back of a spoon or tapping with the back of a chef's knife. Go easy.

Zest the lemon with a zester or a grater and cube the cheese, cutting it into 24 pieces.

If marinating overnight, place the ingredients into a zip-bag or a covered bowl. Leave on the counter overnight, gently stirring with a spoon or turning the bag a few times to distribute the ingredients. (See post about using garlic)

If storing in the refrigerator for later or making for a gift, layer the ingredients in the jar in a pleasing way so that they are visible from the outside. Pour in enough olive oil to completely cover the ingredients. Marinate in the fridge for up to two months. (See post about using garlic)

Serve as an appetizer or with grilled meats and vegetables. Use leftover oil to dress vegetables, meats, salads, as a marinade, or as a bread dip.

Maxes 24 pieces. Serves 4 at six pieces (one ounce) per person. NET CARBS: 0.29g
Nutrition
Serving:
6
pieces
|
Calories:
29
kcal
|
Carbohydrates:
0.29
g
|
Protein:
1
g
|
Fat:
2.63
g
|
Cholesterol:
6
mg
|
Sodium:
79
mg
|
Sugar:
0.39
g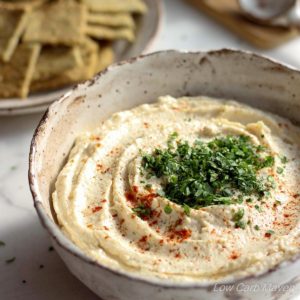 Low Carb Creamy Cauliflower Hummus