Looking for a tasty keto deviled eggs recipe for your next gathering or Super Bowl party? Deviled eggs are easy to make and a real crowd pleaser. This unique recipe is full of flavor: smoky, spicy, tangy, sweet, and herby in every bite!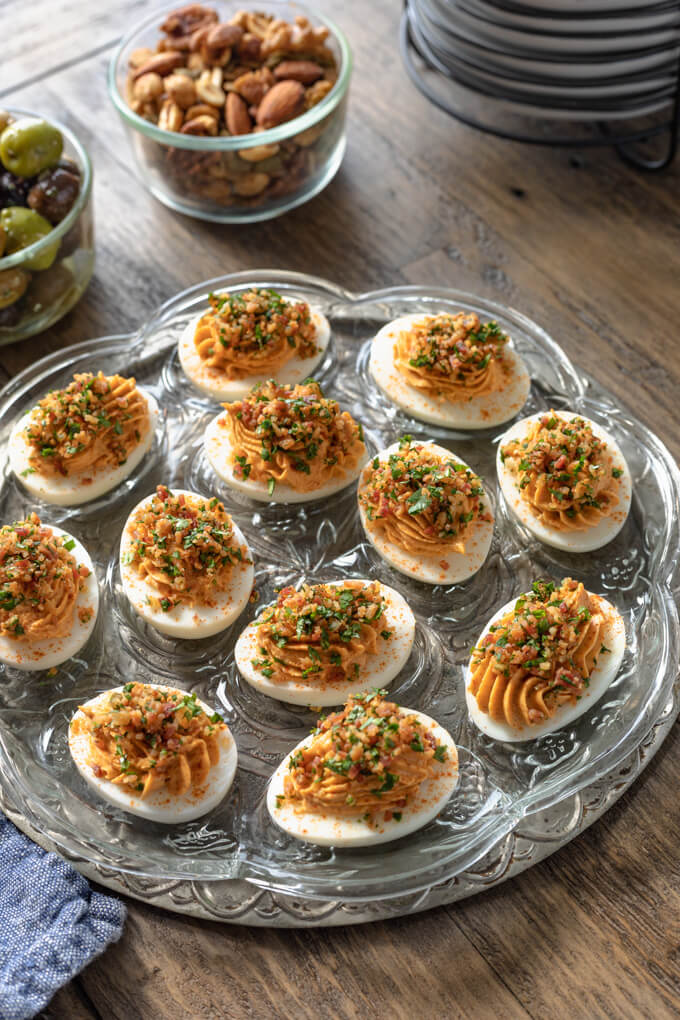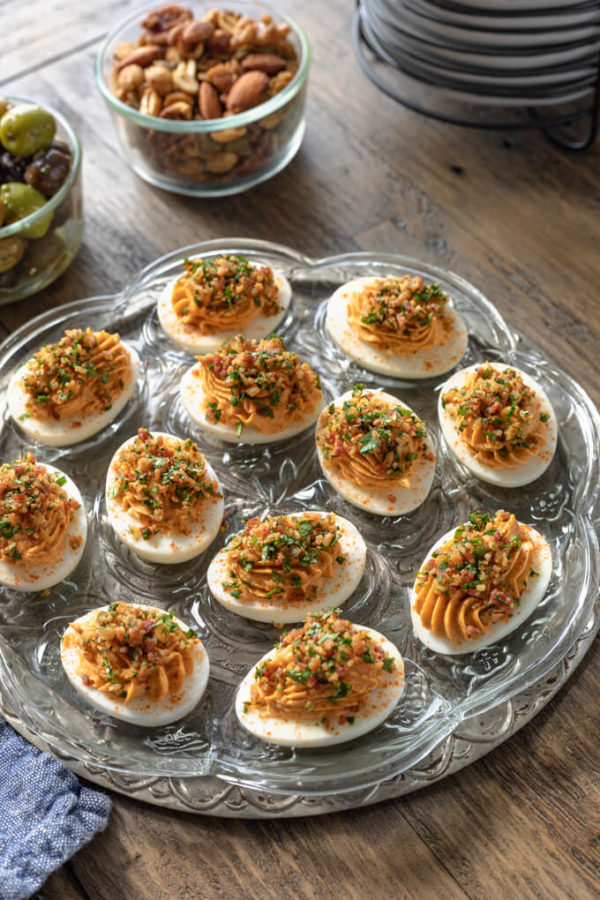 THIS POST INCLUDES AFFILIATE LINKS TO SHARE THE THINGS I LOVE.
I was happy to learn that we can have deviled eggs on keto and low carb diets. We love deviled eggs because they are easy to make and taste so good. They're always the first appetizers to go at parties and gatherings.
And what's not to love? Eggs are an affordable and versatile form of protein. We eat eggs as quiche, put them on salads, use eggs to thicken sauces and enjoy them for dinner. But our favorite way to prepare eggs is to devil them (spice them up with tangy and spicy ingredients).
How to Make Deviled Eggs Keto
Keto deviled eggs are easy to make, and most deviled egg recipes are keto friendly. At 1 carb or less, I have no guilt eating 2-3 as a lunch or snack.
To make deviled eggs keto:
Check the ingredients in the recipe and replace non-keto ingredients with keto friendly options. i.e. replace sweet pickle relish with dill pickle relish.
Use homemade keto mayonnaise or a keto approved brand like Chosen Foods.
Use low carb sugar substitute instead of sugar.
This keto deviled eggs recipe uses all keto ingredients!
TIP: Want to know how to make deviled eggs without mayo? Substitute the mayonnaise with sour cream or Greek yogurt.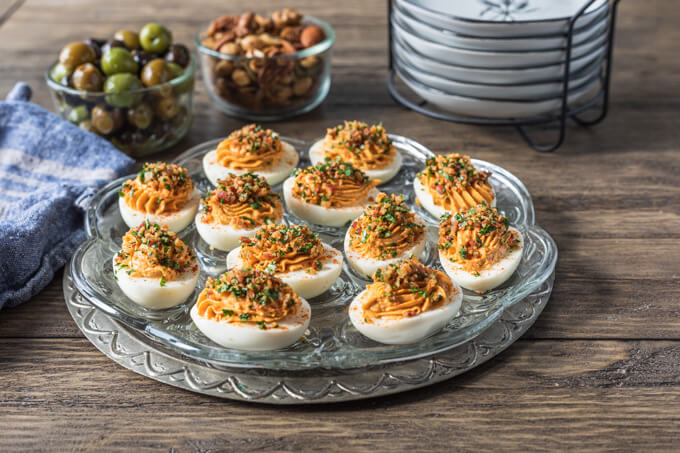 Why I Love These Chipotle Deviled Eggs with Bacon and Cilantro!
I love classic deviled eggs and all the other fancy flavors, but this recipe is especially delicious. A combination of mayonnaise and butter keeps the filling rich and firm. Vinegar is a MUST and adds tang which is tamed with low carb sweetener. Ground chipotle pepper adds a subtle heat and smokiness. Garlic powder, salt, and pepper season and flavor. Topping these chipotle keto deviled eggs with bacon and cilantro brings everything together.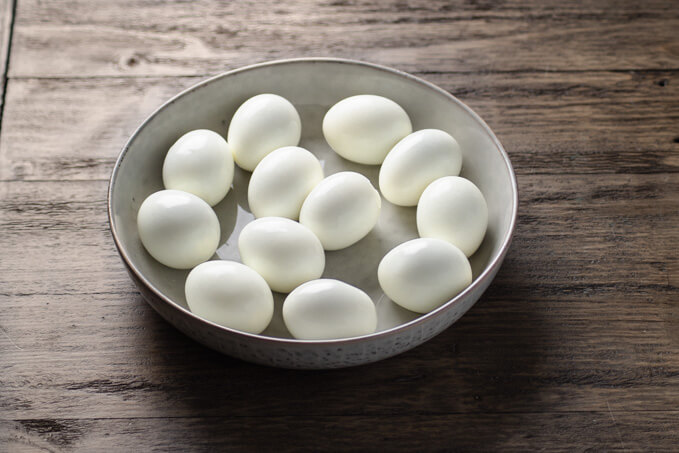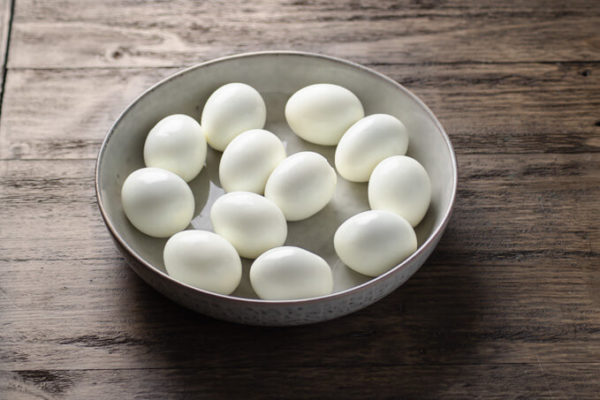 Cooking Hard Boiled Eggs for Deviled Eggs
A good deviled egg starts with a good hard-boiled egg. The best way to cook hard boiled eggs depends upon you and your kitchen equipment. I boil mine or use my Instant Pot (it has an egg cooker button!).
To Boil:
Start the eggs in cold water so as not to shock them and to prevent cracking.
Salt the water and add vinegar. Salt raises the boiling point of the water, making it hotter. Should any eggs crack, vinegar helps coagulate (harden) any egg whites that seep through.
Bring the eggs and water up to a boil and boil for one minute.
Remove the pot from the heat and let it sit for 15 minutes.
Drain and plunge the eggs into a large bowl of ice water to stop the cooking. This also encourages the egg whites to pull away from the shells.
NOTE: A green or gray discoloration around an egg yolk indicates over-cooking. This isn't bad but results in a drier egg yolk. It's fine, just add a little more mayo and no one will know.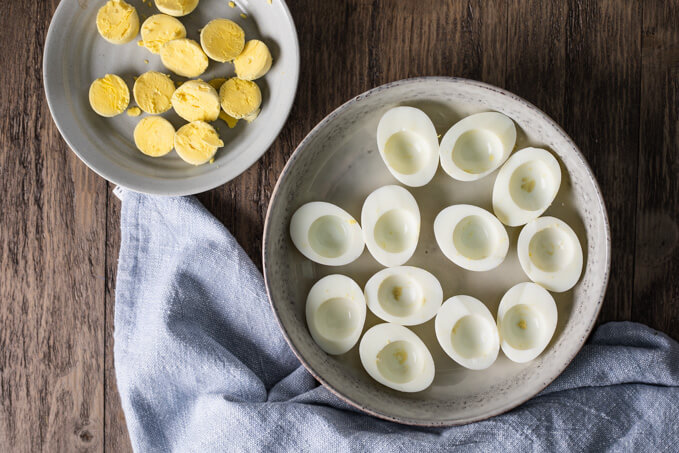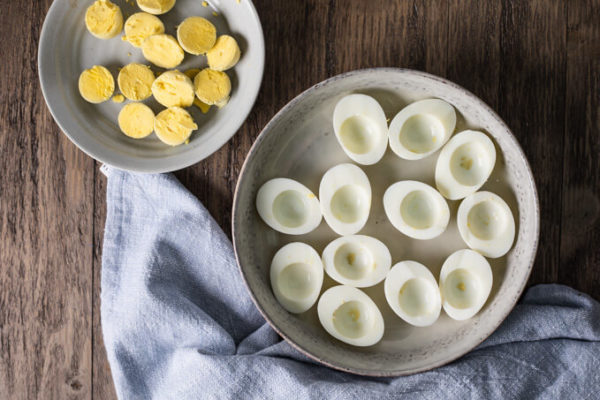 How I Peel Hard Boiled Eggs
Mom taught me the best way to peel hard boiled eggs… crack an egg all over by gently rolling it on a clean counter. Then start peeling it under running water; that way the water slips between the shell membrane and the egg white. It's easy to peel and the shells slip right off.
How to Fill Deviled eggs Easily
The easiest way to fill hard boiled eggs is with a spoon, which is fine for family snacks. For guests, I pipe the filling into the deviled eggs. It looks fancier and much neater.
To Pipe the Filling:
Snip the corner of a quart sized bag to make a small hole.
Push a large open-star tip snuggly into the hole.
Put the bag (tip down) into a tall glass and fold the sides inside-out over the glass, so it holds the bag open.
Spoon the deviled egg filling into the bag and take it out of the glass.
Gather the top of the bag in one hand and gently work the filling to the bottom, towards the tip.
Twist the bag at the filling level so it forms a tight ball.
Fill each deviled egg by squeezing an equal amount filling into each egg.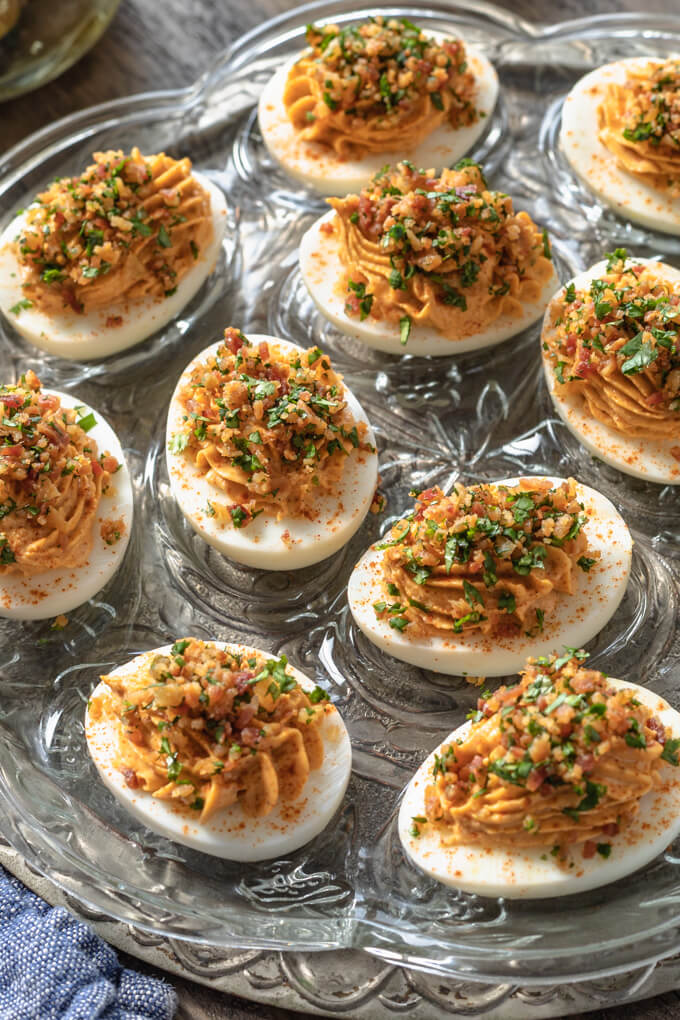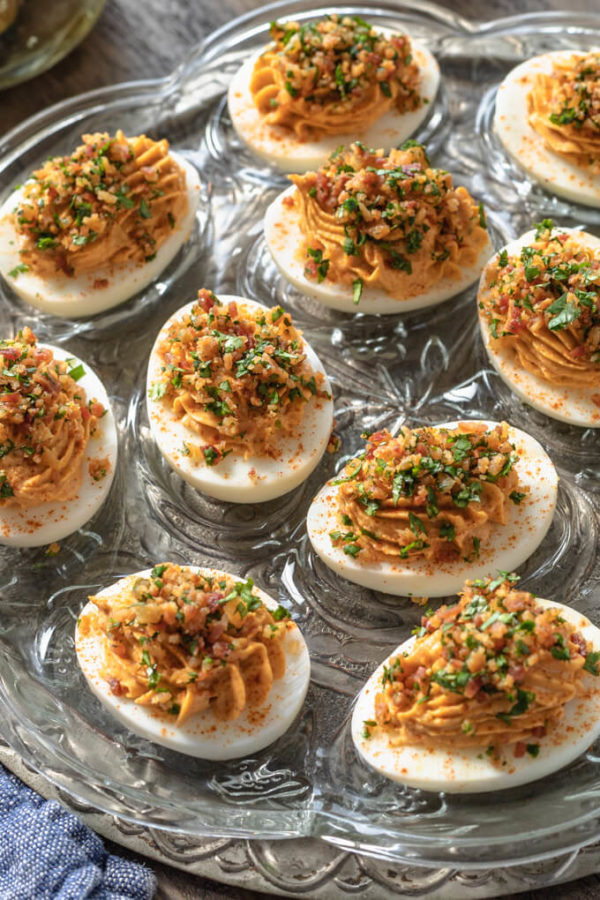 To Make In Deviled Eggs in Advance:
To make these deviled eggs in advance: halve the hard-boiled eggs, scoop out the yolks and make the filling. Fill right away, cover and refrigerate or refrigerate the filling and egg halves separately, to fill the next day. This recipe keeps well in the refrigerator for a few days.
NOTE: Food safety rules say that hard boiled eggs can be refrigerated for up to a week. Deviled eggs are good refrigerated for about 3 days, and should only be left out on a table for up to two hours.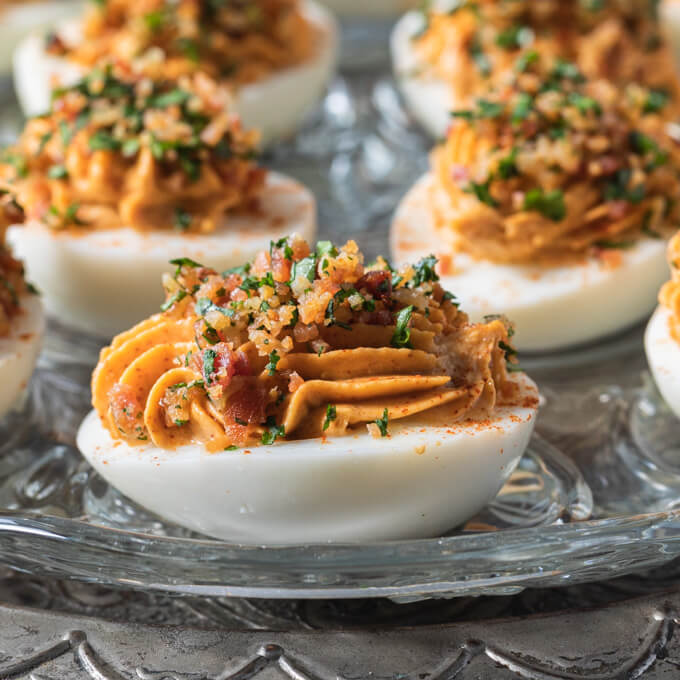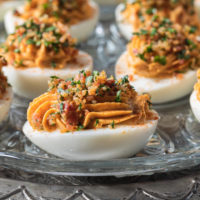 Chipotle Keto Deviled Eggs with Bacon
Smoky chipotle keto deviled eggs are a great snack or appetizer. Bacon & cilantro make them extra tasty!
Print
Pin
Rate
Equipment
Medium Mixing Bowl

Serving Platter
Ingredients
6

large

hard boiled eggs

3

tbsp

mayonnaise

1 1/2

tbsp

melted butter

4

tsp

white vinegar

2

tsp

low carb powdered sugar

(Sukrin, Swerve, Lakanto, Besti)

2

tsp

sugar free ketchup

1

tsp

chipotle powder

1/2

tsp

salt

1/4

tsp

granulated garlic
Topping
3

regular

slices cooked bacon

(crispy)

2

tbsp

minced cilantro

Paprika

(for sprinkling)
Instructions
Halve the eggs horizontally. Remove the yolks to a medium bowl and place the halved egg whites on a platter or tray.

Mash the yolks with a fork or push them through a fine sieve with the back of a spoon. Stir in the mayo and melted butter, mixing well.

Add the rest of the filling ingredients, mixing thoroughly to combine. Adjust taste to your liking: lemon juice for more brightness, sweetener to mellow and balance flavors, or salt to enhance flavors. Best to let sit overnight for the flavors to mingle. (At this point you can cover the halved egg whites and the filling and refrigerate until needed the next day.)

Fill the egg halves (see post for ideas) and sprinkle with paprika.

Chop the bacon very finely and put in a small bowl. Mince the cilantro and measure 2 tbsp. Place the cilantro in a folded paper towel and squeeze it to remove some of the liquid. This way it won't wilt or release water.

Mix the bacon and cilantro together and sprinkle evenly over each deviled egg. Gently cover and refrigerate or serve.

Makes 12 keto deviled eggs with 0.26 g carbs each.
Notes
Food safety rules caution against leaving deviled eggs out longer than 2 hours. Deviled eggs keep in the refrigerator for up to 3 days. 
Nutrition
Serving:
1
deviled egg
|
Calories:
26
kcal
|
Carbohydrates:
0.36
g
|
Protein:
3.6
g
|
Fat:
6.47
g
|
Cholesterol:
112
mg
|
Sodium:
112
mg
|
Fiber:
0.1
g