This savory nut mix is a great "back-pocket" recipe. You can pull it out for almost any occasion. Just place a bowl of these delicious keto nuts on the table and watch them disappear. Their salty, tangy and spicy flavor goes with almost anything: cocktails, low carb beer, cheeses, meat platters and veggie trays. I like to eat them as a midday snack.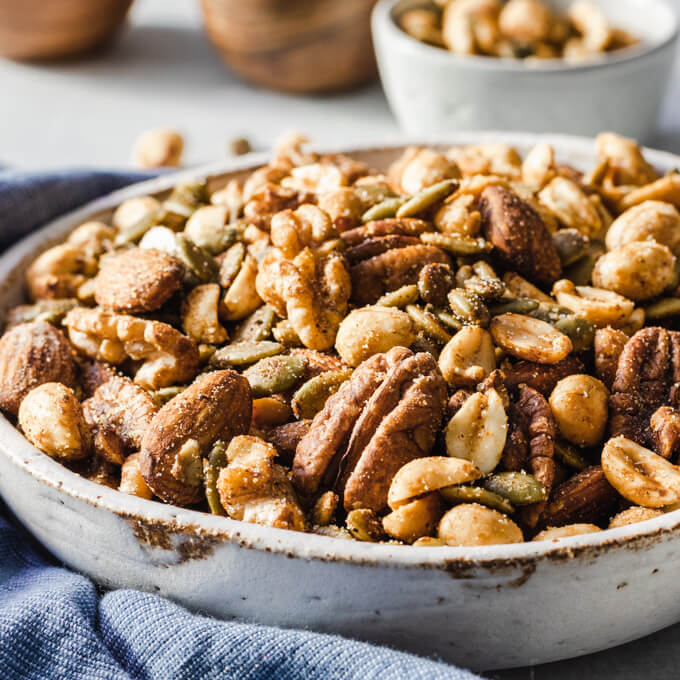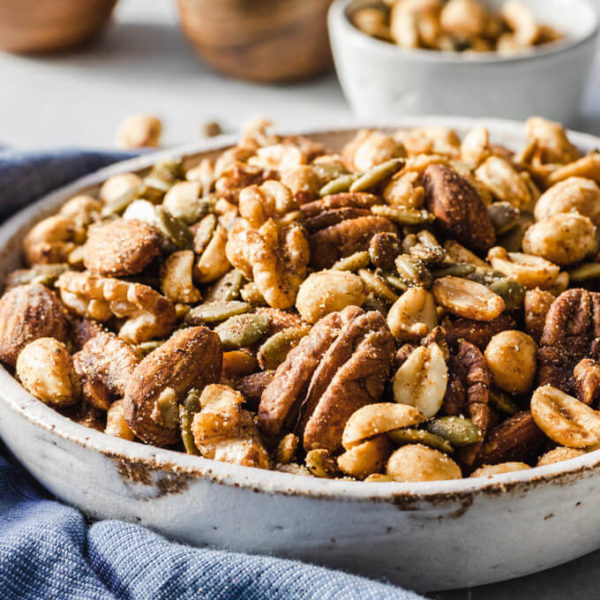 THIS POST INCLUDES AFFILIATE LINKS TO SHARE THE THINGS I LOVE.
Nuts Make A Great Keto Snack
If you're a nut lover, you'll be happy to hear that nuts are a keto friendly food. Their small size makes them portable and convenient to enjoy anywhere. I slip a small bag of my favorite keto nuts into my purse on days I run errands – in case I miss lunch.
Nuts are nutritionally dense containing fats, protein and carbohydrates. Just a small amount keeps me full for hours. The downside? I love nuts so much that portion control can be an issue. Overeating even the most keto friendly nuts can blow my carb or calorie allotment for the day. Caution is the rule.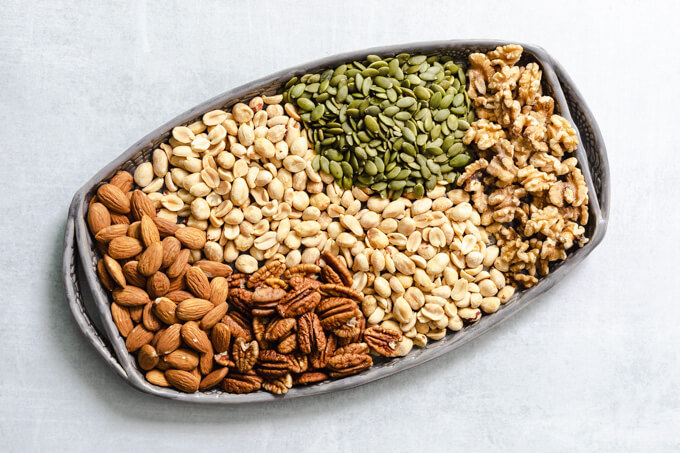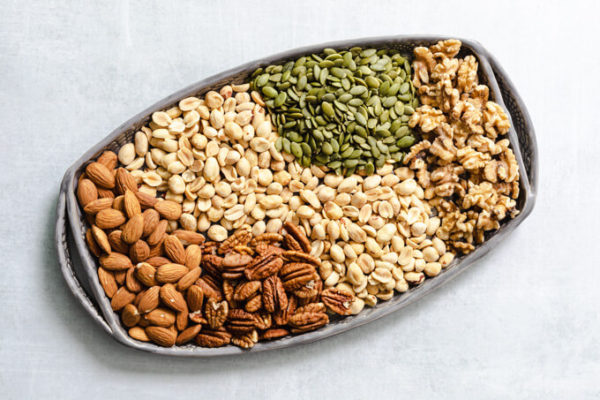 Best Nuts for Keto
Before I share the recipe for this snack mix, I want to talk about the best nuts for keto and low carb diets. Although must nuts are fine to eat, some are better than others. The best nuts for keto diets are those with a carb-to-fat-ratio that favors fat. A higher fat content generally means lower carbs.
Looking at the chart below. Pili nuts are the lowest carb nut, but also very high in fat and calories. That isn't necessarily bad, but many people on low carb and keto diets need to watch calories for continued weight loss.
One of my favorite low carb choices is hulled pumpkin seeds. They have 1 net carb per ounce and 10 grams of protein. I bring them to the movie theater and skip the starchy and sugary treats at the vending counter.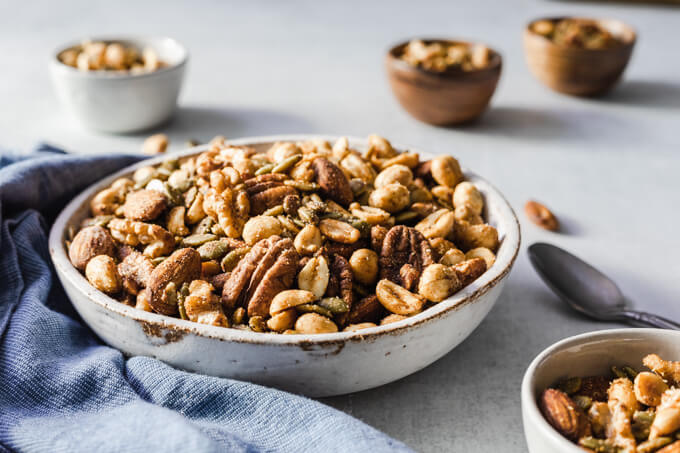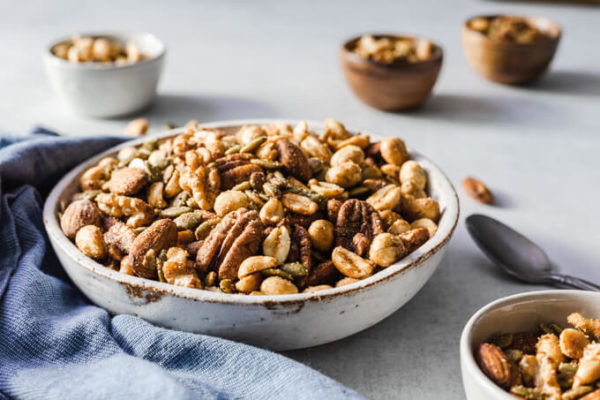 NOTE: Cashews are the least keto friendly nut at 7.66 g net carbs per ounce!
BEST KETO NUTS & SEEDS PER 1 OUNCE SERVING
| | | | | |
| --- | --- | --- | --- | --- |
| | | | | |
| | Net Carbs | Fat Grams | Protein | Calories |
| Pili Nuts | zero | 22.4 | 3.4 | 196 |
| Brazil Nuts | 1 | 19 | 4 | 190 |
| Pumpkin seeds | 1 | 13 | 10 | 170 |
| Pecans | 1.2 | 12.4 | 2.6 | 196 |
| Macadamia Nuts | 1.5 | 21.5 | 2.2 | 204 |
| Peanuts | 1.7 | 14.7 | 7.8 | 168 |
| Walnuts | 2 | 18.5 | 4.3 | 185 |
| Hazelnuts | 2 | 17 | 4 | 180 |
| Almonds | 2.3 | 14.4 | 6 | 164 |
| Pine Nuts | 2.7 | 19.4 | 3.9 | 191 |
| Sunflower Seeds | 2.8 | 14 | 6.5 | 159 |
| | | | | |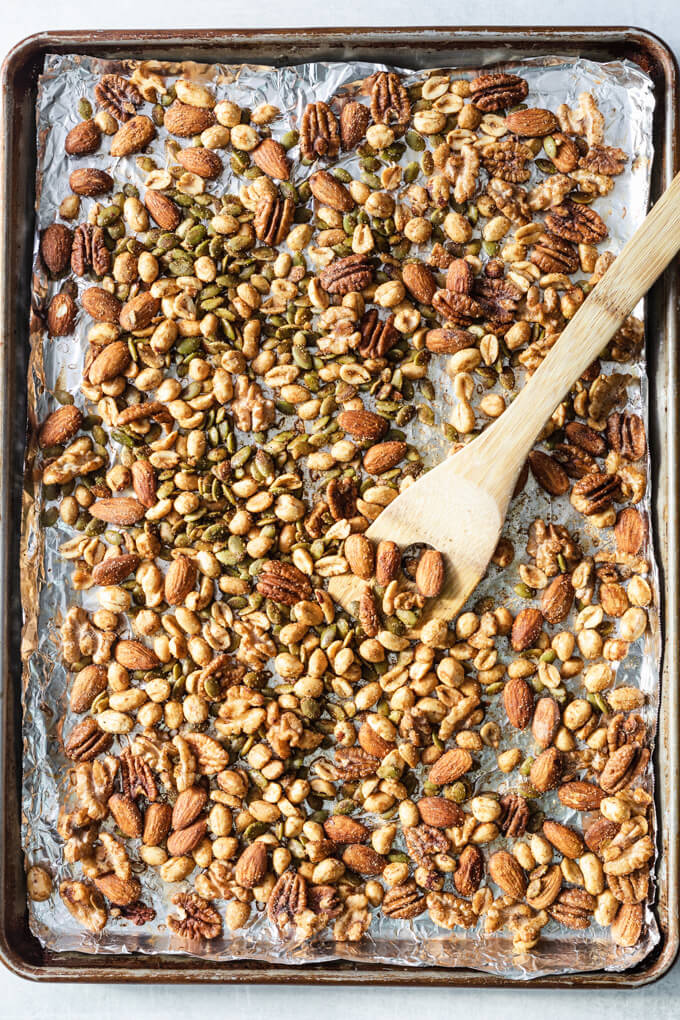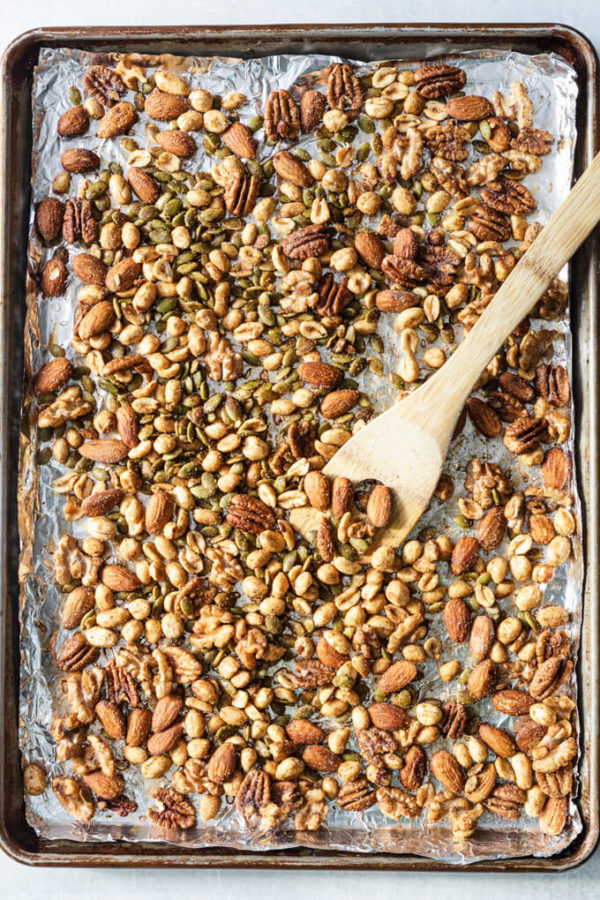 Savory Keto Nuts Recipe– The Perfect Snack Mix
This keto nuts snack mix is inspired by the famous Chex Snack Mix – which is scrumptious, but not keto friendly! And since nuts aren't as absorbent as cereal, it took me 5 batches (or 15 cups of nuts) to get the seasoning right.
INGREDIENTS: Worcestershire sauce, soy sauce, olive oil, garlic powder, onion powder, sweetener, cayenne pepper, lemon juice packets, salt and black pepper.
The one ingredient you may not have is Real Lemon which is crystallized lemon juice in a packet. It's the most important ingredient, taking these keto nuts from bland to amazing. I find it at my local grocery store and also on Amazon. I use a packet here and there when I need to brighten the flavor a recipe without adding extra liquid.
Mixed nuts are best for this recipe. I use a mix of peanuts, almonds, walnuts, pecans, and pumpkin seeds. Because peanuts are affordable and high in protein, I used more of them than other keto nuts. Feel free to use your favorites, but know that the macros will be slightly different.
NOTE: Pay attention to the procedure for this recipe. If the seasoning is added too soon, it will lose it's potency. Add it towards the end for best flavor.
How to Store Nuts
Store nuts in an airtight container in a cool, dry place for up to a month. The natural oils they contain can become rancid in warm environments. I store my nuts in the refrigerator for up to 6 months, but they also do well in the freezer.
Try These Other Great Keto Nut Recipes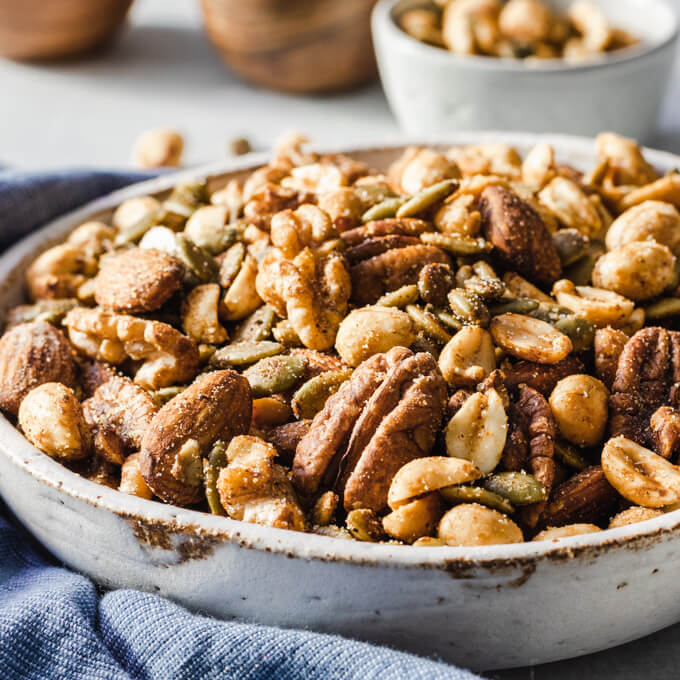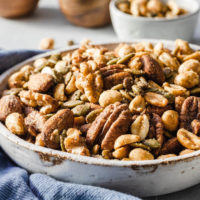 Savory Keto Nuts Snack Mix
Salty, tangy and spicy, these savory keto nuts go with almost everything. Place a bowl of this delicious snack mix on the table and watch it disappear!
Print
Pin
Rate
Ingredients
3

cups

mixed nuts

(see below for what I used)*

1

tbsp

olive oil

1

tbsp

Worcestershire sauce

2

tsp

Soy Sauce

(Tamari soy sauce is gluten-free)
Seasoning Mix
2

packets

True Lemon

1

tsp

sugar free powdered sugar**

(your favorite brand)

1/2

tsp

granulated garlic

1/2

tsp

onion powder

1/4

tsp

cayenne

1/4

tsp

salt

1/8

tsp

black pepper
Instructions
*1 cup (4 oz) peanuts, ½ cup (2 oz) pecans, ½ cup (2 oz) walnuts, ½ cup (2 oz) almonds, ½ (2 oz) cup pumpkin seeds.** If you do not have sugar-free powdered sugar, put some of your favorite granulated erythritol based sweetener in an electric coffee grinder or in a food process and grind/process until it resembles powdered sugar in texture.
Preparation
Preheat oven to 250 F and place rack in middle position. Line a large rimmed sheet pan with foil.
Method
In a medium bowl, toss nuts with olive oil, Worcestershire sauce and soy sauce. Spread the nuts out on the sheet pan and bake for 40 minutes.

Sprinkle the nuts with the seasoning and stir with a spatula or wooden spoon to distribute the seasoning. Return to the oven for 15 minutes or until the nuts are dry.

Remove the nuts from the oven and adjust seasoning. (I sometimes add more salt)

Cool completely before placing the snack mix in an air tight container and storing in a cool dry place. Enjoy within two weeks. Cook for an additional 15 minutes.

Makes 3 cups. Serving Size: 1/4 cup (1 oz/ 28 g) NET CARBS PER SERVING: 2 g
Notes
Ovens differ in size and heating methods. The cooking times stated and results shown in photos are reflective of my oven.
Nutrition
Serving:
1
ounce
|
Calories:
170
kcal
|
Carbohydrates:
4.61
g
|
Protein:
5.56
g
|
Fat:
15.9
g
|
Sodium:
132
mg
|
Fiber:
2.6
g
|
Sugar:
0.96
g