This Low Carb Hummus with artichoke tastes just like the real thing except that it's made of cauliflower and artichokes. Great for ketogenic diets, it's dairy-free and Paleo .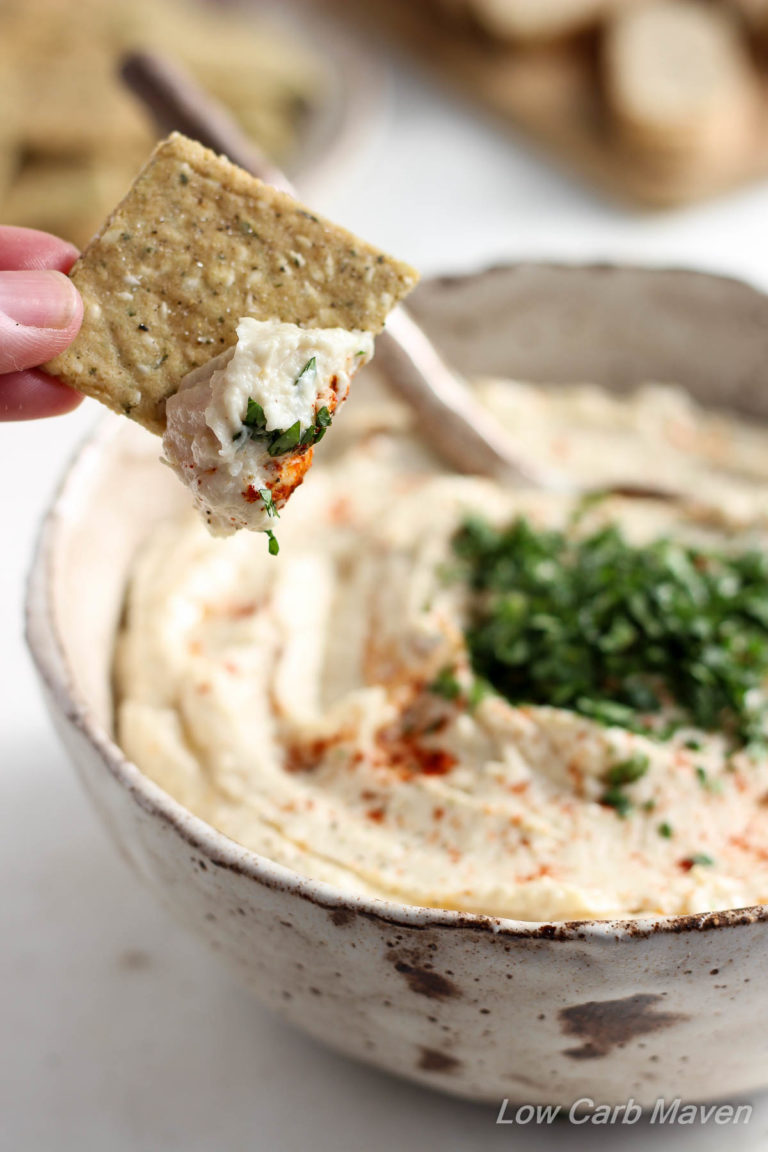 Have you ever been to Costco when the Pita and Hummus vender is there? They have some of the best flavors hands down – and the best pita chips.
My husband and I used to bring home several tubs of hummus and a big bag of pita chips every time the they were in town.
Those were the days before kids and accountability. A time when calories and carbs didn't count if no one was looking!
I am I the only one who misses hummus? All of those rich complex flavors; tahini, garlic, olive oil and lemon? I just love it.
I think this low carb hummus with artichoke is a fantastic substitute for chickpea hummus. It comes so close to the real thing I bet no one would guess it's made of cauliflower and artichoke bottoms! My husband and kids loved it. I'm predicting it will become a staple in our house…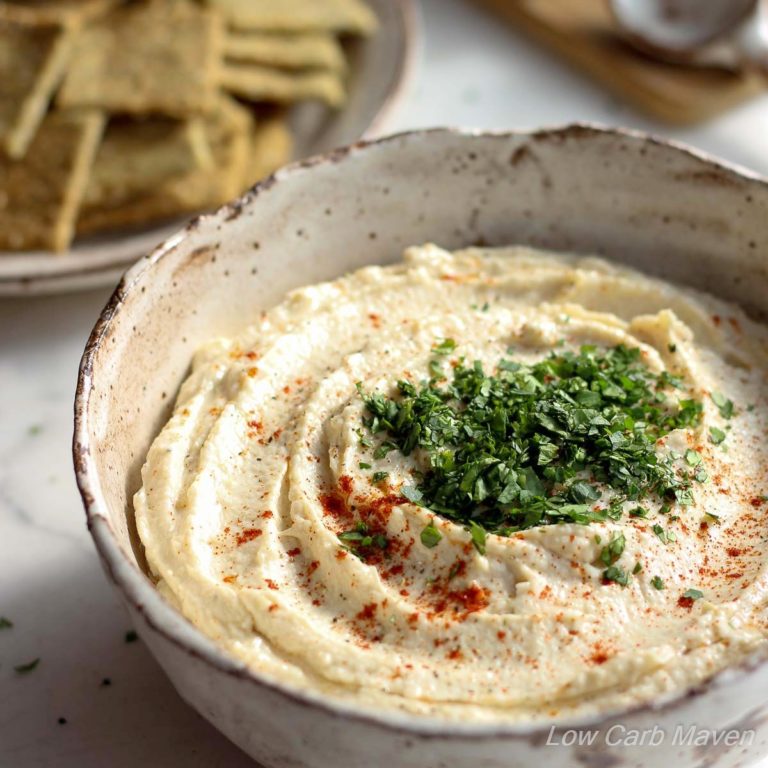 And you can't have a low carb hummus without the perfect"dippers". We thought the crispy almond sesame crackers and Sukrin Oat Sesame Bread were perfect for this dip. Both the crackers and the bread are very easy to make and they taste so good.
The crackers consisted of mixing a few ingredients to form a dough, then I rolled it out, cut it into squares and baked. Just cook, break apart, and 40 tasty crackers are ready to be enjoyed!
The Sukrin bread mix was easy, too. Just add water! I spooned it into two long logs on oiled parchment and then with oiled hands, coaxed it into two smooth logs. I baked the bread for an hour and cut it into 40 pieces – the perfect number for appetizers. Here is my review of the bread.
Crackers and bread are not necessary if you're pressed for time. This low carb hummus was great on fresh cut vegetables, too!
Other dippers: Herbed Crackers, Low Carb Chile-Lime Chips, Low Carb Cheddar Cheese Crackers, Crispy Almond Sesame Crackers
This Low Carb Hummus With Artichoke is 4 net carbs per 1/4 cup serving.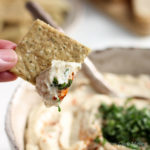 Low Carb Hummus With Artichoke
This Low Carb Artichoke Hummus tastes just like the real thing except it's made of cauliflower and artichokes. It's great for ketogenic diets, is gluten and dairy-free, Paleo and THM compliant.
Ingredients
1/2

pound

cauliflower,

steamed and squeezed fresh or frozen)

14

oz

artichoke bottoms,

drained and squeezed

1/4

cup

mayonnaise,

or vegan mayo or maybe Greek yogurt

1/3

cup

tahini,

sesame paste

2

cloves

garlic

1/4

cup

lemon juice

1

tablespoon

extra virgin olive oil

1/2

teaspoon

erythritol,

or your favorite sweetener

3/8

teaspoon

salt

1/8

teaspoon

pepper
Instructions
Steam the cauliflower and squeeze out as much moisture as you can with your hands. (I use the microwave to steam my cauliflower.) Put into a food processor fitted with a metal blade.

Squeeze out the artichoke bottoms and add to the food processor.

Add the rest of the ingredients and process until the artichoke hummus is smooth.

Taste and adjust seasoning.

Serve.
Recipe Notes
Nutrition Facts
Low Carb Hummus With Artichoke
Amount Per Serving
Calories 141
Calories from Fat 117
% Daily Value*
Total Fat 13g 20%
Total Carbohydrates 6g 2%
Protein 3g 6%
* Percent Daily Values are based on a 2000 calorie diet.
Signup for my Newsletter
Subscribe to get our recipies by email.