Want an easy pie crust for some of your no-bake pies? This low carb walnut pie crust just may be what you are looking for and only takes 10 minutes to set.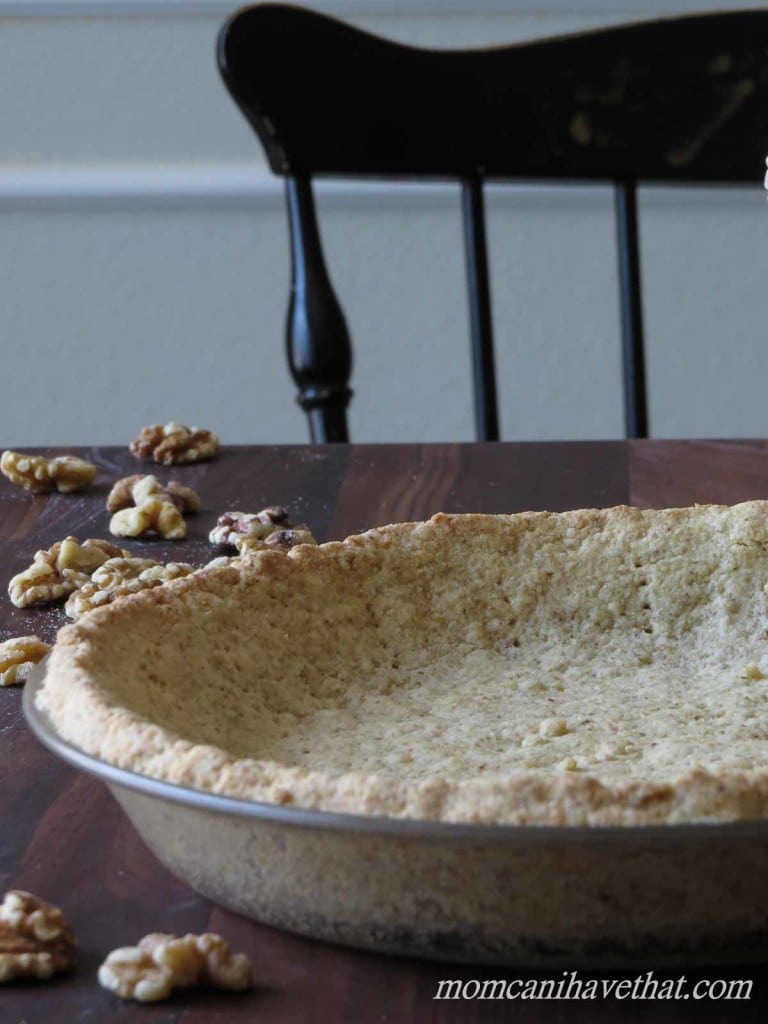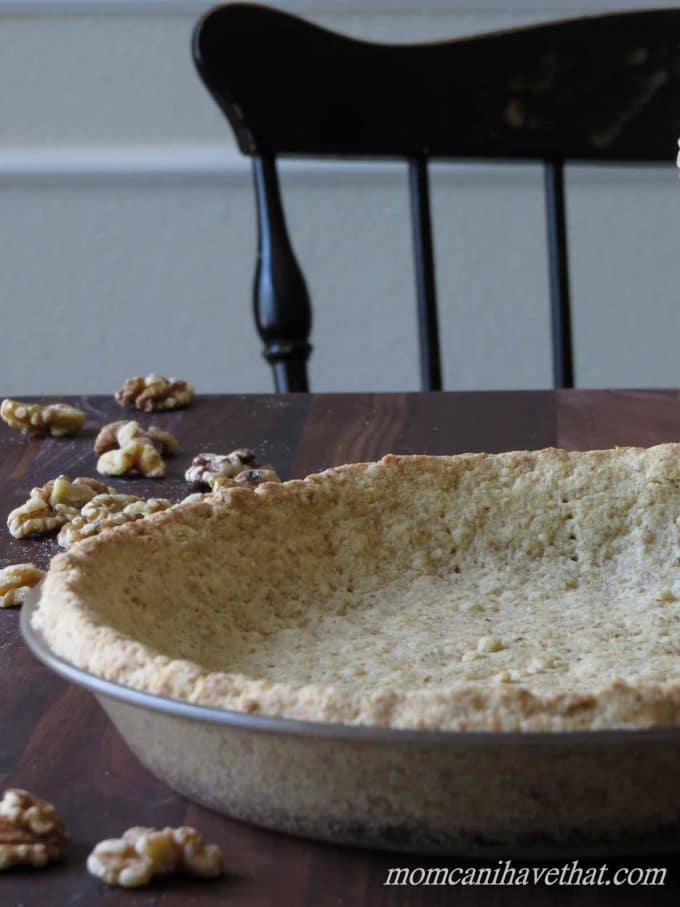 I love nut pie crusts, and while they aren't exactly like true graham cracker crusts or crushed cookie crusts, I think low carb nut crusts do a pretty good job imitating the real thing – especially when a few key ingredients are added.
This low carb keto walnut pie crust is a great "graham cracker" type crust for no-bake chocolate pies, no-bake cheesecake, or no-bake pumpkin pies. The walnuts give the crust a nice flavor with-out being overpowering. Don't like walnuts, pecans work well, too. I did include golden flax seed and vanilla whey protein powder in the recipe, because I feel they help the crust hold together better.
Because of the addition of the whey protein powder, this crust can't be called "dairy-free" but it is lactose-free, casein-free and gluten-free. My favorite protein powder is Nature's Best Isopure Zero Carb Protein Powder. I particularly like the Cookies and Cream flavor in my crusts, but Vanilla or Plain work nicely, too. Although I haven't tried, vanilla egg white protein powder may work as a substitute for the whey, but it may be a bit stickier.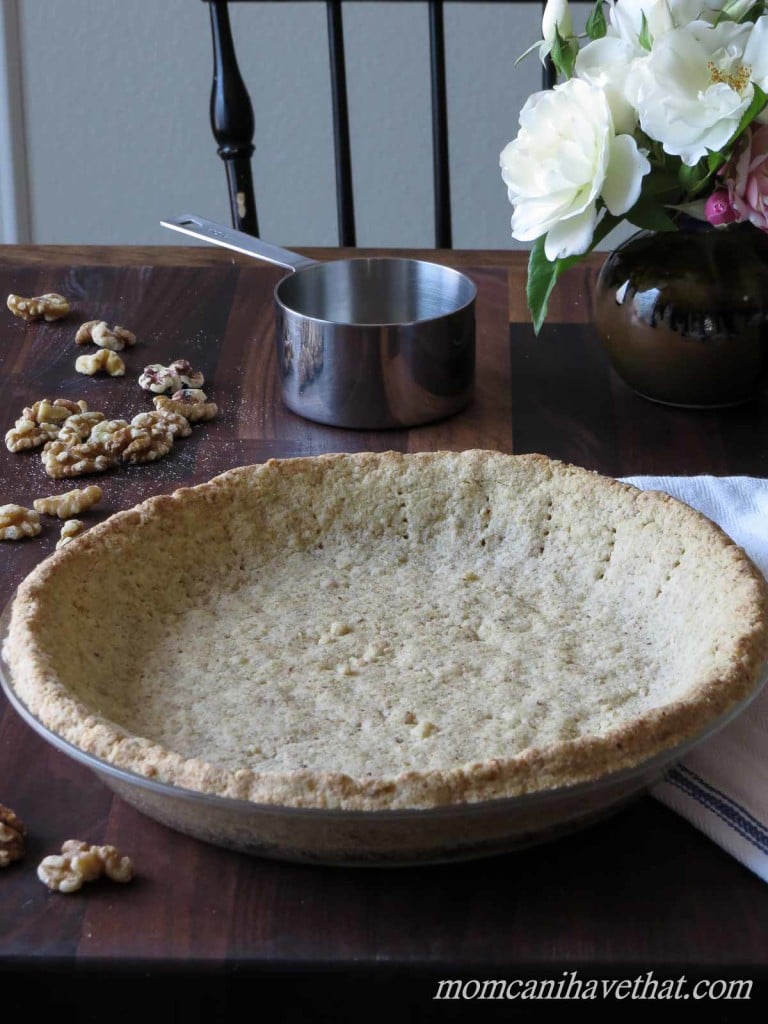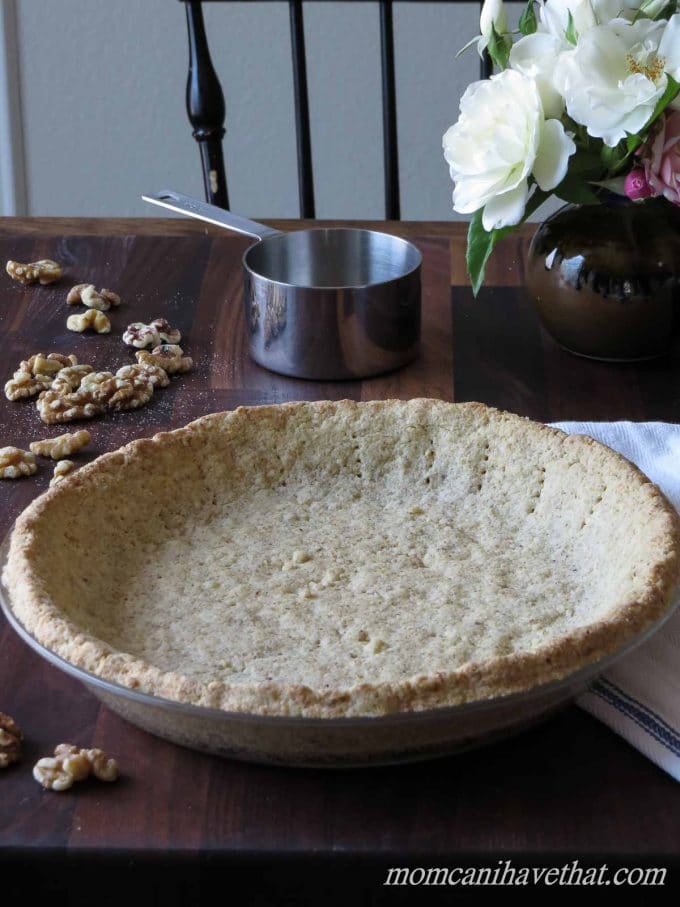 This low carb pie crust needs to be filled and refrigerated overnight before serving. It needs that time to absorb a little of the moisture from the filling so that it doesn't crumble apart when it is served – that's the secret. Taking a little extra time making a nice edge around the pie is worth it and makes a pretty slice at serving. I have never had this pie crust crumble apart on me and guests are always impressed when I reveal that they are eating low carb walnut crust. Of course, I make sure they are free of nut allergies before serving!
With so many food allergies, dietary concerns and ways of eating floating around these days, I always ask my dinner guests about their special dietary needs before deciding on dinner and dessert.
*Note: If you would like to turn this into a savory crust, use unflavored zero-carb whey protein powder, omit the sweetener and bump the salt up to 1/4 teaspoon. Its great for a quiche, but don't pre-bake. Instead, refrigerate, fill with the quiche mixture and bake at the bottom 1/3 of the oven until the quiche is set.
This Keto Walnut Pie Crust is 3 net carbs per serving
[Disclosure: This recipe contains affiliate links.]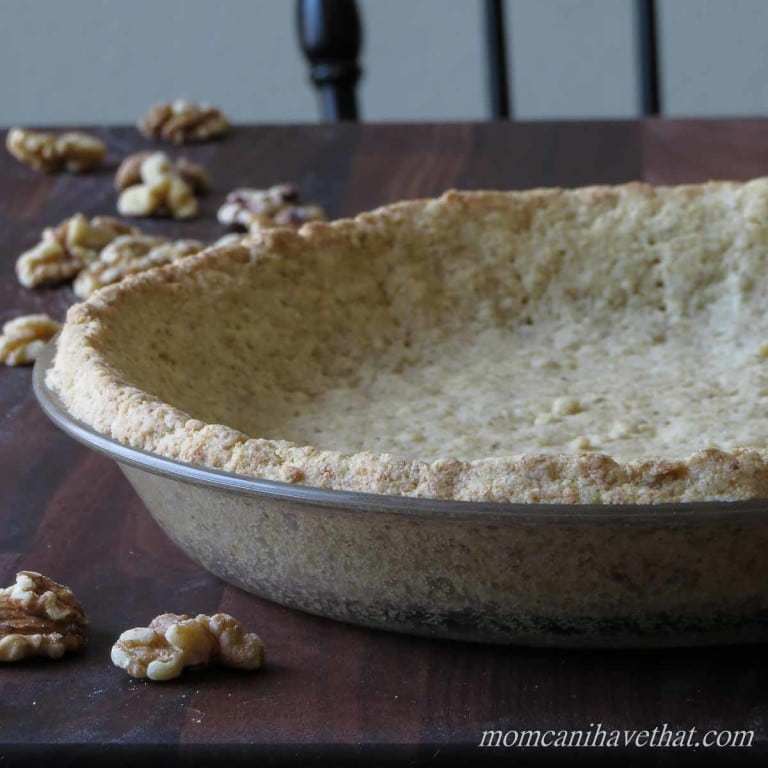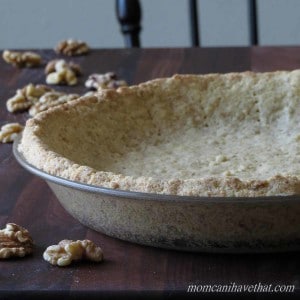 Low Carb Walnut Pie Crust
This Almond – Walnut Pie Crust is great for no-bake chocolate, cheesecake and pumpkin pies. It's super easy to make & is low carb, gluten-free, casein-free.
Print
Pin
Rate
Instructions
Preparation
Preheat oven to 350 degrees. Spray a pie plate with baking spray. I use a 9 1/2 inch pyrex baking dish. Put the walnuts in a food processor (I use a mini-prep) and process them until finely ground, but not walnut butter!
MIx
In a medium bowl, add all of the dry ingredients and sitr together, thoroughly. Melt the coconut oil or butter or ghee and add to the dry ingredients stirring together. The mixture should clump up easily and hold its shape when squeezed firmly. If not, add 1-2 more tbsp melted butter..
Press
Add the low carb walnut crust ingredients to the pie plate and begin to press it firmly into the sides and bottom of the plate. I like to make a peaked-ridge around the inside of the outer edge. With the tines of a fork, poke holes on the bottom and sides of the crust so it doesn't puff up in the oven.
Bake
Bake the crust for 10 minutes to set, or until it begins to turn a nice golden brown. Let cool completely before filling. Best if the filling sits in the pie crust overnight before serving.
SERVES 8 PEOPLE AT 3 NET CARBS PER SERVING.
Nutrition
Calories:
298
kcal
|
Carbohydrates:
7
g
|
Protein:
7
g
|
Fat:
25
g
|
Saturated Fat:
10
g
|
Polyunsaturated Fat:
4
g
|
Monounsaturated Fat:
7
g
|
Sodium:
35
mg
|
Potassium:
150
mg
|
Fiber:
4
g
|
Calcium:
40
mg
|
Iron:
0.7
mg