A truly flaky low carb pie crust recipe perfect for sweet pies or a savory quiche. My almond flour pie crust is nicer than a press-in crust and has a great flavor. Make your next pie the best it can be.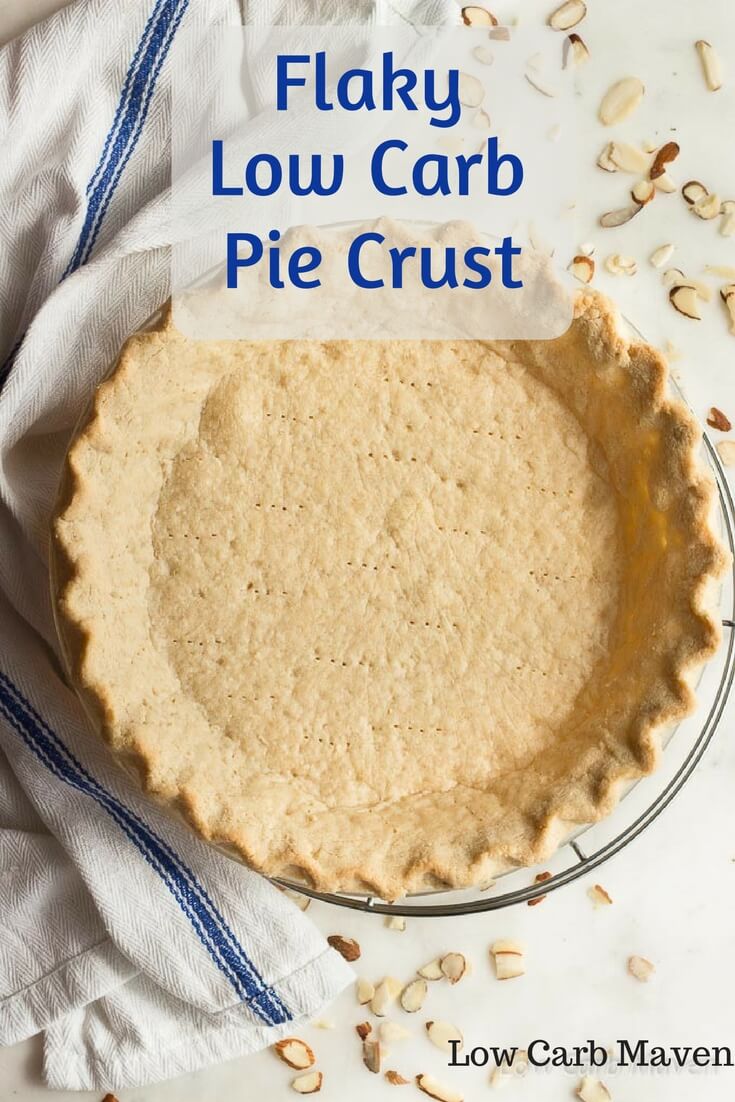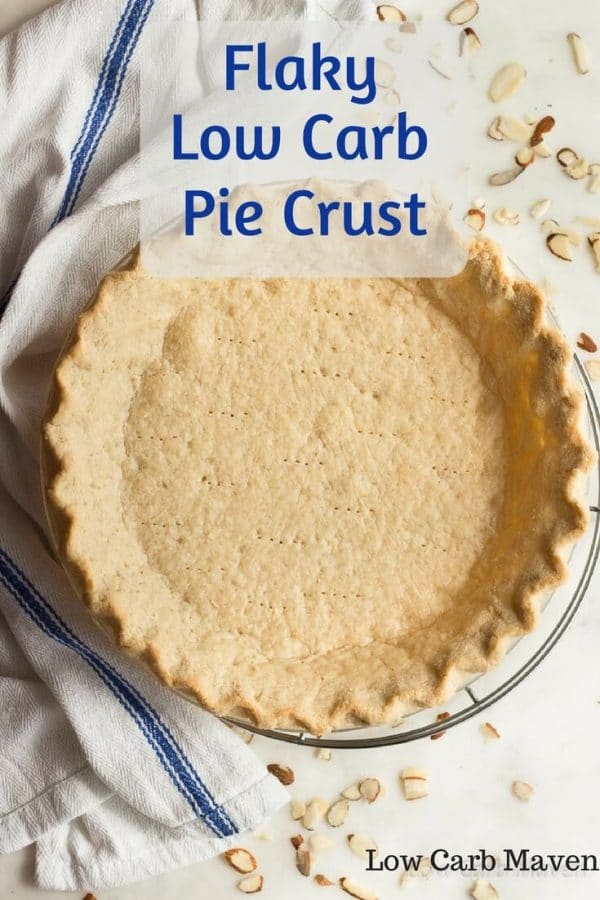 THIS POST INCLUDES AFFILIATE LINKS TO SHARE THE THINGS I LOVE.
It IS possible to get a flaky pie crust with low carb ingredients. I wouldn't have said this a year ago. Low carb ingredients: nut flours, seed flours, and certain fibers, don't have the magical properties inherent in wheat. Instead, our gluten-free ingredients provide great flavor and enhanced nutrition to our low carb baking and sugar-free desserts. It's a trade-off I'm willing to make.
This crust has been a year coming – a year of working on-and-off; clearly a labor of love. There were several failures: crusts that were tough or crusts that were so delicate they crumbled upon serving, even the odd few that just didn't taste right. However, I got it right with this recipe. I achieved that elusive flaky low carb pie crust texture!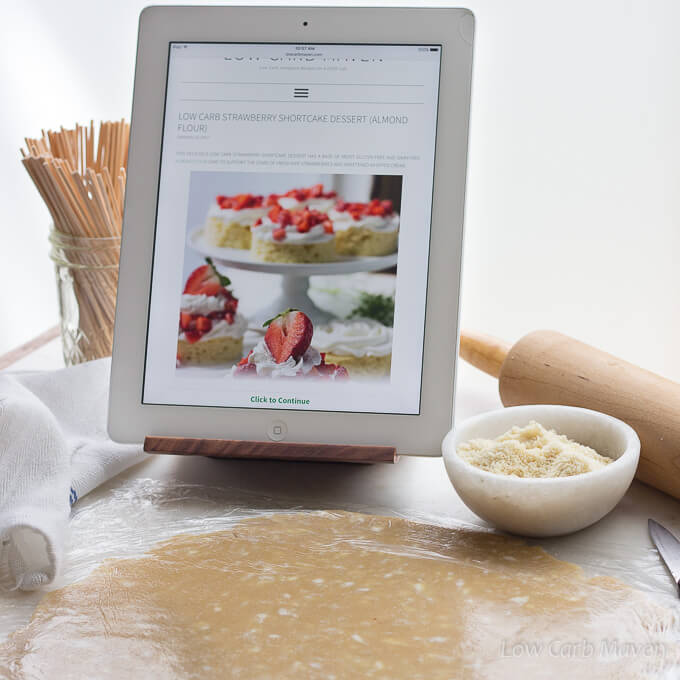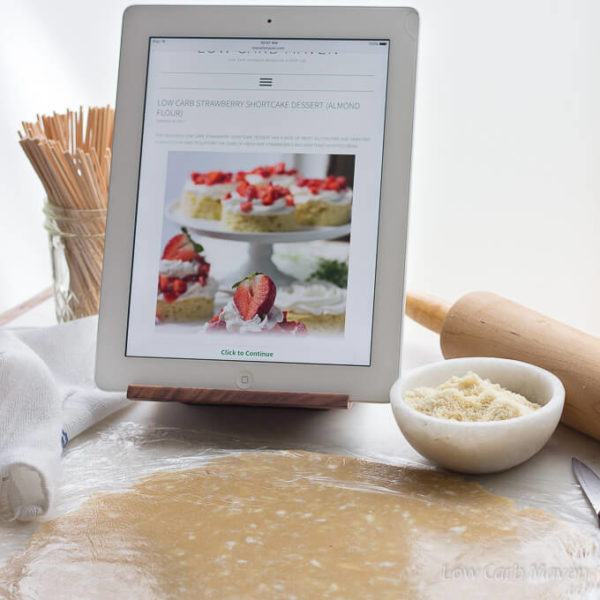 How to make a flaky low carb pie crust:
Add dry ingredients to a food processor and pulse to mix.
Add cold cubes of butter and pulse until it resembles small peas.
Add egg white and water mixture and pulse until it comes together.
Wrap and refrigerate.
Roll into a circle and place in freezer for a few minutes.
Unwrap and place in pie plate and flute the edge.
Bake until golden brown and cool completely
Now, to be honest, the crust doesn't have the characteristic "shatter" of a traditional flour pastry crust but it is perfectly flaky. We're talking layers and everything. This recipe does not use flax meal, coconut, or protein powder like my other press in pie crusts. This low carb pie crust mix uses almond flour, a little oat fiber, butter, salt, and egg – that's it.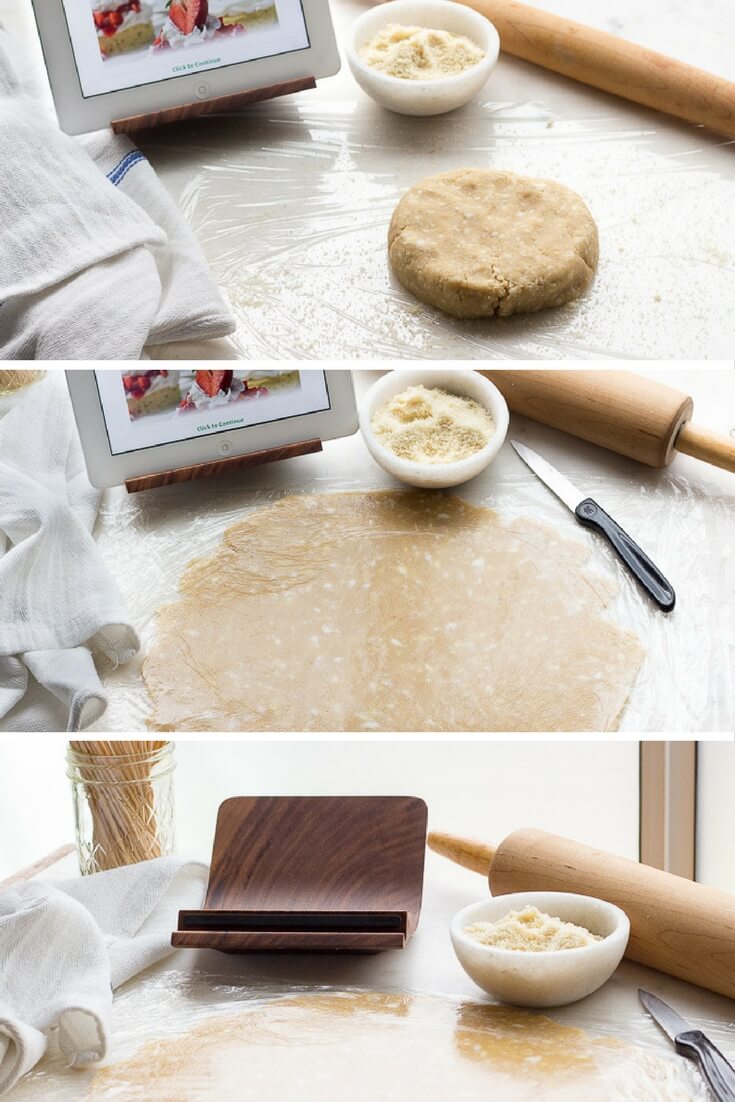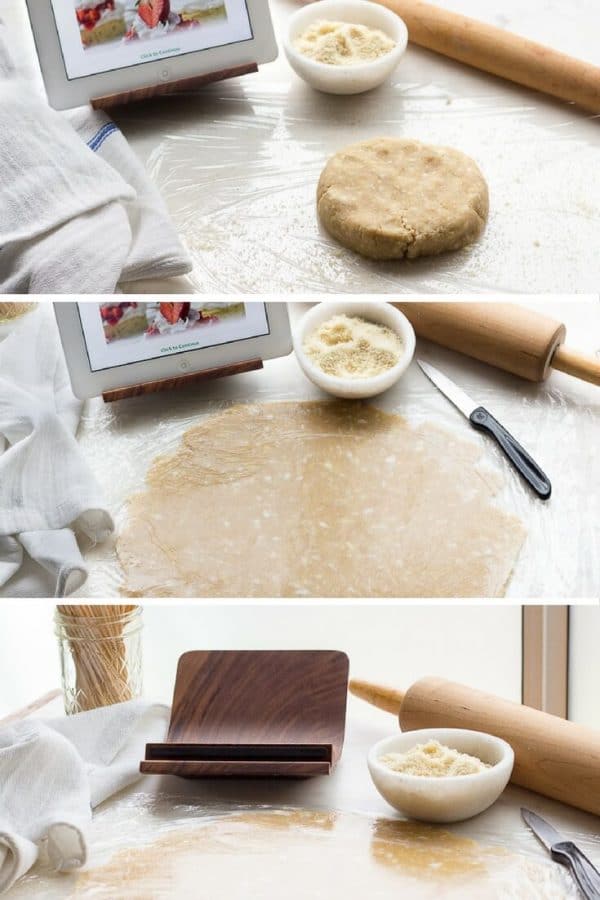 [See that beautiful iPad stand? It was gifted me by Yohann. I love it and have purchased another for my home. This is not an affiliate link, I just like the product.]
TIPS: It's easier to put the crust in the pie plate if it's cold. Just chill it in the freezer for a few minutes. Remove a layer of cling film, invert over the pie plate and let it slump into the plate naturally. It's important to gently help the process along to avoid big tears, but any tears are easy to patch. Count on spending a little time patching to make the crust around the rim of the pie plate even. It's worth the extra time.
Dock with a fork (prick all over) and bake until the crust is golden brown. Then cool completely before use. This crust is perfect for any cream pie, no-bake pie, or your old fashioned pies.
If you are a baker like I am, I suggest investing in an aluminum pie crust shield like this one from Mrs. Anderson's. It's worth it's weight in gold.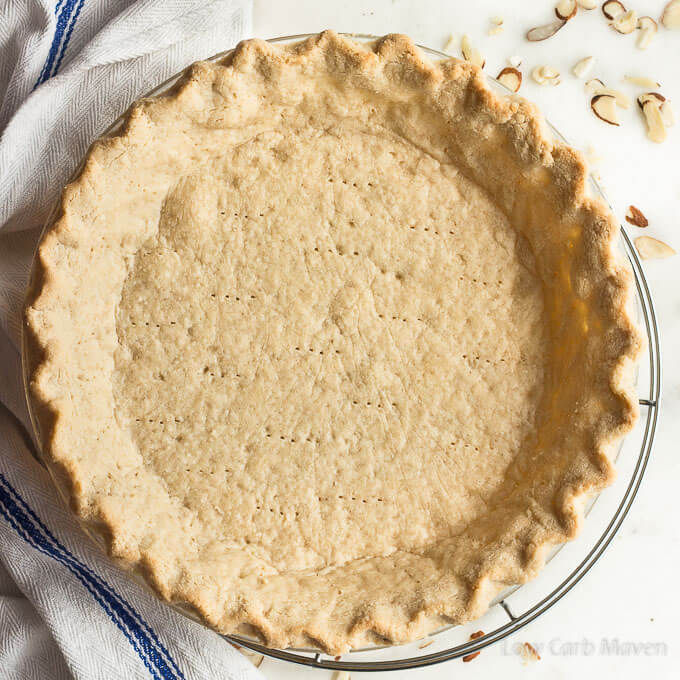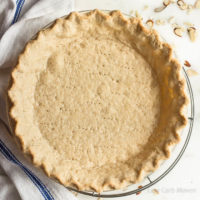 Flaky Low Carb Pie Crust Recipe
A truly flaky low carb pie crust recipe perfect for sweet pies or a savory quiche. My gluten-free crust is nicer than a press-in crust and has a great flavor.
Print
Pin
Rate
Ingredients
1 1/2

cups

almond flour

3

tbsp

oat fiber

(or 1/3 cup Sukrin Sesame Flour)

1/4

tsp

salt

5

tbsp

unsalted butter,

cold and cubed

1

large

egg white

(mixed with 1 tsp water)
Optional (for a sweeter crust)
Instructions
Preparation:
Preheat oven to 350 F and place the rack in the middle position. Place a 9- inch pyrex pie plate in the freezer. Mix egg white with water.
Method:
Measure the dry ingredients into the bowl of a food processor and pulse to combine. Add the cubed cold butter and pulse until the butter is pea-sized. Drizzle the egg white around the bowl of the crust ingredients and pulse until the dough comes together.

Remove the dough to a piece of cling film and shape into a disc (see pictures), wrap and refrigerate for at least 30 minutes or for several days.
Rolling the Pie Crust:
Place a new piece of cling film on the counter. Unwrap the pie crust dough and place it on the center. Place another piece of cling film on top of the dough. With a rolling pin, and starting at the center, roll the dough away from yourself. Give the dough a quarter turn and roll away from your self again. (If the cold dough crumbles a bit, don't worry, the rolling will warm it up and it will press back together.) Do this several times, flipping the whole pie crust over and proceeding with the other side until you have a 12 inch round disc. Place the crust in the freezer for 3-5 minutes or the refrigerator for 15 minutes.
Placing the Crust in the Pie Plate:
Remove the pie plate from the freezer and place on your work surface. Remove the rolled crust from the freezer or refrigerator and peel-off the top piece of cling film. If the dough is stiff as a board, let it sit for a minute on the work surface.

Invert the dough on top of the pie plate and remove the remaining cling film. The dough should begin to slowly slump into the plate. Help the process along by gently lifting the edge of the crust with one hand and very gently pressing it into the plate with the other. Patch any tears.

Remove excess pie crust by cutting it away with a small sharp knife. Gather the excess crumbs and distribute them along the top edge of the pie plate, taking the time to build a rim. Flute the edge and dock the dough (poke holes all over with a fork). If the dough becomes too soft to work with, pop it into the freezer for a few minutes. 
Bake:
Place the dough onto the middle of the rack and bake for 15 minutes or until it's a nice golden brown. Let cool completely before filling. If not using right away, wrap tightly in cling film and keep in the fridge until ready to use. Will also freeze. Thaw in the refrigerator to prevent condensation and sogging.

NOTE: If you are baking a filling in the pie crust, like a quiche, DO NOT dock the dough. Place it into the freezer to become firm before filling and baking. The sesame flour version is a tad more delicate than the Oat Fiber version.

This crust serves 8 at 1.75 NET CARBS per serving.
Nutrition
Calories:
158.87
kcal
|
Carbohydrates:
6
g
|
Protein:
3.62
g
|
Fat:
15.12
g
|
Sodium:
607
mg
|
Fiber:
4.25
g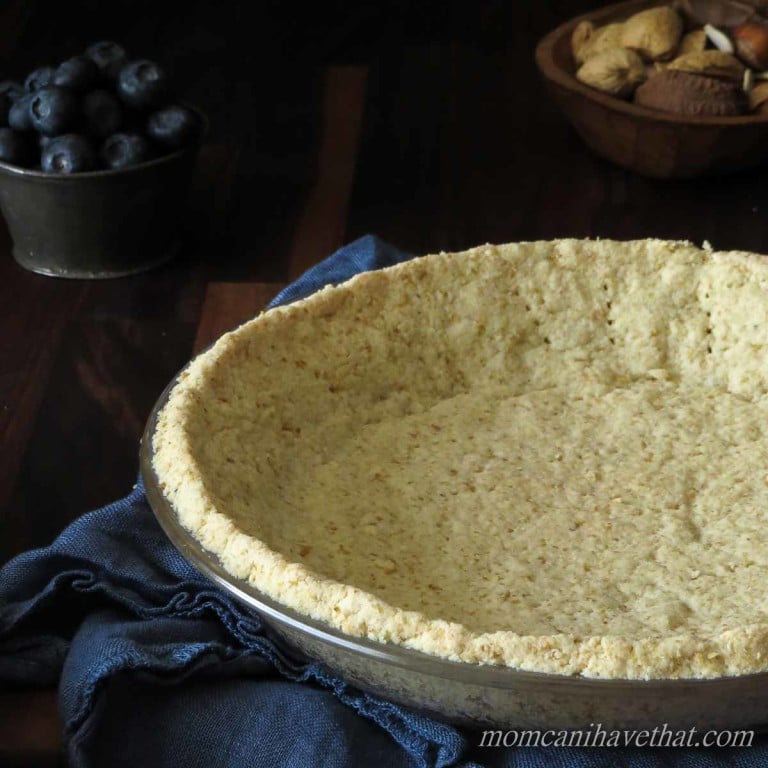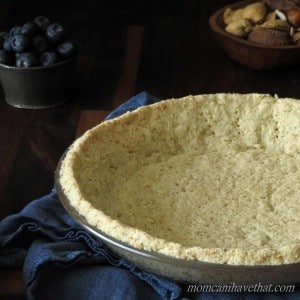 Low Carb Almond Pie Crust (press-in)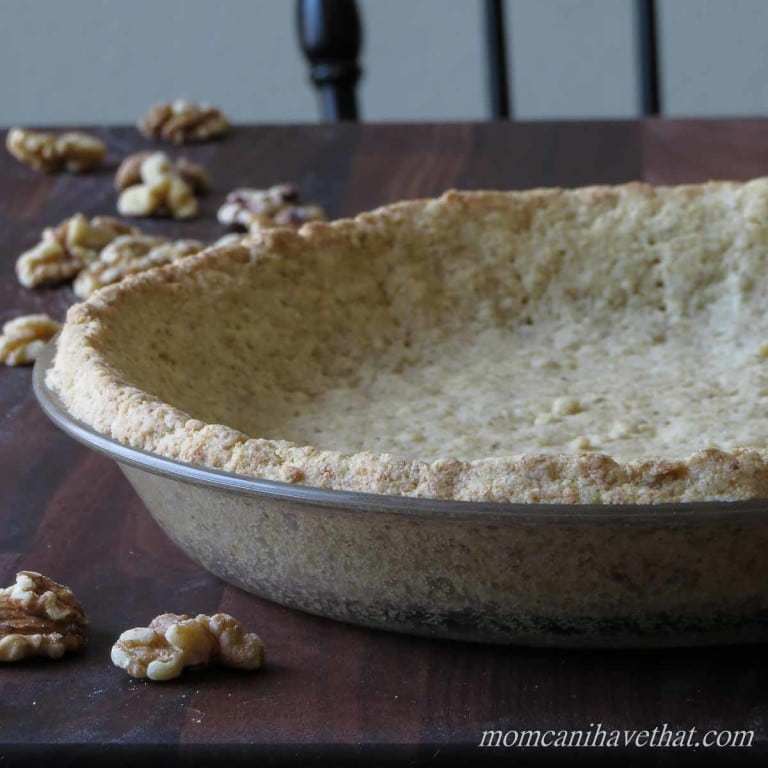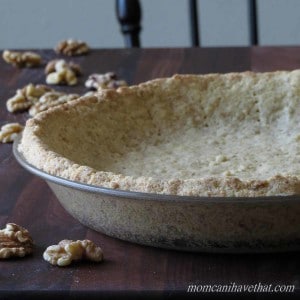 Low Carb Walnut Pie Crust (Press-in)