Low carb mozzarella sticks make over traditional mozzarella sticks for a delicious low carb appetizer you can enjoy on your keto diet. Quick and easy and perfect for holiday entertaining, Super Bowl Sunday, or any time you want a cheesy snack.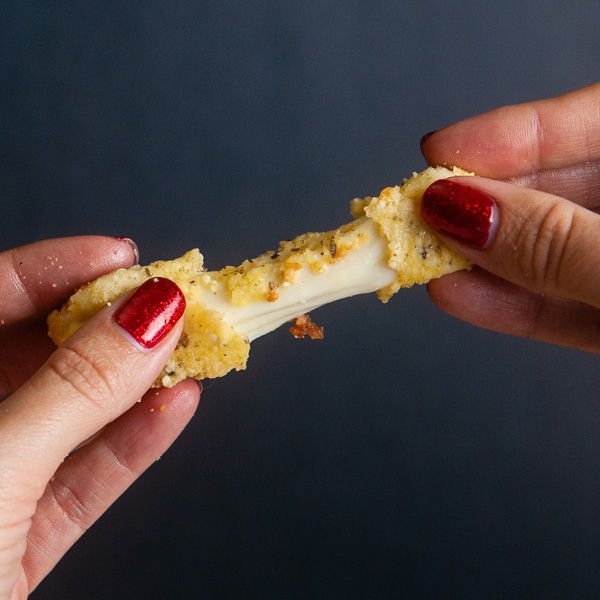 THIS POST INCLUDES AFFILIATE LINKS TO SHARE THE THINGS I LOVE.
Mozzarella sticks are one of my favorite appetizers ever. They are up there with things like buffalo chicken dip and Parmesan garlic wings. What's not to love about melty, gooey cheese? Nothing. Except the carb count of course! Most recipes call for carb heavy breading, but you can use low carb ingredients that taste just as delicious to create melty low carb mozzarella stick perfection that I just know you'll love.
And best of all? This mozzarella stick recipe uses easy ingredients that are kid friendly and that you might even have in your house already. Instead of coating these cheese sticks in breading, I'm dunking them in a healthy dose of Parmesan cheese, the way I did with my Parmesan chicken nuggets.
Yes, that means there is some extra cheese action going on, but trust me when I say the end result is fantastic! I'd gladly serve and snack on these low carb mozzarella sticks over the holidays, on game day, or whenever a cheese craving hits.
A Keto Appetizer the Whole Family Will Love!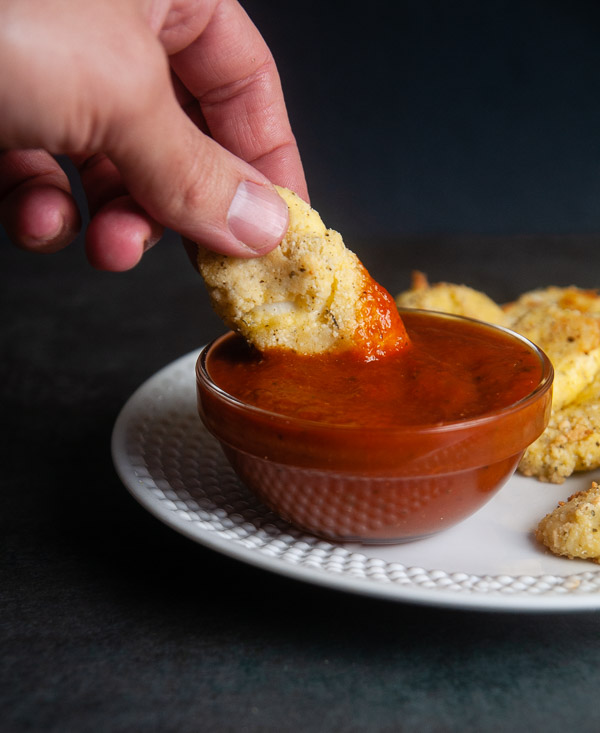 I have two kiddos in my house, one of whom will eat anything you put in front of him, and the other one, well not so much. Let's just say sometimes it surprises me she is growing! But mozzarella sticks (or in my house pizza sticks) are one thing she will eat gladly.
And not only will my picky little eater gladly gobble them up, but she likes to help make these easy low carb mozzarella sticks too. She had a great time helping me put this recipe together, burying the cheese sticks in mountains of Parmesan cheese to coat them.
Easy Homemade Baked Mozzarella Sticks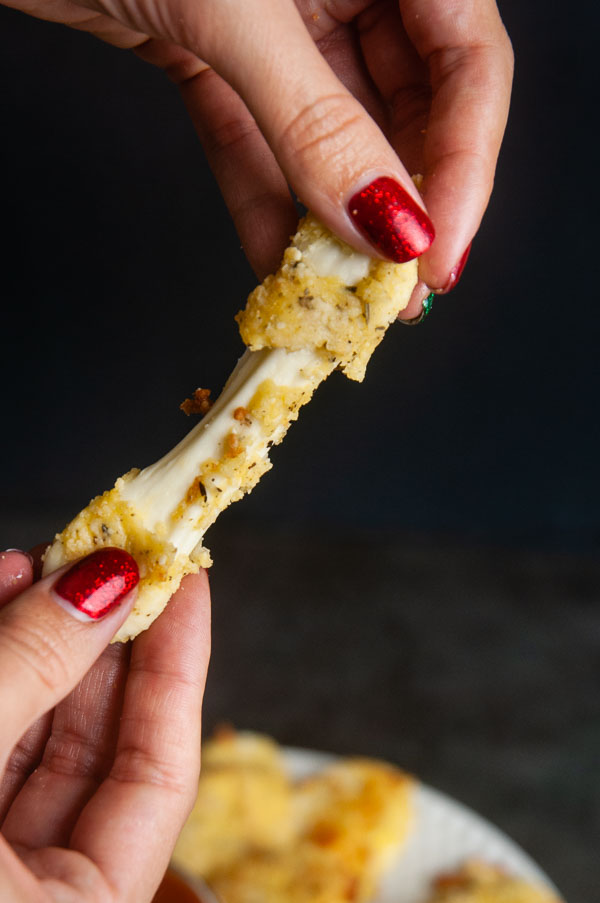 Even with a 5 year old covering the cheese sticks in a pile of Parmesan, these low carb mozzarella sticks are an easy to make in the oven. You only need four ingredients:
Mozzarella string cheese sticks
a couple spices- dried basil and garlic powder
grated Parmesan cheese- the kind in the shaker jar or canister
an egg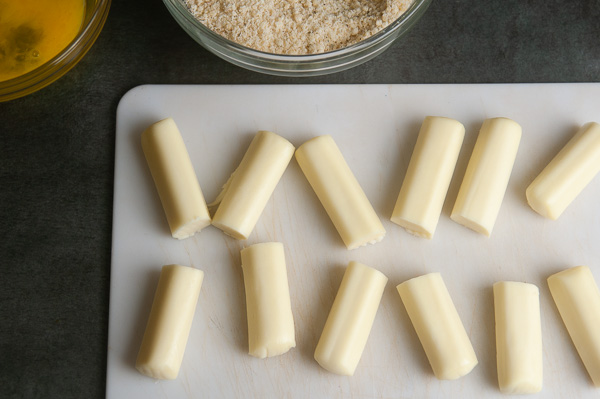 To make the mozzarella sticks, you start with cutting the mozzarella string cheese in half. This makes nice bite size pieces that you can dip in your favorite sauce.

When the sticks are halved, you can put your Parmesan cheese, garlic powder, and basil in a small bowl. Then, stir it with a fork or spoon until the spices and cheese are well combined. Don't use fresh Parmesan cheese that you'd buy in the cheese case or refrigerated section. You want the canned Parmesan cheese that you can find in the pasta aisle.

Next, put the egg in a small dish and use a fork to whisk it together. When the egg and parm mixture are ready, line one or two cookie sheets with parchment paper.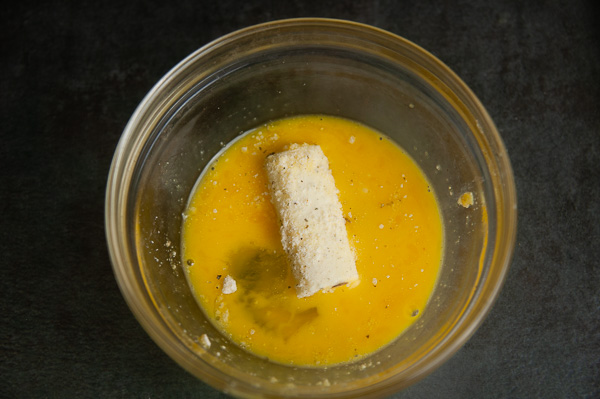 When the cookie sheets are prepared, start dipping the mozzarella pieces. I experimented with dipping and found the best breading success by rolling a mozzarella stick in the Parmesan cheese first. Then I dip that piece in the beaten egg. Then, I rolled the double dipped cheese stick in the Parmesan mixture until it is well coated. Repeat this until all are coated. Place them on the cookie sheet leaving a few inches between each piece.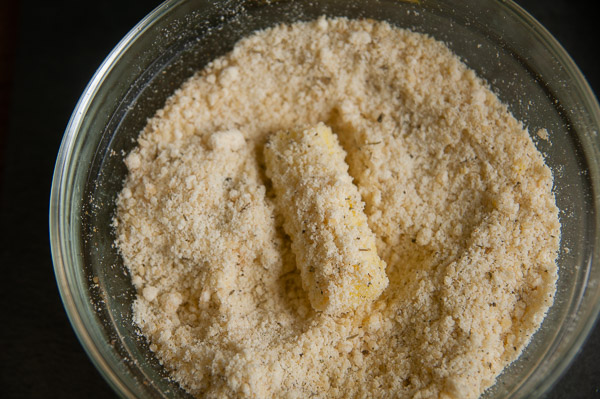 Place the trays in the freezer for 1 hour. When you are ready to make the sticks, preheat the oven to 400 degrees. When you have preheated the oven, place the trays in the oven and cook for 8 to 10 minutes, flipping them half way through.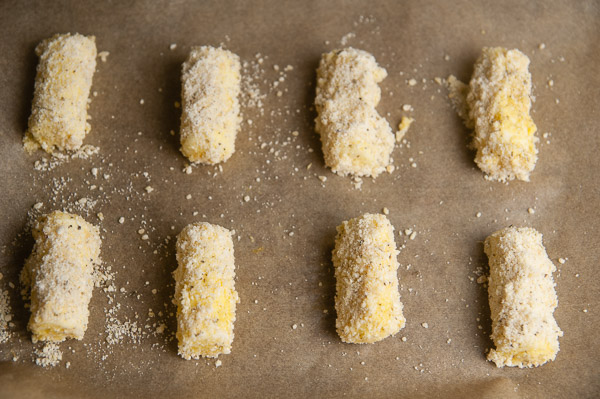 That's it! Then you can dig into your hot, gooey cheese perfection.
Tips for making mozzarella sticks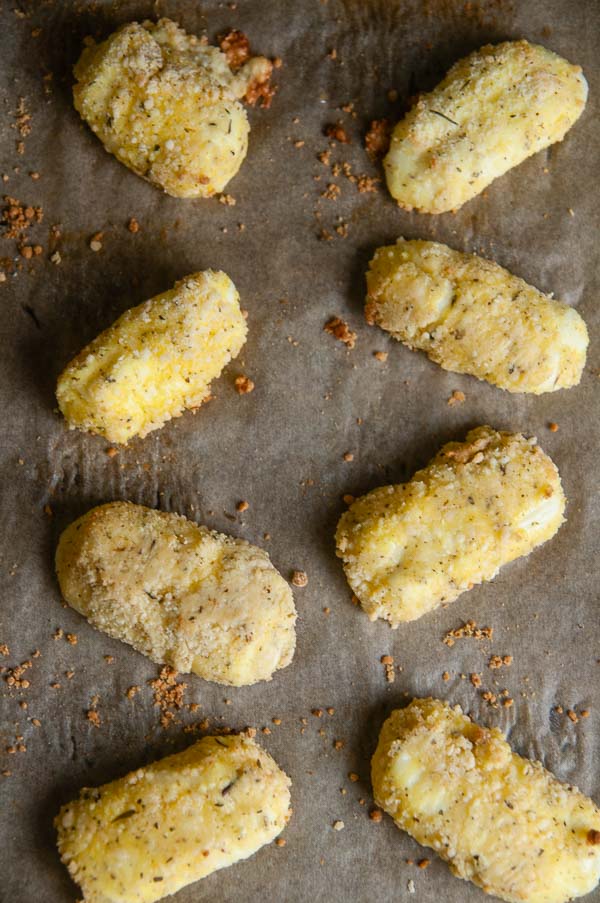 Baked mozzarella sticks are easy to make, but there are some things you can do to ensure success. Here are some easy tips and tricks to follow:
Make sure you freeze the low carb mozzarella sticks for at least an hour before baking. This helps prevent the cheese from oozing out of the sticks
Don't over cook the sticks! If you do, the cheese becomes too soft and collapse. Though this doesn't ruin the flavor, they won't look as nice if you are serving them to others. They will turn lightly golden brown.
You can store the uncooked sticks in the freezer for as long as you need. It is better to store them uncooked than to refreeze them after cooking.
Serve the sticks hot when they come out of the oven. If you wait too long to serve, they will lose the gooey-ness that make mozzarella sticks so good.
If you want the cheese sticks crispier, you have a couple options. You can substitute half the cheese with crushed pork rinds. Just add the crushed pork rinds to the Parmesan and spices and whisk it together.
For crispier mozzarella sticks, you could also pan fry them in olive oil. These sticks do not taste fried, and to me, I prefer that because they aren't greasy but if you want that fried taste, frying them in a couple inches of olive oil will do the trick.
I hope you love these low carb mozzarella sticks as much as I love them! Happy snacking!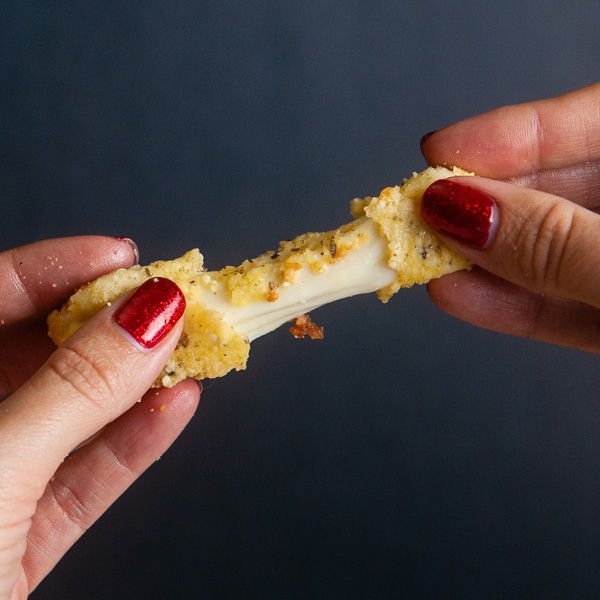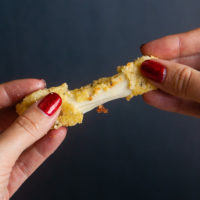 Low Carb Mozzarella Sticks
All the classic mozzarella stick taste with no high carb breading. Gluten free.
Print
Pin
Rate
Ingredients
8

sticks

whole milk string cheese

1

egg

beaten

2/3

cup

grated Parmesan cheese

the kind sold in the pasta aisle not the fresh grated kind

1/2

tsp

dried basil

1/4

tsp

garlic powder
Instructions
Cut the cheese sticks in half. Then crack the egg into a small bowl and beat it until it is all mixed together. Measure out the Parmesan cheese into another bowl. Add the basil and garlic powder to the Parmesan cheese and whisk together to combine.

Dip your cut mozzarella piece into the Parmesan mixture first, then into the egg, and then again into the Parmesan. Place the dipped mozzarella stick onto a baking sheet lined with parchment paper. Repeat until you've dipped all the mozzarella pieces. Put the baking sheets into the freezer for an hour.

Preheat the oven to 400. Bake the frozen mozzarella sticks for 8-10 minutes, flipping once halfway through. Serve hot with tomato sauce if desired. Enjoy!
Notes
Air Fryer: Place the coated mozzarella sticks in the air fryer in a single layer. Cook at 375 F for 10-12 minutes depending on your air fryer.
Pan Fry: Preheat a medium non-stick frying pan over medium-high heat. When it is evenly hot, add 2-3 tablespoons of oil and swirl to coat the pan. (The oil is hot when it shimmers or when a wooden spoon placed in the oil forms bubbles.)  Place the cold mozzarella  sticks into the pan being careful not to overcrowd the pan. Cook, turning at the 1 minute mark, until evenly golden around. Drain on paper towels and serve.
Deep Fryer: Completely freeze the coated cheese sticks. Bring oil in fryer to 365F. Carefully lower the mozzarella sticks into the hot oil, a few at a time and cook for approximately 1 minutes. Remove and drain on paper towels. Serve.
Nutrition
Calories:
94
kcal
|
Carbohydrates:
1
g
|
Protein:
8
g
|
Fat:
6
g
|
Saturated Fat:
3
g
|
Cholesterol:
57
mg
|
Sodium:
286
mg
|
Potassium:
36
mg
|
Sugar:
1
g
|
Vitamin A:
204
IU
|
Calcium:
194
mg
|
Iron:
1
mg