This City Chicken recipe is low carb, gluten free and super easy to prepare. It's just as good as my mom's. See my options for Paleo and ultra low carb.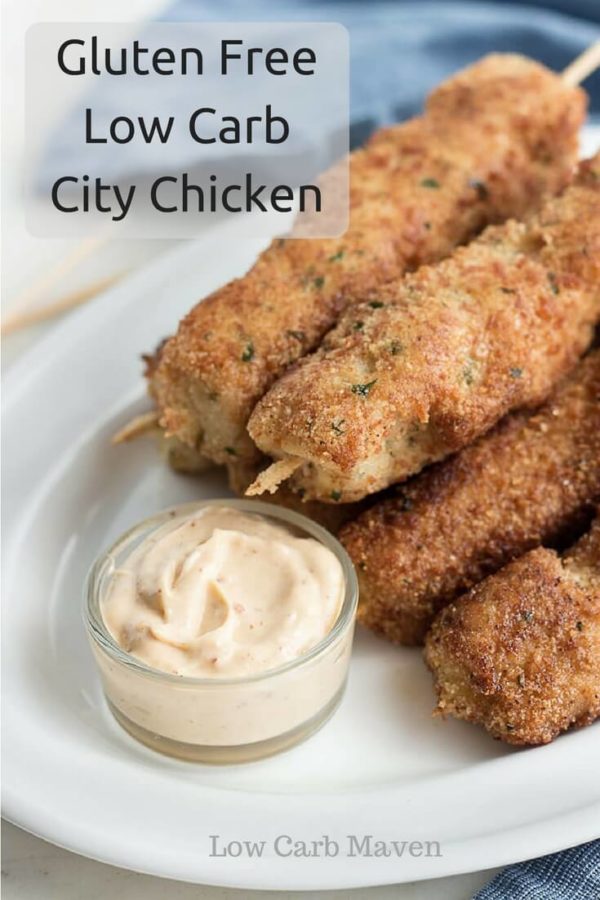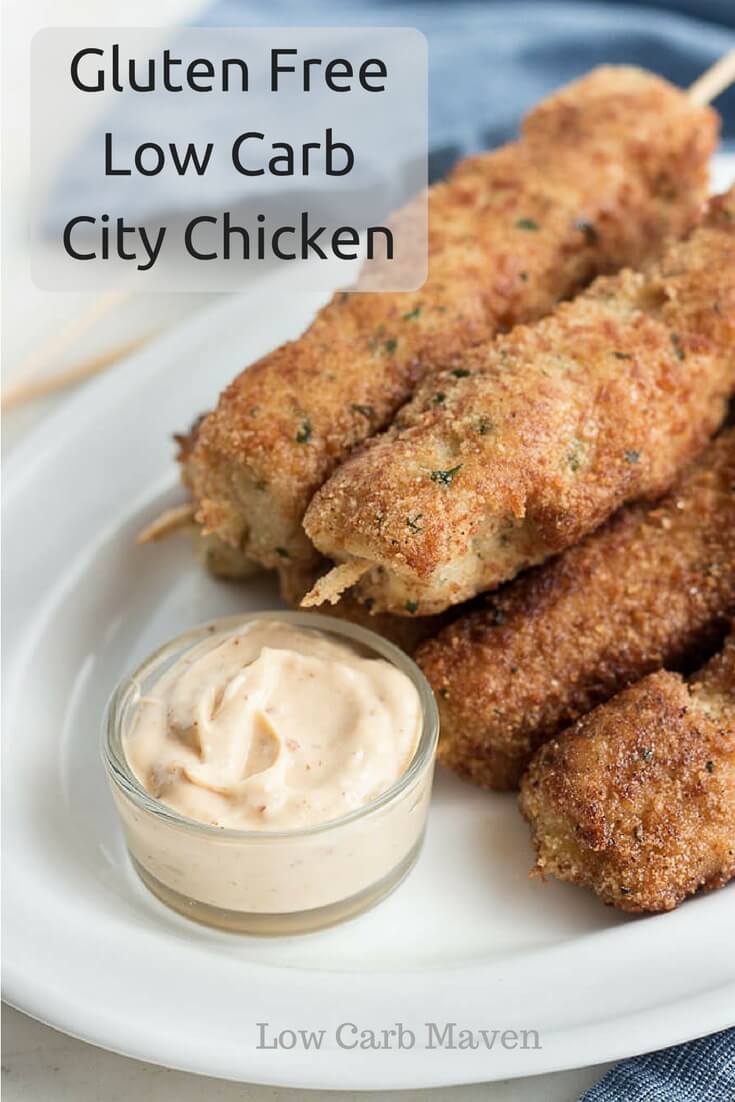 [This post was first published in January, 2015. Photos and text have been newly updated.]
City Chicken
My mother made City Chicken for us growing up. Mom was from upstate New York, Binghamton, and City chicken was a popular dish when she was growing up. I remember asking once her why it was called "City chicken" since there is no chicken in the dish, but she didn't know. Mom made her City Chicken with veal and pork threaded alternately on a skewer, breaded with breadcrumbs, and fried in a pan. It was delicious and always a treat when she made it.
What is City Chicken?
City Chicken is cubed pork or veal which is threaded on a stick or skewer, coated in an egg wash and then breaded. It's most commonly fried in a frying pan but some people bake city chicken in oven then serve the city chicken with gravy. It can also be made with minced or ground pork or veal and shaped around the stick or skewer. City chicken is also known as mock chicken, mock chicken legs, or mock drumsticks.
City Chicken – History
Several years ago I sat down to research the history of City chicken and found that City chicken originated in the late 1800's to early 1900's in the North Eastern and North Central parts of the US. (Ohio, upstate NY, Pennsylvania) where it is still popular today. The story goes that poultry was very expensive in big cities, where it had to be trucked in from country farms. Because pork, beef, and veal were easy to transport by train and by barge to localized city stockyards, they were more plentiful thus more affordable.
Missing their much loved chicken-legs, people threaded cubed pork and/or veal on a skewer, and grilled or breaded and fried it in a pan. It was thought to resemble a chicken leg. Talk about the ultimate street food! Another account has the veal or pork ground and shaped around the skewer, then cooked. It was portable like a chicken leg and easy to eat.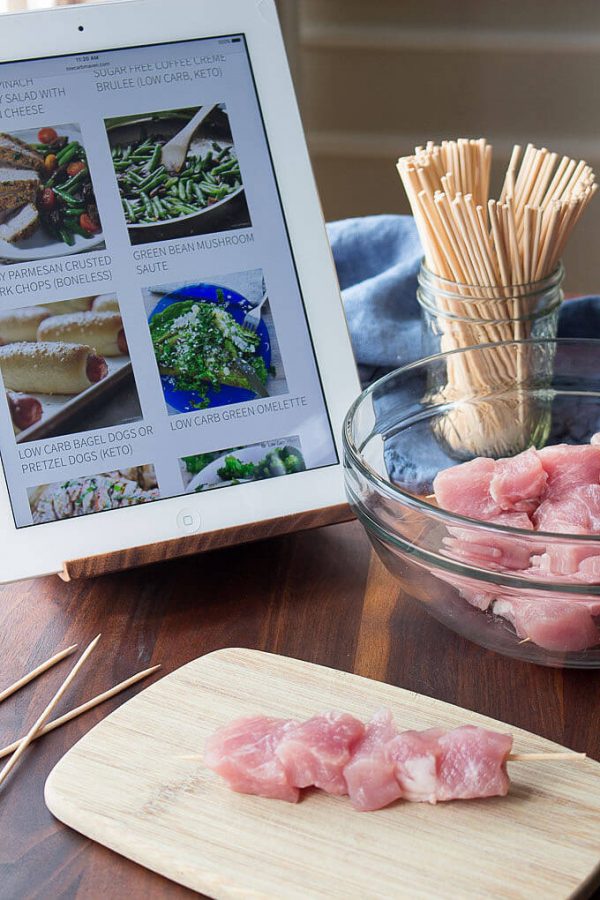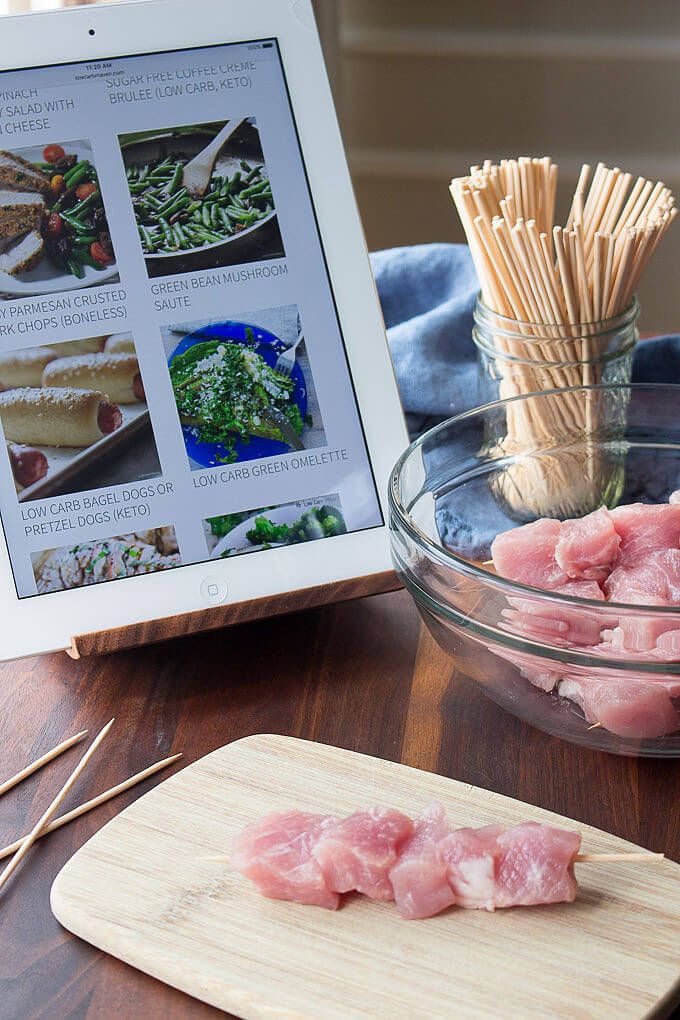 [I was sent that beautiful walnut iPad stand from Yohann to use in the kitchen. It is absolutely amazing! I will be using it a lot!]
How to Cook City Chicken
The preparation of City chicken varies as much as the regions in which it is prepared. Some areas use only veal, others only pork, and others alternate each on a stick. Some bread and pan fry, others oven bake, and some skip the breading all-together and saute their City chicken in the pan, cook it in the oven, or even grill it. Some areas of the North East serve gravy over their City chicken, but I don't remember any condiment served with my mom's, growing up.
My mother and I use boneless pork loin to make our City chicken. I typically buy a whole pork loin and cut it into boneless pork chops and cube the rest for City chicken and pork stews. Sometimes people living in the areas where it is popular can buy City chicken at the grocery stores. It's often sold prepackaged with the cubed pork and sticks together.
How to Make City Chicken Low Carb Gluten Free
I make my City Chicken low carb and gluten free with three different breading options depending on what ingredients I have in the house. I fry mine in a pan because that's how mom always did it. I make gluten free/Paleo City chicken with almond flour, or gluten free/ low carb keto City chicken with a combination of almond flour and Parmesan cheese or gluten free/ low carb keto City chicken with crushed pork rinds and Parmesan cheese:
All almond flour (gluten free/ low carb/Paleo)
Almond flour and Parmesan Cheese PICTURED (gluten free/ low carb keto)
Crushed pork rinds and Parmesan Cheese (gluten free/ low carb keto)
They are all great, but my favorite is the crushed pork rind and parmesan cheese coating.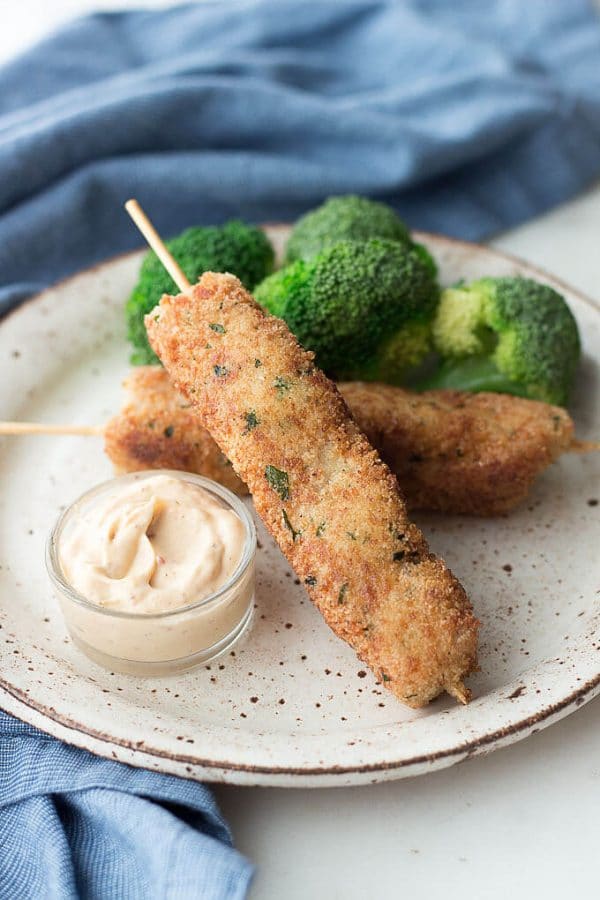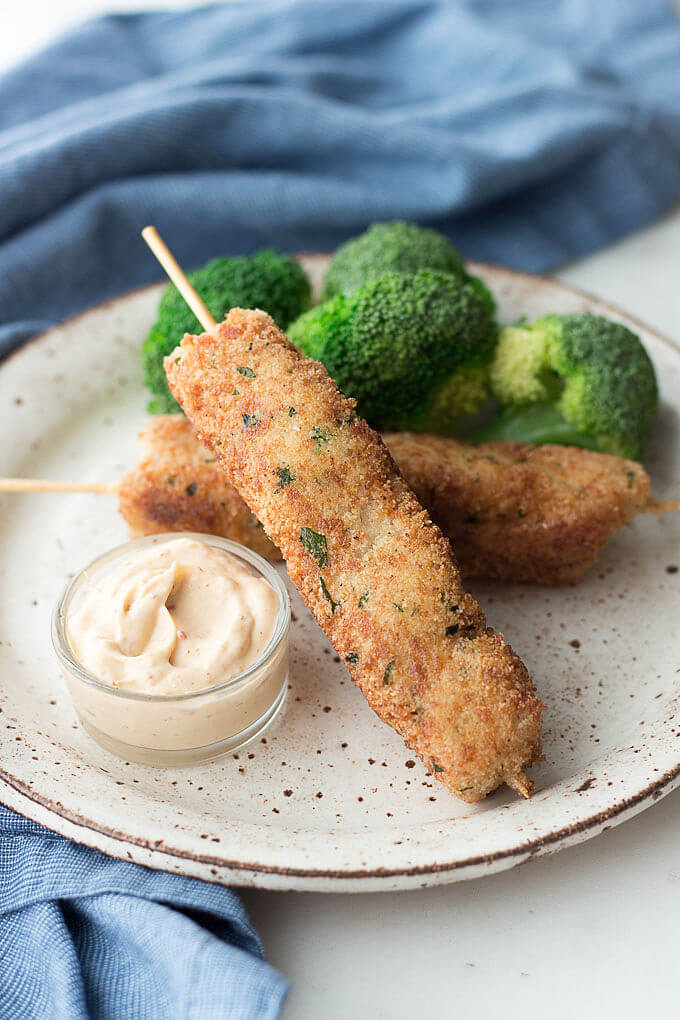 Where can I buy City Chicken sticks or skewers?
I buy my City chicken sticks on Amazon. I like to buy wooden corn on the cob sticks which I have been know to wash and use again. I know, it's gross, but they are nice quality and last. I also buy thin 6 inch bamboo appetizer skewers which work just as well.
What side to serve with City Chicken
What you serve with City chicken depends on what variation one makes. My mother served potato salad or macaroni salad, cooked vegetables or a salad. Because my family eats low carb, I like to serve our City chicken with a mayo based dipping sauce mixed with mustard and vegetables. If I make City chicken as an appetizer then I serve it with the dipping sauce and a vegetable tray.
[NOTE] I have been asked about the dipping sauce. I mixed 1/2 cup of mayo and about 1/4 cup of chipotle mustard. You can add sweetener if you like it sweeter. 
1 skewer of City Chicken low carb gluten free is 1 net carb
[This post and recipe contains affiliate links.]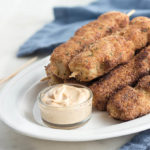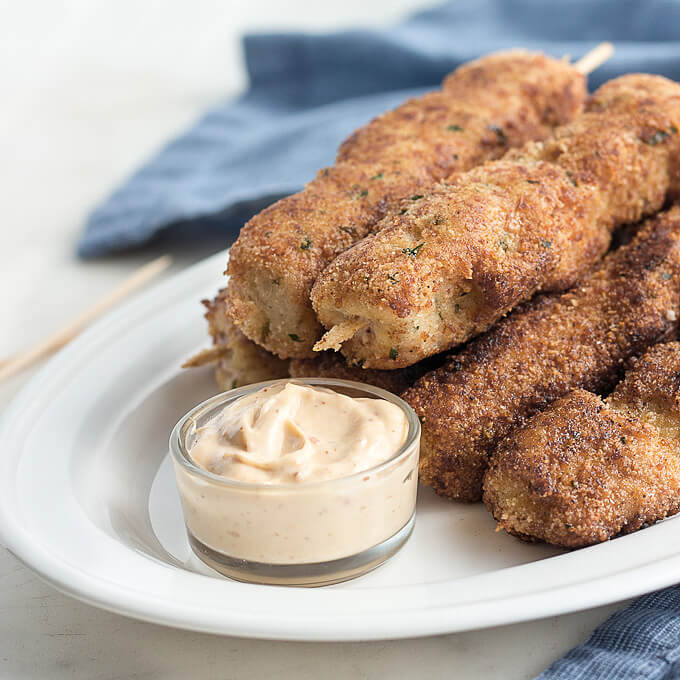 Gluten-Free Low Carb City Chicken
Cubes of pork loin threaded on a skewer, breaded and pan fried. This is the ultimate in street food or snack food. So versatile, it makes a great main meal, too.
Ingredients
1

pounds

boneless pork loin,

cut into 1 inch cubes

salt and pepper

1

large

egg

2

tbsp

olive oil or (avocado oil or coconut oil),

divided
Gluten Free Low Carb Coating
1/2

cup

Honeyville Almond Flour

1/4

cup

Parmesan Cheese

1

tbsp

chopped parsley

1/2

tsp

salt

1/4

tsp

pepper

1/4

tsp

granulated garlic powder

1/4

tsp

granulated onion powder

8

wooden skewers
Instructions
Cut the pork into 1 inch cubes. Thread the pork onto 8 skewers. Season with salt and pepper. Can be done the day before and kept in the refrigerator.

Mix the ingredients for the coating together in a container large enough to fit a whole skewer.

Place the threaded skewers on a large dinner plate. Beat the egg and pour over the pork. Turn the skewers coating each in the egg.

Heat a medium frying or saute pan over medium heat. When hot, add 1 tbsp of oil and swirl to coat the pan.

Take a skewer of pork, letting any excess egg drain back onto the plate, and roll it into the the breading mixture. Make sure it is coated well. Place it into the pan. Repeat the breading process on 3 more skewers.

Cook the City chicken approximately 1 1/2 minutes each side, on all 4 sides. Remove to a paper towel and cook the remaining skewers of City Chicken. Serve warm or at room temperature.

Makes 8 skewers with 2 skewers per person or 1 each for an appetizer. (See Notes for the sauce I made for the photos.)
Recipe Notes
Pork Rind Version per serving (2 skewers): Using 1/2 cup crushed pork rinds and 1/4 cup Parmesan Cheese - Calories: 282, Fat: 18, Carbs: trace, Protein: 30
Paleo - All Almond using 1 cup of almond flour (2 skewers): Using 3/4 cup of Almond Flour - Calories: 341, Fat: 25, Carbs: 4, Fiber: 2, Protein: 26, Net Carbs: 2
Dipping Sauce: I mixed 1/2 cup mayo with 1/4 cup chipotle mustard. You can add sweetener if you want.
Nutrition Facts
Gluten-Free Low Carb City Chicken
Amount Per Serving
Calories 320
* Percent Daily Values are based on a 2000 calorie diet.