This recipe for blender Hollandaise sauce will have your poached eggs or veggies sauced in minutes with minimum effort. It's silky, creamy, buttery and easy.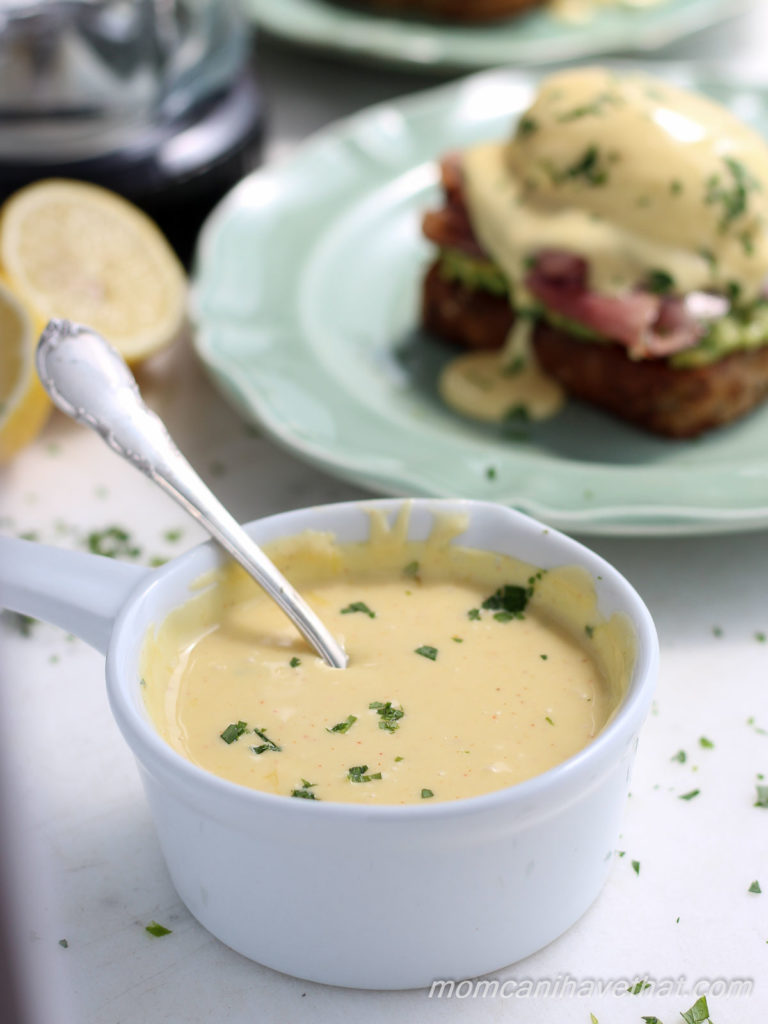 I love a good blender Hollandaise sauce.
And while I won't wax poetic about Hollandaise, I will share that I think it is one of the best things to be put on a poached egg. One of the famed five French Mother Sauces, there seems to be some uncertainty whether it actually originated in France or in the Netherlands. In any case, this wonderful, silky, creamy, buttery sauce is best known as the traditional sauce on eggs Benedict and is often served with vegetables like artichokes or asparagus. But Hollandaise is extremely versatile, lending itself to many variations, and can easily enhance meats, seafood, potatoes, and crepes.
And have I told you that I am also in-love with this easy blender Hollandaise technique? No more 20 minutes of standing over a hot water bath stirring until my arms fall off. No more scrambled eggs because I wasn't quick enough to remove the mixture from the heat. And no more curdled sauce because I added the butter too fast and it broke!
This blender Hollandaise sauce is so easy that I will always and forever make Hollandaise sauce this way. And I'm not the only one. Everyone is doing it this way. Don't you want to be cool too? At least your family will think you're cool.
Using a blender to make Hollandaise was first mass introduced by Julia Child in her book, Mastering the Art of French Cooking, Volume 1. Blender Hollandaise offers a glorious shortcut (or cheat) resulting in a sauce that is perfectly emulsified and ready for your needs in just a few short minutes.
Bubbling hot melted butter is poured over egg yolks, cooking them, and lemon juice is added to provide contrasting flavor and acid to help cut the richness. Yes, this recipe calls for raw egg yolks, but the heat from the hot melted butter should sufficiently cook them. If you feel uneasy about using raw egg yolks, pasteurized eggs would be the perfect choice. Use this simple blender Hollandaise sauce as a jumping off point for your own creativity. I've included some ideas below…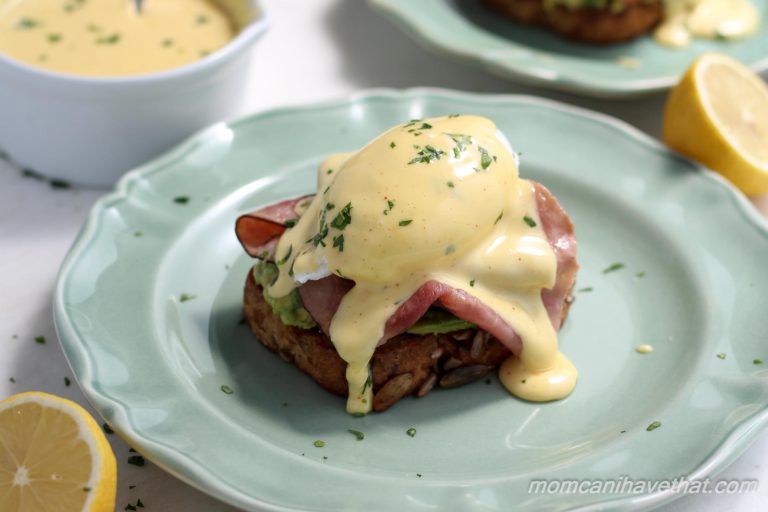 Blender Hollandaise Sauce Variations:
Acids: Vary the acid and vary the base flavor
lime juice
white wine
orange juice
vinegar, white balsamic, champagne or rice wine vinegar
dry sherry, dry vermouth or cognac
Herbs: Fresh chopped herbs can be added either in the blender or stirred in after to freshen-up and add complimentary flavors
garlic
shallots, green onion, chives
tarragon
fines herbs
chervil
thyme
dill
basil or parsley
Spices: Spices can lend a powerful punch of flavor or an exotic flair
curry powder
saffron
nutmeg
Dijon mustard
white pepper
cayenne pepper
chile powder
cumin
Thai curry paste
Other: Adding savories like these can turn a Hollandaise into a sauce reminiscent of a fancy spread
olives
capers
cream horseradish
cornichons
pimento
tomato paste
Technique Variations:
brown the butter and pour into the blender, leaving the caramelized solids in the pan
4 tablespoons butter and 4 tablespoons bacon grease to give a bacon flavor
1/4 cup of heavy cream, whipped and folded into the finished sauce
2 egg whites, whipped and folded into the finished sauce
Here is a great Eggs Benedict recipe Heirloom Tomato and Swiss Chard Eggs Benedict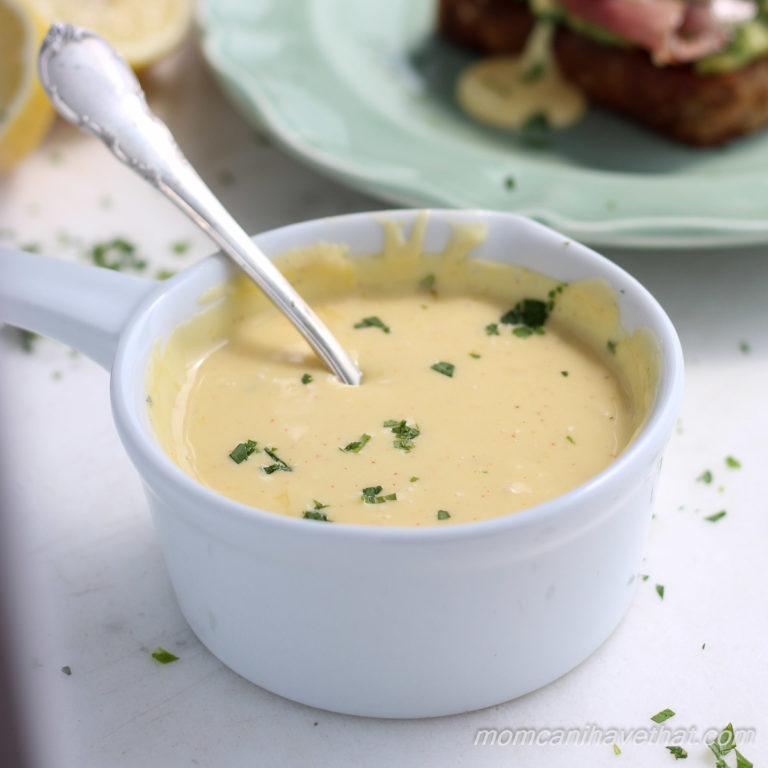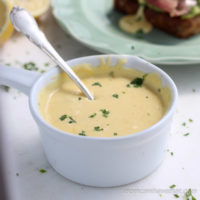 Low Carb Creamy Blender Hollandaise Sauce
This recipe for blender Hollandaise will have your poached eggs or veggies sauced in minutes with minimum effort. It's silky, creamy, buttery and easy. Makes 3/4 cup.
Print
Pin
Rate
Ingredients
3

large

egg yolks

4

ounces

salted butter

or 1/2 cup ghee (113 g)

1-3

teaspoons

fresh lemon juice

or vinegar or dry white wine (10-15 g)

1/4

teaspoon

cayenne or white pepper
Instructions
Add the yolks to a blender. Put the top onto the blender but remove the middle piece.

Pre-heat a small frying pan over medium heat. Add the butter and let it melt. Continue heating until it bubbles and stops foaming.

Turn the blender on low and begin pouring the hot butter into the blender – very slowly at first, and then a little faster as the Hollandaise begins to emulsify

Add the lemon juice and pepper and turn the blender to a faster speed. Scrape down the sides and add the middle back to the top of the lid. Let the sauce sit in the blender until ready.

To Reheat refrigerated leftover Sauce: While reheating Hollandaise is never advisable, it can be done. Place the Hollandaise out on the counter to come to room temperature. Heat a pan of water almost to a simmer and turn off the heat. Put the container (heat proof) with the Hollandaise into the pan and let it sit in in the water until it warms. Stir. Place in the microwave for 5 seconds. Stir and check the sauce. Maybe heat for 5 seconds more, but don't push it. Serve.
Notes
Nutrition Facts
Low Carb Creamy Blender Hollandaise Sauce
Amount Per Serving (6 g)
Calories 166
Calories from Fat 162
% Daily Value*
Fat 18g28%
Protein 2g4%
* Percent Daily Values are based on a 2000 calorie diet.
Nutrition
Serving:
6
g
|
Calories:
166
kcal
|
Protein:
2
g
|
Fat:
18
g