Heirloom Tomato and Swiss Chard Eggs Benedict is a great way to get your healthy vegetables in the morning. The greens are garlicky, the tomato sweet with a hint of salt and the blender hollandaise is magic with a nice hit of lemon.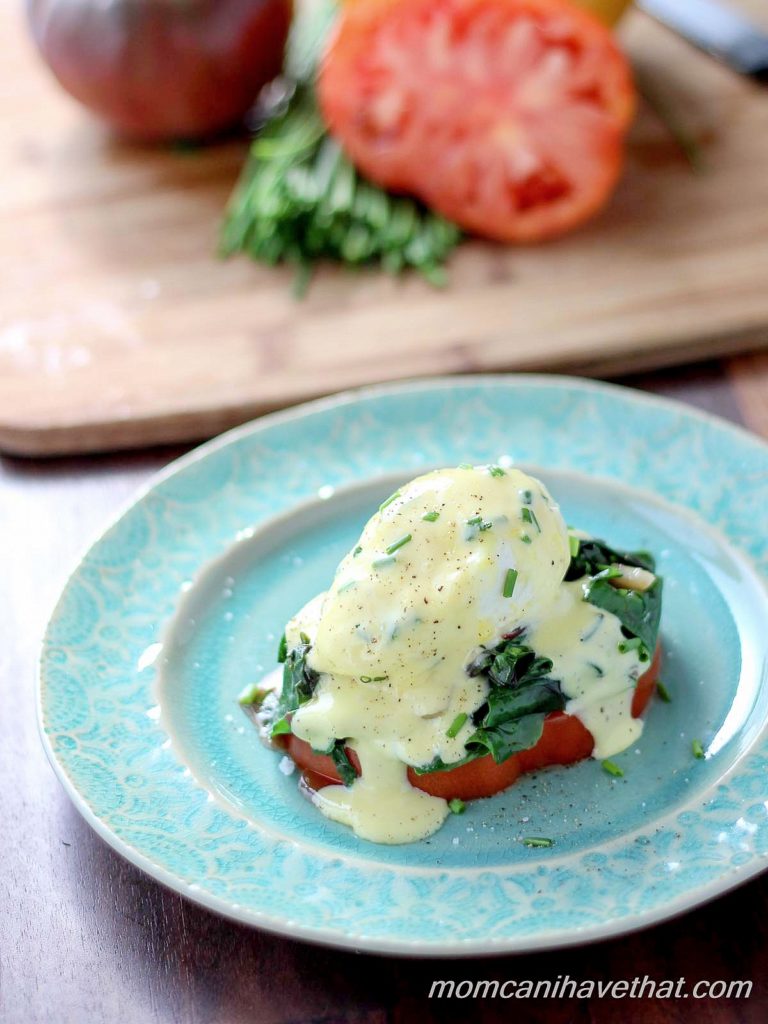 I was thinking about breakfast the other day and how my mind and tastes have changed over the years…
When I was little, I honestly don't remember what we ate for breakfast except on Saturdays and Sundays. Friday night, my mother put a package of donuts on the counter for my brother and me to share Saturday morning. Let's just say that my parents had an active social life and looked forward to sleeping in on Saturdays. My brother in Kindergarten and I in first grade, happily munched on our donuts while watching morning cartoons and flakes of powdered sugar rained all over the shag. Sundays were for pancakes or waffles and sometimes oatmeal, ebelskivers, or pinwheels for a treat.
When I was a little older and could fix my own breakfast, I remember having toast or cold cereal before school. The same can be said for middle school. In high school, I seldom had time for breakfast as I spent most of the morning on make-up and hair. It was the 80's and it was all about the hair! In college, I had a two-meal-a-day plan so I had coffee in my room and ate lunch and dinner in the dining hall. Skipping breakfast was a habit that continued until after I was married.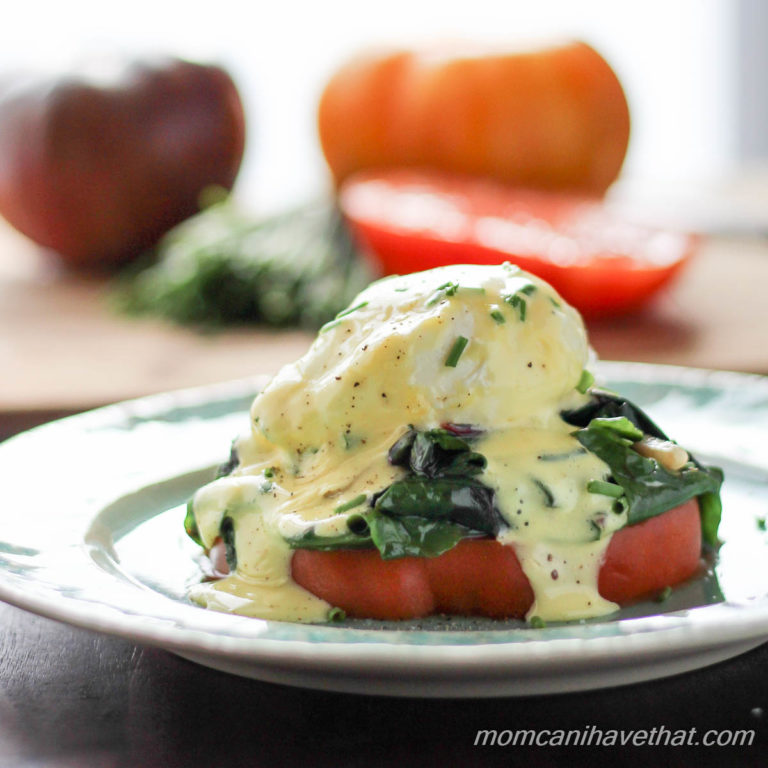 I never gave breakfast much thought until after we had our kids. I always made sure my daughter had healthy well balanced meals as a toddler and saw firsthand the result a junky breakfast had on a kid we suspected was on the Spectrum. We soon learned that the best way to avoid the "hangries" was to provide sufficient fuel — protein and fat — in the morning.
Over the years I have become a strong proponent of a big breakfast and proudly serve my kids a home cooked breakfast every day during the week. I think it sets my children up for a better day at school. The breakfast my kids beg for most? eggs, sausage, and fruit. I oblige, although sometimes that sausage is ham or bacon and the fruit, a muffin. On really sleepy mornings I make them a microwave muffin to share. I have a good lemon muffin master mix recipe and another recipe for a chocolate microwave muffin sturdy enough to use as sandwich bread for their lunches. In any case, breakfast has truly become the most important meal of my family's day.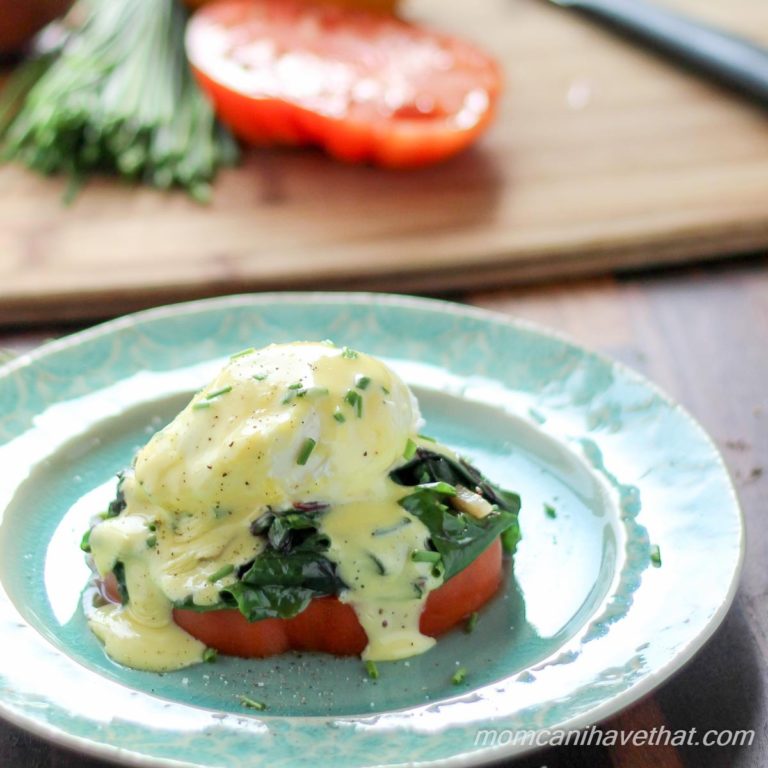 I made these Heirloom Tomato and Swiss Chard Eggs Benedict for dinner one night. Huh? Yes, I was talking about breakfast, but breakfast is fun for dinner, too. My CSA buried me in veggies and I needed to use some of them before they spoiled so, I thought this would be nice and easy. The heirloom tomatoes were perfectly ripe and delicious sprinkled with sea salt, the Swiss chard was deliciously garlicky with just a little bite in the texture and the eggs were poached perfectly. Topping them off with an easy blender hollandaise sauce gave our dinner the little bit of silky indulgence we needed. Served with a nice piece of baked ham, it was perfect.
Herloom Tomato and Swiss Chard Eggs Benedict is 4 net carbs per serving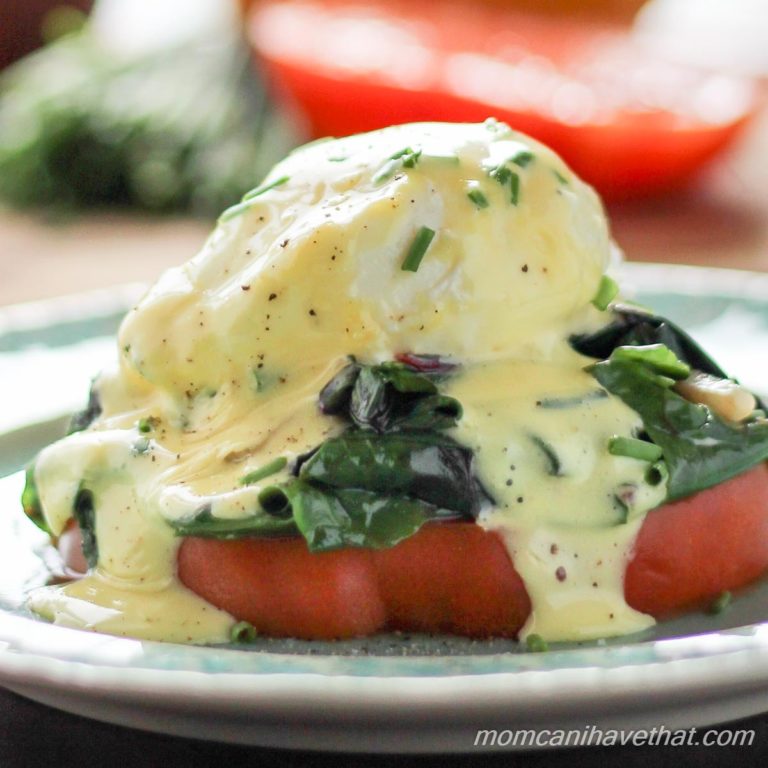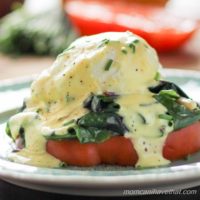 Heirloom Tomato and Swiss Chard Eggs Benedict
Heirloom Tomato and Swiss Chard Eggs Benedict is a great way to get your healthy vegetables in the morning. The greens are garlicky, the tomato sweet with a hint of salt and the blender hollandaise is magic with a nice hit of lemon. Eat your greens!
Print
Pin
Rate
Ingredients
Tomato and Swiss Chard Benedict
8

ounces

Swiss chard

weight after cleaning (about 1 large bunch), 200 g

2

cloves

of garlic

sliced

8

ounces

Heirloom tomato slices,

4 thick slices (200 g)

4

large

eggs

poached

salt and pepper
Blender Hollandaise
3

large

egg yolks

save the whites for an omelette or something else

4

ounces

salted butter or ghee*

(113 g)

1-3

teaspoons

lemon juice**

(15 ml)

1/8

teaspoon

cayenne pepper

or a pinch of white pepper

*If you don' use salted butter don't forget to add a pinch or two of salt to the sauce to taste.

**I also like to add 1/2-1 teaspoon of the lemon zest
Garnish (optional)
chives

green onion, or chopped fresh herbs

black pepper

cayenne or paprika
Instructions
Make the Blender Holliandaise and leave it in the blender so it stays warm.

Blender Hollandaise: Add the yolks to a blender. Put the top onto the blender but remove the middle piece. Pre-heat a medium frying pan over medium heat. Add the butter and let it melt. Continue heating until it stops foaming. Turn the blender on low and begin pouring the hot butter into the blender – very slowly at first, and then a little faster as the Hollandaise begins to emulsify. Add the lemon juice and pepper and turn the blender to a faster speed. Scrape down the sides and add the middle back to the top of the lid. Let the sauce sit in the blender until ready. Return the butter coated pan to the stove.

Swiss Chard: Wash the Swiss Chard, remove the ribs, and cut into 2 inch pieces. Slice the garlic. Place the medium frying pan over medium heat. When hot, add the garlic and saute until fragrant and beginning to soften, then add the Swiss chard and cook until wilted. Salt and pepper to taste. When finished cooking, turn off the heat and cover with a lid to keep warm.

Poached Eggs: Meanwhile, fill a medium – large frying pan 3/4 fill of water, add two teaspoons of vinegar and 1 teaspoon of salt. Turn the heat to medium high until it begins to simmer slowly, then turn it down to medium. Crack the eggs one at a time and gently open them into the barely simmering water. Watch the heat under the pan because we don't want the water to boil. Cook the eggs 1 minute, then with a spatula, gently loosen the eggs from the bottom of the pan so they can float freely. Poach the eggs for another minute, then gently roll them over with a slotted spoon. Continue poaching for about 2 minutes. Remove the eggs from the pan and drain on paper towels.

Assembly: Slice 4 thick slices of tomatoes about 2 ounces each. Place them on serving plates and season with salt and pepper. Divide the Swiss chard into four portions and arrange on the tomato slices. Then add the eggs, seasoning them with salt and pepper. Finish with the Hollandaise. Garnish and serve.
Notes
Nutrition Facts
Heirloom Tomato and Swiss Chard Eggs Benedict
Amount Per Serving
Calories 377
Calories from Fat 315
% Daily Value*
Fat 35g54%
Carbohydrates 6g2%
Protein 10g20%
* Percent Daily Values are based on a 2000 calorie diet.
Nutrition
Calories:
377
kcal
|
Carbohydrates:
6
g
|
Protein:
10
g
|
Fat:
35
g
|
Fiber:
2
g