These ground beef stuffed grape leaves are so versatile they make the perfect appetizer, snack, main dish or side. And at one net carb per roll, they fit into any low carb lifestyle.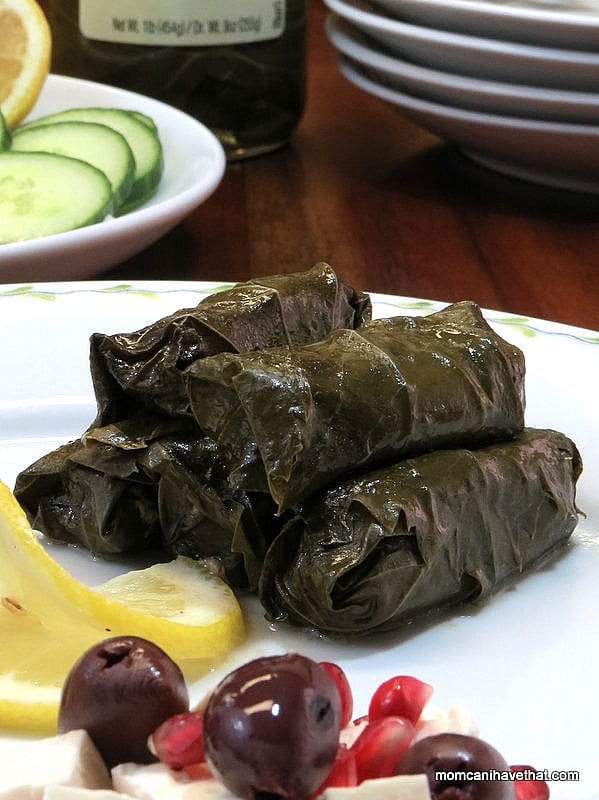 THIS POST INCLUDES AFFILIATE LINKS TO SHARE THE THINGS I LOVE.
What can be more fun to eat than finger food? It appeals to the kid in all of us. These low carb, grain-free, stuffed grape leaves are easy and fun to make. They're also tender and flavorful. And since I used ground beef instead of lamb, which can be a little strong, they are totally kid friendly. Feel free to use all or part lamb in the recipe because lamb rocks!
I was lucky to find a couple of jars of grape leaves on clearance at my local grocery store this weekend and a huge pack of discounted ground beef. Sometimes, the best meals just come together that way. I looked up a few recipes for stuffed grape leaves (dolmas) and found that they are traditionally made with rice. Well, that would work for the kids but not for me. I need my meals to be as low carb as possible. I also found a Paleo recipe for stuffed grape leaves that subbed cauliflower for the rice, but cauliflower can get mushy and has a distinct flavor, so that one was out!
I decided that a tender, flavorful, meat filling would be perfect and got to work – or rather – I got my kids to work! Actually, my daughter surprised me by asking to help. Admittedly, I'm a bit of a control freak, but how could I say no? She needed a little help rolling the grape leaf around the ground beef filling and lost interest after doing about 10, but she was very proud of herself. Sometimes pride in doing is more important that doing something perfectly. At dinner, I told her that she was eating the stuffed grape leaves that she had rolled. She was so excited that she asked for more!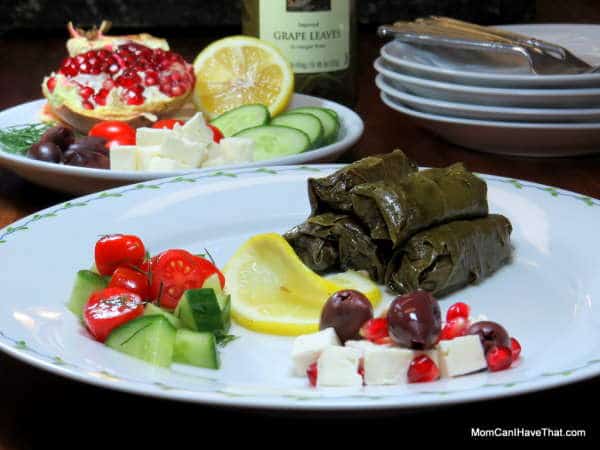 As you can see from the pictures, the stuffed grape leaves were not particularly photogenic! Serving them with a cucumber and tomato salad and goat cheese with Kalamata olives and pomegranate seeds, perked-up the plate nicely. And at 1 carb per roll, they fit nicely into any low carb lifestyle. Yum!
NOTE: Several people have asked me how to use fresh grape leaves. Here is a link I found on Google: https://whatscookingamerica.net/Q-A/GrapeLeaves.htm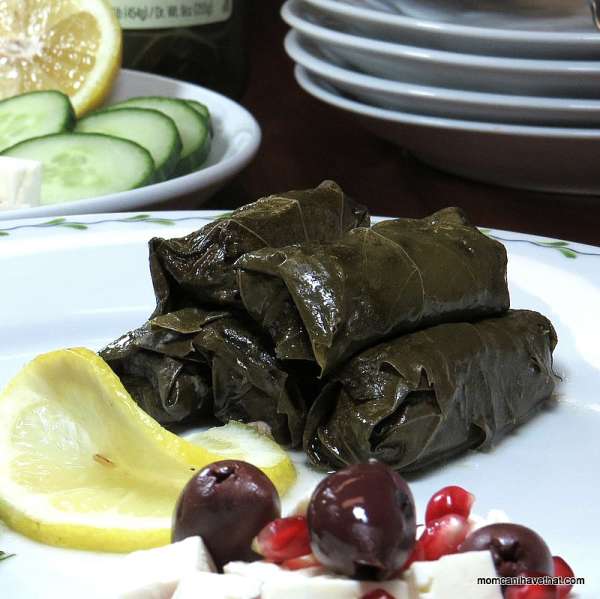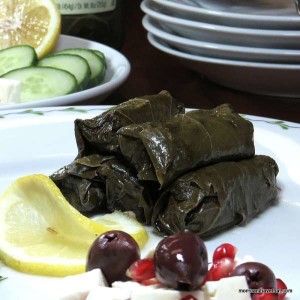 Stuffed Grape Leaves – Dolmades
Fun to make and fun to eat, these tender and flavorful beef-filled grape leaves do triple duty as an appetizer, a snack or as part of a main dish. And less than one net carb per roll, they fit into any low carb lifestyle.
Print
Pin
Rate
Equipment
Large saute pan or skillet

Large bowl

hand mixer

Cutting board and knife

9×13 inch baking pan (maybe another smaller pan, too!)

aluminum foil
Ingredients
50

whole

grape leaves

(Mine were in a jar)

2

pounds

lean ground beef

(or 1/2 beef and 1/2 lamb)

1/2

medium

onion

finely chopped

1/2

fennel bulb

finely chopped

2

cloves

garlic

minced

1

tbsp

bacon drippings

(or olive oil)

1

tbsp

fresh chopped dill

(or 1 tsp dried)

1/4

cup

parsley

finely chopped

3

whole

prunes

minced

2

tbsp

extra virgin olive oil

divided use

2

large

eggs

2

tsp

salt

1

tsp

pepper

1 1/2

cups

chicken broth

1

whole

lemon
Instructions
Preparation
Remove the grape leaves from the jar and rinse them by putting them in a large bowl with water and changing the water a few times. Chop the onion, fennel, garlic, parsley, dill (if using fresh) and prunes. Pour the chicken broth in a bowl, add 1 tbsp olive oil and squeeze the lemon juice into it.
Method
In a large pan over medium heat, saute the onion, fennel and garlic in the bacon drippings until softened and translucent. Turn off the heat and add the chopped parsley, dill, and prunes. Mix together and let sit in the pan.

In a large bowl, break up the ground beef. Add salt, pepper, 1 tablespoon olive oil and eggs. Mix briefly with a hand mixer. Add the sauteed vegetables and mix thoroughly.
Rolling the Dolmades or Stuffed Grape Leaves
Lay one grape leaf, shiny side down, on your work surface, with the top of the leaf pointing directly away from you. Place 1 tablespoon of the meat mixture on the bottom of the leaf. Elongate the filling just a bit and roll the leaf around it, rolling away from you, one turn.

While holding the filling in place, tuck-in the sides like you would when rolling a burrito. Finish rolling the grape leaf around the filling, and place seam side down in a 9×13 baking dish.

Continue rolling grape leaves around the filling until you run out of filling or grape leaves. I needed an extra baking dish because there were so many!
Cooking
Pre-heat oven to 350 F and place rack in middle position. Add the last tablespoon of olive oil to the chicken broth and the juice of the lemon. Pour over the dolmades until it reaches half way up the sides of them. Cover the baking dish tightly with foil or a tight fitting lid. Cook for 45 minutes.
Storing
Cover and refrigerate any leftover dolmades up to 5 days or freeze in an airtight container up to 3 months. Reheat a portion in the microwave for 1-2 minutes on high or cover with foil and warm in a 350F oven for 20-30 minutes. Thaw overnight in the refrigerator before reheating.
Makes 50 dolmades or stuffed grape leaves. Serving is 5 pieces with 4g NET CARBS PER SERVING.
Nutrition
Serving:
5
dolmades
|
Calories:
215
kcal
|
Carbohydrates:
6
g
|
Protein:
21
g
|
Fat:
11.8
g
|
Cholesterol:
94
mg
|
Sodium:
533
mg
|
Potassium:
123
mg
|
Fiber:
2
g
|
Sugar:
2.6
g
|
Vitamin A:
42600
IU
|
Vitamin C:
31
mg
|
Calcium:
700
mg
|
Iron:
6.8
mg