A beautiful meal of pan seared filet mignon with mushroom red wine sauce and topped with crumbled blue cheese served with buttered asparagus. Pinable cooking chart in post.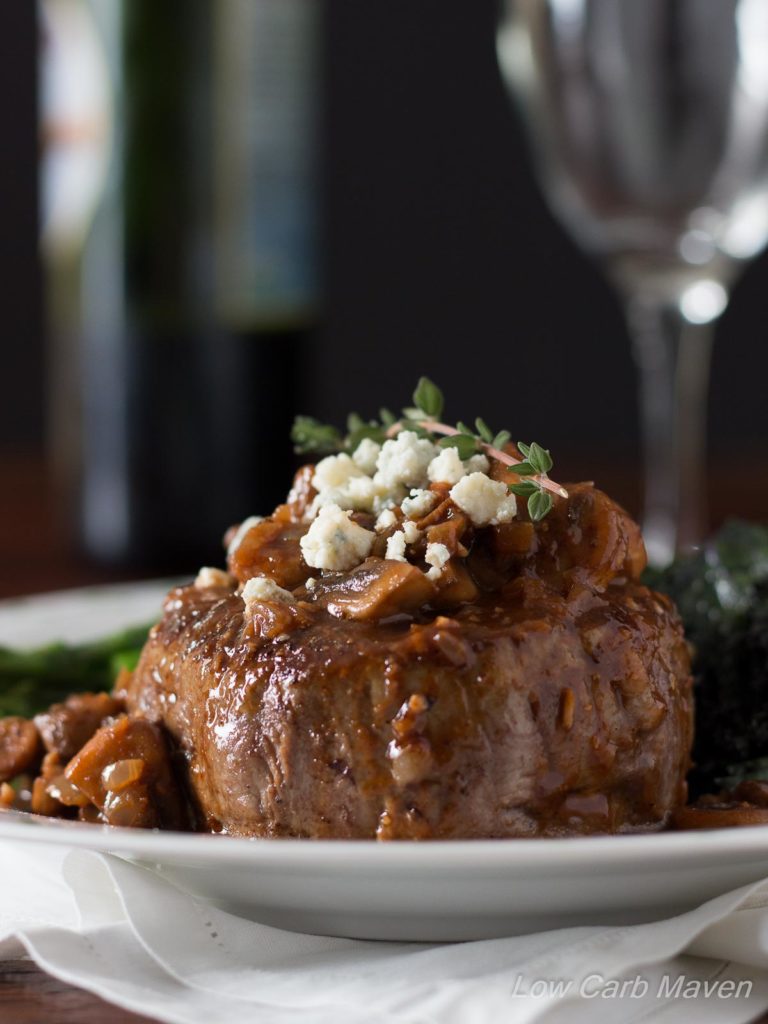 I love a good steak and my husband does not. He's a fish fella. So, it was to my extreme pleasure that he "Mmmm'd" his way through this dinner the other night. Well, through most if it. I noticed a few pieces of abandoned asparagus on his plate when cleaning up. Asparagus is also not his favorite.
I put a lot of thought into this pan seared filet mignon dish. I knew I wanted to do a nice steak and I knew I wanted a classic mushroom and red wine sauce because it's…. well, it's classic – which means it's great. And it is.
I tested this recipe on a nice thick boneless New York Strip. It was delicious, really a standout. But, as I ate the steak, there were a few times where I caught a piece of gristle. It didn't exactly scream romance.
Beef Tenderloin is Filet Mignon
I had my husband buy a whole beef tenderloin at Costco so we could have filet mignon. I trimmed and portioned it myself, which I learned in a culinary curriculum years ago. I found this great video from Jacob Burton on how to butcher a beef tenderloin for you first timers or those who need a refresher. My tenderloin yielded 18-20 servings, so it was worth the price for me. For those who just want to buy two filets from the store, aim for 6 ounces a piece but 8 is better. But trumping weight is thickness.
If you're looking for a whole filet mignon recipe, check out this one at Wholesome Yum.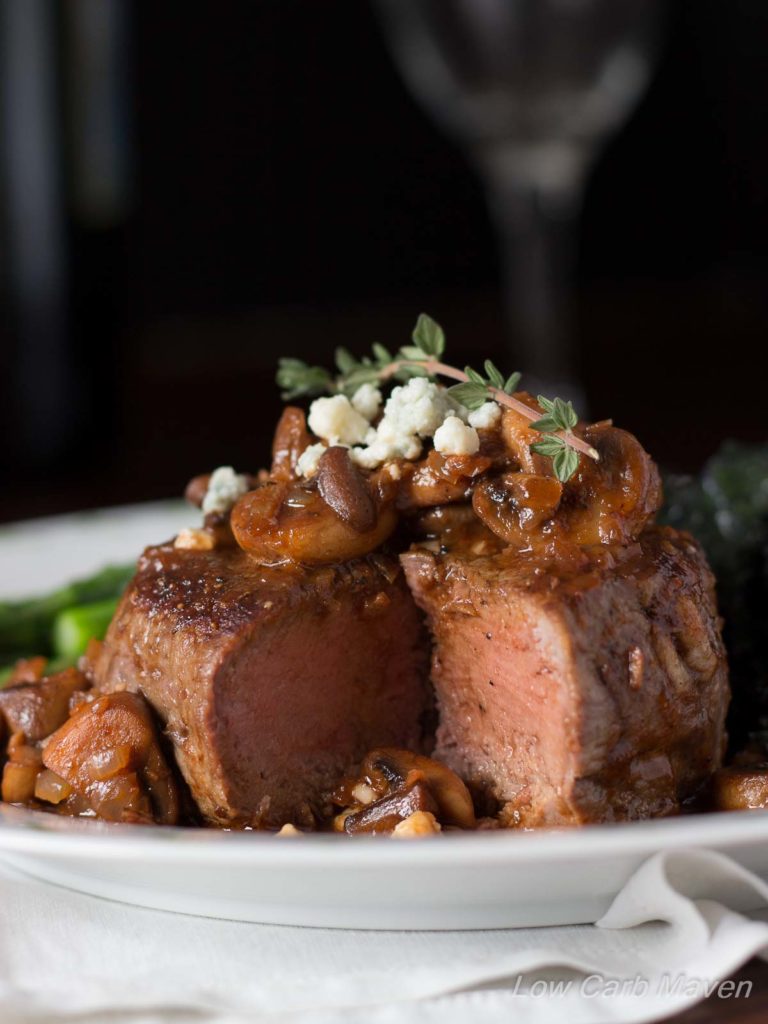 The filet in the picture is about 9 ounces, which is huge. I cooked two and served the meal to my family of 4 for dinner.
Common Sizes for Filet Mignon
Your butcher can cut your filets to order, but the two most common sizes found in the grocery store is 4 ounce (or petite filet) or 6 ounce. For proper cooking, it's always better to go with a thicker cut, so aim for a 6-8 oz filet mignon which is at least an inch thick.
4 oz – petite filet about ½ inch thick

6 oz – average filet about ¾ – 1 inch thick

8 oz – large filet about 1 ¾ – 2 inches thick

10 oz – extra large filet about 2 ¼ – 2 ½ inches thick
How to Cook the Perfect Pan Seared Filet Mignon (Pinable Cooking Chart)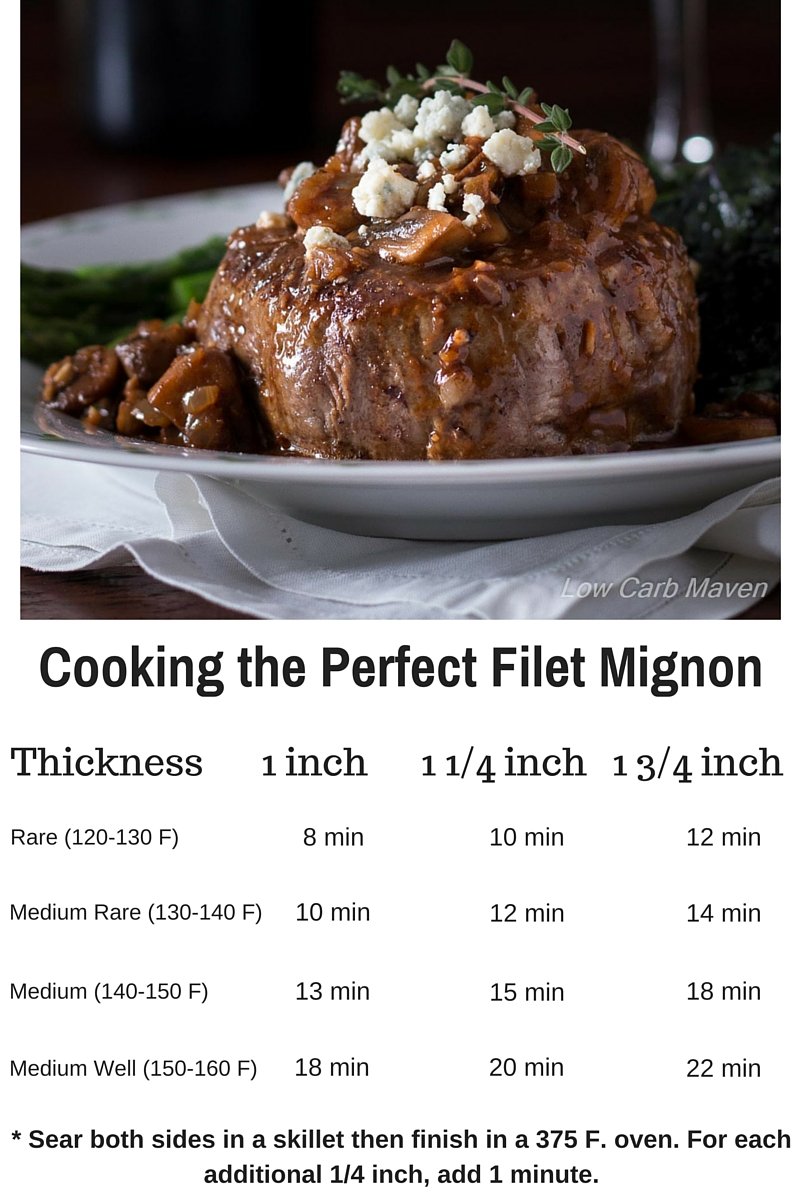 I wouldn't get a petite filet because the margin for error in cooking is pretty small. I think they are best seared in a pan for about 2 – 2 ½ minutes per side depending on how cold they are to begin with. A six ounce filet is easier to cook and looks prettier on the plate. But trumping weight is thickness.
If your filet mignon is a little flat I have a great trick: Tie a piece of string snugly around the middle of the steak, like a belt, to force it together, making it higher or thicker. It will cook much nicer for you.
[NOTE] This is a very large dinner and there will be left overs. The nutritional information is for two person's consuming the entire meal – which is a lot of food!
This whole pan seared filet mignon dinner serves two (with leftovers!) and is 10 net carbs per serving.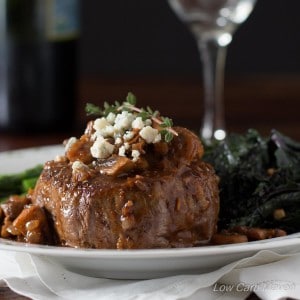 Pan Seared Filet Mignon with Mushroom Red Wine Sauce and Blue Cheese
A beautiful meal of pan seared filet mignon with mushroom red wine sauce and topped with crumbled blue cheese served with buttered asparagus.
Print
Pin
Rate
Ingredients
Filets
2 – 8

ounce

filets

1

tablespoon

oil

or ghee

salt and pepper
Mushroom Red Wine Sauce
1 1/2

tablespoons

olive oil

6

ounces

sliced mushrooms

each cut in half

2

tablespoons

minced onion or shallot

1

clove

garlic,

pressed or minced

3/4

cup

beef broth

1/4

cup

dry red wine

1

tablespoon

tomato paste

2

teaspoons

worcestershire sauce

1

teaspoon

red wine vinegar

several sprigs of fresh thyme

2

tablespoons

butter

or ghee
Asparagus
8

ounces

asparagus

2

teaspoons

butter

or ghee

salt and pepper to taste

two wedges of lemon

optional

optional blue cheese to garnish
Instructions
The night before: 1. Salt all sides of the filet, cover and refrigerate. 2. Put the wet ingredients for the red wine mushroom sauce in another container, stir together and refrigerate. 3. Cut about 1 1/2 – 2 inches off of the bottom of the asparagus and then lightly peel the lower half of each spear with a vegetable peeler. Place into a microwaveable serving dish, cover and refrigerate. 4. Remove about 1/4 of the sliced mushrooms from their container and place into a plastic bag and save for another use. Cut the remaining mushrooms in half, return them to their container and cover with plastic wrap.

About 40 minutes before Cooking: Remove the filet mignon from the refrigerator and place on a plate to come to temperature. Place an iron skillet (or an oven safe saute pan) on the stove for the meat and a large saute pan on the stove for the mushrooms and red wine sauce. Remove the wet ingredients for the sauce and the mushrooms from the refrigerator. Remove the asparagus from the fridge, add 2 tablespoons of water to the serving dish and cover again. Mince the onion and press or mince the garlic.

Procedure: Preheat the oven to 375 and place the rack in the middle position. Preheat the skillet over medium high heat. Pat each filet dry with a paper towel. Brush all sides generously with olive oil and season all surfaces with salt and pepper. Add a little oil to the skillet and swirl to coat the bottom. Add the filets to the pan and set the timer for 3-4 minutes (3 for thinner cuts and 4 for a thicker cut). Turn the heat to just a hair above medium. When the timer goes off, flip the meat and set the timer for 2 – 3 1/2 minutes. Turn off the heat, add a small pat of butter to the top of each filet and place into the oven. Set the timer per the suggestions in the chart. If you have an electric thermometer, set the temperature for your desired degree of doneness and stick the thermometer into one of the filets – right into the center but not all of the way through the meat. You want it in the middle.

Mushroom and Red Wine Sauce: Place the saute pan over medium high heat. When it gets hot, add 1 tablespoon of olive oil. Swirl to coat the pan. Add the mushrooms to the pan and spread them out in one layer. Turn the timer for 5 minutes or cook until the mushrooms have browned nicely on one side. Shake the pan and turn the mushrooms over. Yes, each one. Reduce the heat to medium and cook about 3 minutes. Push the mushrooms to the sides of the pan. Add the onion and garlic and a little bit of oil to the middle of the pan. Saute until they become soft and translucent. At some point they will become mixed in with the mushrooms. Add the wet sauce ingredients to the pan and a few sprigs of fresh thyme. Bring the sauce up to a simmer. Simmer for 5 minutes or until the sauce just begins to thicken. Adjust seasoning with salt and pepper. Add 2 tablespoons of butter to finish the sauce and stir in. Turn off the heat.

Finishing: Remove the filets from the oven and lay a piece of foil gently over the top. Let the meat rest for 10 minutes.

Put the asparagus into the microwave for about 3 minutes on high. Then, VERY CAREFULLY pull away a corner of the plastic wrap and drain the water. Add two teaspoons of butter and mix. salt and pepper to taste.

Plate: Place a filet mignon on each plate. Spoon half of the mushrooms and sauce over each and top with blue cheese crumbles is using. Divide the asparagus between the two plates and serve with a wedge of lemon.
Notes
Nutrition Facts
Pan Seared Filet Mignon with Mushroom Red Wine Sauce and Blue Cheese
Amount Per Serving (1 g)
Calories 680
Calories from Fat 387
% Daily Value*
Fat 43g66%
Carbohydrates 13g4%
Protein 56g112%
* Percent Daily Values are based on a 2000 calorie diet.
Nutrition
Serving:
1
g
|
Calories:
680
kcal
|
Carbohydrates:
13
g
|
Protein:
56
g
|
Fat:
43
g
|
Fiber:
3
g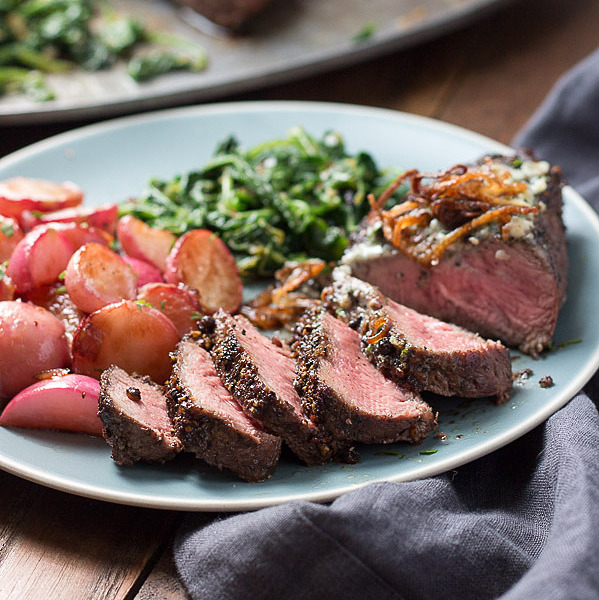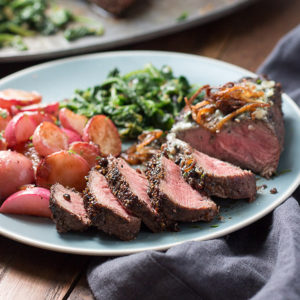 Pan Seared Flat Iron Steak Recipe With Peppercorns and Blue Cheese Butter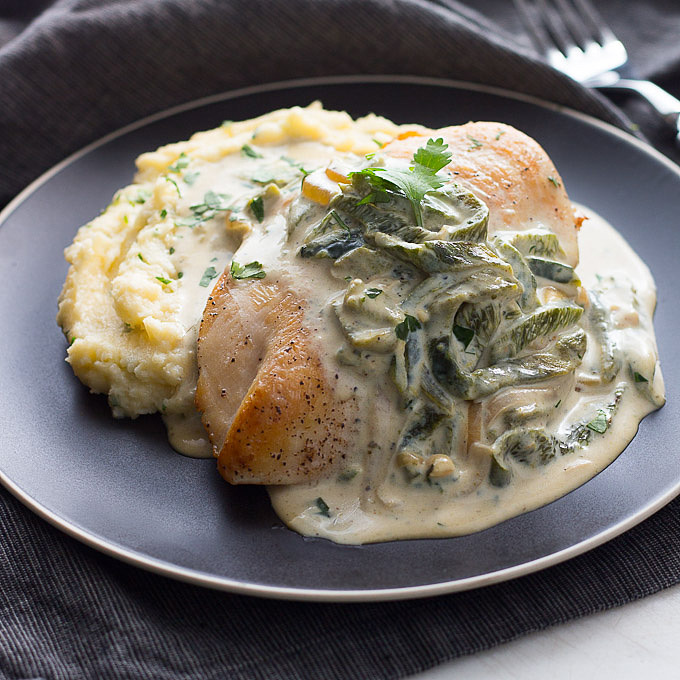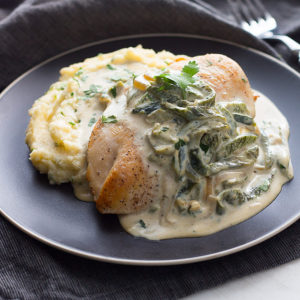 Pan Seared Chicken With Poblanos and Cream (Poblano Chicken)