Pan seared flat iron steak with a crust of coarse ground peppercorns enhances beefy flavor while a blue cheese butter adds interest with its tangy-salty bite!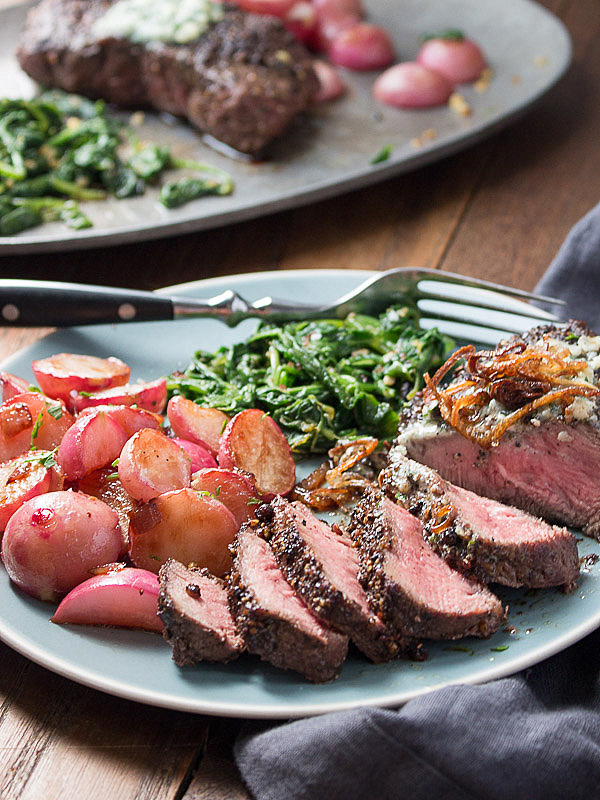 Steak. Nothing speaks my love-language like a juicy, flavorful steak. To me, it's the ultimate comfort food and conjures images of my dad's grilled steaks sizzling away on my mom's special steak platter. Those were the meals I looked forward to most as a kid.
Nowadays just a whiff of a nicely seasoned, properly cooked steak brings me to my knees. And that's nothing compared to what I experience as I put that first smokey, salty, crispy-tender bite in my mouth and chew slowly, savoring every nuance of texture and flavor. (sigh) Heaven!
A properly cooked steak should present a thin crust on the exterior with a juicy-tender interior that melts in your mouth. At least that's what I'm looking for in a steak. And that's what I got with this delicious flat iron steak.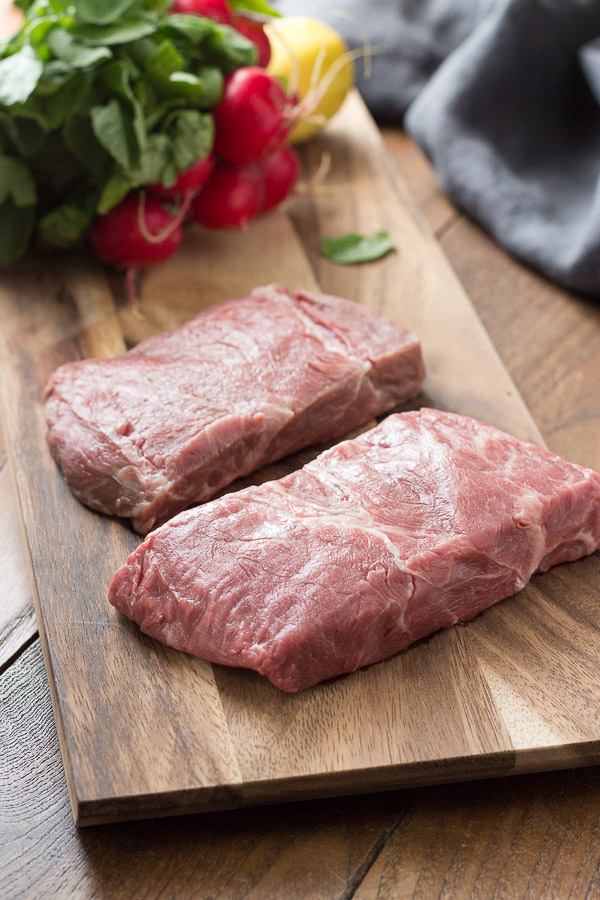 What is a Flat Iron Steak?
Flat iron steak, or top blade steak, is a cut found under the scapula of the animal and was once destined for the scrap pile due to a tough piece of connective tissue (silver skin) running its length, right down the middle. Luckily, slicing it along the connective tissue, into 2 thinner pieces, results in a steak second in tenderness only to the tenderloin.
Nice marbling throughout promises great beefy flavor which stands up well to marinades. I like this steak cooked over medium heat to a nice medium or medium-rare. It lends itself nicely to pan searing and cooking.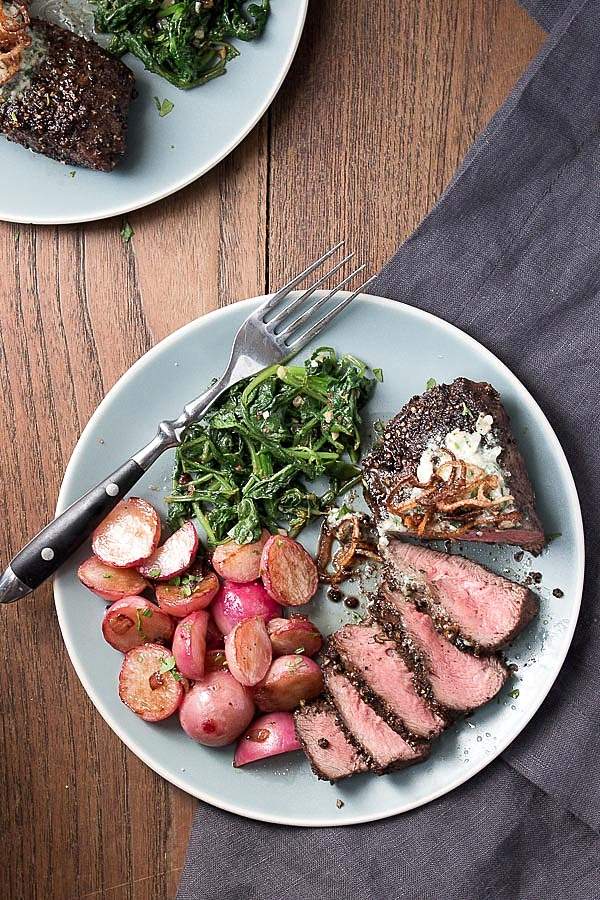 Pan Sear Flat Iron Steaks for a Nice Otter Crust
I pan seared my flat iron steaks because they were thin enough I knew I could get a nice crust on the outside without overcooking the interior. I seared in a cast iron pan over medium heat. Cast iron heats slowly, but once it comes to temperature, it holds on to it and gives a great sear.
This simple recipe of coarse ground peppercorns enhances the beef flavor of the flat iron steak while a blue cheese compound butter adds some interest with its tangy-salty bite! (There's a reason blue cheese is a classic flavor-pairing with steak.) Remember that "protein loves salt" and don't skimp. I like using sea salt, but use what you like.
By the way my husband, who silently groans when I serve steak, pronounced this "the best he'd ever had". High praise from him! I think the high quality grass-fed beef made all the difference.
[Note:] While the recipe says the serving size is for two, I served the flat iron steaks to my family of 4 with the radishes, the sauteed radish greens and a salad. We were more than satisfied with this delicious dinner.
Pan Seared Flat Iron Stead with Peppercorns and Blue Cheese Butter is 4 net carbs per serving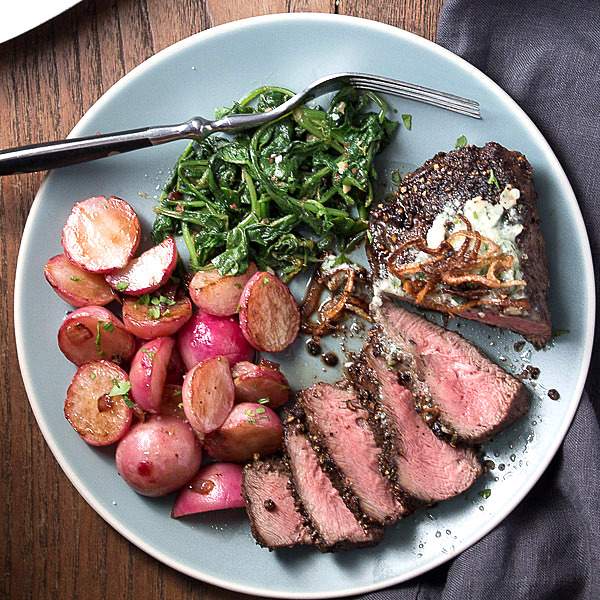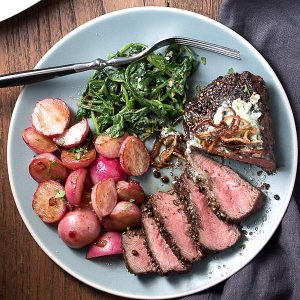 Peppercorn Flat Iron Steak
Peppercorn Flat Iron Steak – a simple crust of coarse ground peppercorns enhances the beefy flavor of the steak while a blue cheese compound butter adds some interest with its tangy-salty bite!
Print
Pin
Rate
Ingredients
2 – 7

ounce

flat iron steaks

1

tablespoon

peppercorns

coarsly ground or crushed

1

tablespoon

oil

I used bacon grease
Blue Cheese Compound Butter
4

oz

salted butter, very soft

2

ounces

crumbled blue cheese

1

tablespoon

minced parsley

2

teaspoons

minced shallot
Instructions
Preparation: Make the blue cheese compound butter a few hours or days before needed and refrigerate.

Compound Butter: Mince the parsley and shallot. Put the butter in a small bowl. Stir or mash with a fork until smooth. Stir in the crumbled blue cheese, shallot, and parsley until combined. Scoop the compound butter onto a piece of waxed paper, centering it lengthwise down the middle of the paper. Roll into a log, twist the ends, and refrigerate. Remove from the refrigerator just before cooking the steaks.

Flat Iron Steaks: Remove the steaks from the refrigerator 20-30 minutes before cooking. Place the pepper corns in an electric coffee grinder and process until they are a very coarsely ground. Alternately, crush the peppercorns with a heavy skillet by applying downward pressure against a cutting board.

Place a cast iron skillet over medium heat to get hot.

Meanwhile, dry the steaks with a paper towel. Rub a little olive oil over all surfaces and season with salt. Pour the coarsely ground peppercorns onto a plate and evenly coat the tops and bottoms of the steaks, pressing the pepper firmly into the meat. Add the bacon grease (or olive oil) to the hot pan and swirl to coat the bottom. Add the steaks and let cook for 5-7 minutes minutes per side, depending on how thick the steaks are and how well you like yours cooked. For medium rare remove the steaks from the heat at 135 degrees F and for medium at 155 degrees F.

Remove the steaks to a plate and tent loosely with foil for 15 minutes. Don't skip this step, it's crucial for a juicy steak. Top with a slice of compound butter.
Notes
These steaks actually fed my family of 4 with sauteed radishes and sauteed radish tops accompanying the meal.
Nutrition Facts
Peppercorn Flat Iron Steak
Amount Per Serving
Calories 547
Calories from Fat 360
% Daily Value*
Fat 40g62%
Carbohydrates 6g2%
Protein 40g80%
* Percent Daily Values are based on a 2000 calorie diet.
Nutrition
Calories:
547
kcal
|
Carbohydrates:
6
g
|
Protein:
40
g
|
Fat:
40
g
|
Fiber:
2
g