Pan seared boneless-skinless chicken breasts, roasted poblano peppers and cream, provide this distinctive dish with a rich silky sauce and smokey sophisticated flavor. Low carb elegance!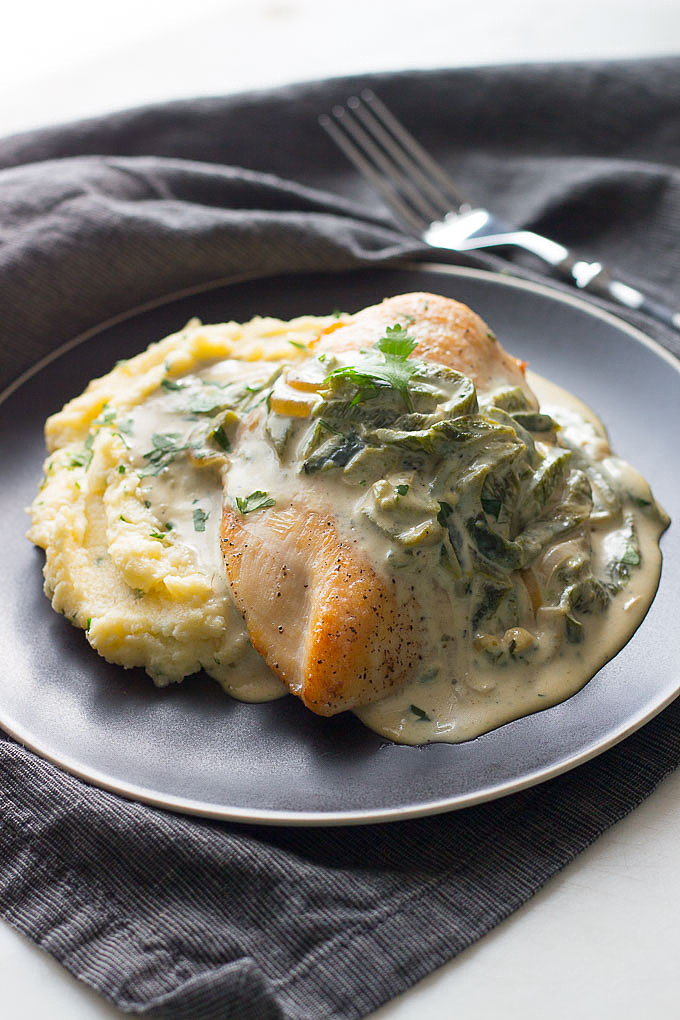 I'm almost positive that this recipe for chicken with poblano peppers and cream is going to rock your socks!
If you've never had a roasted poblano pepper then you are in for a treat. Roasting a poblano pepper not only facilitates removing the tough outer skin of the pepper, it also adds an irresistible smokey flavor to any recipe. At the moment, I am lucky enough to have a gas stove, so I turn the flame to low and place my peppers directly on the burner, turning the pepper so the entire surface blackens.
Poblano peppers can also be roasted on a very hot comal, directly under the broiler or even on a gas grill. Then, they steam in a covered bowl for several minutes until you're ready to peel off and discard the charred skin. At this point they can hang out in the fridge for about 5 days until needed.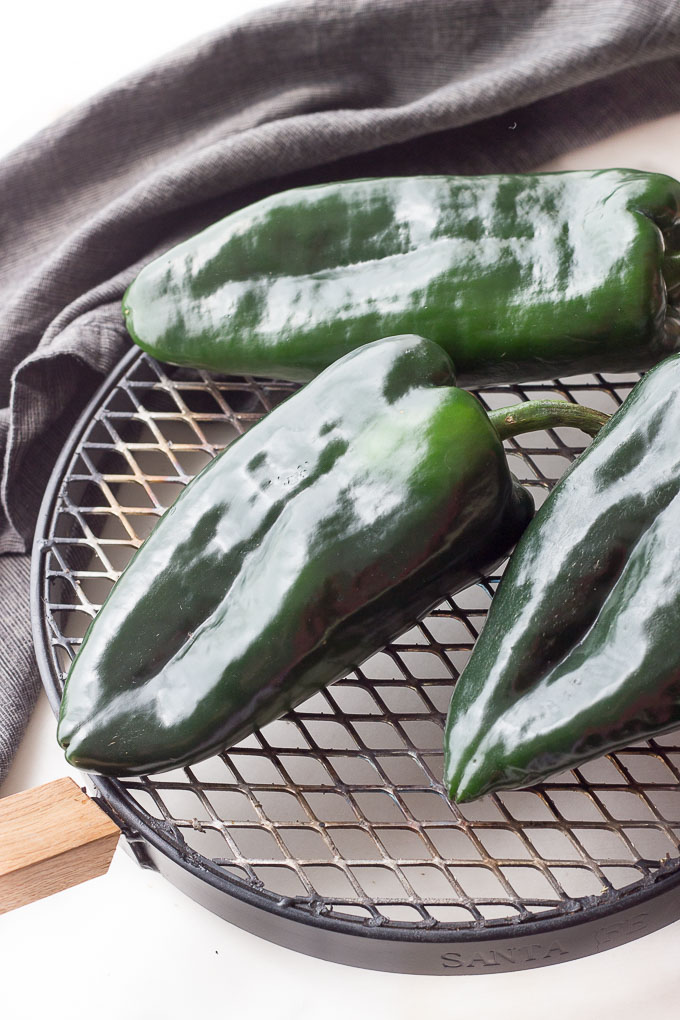 If I've piqued your curiosity about roasting poblano peppers, and you should be roasting and peeling them before preparing or serving, I have an authentic recipe for low carb Chile Rellenos and a recipe for Banglalore Chicken Curry that call for roasted poblano peppers. Go take a look if they sound good to you, I'll wait. Oh, for the record, these tasty peppers are as great with beef as they are with chicken.
This chicken poblano recipe has been a long time in the making. I've made it over 8 times the last several months and it has tasted amazing each and every time. The only problem with the dish lies with the inexperienced blogger behind the camera. Gah! I try so hard.
Not one round of photography has resulted in the perfect picture – one highlighting the lusciously silky texture of the rich cream sauce juxtaposed with the cut strips of roasted dark green poblano peppers. Not one! I even tried preparing the dish by pureeing the peppers into the sauce. It was also tasty, but not as interesting texture-wise. So, I just don't know what to do and I MUST share this recipe.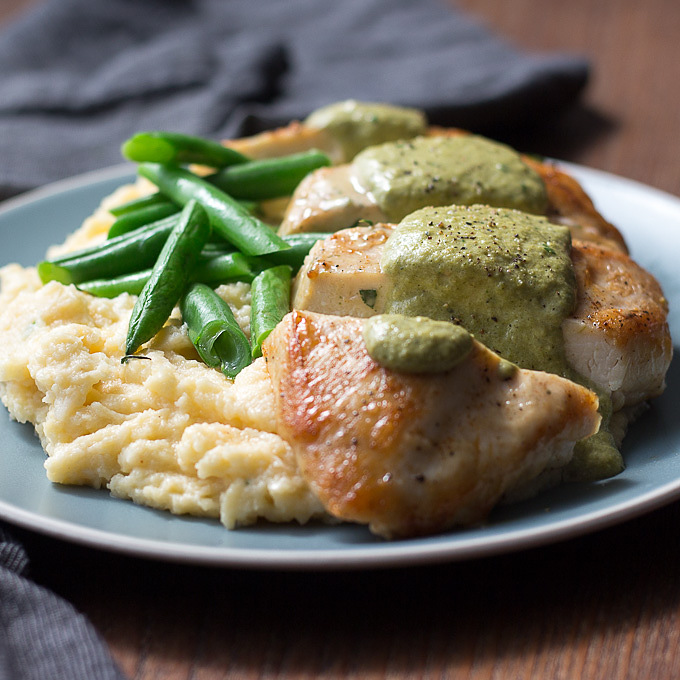 You'll have to trust me when I tell you that this dish is just as extraordinary as the Salmon in Bacon Vodka Cream Sauce I shared several months ago, or even the Pan Seared Chicken with Sauce. We're talking restaurant quality gourmet dishes in 30 minutes at home. I served recipe for chicken with cheesy cauliflower mash. Using an orange variety of cauliflower results in an amazing buttery-golden color.
This amazing Chicken with Poblano Peppers and Cream is 5 net carbs per serving.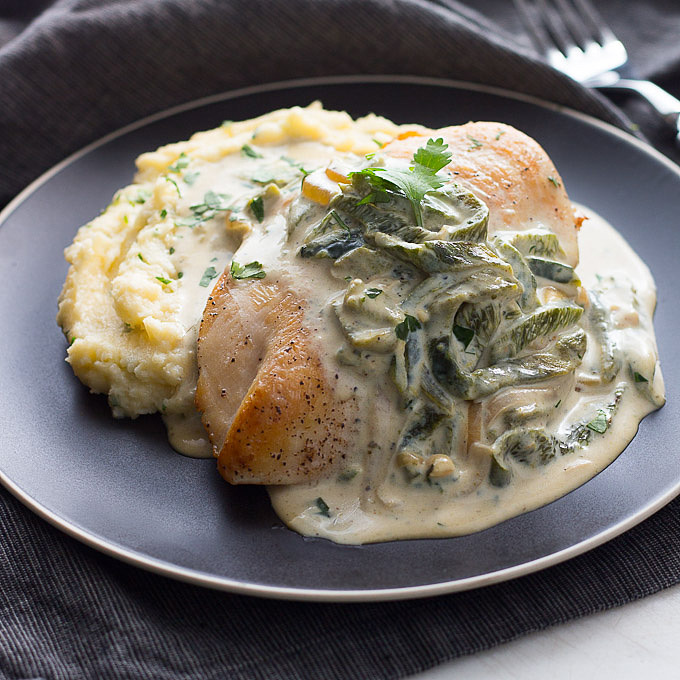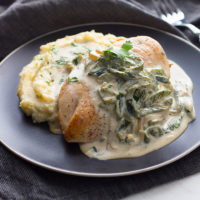 Chicken with Poblano Peppers and Cream
Pan seared boneless-skinless chicken breasts, roasted poblano peppers and cream provide this distinctive dish with a rich silky cream sauce and smokey sophisticated flavor.
Print
Pin
Rate
Ingredients
1 1/4

pounds

boneless-skinless chicken filets

2

medium

roasted poblano peppers

** cut into strips

3 1/2

ounces

medium onion

sliced 1/4-inch thick

1

large

clove garlic,

sliced

1/4

cup

dry white wine

1

cup

heavy cream

1/8

teaspoon

dried cumin

1

tablespoon

olive oil,

divided

salt and pepper to taste
Instructions
Peppers: Roast the poblano peppers until all sides are blackened. If you have a gas stove, place them right on the burner over medium-low heat, turning and re-positioning until the are blistered and black on all sides. If not, place directly under a broiler or on a grill. Put into a bowl and cover with plastic wrap so they can steam for 5-10 minutes before peeling. Cut and proceed with the recipe or refrigerate until needed.

Chicken: Let the chicken come to temperature on the counter for about 20 minutes. Place a stainless steal or non-stick skillet and 2 teaspoons of the oil over medium high heat (NOT A CAST IRON SKILLET.) Blot the chicken dry, massage with the remaining teaspoon of oil and season with salt and pepper. When pan is hot, cook the chicken 4-6 minutes per side or until an instant read thermometer registers 160. Remove the chicken to a plate and tent with foil.

Sauce: Turn the heat down to medium and saute the onions and garlic for about 1 minute. Remove the pan from the heat and add the wine. Place the pan back over the heat and cook until most of the wine has evaporated, scraping up any browned bits left from the chicken. Add the cream, poblano peppers and cumin. Cook until the cream has thickened to your liking keeping in mind that it will become even thicker as it cools. Taste the sauce and adjust salt and pepper as necessary. Serve over the chicken.

Variation: If you'd like, add the cooked onion and garlic, poblano peppers and cream to a blender and blend until smooth. Return to the pan, add the cumin and cook until thickened. If it becomes too thick, add a little chicken broth. Salt and pepper to taste.
Notes
**I suggest roasting the peppers up to 5 days before for maximum speed and efficiency in preparing this delicious dish.
Nutrition Facts
Chicken with Poblano Peppers and Cream
Amount Per Serving
Calories 484
Calories from Fat 378
% Daily Value*
Fat 42g65%
Carbohydrates 6g2%
Protein 20g40%
* Percent Daily Values are based on a 2000 calorie diet.
Nutrition
Calories:
484
kcal
|
Carbohydrates:
6
g
|
Protein:
20
g
|
Fat:
42
g
|
Fiber:
1
g