Keto Keema curry is a low carb twist on a traditional Indian comfort food. This curry is an easy one pan or Instant pot meal perfect for weeknights or prep for easy weekday lunches.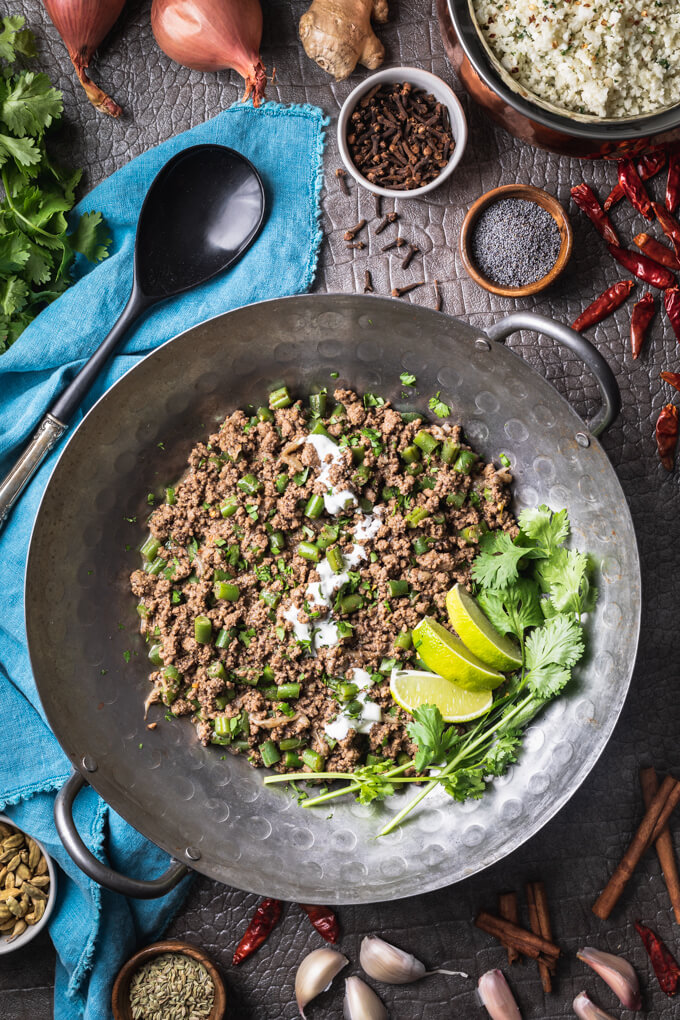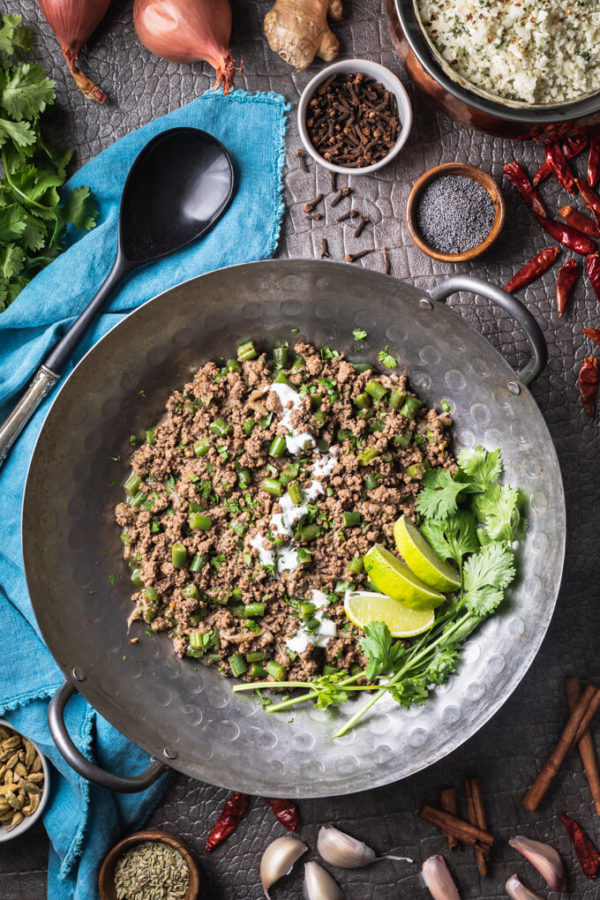 THIS POST INCLUDES AFFILIATE LINKS TO SHARE THE THINGS I LOVE.
I love to keep my meals interesting. Trying foods from all different cuisines alleviates boredom and helps me stay on track. One of my favorite cuisines is Indian food, both for its flavor and artful combinations of spices. It fits my low carb lifestyle perfectly!
What is keema or keema matar?
Keema is traditionally made with ground lamb or beef. Keema Curry, also known as Keema Matar, is a dry curry that contains keema along with peas and spices.
In India, keema curry is usually served at special occasions such as birthdays, weddings or the Indian Festival of Lights. The Indian Festival of Lights, or Diwali, begins at the last full moon in October. The celebration signifies the start of the Indian calendar and lasts for five days. If you're interested in learning more about Dwali, India Some Day has a nice article about Experiencing the Dwaili Festival in India.
While in India, people reserve keema for special occasions, you can make this keto keema curry recipe any time. Since most of the work is measuring ingredients, the recipe is fast and easy enough to enjoy during the week.
Why I love this authentic keema curry recipe.
I'm very lucky to have a recipe contributor from India, Asha, who sends me her traditional recipes which I alter to fit my low carb lifestyle. That means I get to share delicious authentic Indian recipes with you! I love this Keto Egg Curry for breakfast and dinner. And we make this Keto Chicken Curry at least once a week. In the cooler weather, we love Beef Curry with Winter Vegetables, which I adapted from a cookbook I own. While these are all fabulous choices, I'm always game to try something new.
Keema curry promises an exciting blend of aromatics and spices. It's mildly spicy with just a hint of sweetness from warm spices and coconut mana (or coconut milk).
Most keema recipes call for peas and/or potatoes and are served over rice. That's more carbs than I eat in an entire week! For this low carb version I substitute green beans for the starchy peas and omit the potatoes altogether. Cilantro rice rounds out the meal giving this dish an authentic look.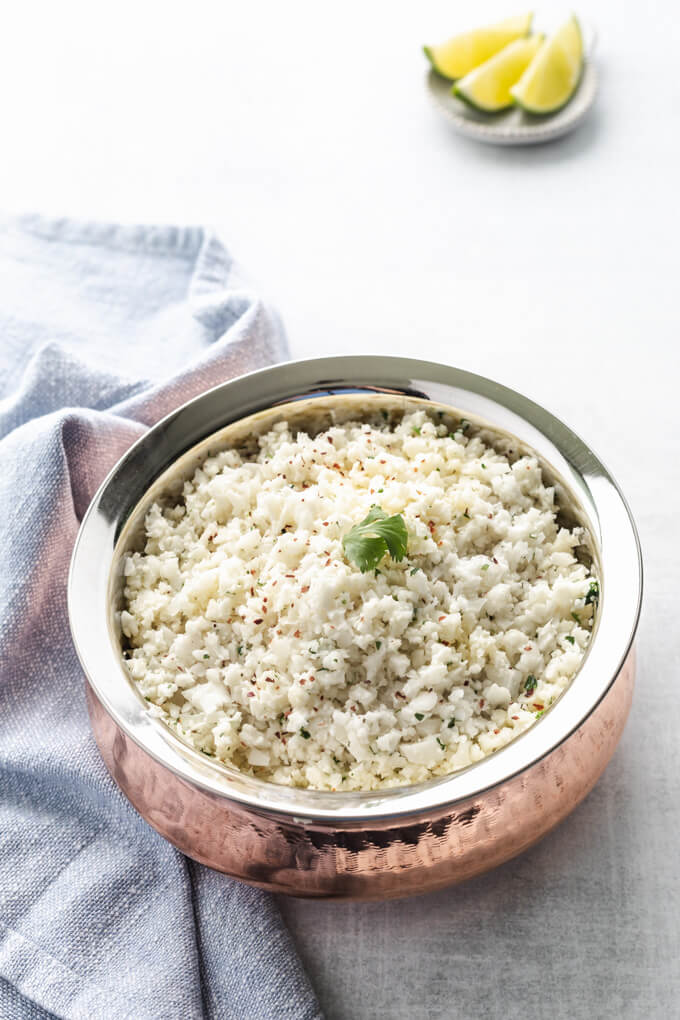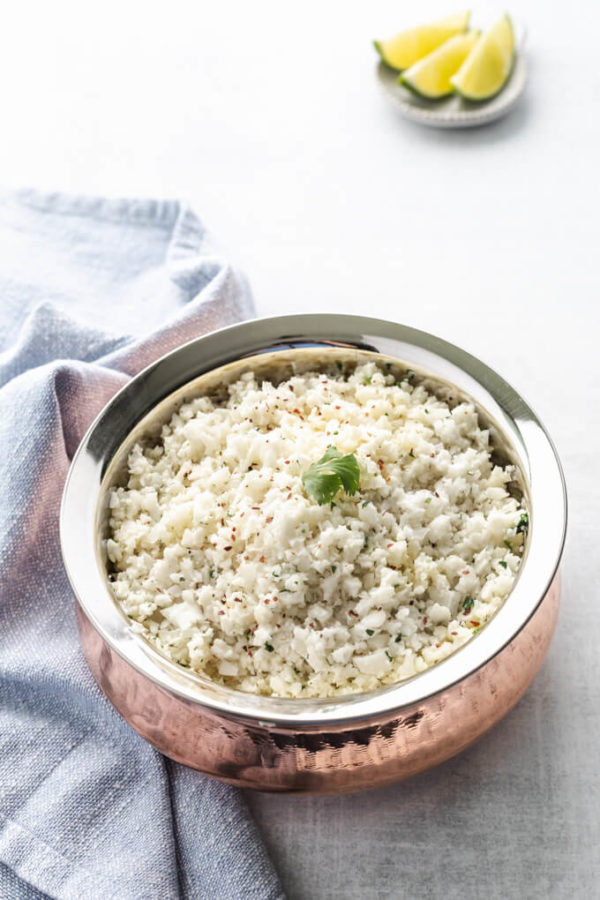 How to Make Keema Curry
Don't let the long ingredients list scare you – the recipe is not complicated or too involved. And, I spent weeks making it easier without compromising on any flavor!
First, let's talk about ghee…
Ghee is a traditional oil used in India. If you are not familiar with ghee, it is pure butter oil and has a mild nutty, butter flavor. Since the water and milk solids have been removed, it can sit out on the counter without spoiling. I love ghee, so I make large batches and always have it on hand.
Don't have ghee, don't worry! Substitute light olive oil, or buy ghee here. Locally, look for ghee in health food stores, ethnic grocery stores, and better supermarkets.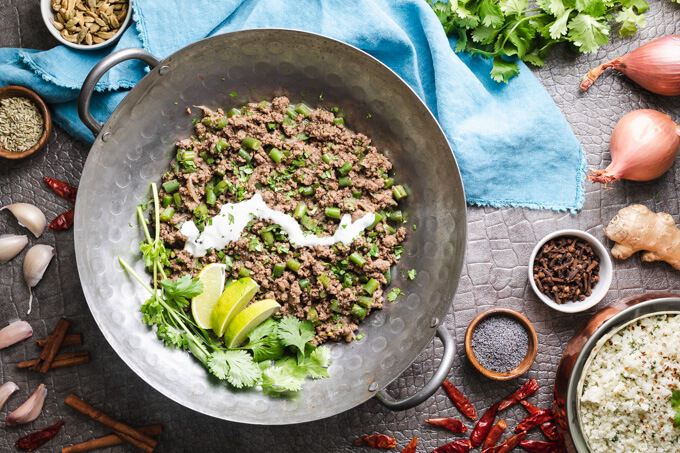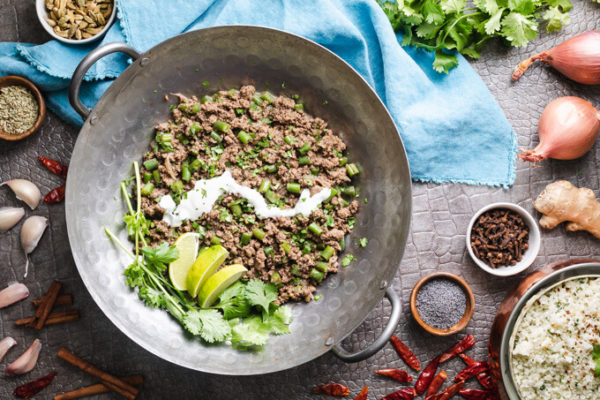 Grinding the spices
This recipe calls for grinding a few whole spices instead of using already ground. Why? Because whole spices hold onto their volatile oils and release them upon grinding, resulting in a more intense flavor. I use a mortar and pestle but sometimes I use a coffee or spice grinder.
There are four ingredients I grind for the Keema curry:
● 4 whole cloves
● 3 green cardamon pods
● 2 teaspoon poppy seeds
● ¼ tsp fennel seeds
If using mortar and pestle, add the spices one at a time in the following order: fennel seeds, cloves, green cardamom (be sure to remove the husks), and poppy seeds. As you add them, pound and muddle the spices together.
If using a coffee grinder or small blender, add of the whole spices together and blend.
Keema in the Instant Pot
If you love your Instant Pot, you are in luck! You can make this keema curry in the Instant Pot. Everything cooks in the pot for convenience. For detailed instructions look to the recipe.
First, saute the onions, garlic, and ginger in the ghee on HOT until the soften. Make sure to stir periodically to ensure even cooking. Then add the ground beef and cook while breaking it up in to smaller pieces. Add the green beans, spices, coconut manna, (or coconut milk), cilantro sprig and water. Stir it together and close the Instant Pot lid. Make sure you move the vent to the pressure cooker position!
Set the Instant Pot to cook for 5 minutes. When it's done, leave it sit for 10 minutes to release steam naturally. After ten minutes, vent the remaining steam. Saute again on high until the extra water simmers off. This is intended to be a dry curry and not have a lot of sauce, but how wet you want it is up to you.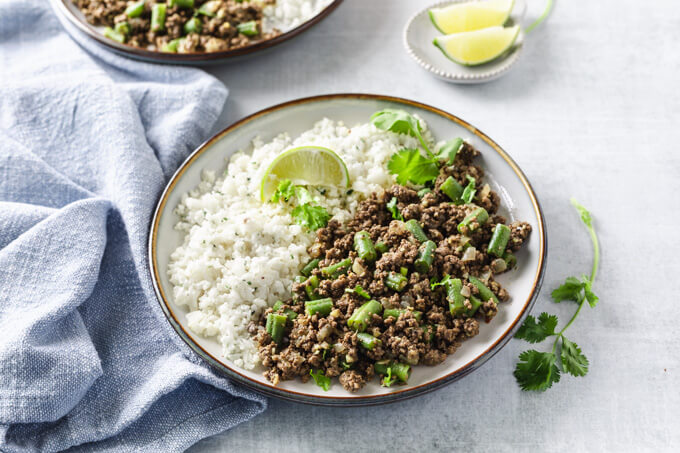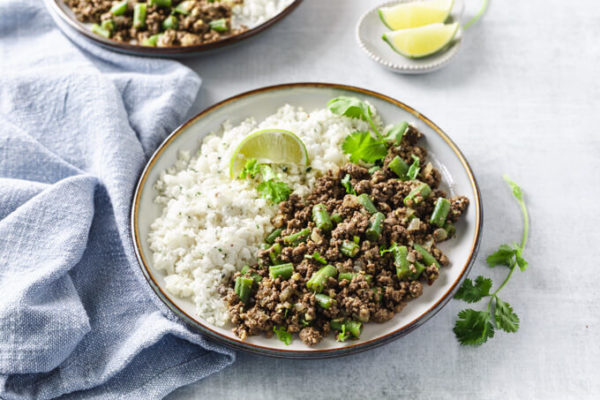 Keema on the Stovetop
If you don't have an Instant Pot, you're in luck. I think cooking this keto keema on the stove is even easier.
First, heat a 10' pan over medium heat until it is evenly hot. Saute the onions in ghee (or oil) until well browned, making sure to stir to avoid burning. Add the ginger and garlic and fry until fragrant.
Next, add the ground beef, cooking and breaking it into smaller pieces. Then, add the coconut mana or coconut milk, all of the spices, and salt and pepper cooking until fragrant.
Finally, add the green beans, cilantro, and water to the pan. Cover and simmer on low to medium-low for 15 minutes or until the beans are soft and most of the water is evaporated. Since some stoves run hot, reduce the temperature if it is simmering too hard. Add water if needed. Uncover and simmer until much of the liquid has evaporated.
Garnish with chopped cilantro, thin plain yogurt, and/or a squirt of lime.
Make it a meal! What to serve with keema.
Traditional keema curry is served over rice, but here are some great low carb options.
cauliflower rice
Miracle Noodles/ Shirataki Noodles
Joseph's Low Carb Pita Bread
Low Carb Tortillas
Keto Naan – You must try this amazing keto naan recipe from my friend Katrin at Sugar Free Londoner.
plain yogurt thinned with water
limes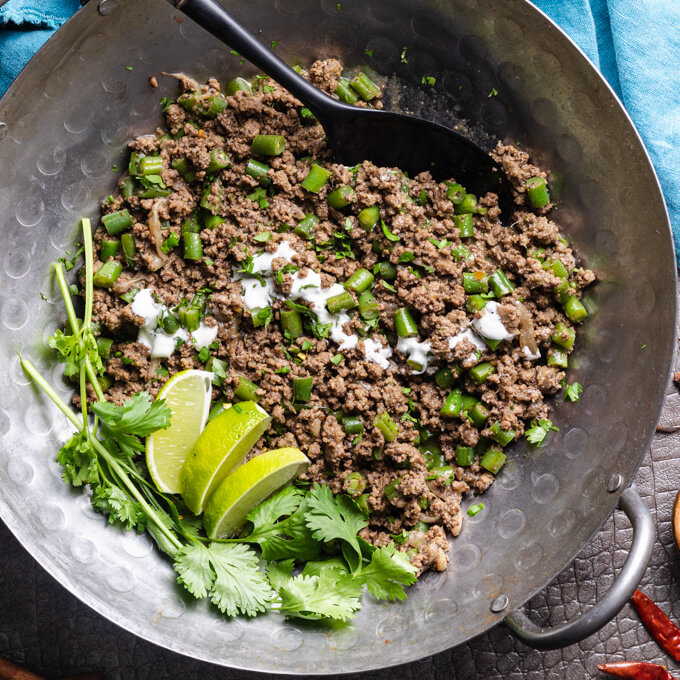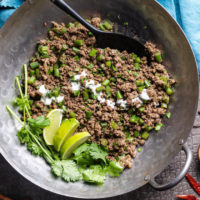 Keto Keema Curry (Kheema)
A perfect blending of aromatics, warm spices, green beans, and ground beef. This authentic Indian recipe cooks in one pan (or the instant pot) for an easy flavorful weeknight meal.
Print
Pin
Rate
Ingredients
1

pound

lean ground beef

1

cup

green beans, sliced 1/2 inch long

(5 oz)

3/4

cup

onion, medium dice

(4 oz)

1

tbsp

minced fresh garlic

(3-4 medium cloves)

1

tbsp

minced fresh ginger

(3/4 inch piece)

1

tbsp

ghee

(or olive oil)

1

tbsp

coconut manna

(or 2-3 tbsp full fat coconut milk)

1

sprig

cilantro

3/4

cup

water

(1/3 cup for pressure cooker)
Spices (Measure Together)
Grind (add to spices)
1/4

tsp

fennel seeds

4

whole

cloves

3

whole

green cardamon pods

2

tbsp

poppy seeds
Garnish
chopped cilantro

Thin plain yogurt or sour cream

(thin with water)

Lime wedges
Instructions
Preparation:
Gather all of the ingredients. Slice the green beans and place them into a bowl. Chop the onion and mince the garlic and ginger. I just keep them separate on a small cutting board.

Measure the ground spices, salt, and pepper into a ramekin or small bowl.
Grind Whole Spices:
If using a mortar and pestle, add the spices in this order to pulverize: fennel, cloves, cardamon, poppy seeds. Remove the cardamon husks. (If using a spice grinder put them all in at once and grind to a powder.) Add to the small bowl of spices.
Method
Place a 10-inch skillet or a medium pot over medium heat until hot. Add the ghee or oil and fry the onions until well browned, being careful not to burn them. Add the garlic and ginger and fry until fragrant.

Add the ground beef and cook, breaking it apart with a spatula, until it is no longer pink. Then, add the coconut mana (or coconut milk) and spices, cooking until fragrant.

Stir in the green beans, sprig of cilantro and water. Cover and simmer for 15 minutes or until the beans are tender and the water has mostly evaporated. Season with salt and pepper to taste.

Garnish with cilantro, thin plain yogurt, and a squirt of lime if desired. Serve with cauliflower rice and keto naan or low carb tortillas.

Serves 4 people at 5.7 g net carbs, each.
Notes
Instant Pot:
Set your Instant Pot to Sauté on high. When it says HOT, add your ghee or oil and wait for it to heat – it will shimmer when ready.
Set your Instant Pot to Sauté on high. When it says HOT, add your ghee or oil and wait for it to heat – it will shimmer when ready.
Add onions, garlic and ginger and let them cook a few minutes until softened.
Add the ground beef and sauté long enough to break up large clumps. It will still be a little pink.
Add the green beans, spices, coconut manna, cilantro sprig, and 1/3 cup water. Close and seal the Instant Pot.
Cook on High Pressure for 5 minutes, and allow the pressure to release naturally for 10 minutes. Manually release the remaining pressure.
You can serve the curry a little wet, or saute again until the water evaporates. I prefer it drier and simmer off the water.
Nutrition
Calories:
268
kcal
|
Carbohydrates:
9
g
|
Protein:
25
g
|
Fat:
14.6
g
|
Cholesterol:
75
mg
|
Sodium:
389
mg
|
Fiber:
3.3
g
|
Sugar:
2.2
g