This low carb keto hearty beef curry with winter vegetables provides extra warming power and an extra dose of vegetables with just 30 minutes or less of prep.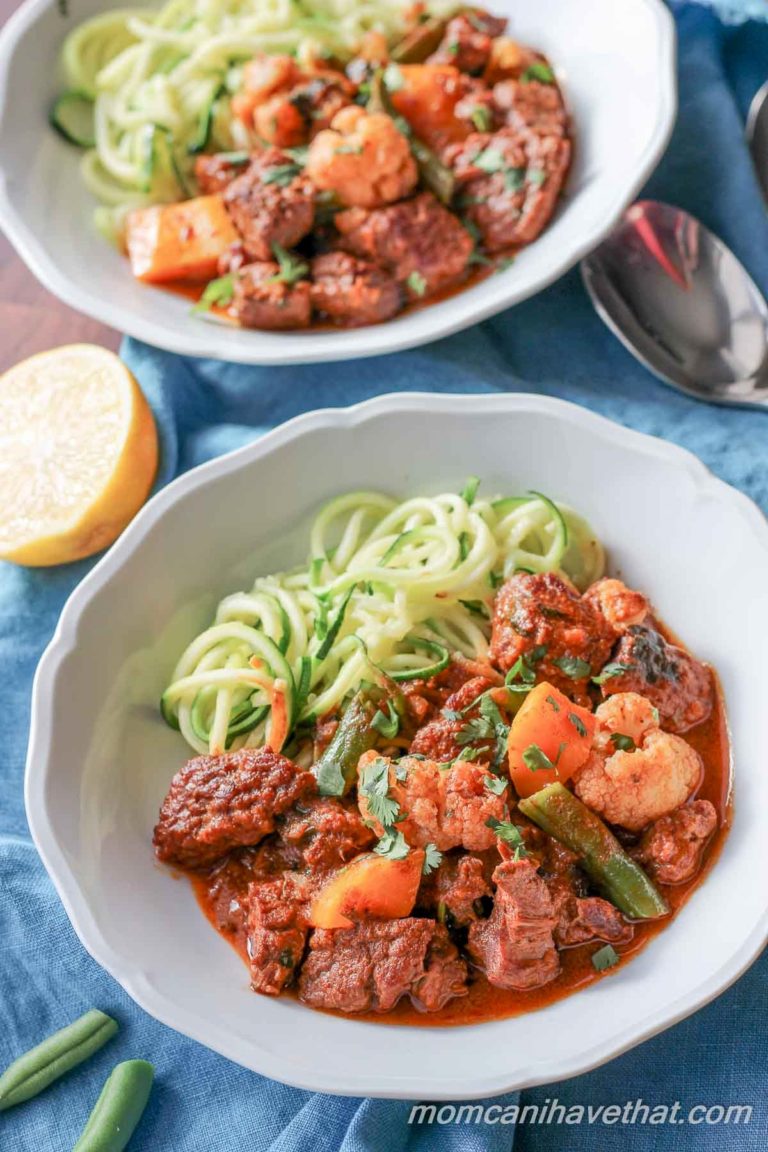 I've been working on this curry for a couple of months. My family just loves it. I've prepared it all kinds of ways trying to develop the best technique for ease and speed while still maintaining flavor and ingredient integrity. It's been so hard eating this hearty beef curry every other week, but someone had to do it! ;p
If you were to ask me to list out my top five favorite foods… right there in the number 2 spot, right under chocolate chip cookies, would be written "beef". I LOVE BEEF, and a good beef dish makes me very happy!
If I had my choice, I would serve beef for dinner several times a week. With all of the beef bashing occurring in the news and literature the last several years, I'm surprised that the prices continue to rise. I know, it's probably California's fault. Somehow it's always California's fault. Just blame us Californians and be done with it. (It is true, though. California is in bad shape with its record setting drought and I am worried.) Any-hoo…… back to this hearty beef curry with winter vegetables…
I've decided on two ways that I like to prepare this meal and both only require about 30 minutes of prep. The beef curry may be cooked in a dutch oven or in a crock pot. The challenge I encountered repeatedly as I tested this dish was that by the time the beef was tender, the vegetables were a bit over-cooked and were the same color as the curry. Don't get me wrong it tasted amazing, but let's just say that it didn't photograph well – it wasn't very pretty.
The only way around the "ugly brown food" dilemma was to cook the vegetables separately from the meat. To do this, I steamed the butternut squash, cauliflower, and green beans all together in the microwave for about 4-5 minutes then stirred them into the curry at the end of cooking. I also steamed the zucchini in the microwave.
NOTE: I understand that some of you do not like to use the microwave to heat food. A steam basket in a pot works just fine. And feel free to use more vegetables in the curry. I chose the proportions to fit my daily carb intake.
Serving this flavorful and hearty beef curry over zucchini noodles was perfect and provided a nice dose of veggies. Did I mention that my family loved it? Even the picky one!
This Hearty Beef Curry with Winter Vegetables is a complete meal and 9 net carbs per big serving!
Nutritional Info per 8 servings: Calories: 305, Fat: 22,  Carbohydrates: 9, Fiber: 3, Protein: 20, NET CARBS 7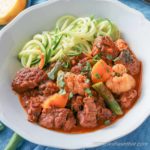 Low Carb Hearty Beef Curry with Winter Vegetables
This hearty beef curry with winter vegetables provides extra warming power and an extra dose of vegetables with just 30 minutes or less of prep.
Ingredients
Beef Curry
1 1/2

pounds

beef stew meat

24 ounces

2

cloves

medium garlic

sliced

4

ounces

onion

1

tablespoon

fresh ginger,

minced

1

tablespoon

pure chili powder

1

tablespoon

ground coriander

2

teaspoons

ground cumin

1/8

teaspoon

ground cardamom

1

teaspoon

salt

1/4

teaspoon

pepper

1

large

jalepeno or 2 serrano chili peppers

diced (optional)

14

ounce

can full fat coconut milk

1

teaspoon

beef bouillon for the crock pot

1

tablespoon

tomato paste
The Vegetables
4

ounces

butternut squash

peeled and cubed

4

ounces

green beans

trimmed and cut

4

ounces

cauliflower

cut into bite sized pieces

1/2

cup

cilantro

chopped

1

tablespoon

lemon juice

salt and pepper to taste

1 1/2

pounds

zucchini

spiralized into zoodles

salt and pepper to taste
Instructions
Brown the Beef:

Place a dutch oven or a large frying pan over medium high heat, add 1 tablespoon of oil and working in batches, brown one side of the beef - nice and brown. Add more oil if necessary. Remove the browned beef from the pan and place either in a medium bowl.

Prep the veggies:

While the beef is browning, prepare the vegetables, placing the squash, cauliflower and beans into a microwaveable bowl. If you plan to cook the veggies with the curry, leave the bowl out on the counter. If you plan to steam the veggies, then cover with plastic wrap and place into the refrigerator. Spiral cut the zucchini, cover and put in the refrigerator.

Getting Started:

After the beef has cooked, turn the heat under the pan to medium and add a little more oil. Add the onions and cook until almost translucent. Add the garlic and ginger (and peppers if using) and cook until softened. Add the spices and heat until aromatic. Add the coconut milk and tomato paste and stir, scraping up all of the brown spatters and bits into the sauce. Add the salt and pepper.

Cook: Add the beef back to the dutch oven and add 1 cup of beef broth. Cover and bring to a simmer. If cooking the veggies in the beef curry, add them to the pot now. Turn the heat down and simmer until the meat is tender 1 1/2 - 2 hours. If adding the veggies later, steam the veggies when the beef in the curry is tender. Add the veggies and stir to coat. Add the cilantro and lemon juice and stir. Taste and adjust the salt and pepper to taste. Serve over the zoodles.

Zoodles:

To steam the zucchini add 2 tablespoons of water and cover the bowl with plastic wrap. Cook in the microwave on high power for 5-6 minutes. Drain by lifting the corner of the plastic and letting the water run out. Add salt and pepper to taste. Serve the curry over the zoodles.
Recipe Notes
Nutrition Facts
Low Carb Hearty Beef Curry with Winter Vegetables
Amount Per Serving (1 g)
Calories 407
Calories from Fat 261
% Daily Value*
Total Fat 29g 45%
Total Carbohydrates 12g 4%
Protein 26g 52%
* Percent Daily Values are based on a 2000 calorie diet.
Signup for my Newsletter
Subscribe to get our recipies by email.