A healthy and easy Indian chicken curry made with green chilies (capsicum), onions, garlic, ginger, and cilantro. Fresh ingredients cook in 30 minutes.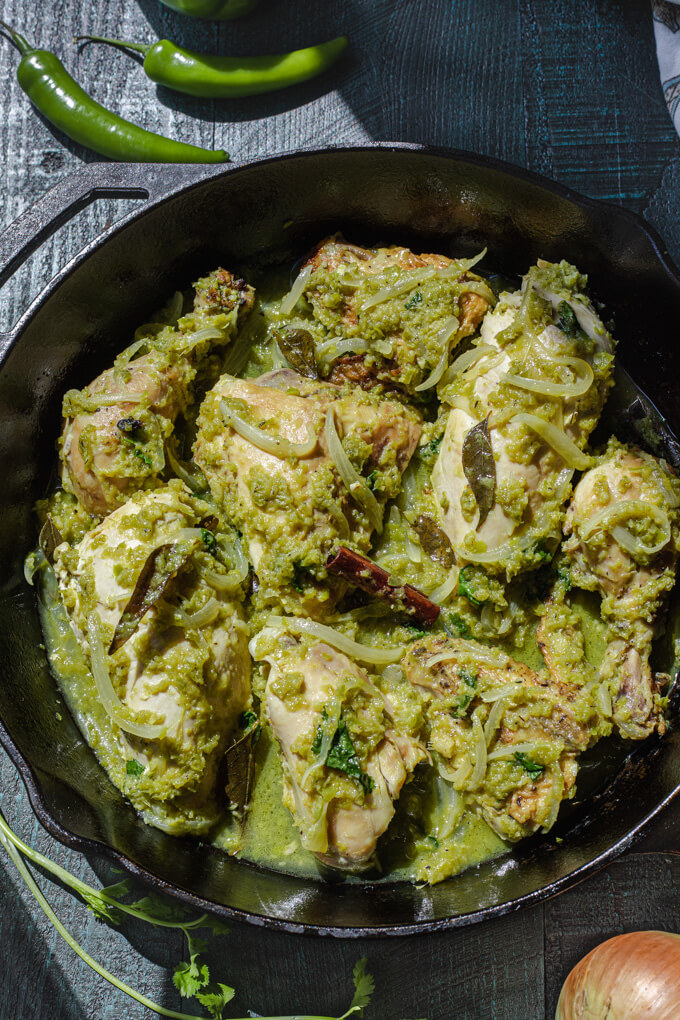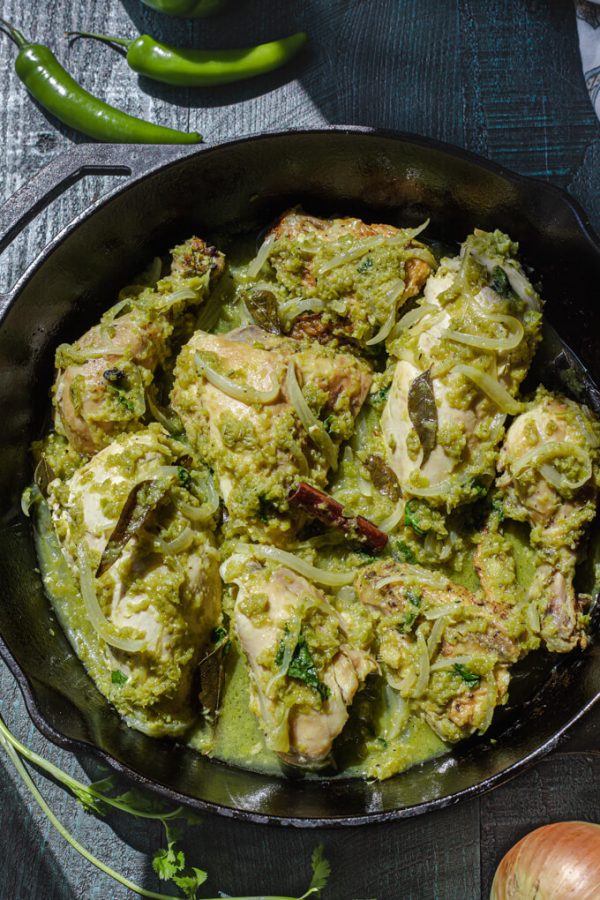 THIS POST INCLUDES AFFILIATE LINKS TO SHARE THE THINGS I LOVE.
I'm so excited to share this authentic Indian chicken curry recipe with you. Asha, reached out to me expressing interest in sharing her original family recipes. Please read about Asha at the bottom of the post, after the recipe. Look for more of Asha's recipes soon!
This chicken curry is a quick and easy recipe using mostly fresh wholesome ingredients. The ingredient list is short and its flavor is fresh and complex. I played with ingredient ratios to keep this recipe low in carbs.
What is Curry Anyway?
Many of us frequent the buffet at our local Indian restaurant because it allows a sampling of popular recipes. But what's missing from the covered chafing dishes and hotel pans filled with chicken tikka and vegetable pakora, is the subtle balance of flavors found in a good Indian curry. They are as varied in flavor as the peoples and ingredients found in India and its surrounding areas.
But what is curry? Curry is a main dish consisting of a thickened gravy flavored with either dry spices or fresh ingredients ground into a paste. The main ingredient is generally meat, poultry, fish, shellfish, eggs, bean curd or vegetables. Curries can be dry or wet. A dry curry is cooked until the thick sauce coats the main ingredients while a wet curry has a thickened but looser, spoonable sauce. Rice and flatbreads are common accompaniments.
The foundation of many Indian curries are onions or tomatoes, flavored with an intricate balance of dry spices and fresh aromatics. Depending on the region, ghee, peanut oil or mustard oil are traditional fats used in cooking. Northern curries often contain yogurt and cream while southern curries feature coconut milk or fresh curry leaves (Murraya koenigii).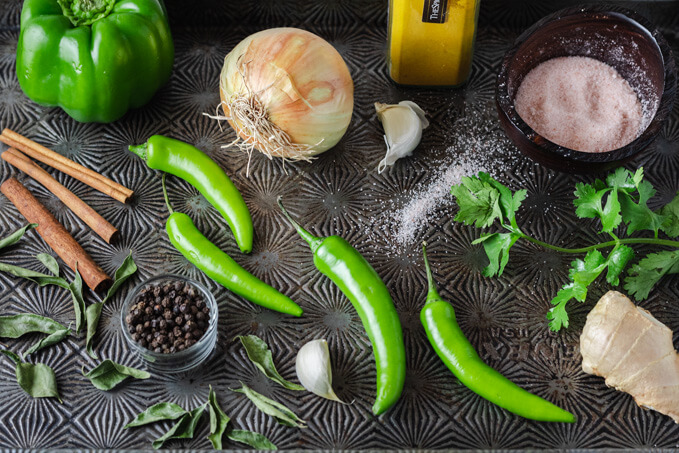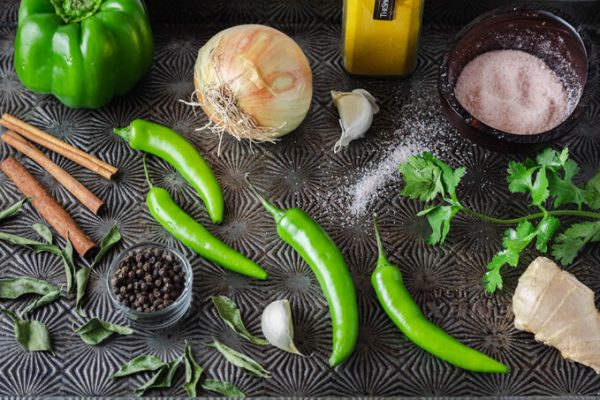 How to Lower Carbs for Keto Curry.
It's not uncommon for curries to be high in carbohydrates, particularly Thai curries which use sugar to balance tanginess from lemon and lime. And Indian curries are heavy in onions and/or tomatoes which contain natural sugars. However, it's easy to make a low carb keto curry by keeping a few things in mind…
Tips for making low carb keto curries:
Limit Ingredients that contain natural sugars like onions, tomatoes, garlic, and shallots.
Use enough healthy fats in the dish to provide fuel for your body and carry flavor in the dish. Remember: fat equals flavor.
Add additional flavor by using flavored stocks and or bouillon/base where it calls for water.
Brown meats and dry roast aromatics to bring out flavor on which to build.
Use a squeeze of lemon or lime juice to brighten flavor.
A touch of low carb sweetener helps round out flavor by replacing some of the sweetness missing from limiting onions and garlic. Look for erythritol based sweeteners like Sukrin, Swerve or Lakanto.
Adding fresh herbs like cilantro at the end of cooking or as a garnish provides a pop of flavor.
Additionally, serve your low carb keto curry with cauliflower rice, a homemade low carb wrap, store bought low carb tortillas or low carb Joseph's Pitas or Lavash bread (found online or at Walmart).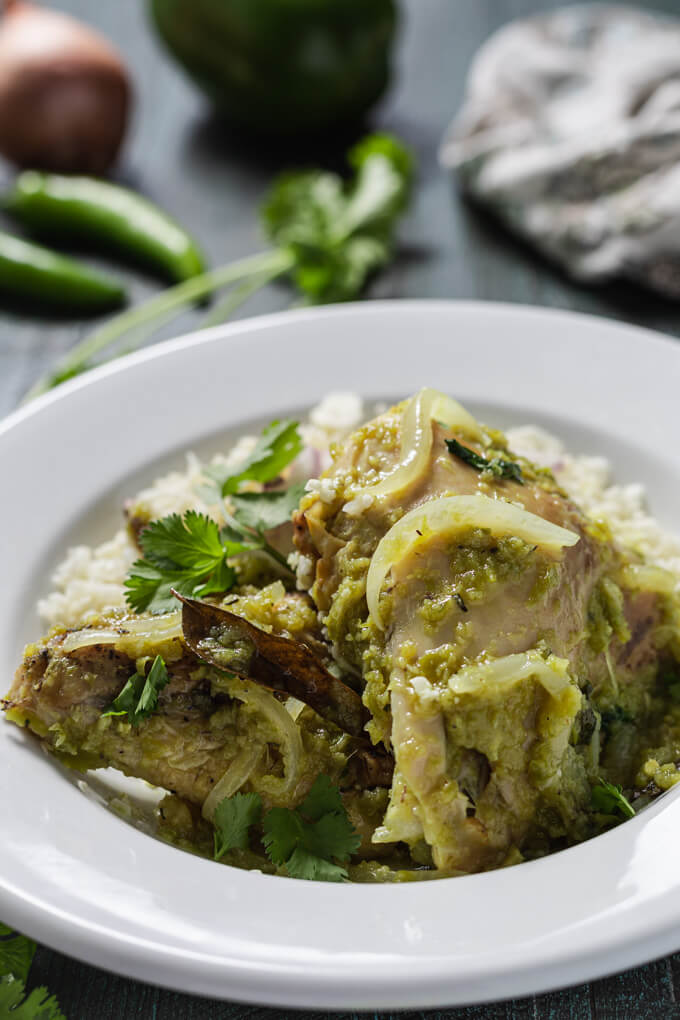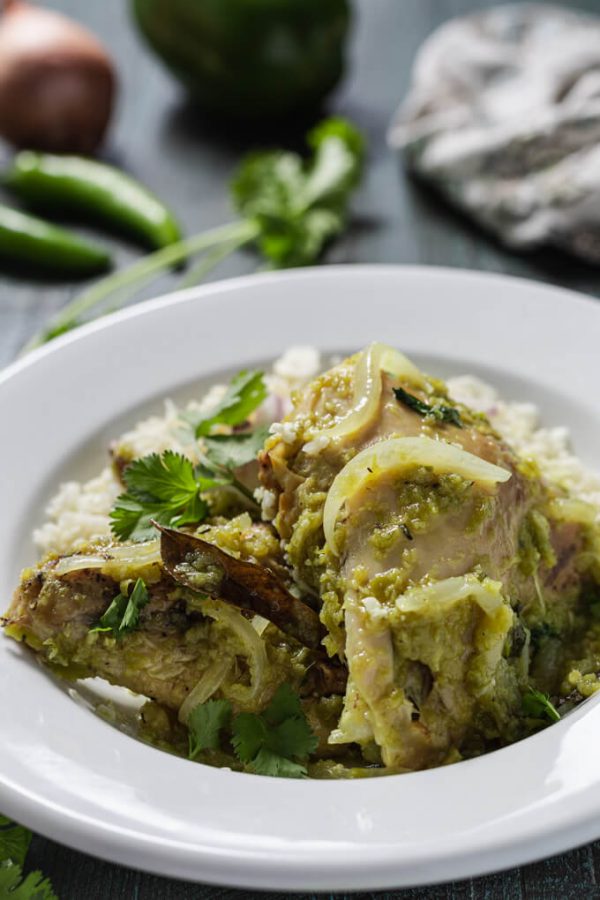 Three Ways to Make Indian Chicken Curry
As I've mentioned, this is an authentic chicken curry recipe sent to my by Asha who lives in Southern India. This is considered a capsicum curry because its foundation is peppers. It's also a drier curry because it doesn't have a lot of sauce. But don't worry, the sauce is very flavorful!
Although Asha intends this curry to be made with a whole cut up chicken, it's equally delicious made with cubed chicken breast or thighs. To get a traditional look and faster cook time, try cutting up a rotisserie chicken and warming it in the curry as it cooks. I did this to good effect with my Bangalore Chicken Curry recipe.
STEP ONE: Cut the chicken – Here are three options sure to fit your lifestyle…
Traditional Method: Cut-up a whole raw chicken, portioning into 6-8 pieces. This YouTube video from FudeHouse will show you how. Set aside and continue with the recipe. Alternately, use 6-8 skinless, bone-in chicken thighs.
Rotisserie Chicken: Portion the rotisserie chicken into 6-8 pieces. The video linked above will help. It's easier to portion the chicken when it is warm rather than cold. Save the juices to use in the recipe. Set the chicken aside and continue.
Boneless Chicken breasts or thighs: Cut the chicken into 3/4 – 1 inch cubes. Set aside and continue with the recipe.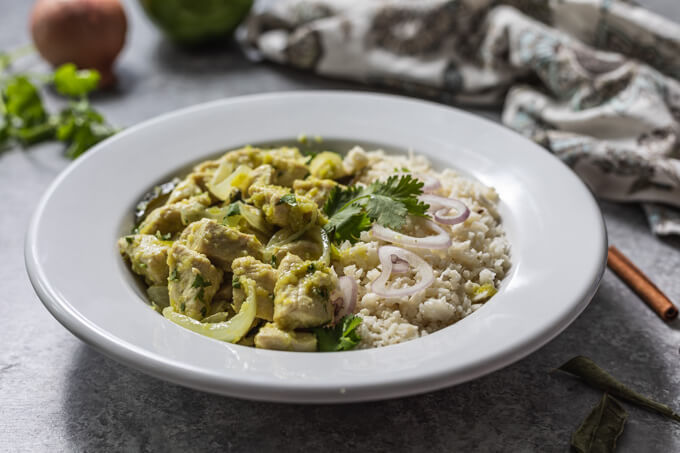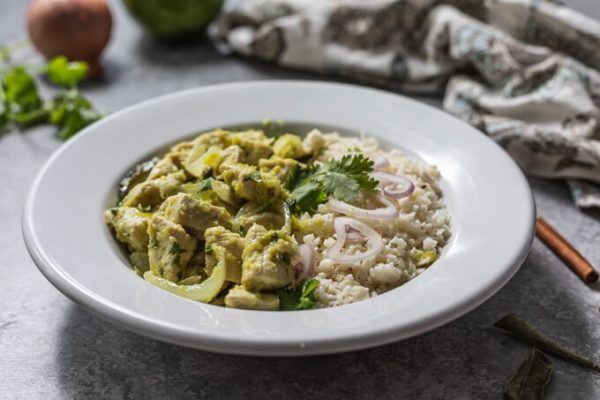 STEP TWO: Cut the vegetables – Slice the vegetables and place those for the curry paste into small food processor with the aromatics. Blend into a paste. If using a blender, you may need to use a little water to get it going or cut your pieces a little smaller.
STEP THREE: Cook- Heat a 10-inch frying pan over medium heat. As it warms, add the ghee (or oil), curry leaves (optional) and cinnamon stick, frying until fragrant. If you do not have fresh curry leaves or a cinnamon stick, skip this step.
Add the onion and sauté until translucent. Stir in the chili paste and cook until the raw smell subsides. Add a pinch of cinnamon, the turmeric, the chicken, chicken base and water. Cover and simmer for 20 minutes. If the sauce is thin, cook uncovered until thickened and the oil begins to separate from the curry.
Stir in the cilantro and serve with buttered rice, cauliflower rice, or flatbread.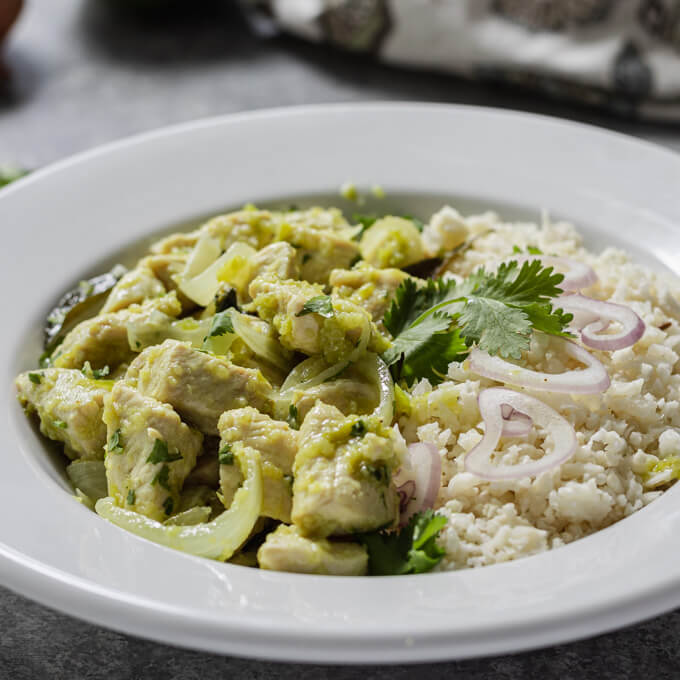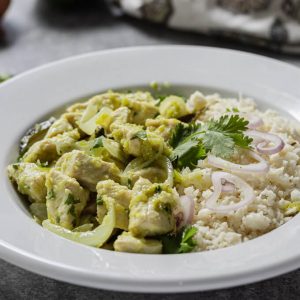 Keto Curry – Easy Indian Chicken Curry
A healthy and easy Indian chicken curry made with green chilies (capsicum), onions, garlic, ginger, and cilantro. Fresh ingredients cook in 30 minutes.
Print
Pin
Rate
Ingredients
1 1/4

pound

boneless skinless chicken breast, cubed

(or chicken thighs – see post for more options)

2

tbsp

olive oil

(divided use)

1/2

cup

onion, sliced into half rounds

(2 oz)

1/2

cup

water

(4 oz)

1

tsp

chicken base

1/4

tsp

salt

1/4

tsp

turmeric

2

tbsp

ghee

(or butter)

1/4

cup

cilantro leaves, chopped
Masala
2

medium

serrano peppers, chopped

1

medium

green bell pepper, chopped

3/4

inch

piece ginger, peeled and chopped

1

large

clove garlic, chopped
Instructions
NOTE:
Asha's original recipe calls for frying 8 fresh curry leaves and a 1-inch piece of cinnamon stick in oil before adding the onions. This is a traditional step in Indian cooking. Fresh curry leaves are hard to find in the U.S. Although I show dried curry leaves in my photos, they do not release the same characteristic flavor and aroma as fresh. Cinnamon sticks can be pricy, so I found that adding a small pinch of ground cinnamon produces a similar result. Because her recipe calls for cooking a whole cut chicken in the curry, I added chicken base to increase flavor and increased the amount of oil from 2 teaspoons to 4 tablespoons. This is more in line with a keto diet.
Preparation:
Cut chicken into 3/4 – 1 inch cubes and set aside.

Slice the onion into half or quarter rounds.

Slit serrano chilies in half lengthwise and remove pithy vein and seeds. If you prefer more heat, leave the veins. Slice the sides and bottom off of the green bell pepper and give it a rough chop. Peel and chop the garlic and ginger. (The thin skin of ginger is easily removed by scraping with a spoon or a small paring knife.)

Place the masala ingredients into a small food processor or a blender and grind to a paste. Add a little water to get it going in the blender.
Procedure:
Heat 1 tablespoon of oil over medium heat and saute onions until translucent. Add the masala paste to the pan and cook until it mellows and doesn't smell raw any longer. Stir in the turmeric, pinch of cinnamon, remaining oil, chicken base and 1/2 cup of water.

Add the chicken and stir. Cover and cook over low heat for 15 minutes or until the chicken is cooked all the way through. Uncover and raise the heat until the water evaporates and the sauce thickens. At this point, the oil will separate slightly from the sauce – look at the edges of the pan. It's ready.

Turn off the heat and stir in the ghee and cilantro. Serve over cauliflower rice. Serves 4 at 5.5 net carbs per serving.
Nutrition
Calories:
352
kcal
|
Carbohydrates:
5.7
g
|
Protein:
29
g
|
Fat:
24.5
g
|
Cholesterol:
100
mg
|
Sodium:
797
mg
|
Fiber:
1.2
g
|
Sugar:
2.8
g