A rich south Indian egg masala recipe perfect for a cold winter day, serve this keto egg curry over cauliflower rice to keep carbs to a minimum. Bursting with tomatoes, onions, and chiles, this low carb curry brings big warming flavors that keep your tastebuds satisfied.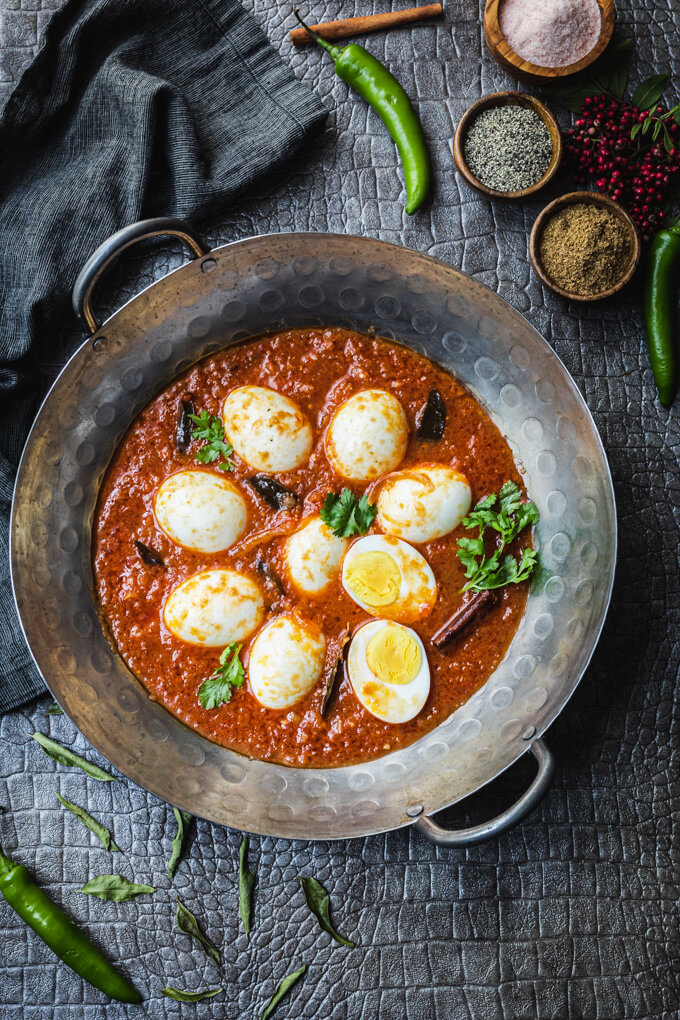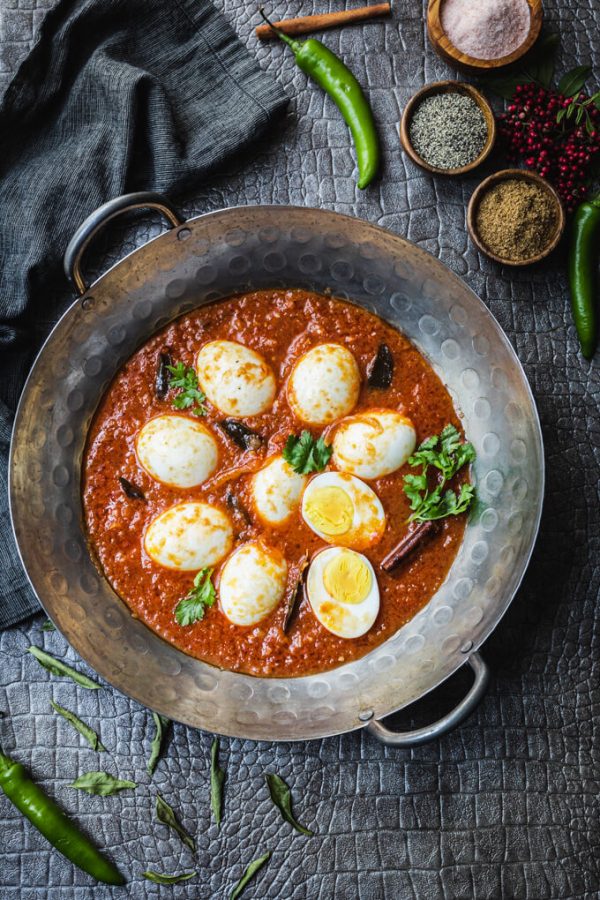 THIS POST INCLUDES AFFILIATE LINKS TO SHARE THE THINGS I LOVE.
I get bored with my typical low carb breakfast of eggs. Sometimes I crave bold, exciting comfort food flavors. And though I want my food to feel comforting and hearty, I need it to be low carb — and delicious!
This egg masala tics all those boxes for me. When Ashha sent me this recipe from southern India, I knew it would be the perfect dish to tantalize my taste buds.
Egg Masala, Who Knew?
First, what is masala. A masala is a blend of dried spices or a combination of dried spices and other ingredients or aromatics ground into a paste. Masala is used to flavor and spice Indian dishes.
When I think of masala dishes, my mind jumps to chicken curry or tikka masala, but I would have never thought of egg curry masala. Egg curry is a popular Indian dish and in southern India, and they like it spicy!
Ashha's original recipe was quite spicy, but absolutely amazing with its big, bold flavors. I reduced the amount of heat in the dish and made some adjustments to make these curry eggs keto friendly. You can make the recipe as hot as you like, but since I have kids, I prepare it mild.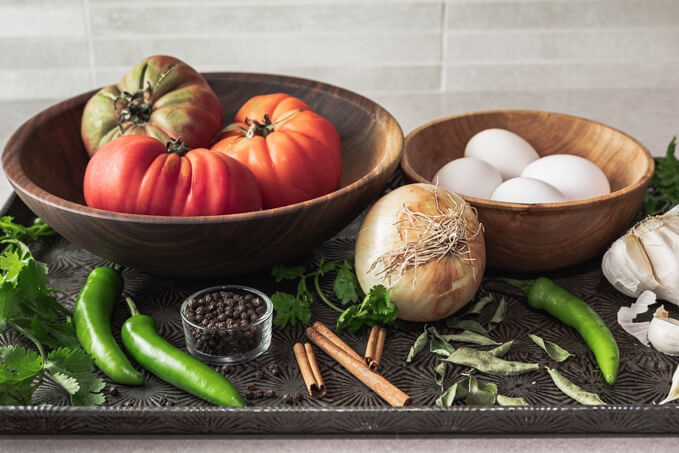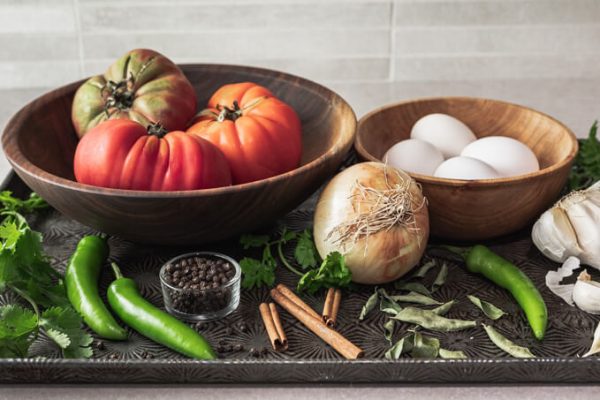 Making Egg Masala Keto Friendly
Since the original recipe was high in carbs, reducing the amounts of onion and garlic brings it to keto carb levels. Adding tomato produces a nice rich curry with knock out flavor. Served over a cup of cauliflower rice, it's perfect for my low carb lifestyle.
For ideas about how to make any curry low carb, see my post on Indian Chicken Curry.
Keto Vegetarians Unite!
Keto vegetarians often express frustration in trying to get in enough protein while maintaining their vegetarian lifestyle. Keto vegetarians spend more time planning and searching for recipes that fit their specific way of eating. It can be hard.
This egg curry masala is easy to customize. With over 11 grams of protein per serving it's a viable and satisfying option for keto vegetarians everywhere. To add even more protein to this vegetarian keto egg curry, add firm tofu or paneer, a creamy Indian cheese.
NOTE: To keep this egg masala recipe vegetarian, be sure to use vegetable broth or stock instead of chicken stock.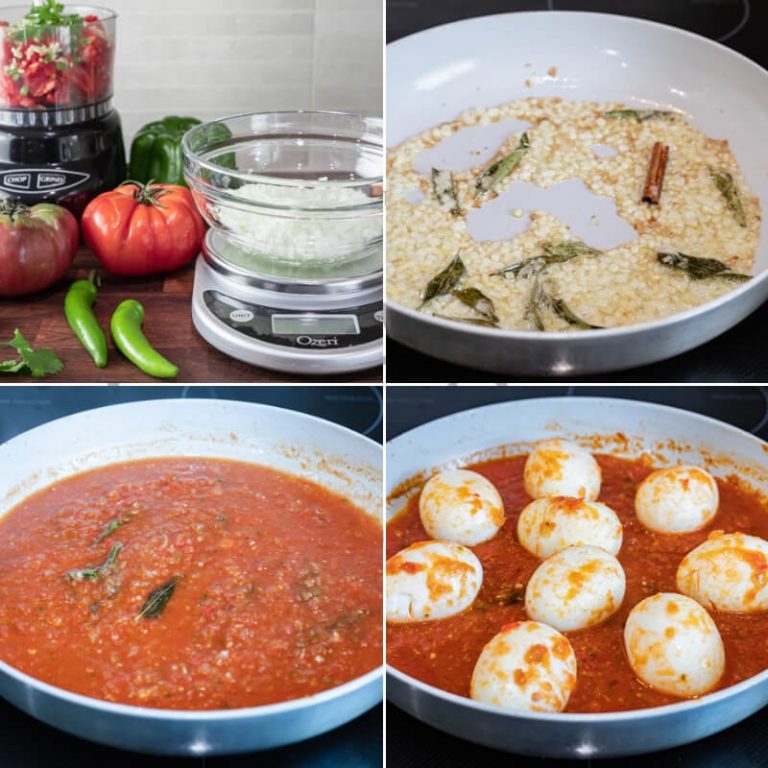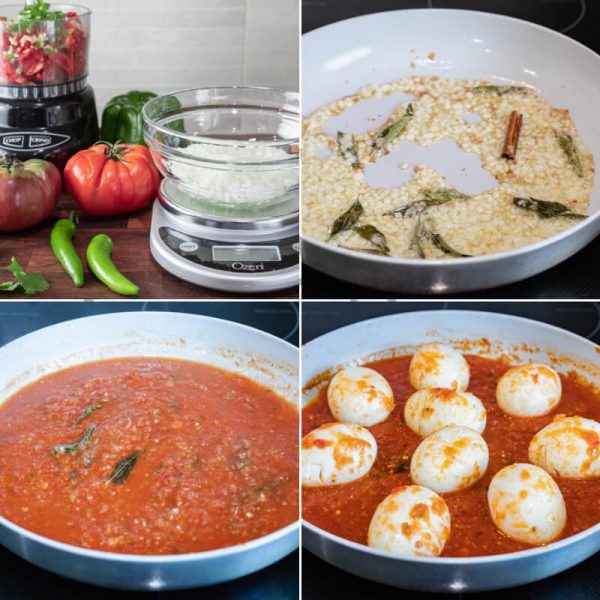 Run to Make This Tasty Keto Egg Curry Recipe
Many people may find Indian curry recipes intimidating, but egg curry is easier than you might think! The recipe starts with peeled, medium to hard boiled eggs. Cook the eggs just before making the curry or use leftover hard boiled eggs. Once your eggs are ready, move on to the curry.
How to make egg masala (egg curry)
Seed and chop the tomatoes.
Process the masala ingredients into a paste.
Flavor the oil or ghee with a cinnamon stick and fresh curry leaves (optional).
Brown the onions.
Add masala to the pan and cook until it mellows in fragrance.
Add tomatoes and water, cooking until thickened.
Heat the eggs in the curry and serve.
If you are into spices and curries like me, consider this Indian Spices Starter Kit to get you started. This Indian Spice Box will keep all your newly purchased spices neat and organized. I bought one for myself as a birthday gift!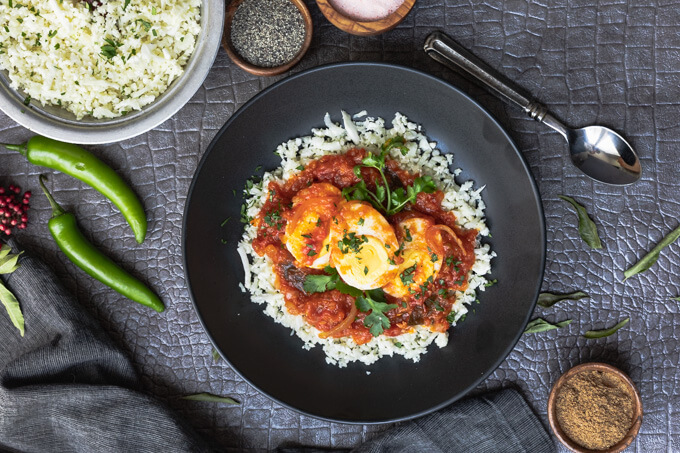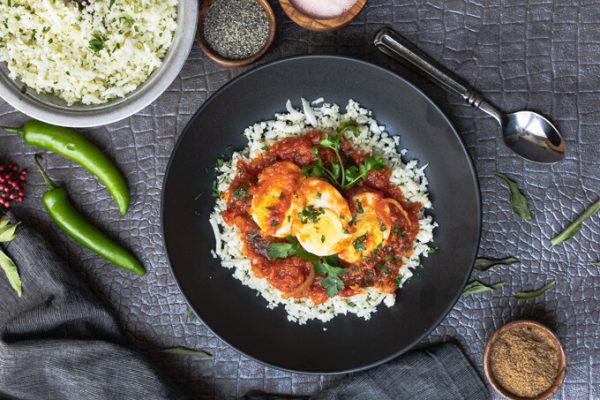 What to Serve with Egg Curry
Egg masala is traditionally served over rice, but to keep carbs low I serve with cauliflower rice. Sometimes, I flavor the cauliflower rice with cilantro and other times I add a little shredded coconut.
Some people like to serve Indian curry dishes with chapati or paratha. Try serving this keto chapati from Show Me the Curry!, low carb tortillas or even low carb Joseph's pita.
For a another great egg recipe with bold Indian flavors try this recipe for pan poached eggs with Indian roasted vegetables.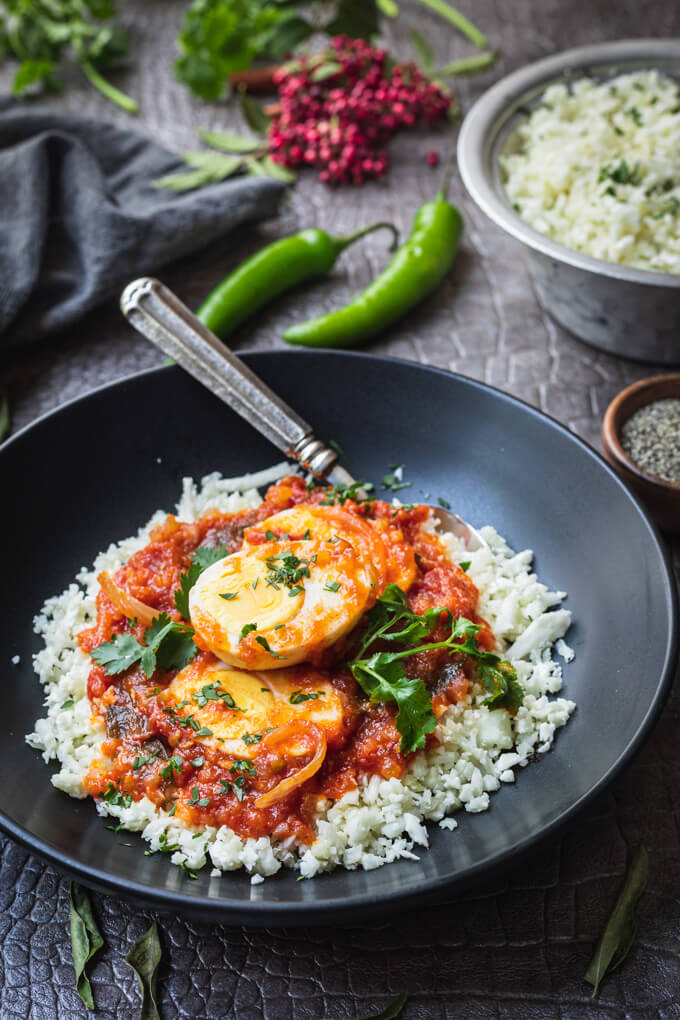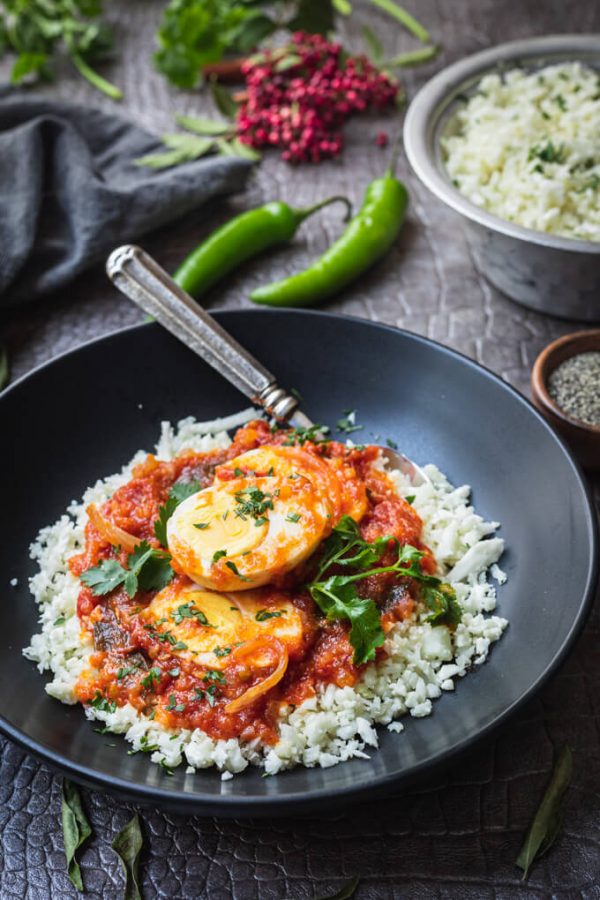 Egg Curry – TLDR
Indian egg curry is unlike other ethnic egg based recipes, like shakshuka or eggs in purgatory, where cracked eggs cook in a flavorful tomato based sauce. Instead, this recipe uses pre-cooked, shelled boiled eggs.
This egg masala is a great way to use leftover hard boiled eggs and add a little variety to my meals. The eggs simmer in a spicy tomato curry gravy flavored with onions, garlic, and warm spices. Serve with cauliflower rice or low carb flat bread.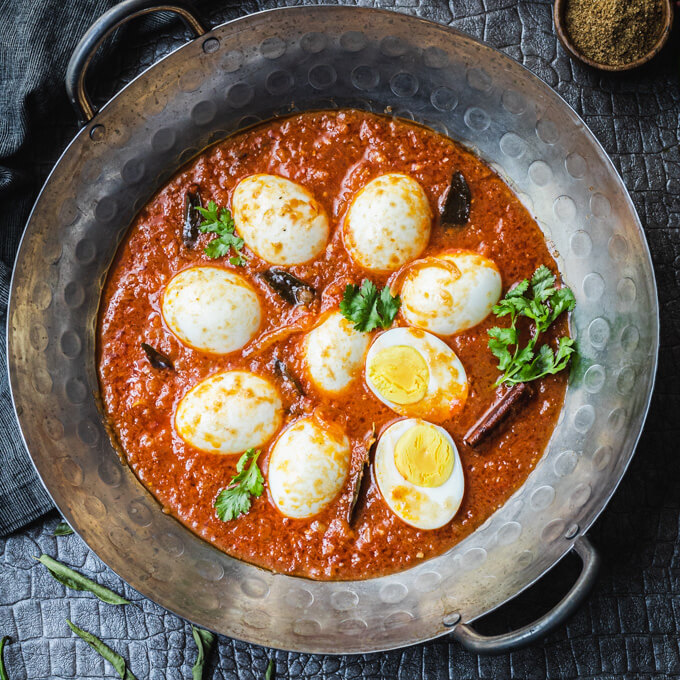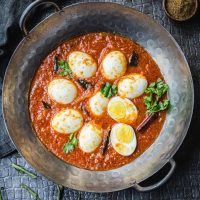 Egg Masala (Indian Egg Curry Recipe)
Bursting with tomatoes, onions, garlic, and chiles, this rich south Indian egg masala recipe (egg curry) is perfect comfort food. Low carb and keto recipe.
Print
Pin
Rate
Ingredients
6

large

hard boiled eggs, peeled

1

pound

tomatoes, seeded and chopped

3/4

cup

chopped onions

(3 oz)

4

tbsp

olive oil or ghee, divided

1

inch

piece of cinnamon

(or a pinch of ground)

7-8

fresh curry leaves

(optional)

1/2

cup

water
Masala
1

serrano pepper, seeded and chopped

2

cloves

garlic, roughly chopped

1

tbsp

tomato paste

1

tsp

chicken base

(or vegetable base)

1

sprig

cilantro

3/4

tsp

coriander powder

(more for garnish)
Instructions
NOTE:
Asha's original recipe calls for several spicy green peppers and mentions tomatoes as an option. She also lists 3 onions (one to fry and two to make into a paste) and 5 cloves of garlic. While they use smaller onions in India, I reduced the amount of onions and garlic
and added tomatoes. She uses a mortar and pestle to make a paste of onion, garlic, green chilies, a fresh coriander sprig and coriander powder (a wet masala). Add this masala to the browned onions and heat until the raw smell subsides before adding the water. Her traditional recipe does not include chicken/vegetable base or tomato paste. I found that tomato paste helped thicken the sauce and the chicken base rounded-out the flavors. She uses 2 teaspoons of oil. I added more oil/ghee to align macros to a ketogenic diet.
Preparation:
To seed the tomatoes, cut the tomatoes in half crosswise and squeeze them over the garbage to remove the gel and seeds.

Grind the masala ingredients to a paste using a small food processor or a mortar and pestle. (Alternately, add all of the masala ingredients and the tomatoes to the bowl of a food processor. Puree until smooth.) If using ground cinnamon, add it here. Add water if needed to help the process along.
Method:
Heat a 10-12 inch frying pan over medium heat. Add 1 tablespoon oil/ghee, then fry the cinnamon and curry leaves until fragrant. Add the onions and brown but don't burn.

Add the masala and saute until the raw smell cooks out, then add the tomatoes (alternately, pour the pureed tomato mixture into the pan) and ½ cup of water. Simmer until it begins to thicken. Pour in the remaining oil/ghee and season with salt and pepper to taste.

Add the hard boiled eggs and simmer until heated through. Add the eggs whole, or sliced in half, it's up to you. Garnish with fresh cilantro leaves.

Traditionally served with chapati or ghee rice. I serve with cauliflower rice. Look for a keto chapati recipe in the post.

Serves 4 people at 6.9 net carbs per serving.
Nutrition
Calories:
268
kcal
|
Carbohydrates:
8.7
g
|
Protein:
11
g
|
Fat:
21.8
g
|
Cholesterol:
352
mg
|
Sodium:
351
mg
|
Fiber:
1.8
g
|
Sugar:
4.7
g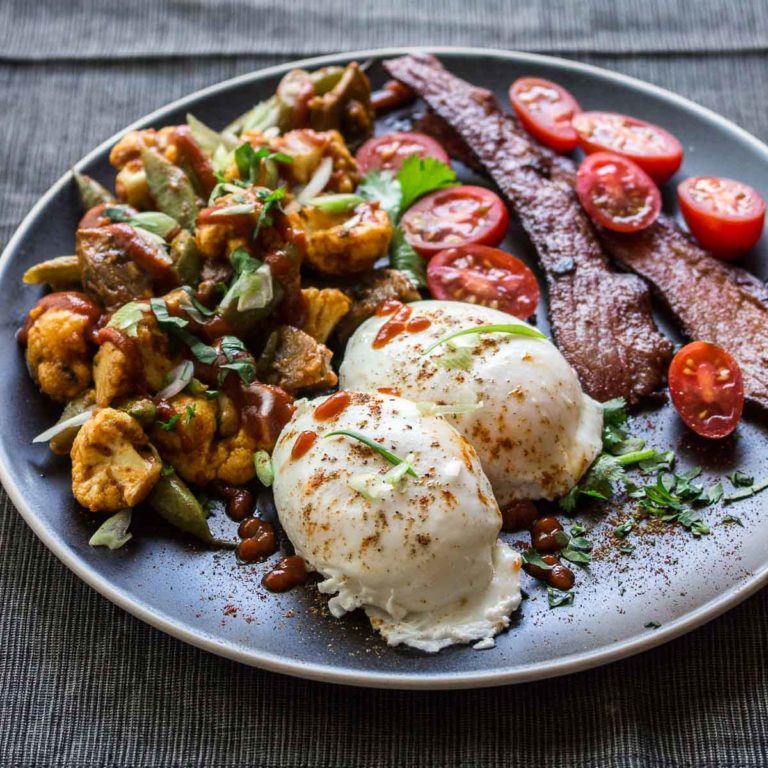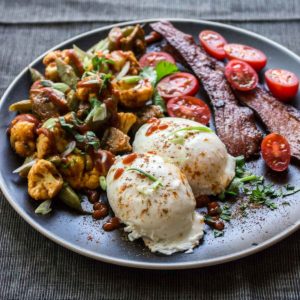 Pan Poached Eggs and Indian Roasted Vegetables