A keto chili recipe which is second to none… it's thick, rich and completely soul satisfying. When the weather starts to turn cold, heat up your kitchen with this low carb, bean free chili recipe.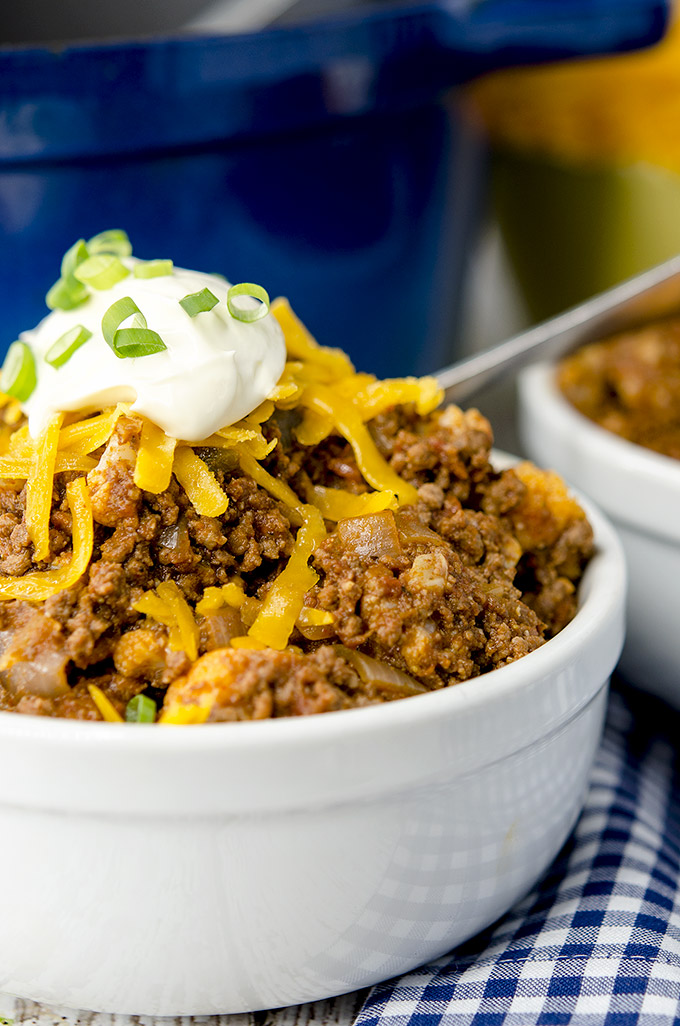 THIS POST INCLUDES AFFILIATE LINKS TO SHARE THE THINGS I LOVE.
A Keto Chili Recipe To Share
Ready to have your kitchen smell like it's delivering a slice of chili heaven? Oh, this keto chili recipe is just so good.
It's simple to make your dinner table look like it just jumped out of the pages of any food magazine… overflowing, richly flavored chili bowls lightly layered with shredded cheddar, a dollop of sour cream and a sprinkle of green onion. Mmm…can you almost taste it? I'm ready for another bowl as I'm writing this!
As I first served this low carb chili recipe to my family, I watched their eyes get bigger as I placed each bowl carefully on the table. It's hard not to grab a spoon and dive right in.
The first bit of feedback I'll never forget, "this could win a chili competition." And the second, "you can make this whenever you want… it's so good!"
Since then, I've shared this recipe with friends and nobody can believe that it is a keto, low carb chili. Everyone loves it and I've never heard a peep about no beans.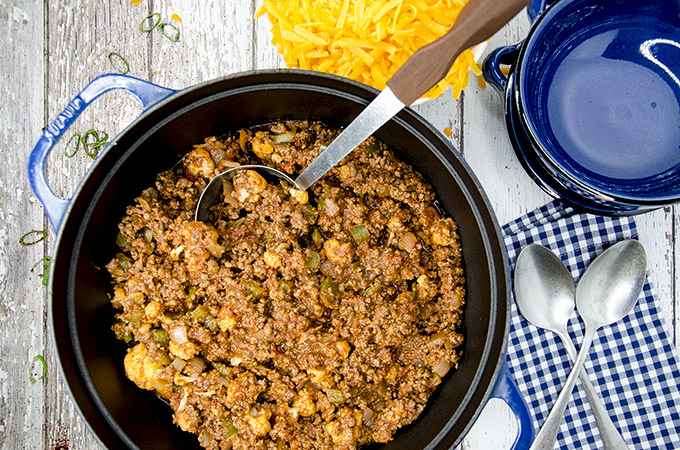 Why make this keto chili recipe
Over the last two years, I've cooked so many different keto chili recipes… and left the table feeling unfulfilled. Here's why:
Too oily. The oil is from cooking the beef, which is hard to skim! I found many times that dark orange oil pooling on top of my bowl of chili. Yuck.
Too thin. I'm not sure why so many keto chili recipes are just meat, some tomatoes and cheese. If you're like me, then you need a thick chili to satisfy the itch.
Lacking chili flavor. Whether it's a keto chili or not, a good chili recipe needs to have that authentic chili flavor. Otherwise it's just a beef ragout!
I worked hard to figure out how to overcome all these issues with this low carb chili recipe and it all comes from one ingredient: cauliflower.
For this recipe, the cauliflower is going to add that thickness which in a standard chili would be provided by the beans. Additionally, the cauliflower magically absorbs all those delicious beef fats… resulting in a delightful depth of flavor which otherwise is hard to achieve.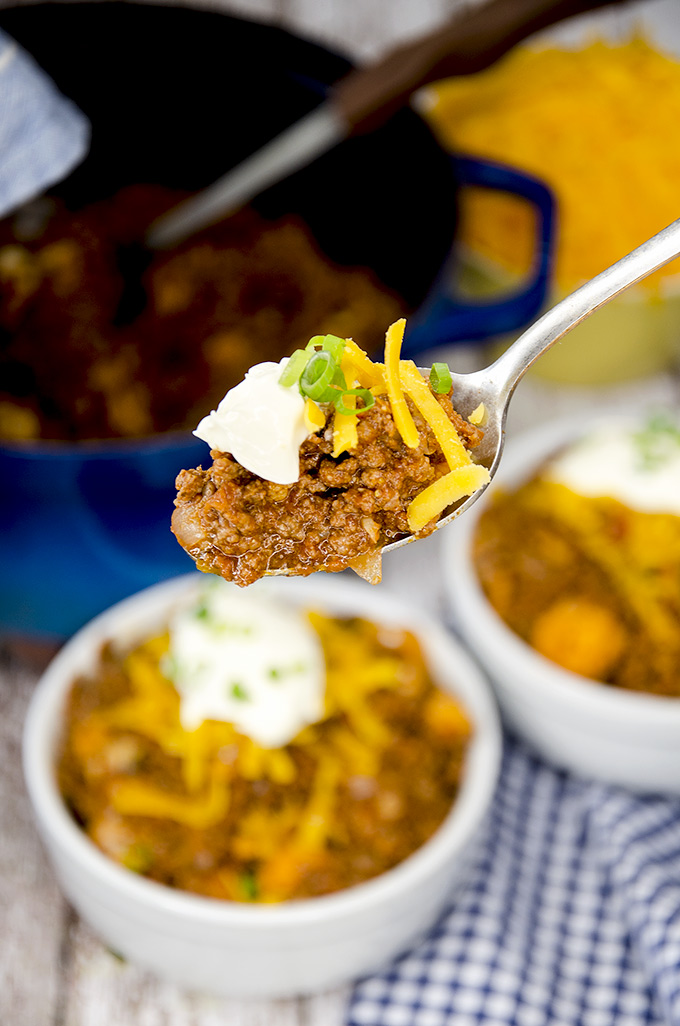 What to serve with Keto Chili
If I were to make a complete Keto Chili Party Night (doesn't that sound like fun?), I would start off with Kim's Low Carb Buffalo Chicken Dip as a starter. It's a delightful low carb appetizer which is easy to make and tastes like Buffalo chicken wings.
Next, I would whip up a batch of this Cheesy Low Carb Cornbread. It's got the taste and texture of a true Southern cornbread without any corn! Who knew, right?
If you're looking for something a little different to serve with keto chili, take a look at this Ultimate Iceberg Wedge Salad. It's surprising just how well blue cheese and chili pair with one another… and the crispness of the lettuce adds a nice dimension to the meal.
For dessert, maybe go a little lighter after a heavy meal with these awesome Low Carb Peanut Butter Balls. After you whip up a batch of these, simply place them on the counter and watch as they disappear.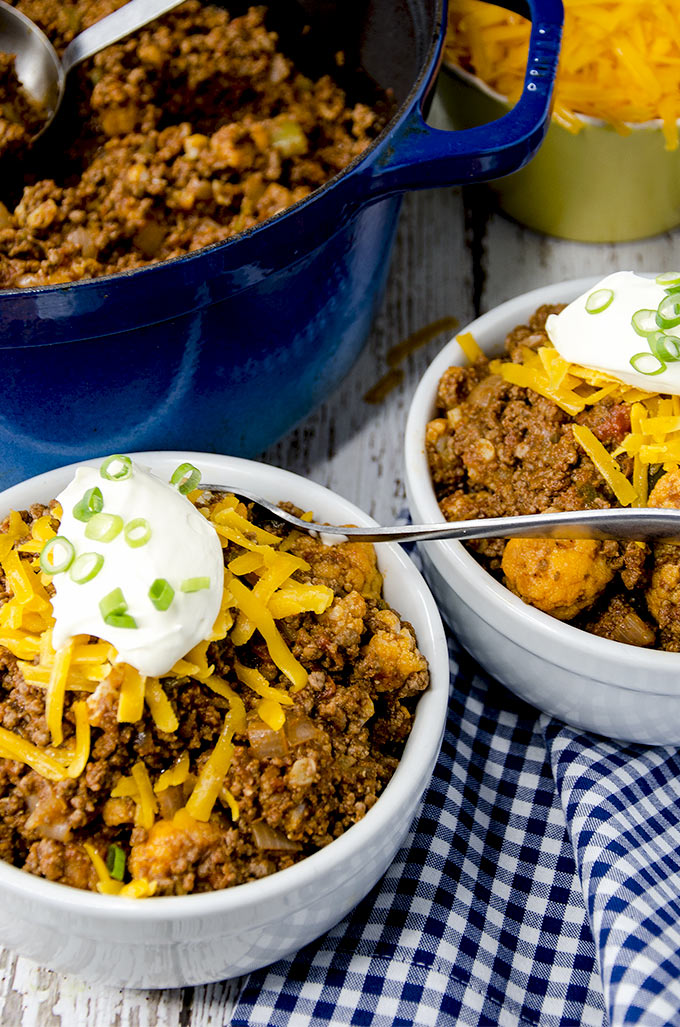 How to make Keto Chili
Making keto chili is really quite easy. Just follow these simple steps:
Step 1: Gather up all the ingredients for your keto chili. Please use a heavy bottom pot large enough to hold everything!
Step 2: Heat the pot over high heat and add in 2 tablespoons of olive oil. When the oil shimmers, add in the ground beef. Please do not add in salt yet as it will release too much water into the pan and cause the beef to steam rather than brown.
Step 3: After the beef has begun to brown, add 1/2 of the salt, the onion and the green pepper. Continue to stir until the onions begin to turn translucent.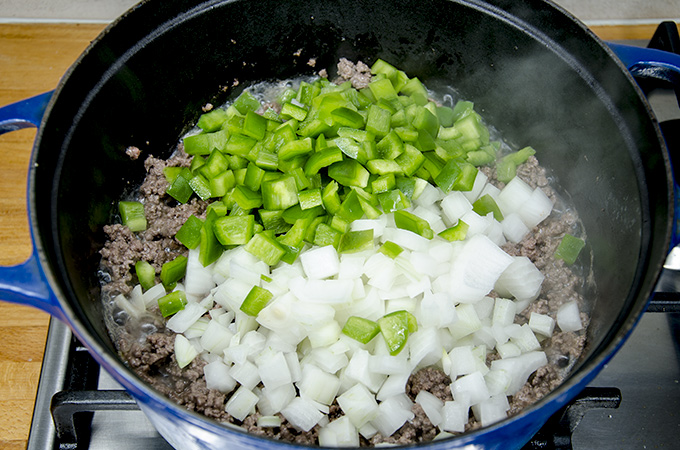 Step 4: Add in the tomato paste and canned tomatoes. Be sure to check the tomatoes for stray skins and to remove any bits of hard stem. Add the tomatoes whole as they will break up nicely while stirring.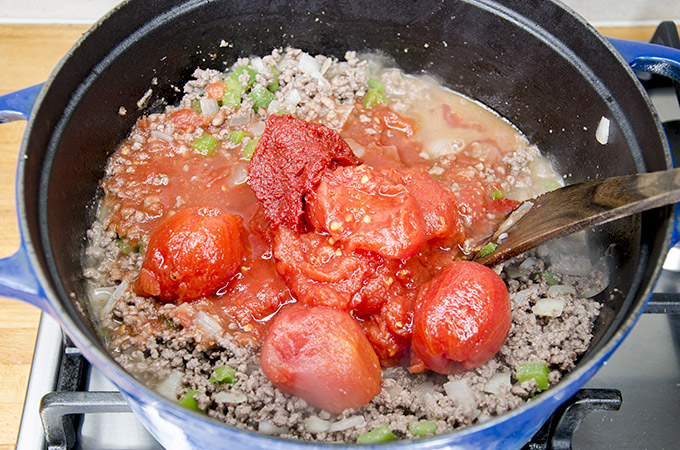 Step 5: Add in the seasonings (including the other 1/2 of the salt) and mix well. Reduce the heat to a simmer.
Step 6: Add in the cauliflower florets. Cook at a simmer for about 20 minutes or until the cauliflower has cooked through.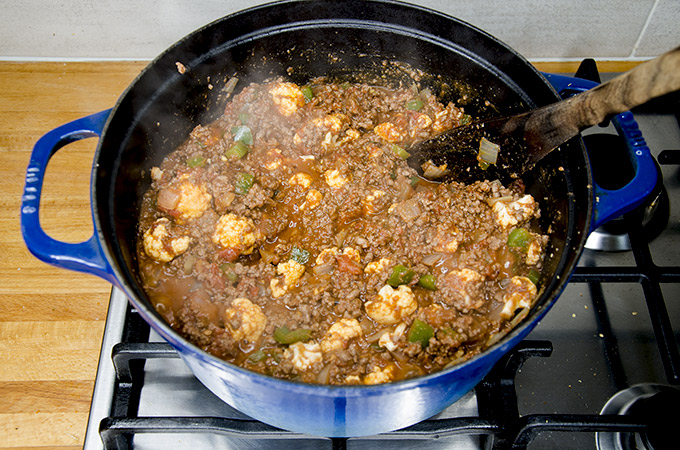 Serve with shredded cheddar cheese, a dollop of full fat sour cream and either some chopped green onion or cilantro.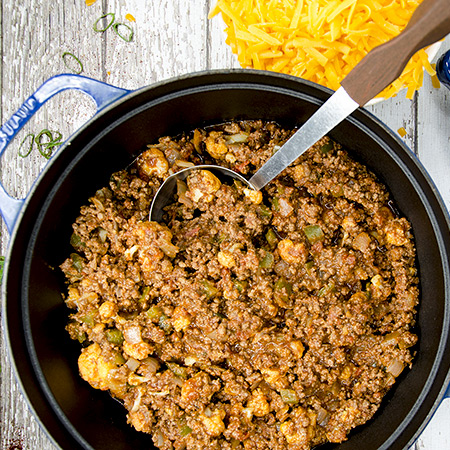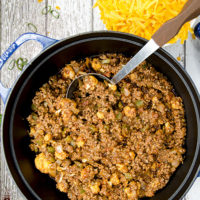 Keto Chili
A rich, delicious keto chili perfect to warm you up on any cool evening. It's thick and is packed full of delightful chili flavor. Fits any keto, low carb or gluten free lifestyle too!
Print
Pin
Rate
Ingredients
Ingredients for Keto Chili
2

lbs

Ground Beef

10% fat or less

2

tbsp

Olive Oil

1

White Onion

Diced (approx 1.5 cup)

3/4

Green Pepper

Seeded and diced (approx 1 cup)

2

tbsp

Tomato Paste

1

can

Whole Peeled Roma Tomatoes

28 oz

1

tbsp

Chili Powder

1

tsp

Ground Cumin

1

tsp

Granulated Garlic

2

tsp

Dried Oregano

1

tsp

Cocoa Powder

3

cups

Cauliflower Florets

1

tsp

Kosher Salt
Instructions
Preheat a heavy bottom pot large enough to fit all the ingredients over high heat.

Add the olive oil. When the oil begins to shimmer, add in the ground beef.

Brown the ground beef for 5-7 minutes. Add in 1/2 tsp of salt. Stir and break up any large pieces.

Add in the diced onion and green pepper. Cook for 5-7 minutes or until the onion begins to turn translucent.

Add in the tomato paste and canned tomatoes, including the juice from the can. Please remove any stray tomato skins and hard stem pieces before adding the tomatoes to the keto chili.

Add in the seasonings (including the remaining 1/2 tsp of salt) and mix well. Allow to come back up to a simmer.

Reduce the heat to low and add in the cauliflower florets. Mix well and continue stirring occasionally until the cauliflower is cooked through (approximately 20 minutes).

Serve hot with shredded cheese, a dollop of sour cream and sliced green onions for a keto chili to remember!

Net CARBS per serving is 6g without toppings.
Notes
Here are a couple variations I've made and love:
More heat: add in jalapeno with the pepper and onions. 
Less green pepper flavor: look for Padron Peppers. Slice them (seeds and all) and use in the place of the green pepper. Delightful.
IMPORTANT NOTES:
If you use 80/20 beef there is no way the cauliflower will absorb all the fat. Normally I suggest that people use higher fat meats, but in this case look for something which is lower in fat. 
Please try not to use store bought tomato sauce in place of the tomato paste and whole tomatoes. Typically store bought sauces have sugars added to them and other flavorings, which can be very overpowering.
Chili powder comes in MANY different varieties and mixtures. This recipe uses a store bought chili powder.
Nutrition
Serving:
1
cup
|
Calories:
193
kcal
|
Carbohydrates:
9.7
g
|
Protein:
24.3
g
|
Fat:
6.7
g
|
Cholesterol:
60.3
mg
|
Sodium:
373
mg
|
Fiber:
3.7
g
|
Sugar:
4.8
g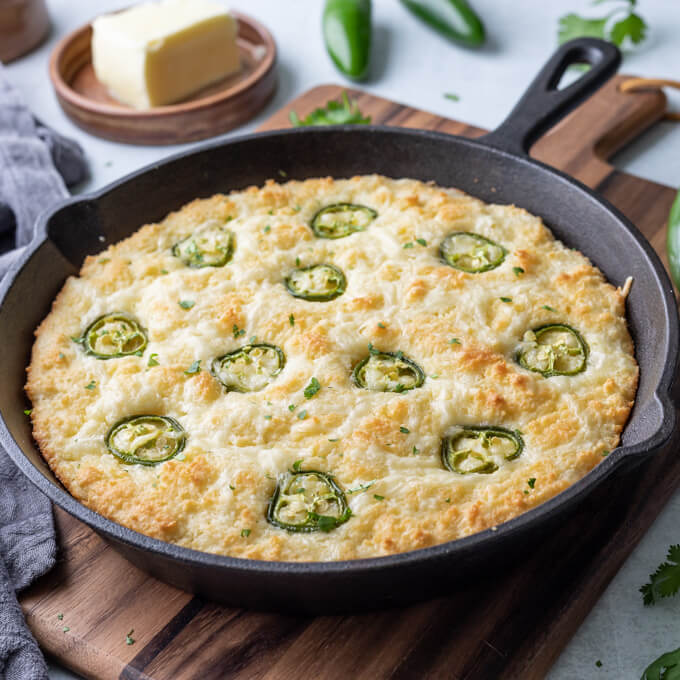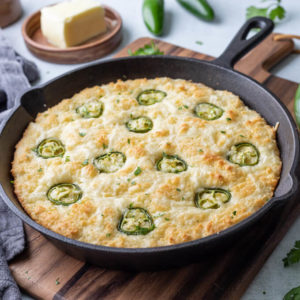 Cheesy Low Carb Keto Cornbread with Jalapenos