Stay on track with an Easy Chorizo Chili recipe in a skillet that only takes minutes to put together. Because it's made with homemade chorizo, I know it's made with wholesome ingredients. This quick weeknight meal is suitable for those following a low carb, gluten-free, dairy-free, Paleo, Keto or THM lifestyle.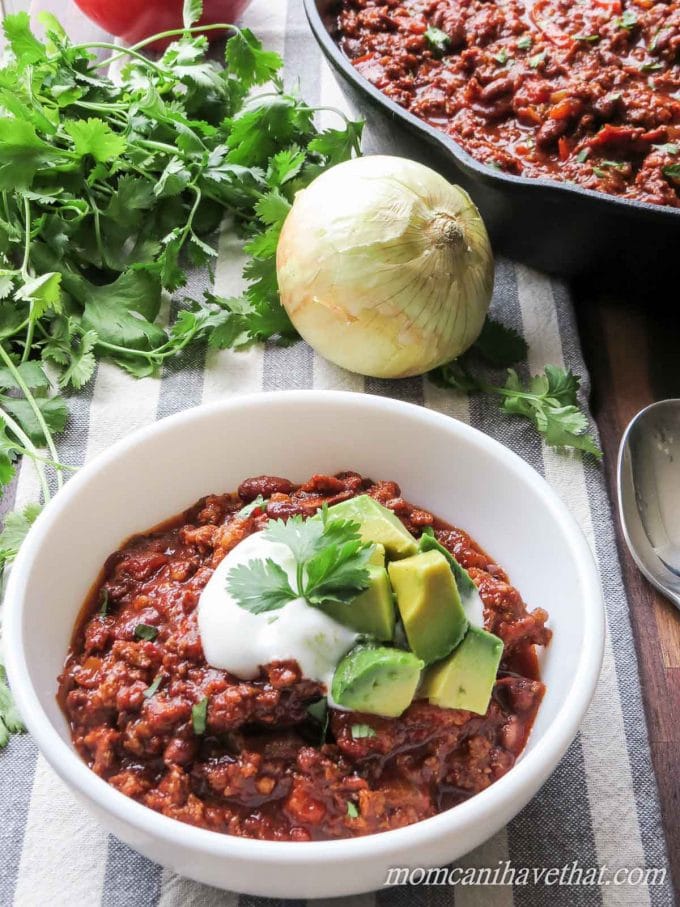 Are you a chili lover? I am. I love chili with beans and I love chili with out beans. I love spicy chili and mild. Turkey chili is awesome and so is chili made with cubed or ground beef. I'll share my mom's recipe for chili one day, but it is so spicy that I will have to play around with the recipe just a tiny bit. The hubs and I don't mind spicy, but I never serve spicy food to the kids. Did you know that there is even a white chili? I can honestly say I have never tried one, but I'd like to…
I'd never had an all chorizo chili either, until I created this, and I'm glad I did because it is great!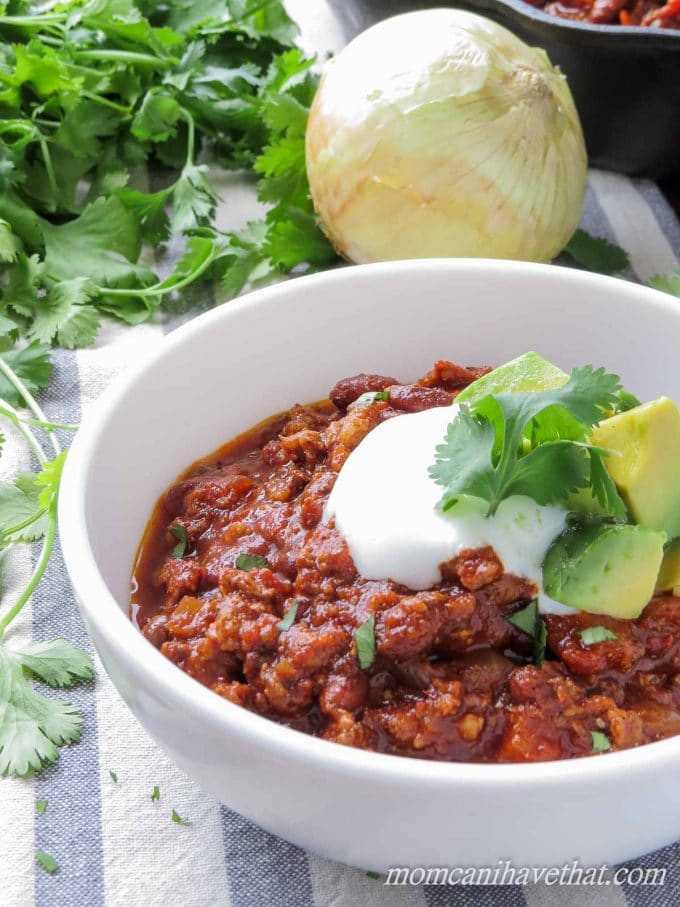 It's a current trend to cook and photograph almost anything and everything in a skillet.  So, I'm happy to say that this meal is on-trend! (If you know me, then you will know how silly this is, as I am embarrassingly not au courant.) But honestly, this is actually how I make a quick and dirty chili during the week — in a skillet, except I generally use ground beef or ground turkey.
The beauty of any skillet meal is that it all happens in one pan, so clean-up is easy. And, I think we can all agree that easy during the week is a WIN!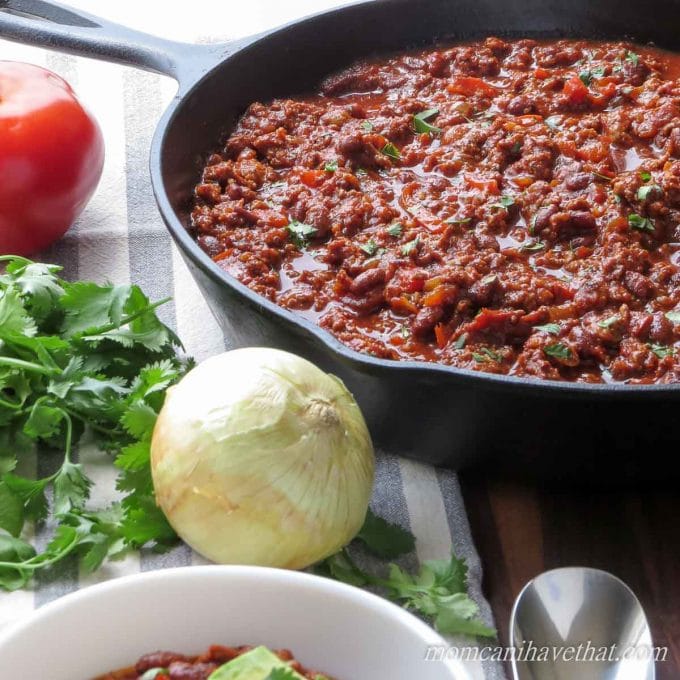 Because I used was was homemade chorizo, I know that it is gluten-free, sugar-free and free of any weird stuff. You never know what you're getting from the grocery store and I know that those of you with food allergies need to be extra careful. Normally, I would use green bell pepper in a chili recipe, but honestly, I didn't have one. The flavor did not suffer, and to be honest, I prefer red over green anyway. If you don't feel like making your own chorizo (it's super easy – don't be intimidated by the ingredient list) I am sure that store bought would be fine, but it may be more spicy.
You may notice two ingredients below that are not usually in chili. Adding a little bit of cocoa and instant coffee lends a smokey flavor and a nice depth to any chili.
This easy Low Carb Chorizo Chili In A Skillet is 8 net carbs per serving. 
Are you a chili lover, too? What do you think – beans or no beans?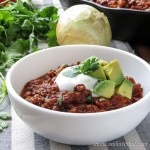 Easy Low Carb Chorizo Chili Recipe In A Skillet
This easy chorizo skillet chili only takes minutes to put together. Because it's made with homemade chorizo, I know it's made with wholesome ingredients.
Ingredients
2

pounds

homemade chorizo

or store bought

1

tablespoon

oil

4

ounces

bell pepper

chopped, about 1 medium

4

ounces

onion

chopped, 1/2 of 1 medium

28

ounces

crushed tomatoes

3

cups

beef/chicken broth

or more as needed during simmering

1 1/2

teaspoons

pure ground chilies

1

teaspoon

cumin

1

teaspoon

granulated garlic

1/2

teaspoon

cocoa powder

1/2

teaspoon

instant coffee

15

oz

can black soy beans

drained (optional)**

***note
Instructions
Over a medium-high flame, heat the oil in a large skillet and brown the chorizo. Lower the heat to medium, push the chorizo to the sides of the skillet and add the chopped onion and bell pepper, sauteing until the onions are almost translucent. Mix the chorizo and vegetables together and add the granulated garlic, chile powder and cumin to the pan, cooking just a minute to become aromatic.

Add the crushed tomatoes, broth, cocoa and instant coffee. If you don't have any instant coffee, trade 1 cup of broth for 1 cup of coffee. Stir and bring up to a simmer.

Drain the black soy beans and add to the chili, simmering for about 20 minutes. Add more broth as needed to your desired consistency.

Taste and adjust seasonings per your taste. Mine did not need salt.
Recipe Notes
***I used Fresh Homemade Chorizo in this recipe. Using another kind of chorizo will result in a different flavor as it will have differing amounts of herbs and spices. You will have to adjust the seasonings to your taste.

**Here is the nutritional facts if not using the black soy beans:
Cal: 296, Fat: 20, Carbs: 10, Fiber: 2, Protein: 20, Net Carbs: 8
Nutrition Facts
Easy Low Carb Chorizo Chili Recipe In A Skillet
Amount Per Serving
Calories 335
Calories from Fat 198
% Daily Value*
Total Fat 22g 34%
Total Carbohydrates 12g 4%
Protein 24g 48%
* Percent Daily Values are based on a 2000 calorie diet.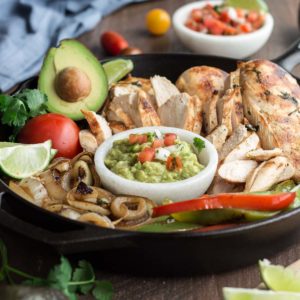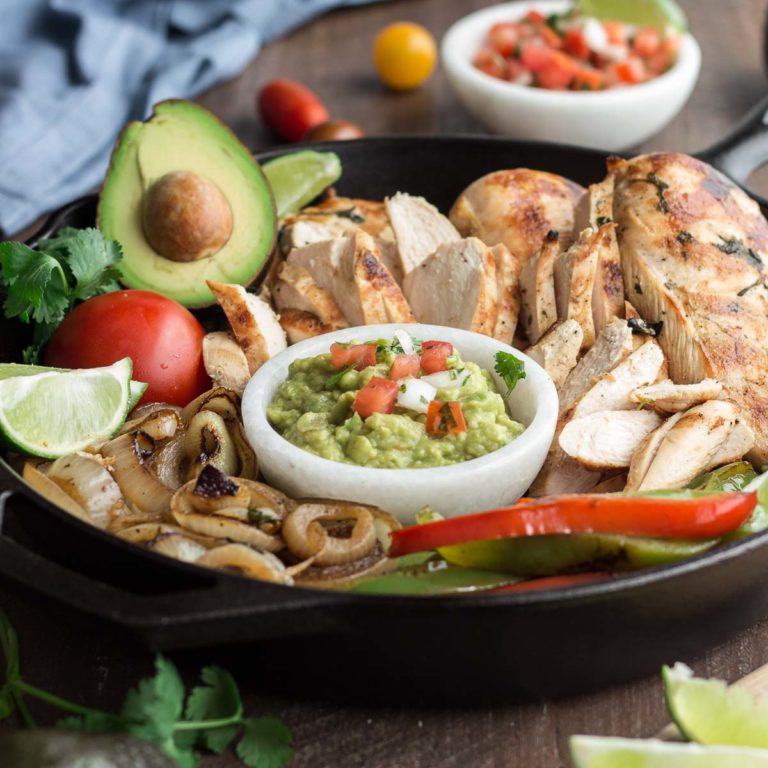 Authentic Chicken Fajitas Recipe with Texas Chicken Fajita Marinade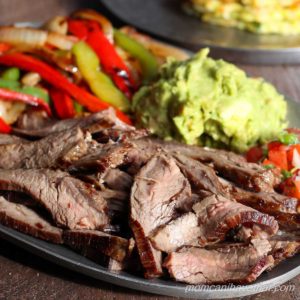 Authentic Beef Fajitas with Texas Beef Fajita Marinade