This easy recipe for low carb Chocolate Chip Scones doesn't require any fancy equipment — just a fork and a large spoon. They are as good as any scone at Starbucks and sugar free!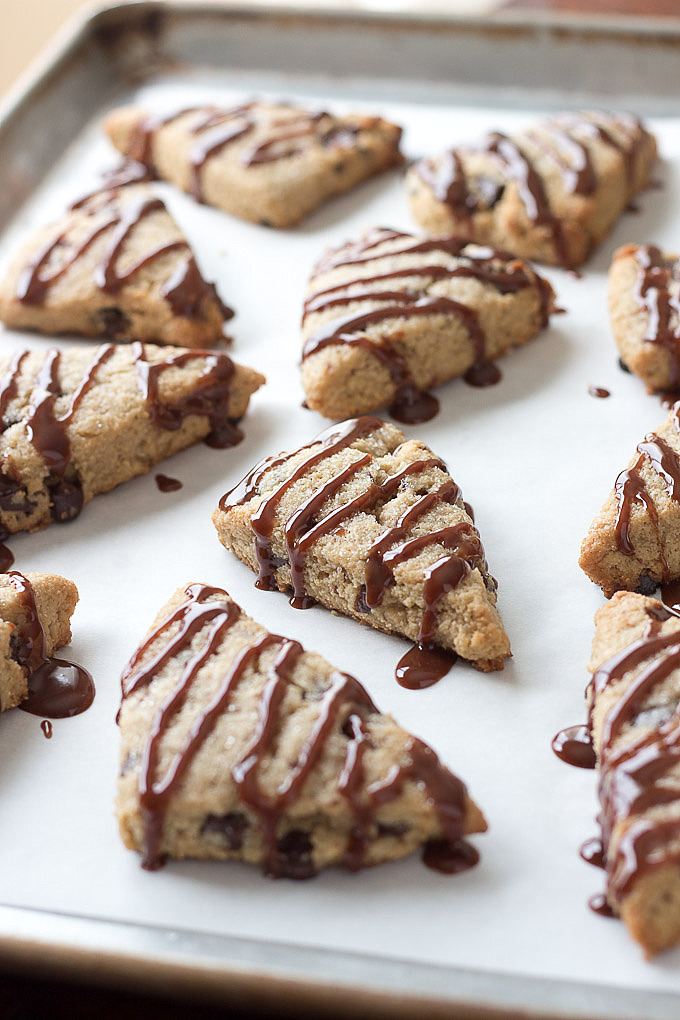 I used to frequent Starbucks several times a week when I worked as a Sign Language Interpreter in San Diego. I always ordered a venti cappuccino with sugar-free hazelnut syrup and sometimes the maple oat nut scone. That scone was my favorite thing in the whole world! Well, imagine my surprise… biting into these wonderful low carb chocolate chip scones and realizing they tasted almost the same. They are just amazing!
How amazing? Well, they have a nice crispy exterior and moist interior — not a cake-like interior – no way! They are a little dense – in a good way, and have a warm comforting flavor which is just perfect for Fall.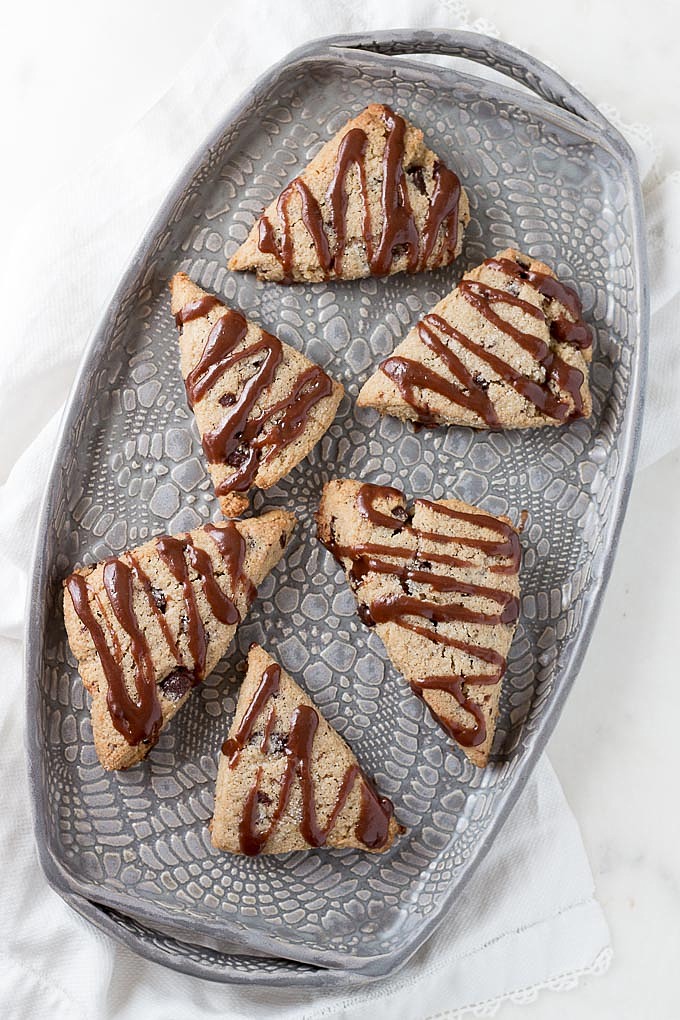 I've been making low carb almond flour scones for many years, now. I typically make them as a Sunday treat, but sometimes I wake up early in the morning and prepare them on a school day. It's always a nice surprise for my kids.
I've prepared scones many ways over the years, but I especially love them with chocolate chips. This time I chopped up a Sukrin Milk Chocolate bar instead of the usual dark chocolate. It did not disappoint! The chocolate is sweetened with erythritol and stevia so it sugar-free. It's also delicious.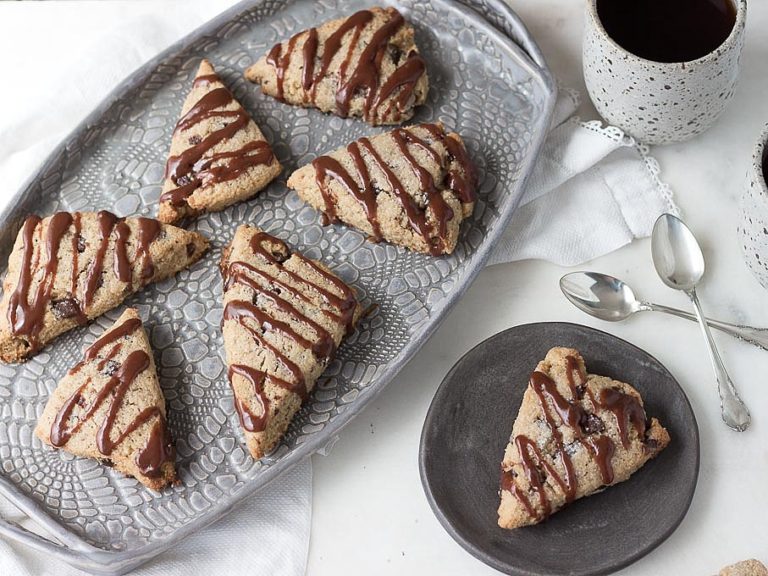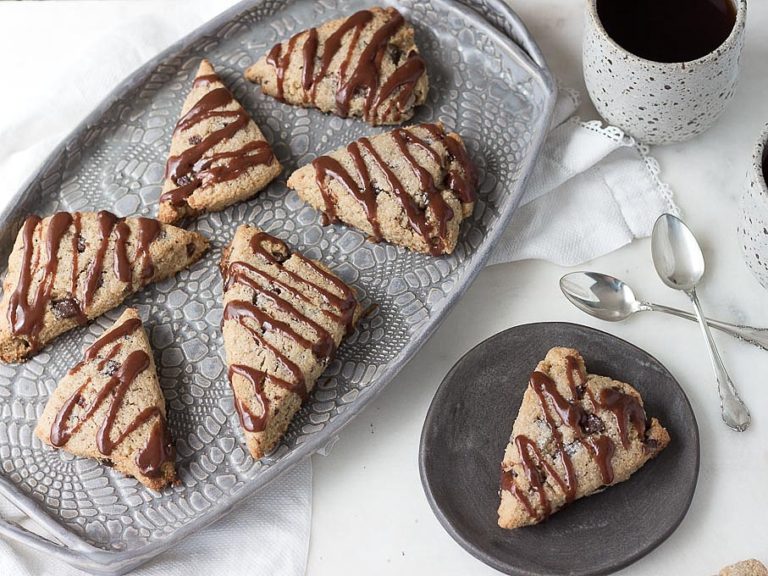 To introduce that warm brown sugar flavor we all love in chocolate chip cookies, I used the Sukrin Gold which is the best brown sugar substitute I've found to date. It tastes just like brown sugar and never dries out. If you don't have the Sukrin Gold, adding maple extract mimics the warmth and depth of flavor brown sugar provides. So, use more maple extract in the recipe.
These low carb scones have a nice crispy exterior and are between a biscuit and cookie in texture, but make sure not to over bake them. You don't want them to get too dry.
I bet your friends and family will never in a million years guess that these scones are gluten-free, sugar-free and ketogenic to boot. You'll fool 'em all with this tasty chocolate chip scone recipe.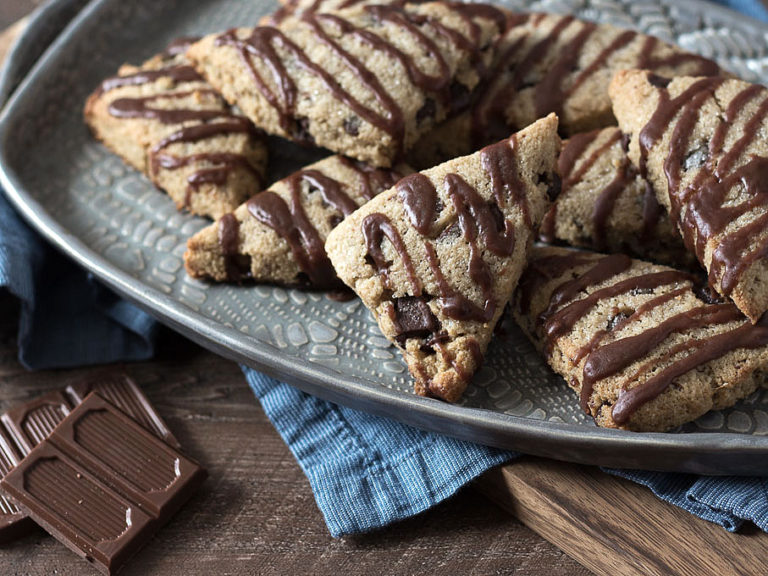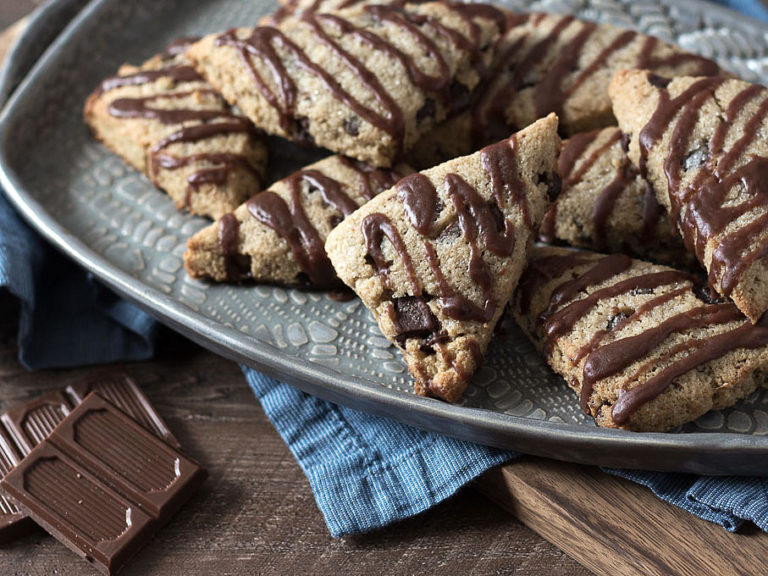 You'll be so happy you tried this tasty treats!
Just look at all of that chocolate goodness!
Make sure to try the Low Carb Maple Walnut Scones, too.
Each Chocolate Chip Scone is 3 net carbs.
[This post may contain affiliate links.]