This easy recipe for keto Chocolate Chip Scones doesn't require any fancy equipment — just a fork and a large spoon. They are as good as any scone at Starbucks and sugar free!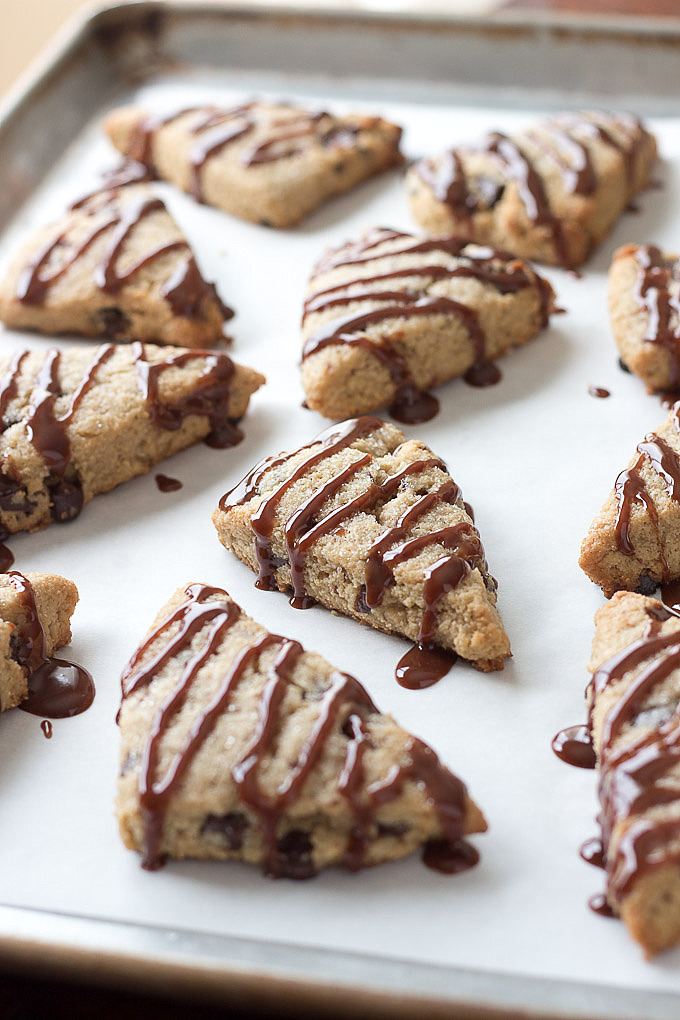 THIS POST INCLUDES AFFILIATE LINKS TO SHARE THE THINGS I LOVE.
I used to frequent Starbucks several times a week when I worked as a Sign Language Interpreter in San Diego. I always ordered a venti cappuccino with sugar-free hazelnut syrup and sometimes the maple oat nut scone. That scone was my favorite thing in the whole world! Well, imagine my surprise… biting into these wonderful low carb chocolate chip scones and realizing they tasted almost the same. They are just amazing!
How amazing? Well, they have a nice crispy exterior and moist interior — not a cake-like interior – no way! They are a little dense – in a good way, and have a warm comforting flavor which is just perfect for Fall.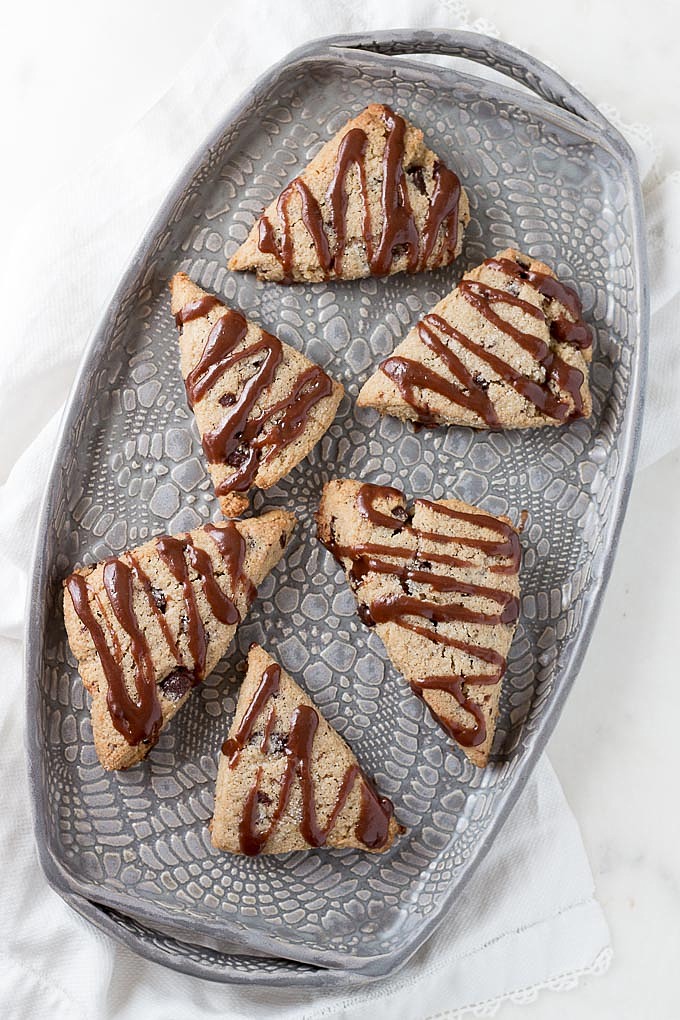 I've been making low carb almond flour scones for many years, now. I typically make them as a Sunday treat, but sometimes I wake up early in the morning and prepare them on a school day. It's always a nice surprise for my kids.
I've prepared scones many ways over the years, but I especially love them with chocolate chips. This time I chopped up a Sukrin Milk Chocolate bar instead of the usual dark chocolate. It did not disappoint! The chocolate is sweetened with erythritol and stevia so it sugar-free. It's also delicious.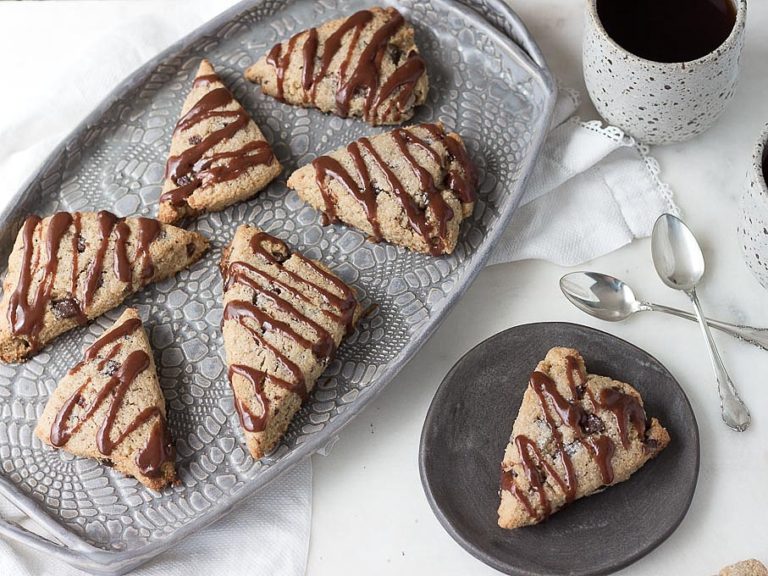 To introduce that warm brown sugar flavor we all love in chocolate chip cookies, I used the Sukrin Gold which is the best brown sugar substitute I've found to date. It tastes just like brown sugar and never dries out. If you don't have the Sukrin Gold, adding maple extract mimics the warmth and depth of flavor brown sugar provides. So, use more maple extract in the recipe.
These low carb scones have a nice crispy exterior and are between a biscuit and cookie in texture, but make sure not to over bake them. You don't want them to get too dry.
I bet your friends and family will never in a million years guess that these scones are gluten-free, sugar-free and ketogenic to boot. You'll fool 'em all with this tasty chocolate chip scone recipe.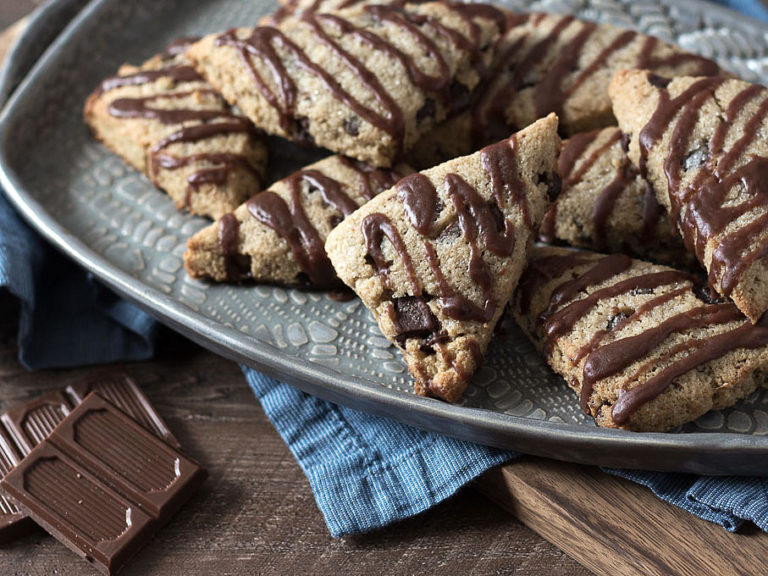 You'll be so happy you tried this tasty treats!
Just look at all of that chocolate goodness!
Make sure to try the Low Carb Maple Walnut Scones, too.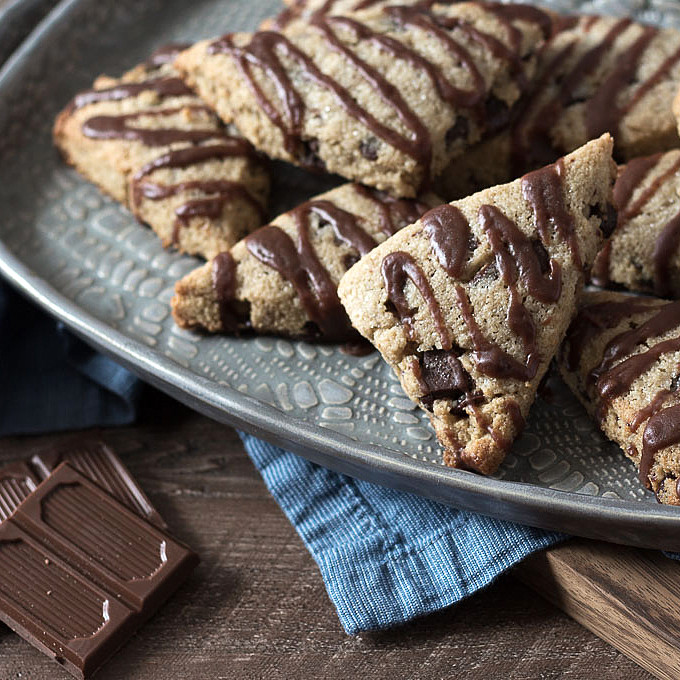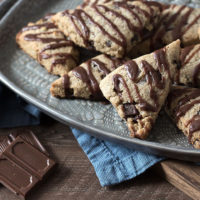 Keto Chocolate Chip Scones
This easy recipe for keto Chocolate Chip Scones doesn't require any fancy equipment — just a fork and a large spoon. They are as good as any scone at Starbucks and sugar free!
Print
Pin
Rate
Ingredients
Glaze
.75

oz

90% chocolate, finely chopped

(1/2 of Sukrin Milk Chocolate Bar)(20 g)

2

tsp

butter

1

tbsp

heavy cream
Instructions
Preparation
Preheat oven to 350 and place rack to middle position. Line a large sheet pan with parchment paper. Chop the chocolate.
Method
Add the dry ingredients (the first five ingredients) to a medium bowl and stir with a whisk to break up any lumps.

In a small microwaveable bowl, melt the butter (about 30 seconds). Add the eggs, vanilla extract, maple extract and stevia. Mix well with a fork.

Add the wet ingredients to the dry ingredients, and using a spoon or rubber spatula, thoroughly blend the ingredients together. Do not use a mixer!

Sprinkle a little almond flour over the prepared sheet pan. Pour/scrape the dough for the scones onto the middle of the parchment and sprinkle the surface with Sukrin:1, so your hands don't stick to the dough. Gently pat or roll the dough into a rectangle of ½ inch thickness. Cut into 12 pieces: first cut the rectangle lengthwise, then into 6 squares, then cut the squares into 2 triangles each.

Gently lift each piece with a spatula and place it in its own spot on the parchment. Bake for 15-18 minutes. Remove to a rack and cool completely.
Glaze
Put the butter, cream, and chocolate into a small microwaveable bowl. Microwave at 30 second intervals, stirring in-between, until the chocolate melts. Let the glaze cool slightly then drizzle it over the scones. Store in an airtight container in the refrigerator (or freeze) and gently heat before enjoying.

Makes 12 scones. Each scone is 3.2g net carbs.
Notes
*ALWAYS fluff up low carb nut flour with a whisk before measuring to break up lumps. Failing to do so will result in using more of the ingredient than the recipe intends resulting in a dry baked good. 
Nutrition
Calories:
275
kcal
|
Carbohydrates:
5.9
g
|
Protein:
6.5
g
|
Fat:
24.7
g
|
Cholesterol:
75
mg
|
Sodium:
89
mg
|
Fiber:
2.7
g
|
Sugar:
1
g