Enjoy homemade vanilla pudding like grandma used to make! This easy comfort-food recipe is sugar-free and perfect for any low carb and ketogenic diet.
It's been overcast the last few mornings; a bit of "June Gloom" in September delivering just enough cool respite to turn my thoughts to Fall. For those of us living in Southern California, often dubbed "paradise", the constancy of our weather never gives us pause.
We can count on clear blue skies almost every day (and where I live, daily temperatures in the 90's – 110's during late Summer and into Fall). So, it's the absence of blue skies that makes for an interesting morning – like this morning.
Because we basically live in the desert, we find our evenings deliciously cool with a night-time inversion that brings with it ocean breezes perfect for growing grapes and taking walks! It's this time of the year we take "family walks" after dinner. We just leave the dishes where they are and walk around the neighborhood and local park talking about school, commenting on our neighbor's landscapes, and greeting any folks we may encounter along the way — and perhaps catching a few Pokemon! It's always nice to come home to a simple dessert and what can be more simple then a homemade vanilla pudding?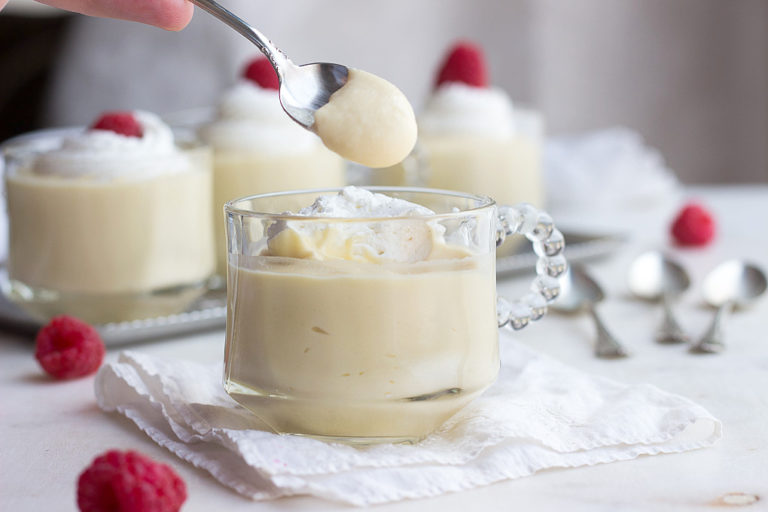 If you're like me, you like simple desserts. Don't get me wrong… I love fancy birthday cakes and delicious ice creams, but there's nothing more comforting than a nice homemade vanilla pudding.
My Nana used to make homemade pudding – this is well before the days of instant pudding and the craze of desserts based on boxed cakes, boxed pudding mixes, and Cool Whip. The women of my Grandmother's time made their pudding with cornstarch, milk, sugar, and eggs. They cooked it on the stove and always got it right. There's really nothing to it!
This low carb vanilla pudding recipe uses heavy cream and almond milk, eggs, gelatin, and a low carb sugar substitute to achieve it's creamy goodness. It takes about 15 minutes to make but needs several hours of chilling time. It's sugar-free but it's luxurious texture won't leave you wanting for more… It's a deliciously satisfying, comforting treat!
This creamy Low Carb Vanilla Pudding is net carbs per serving!
[This recipe may contain affiliate links.]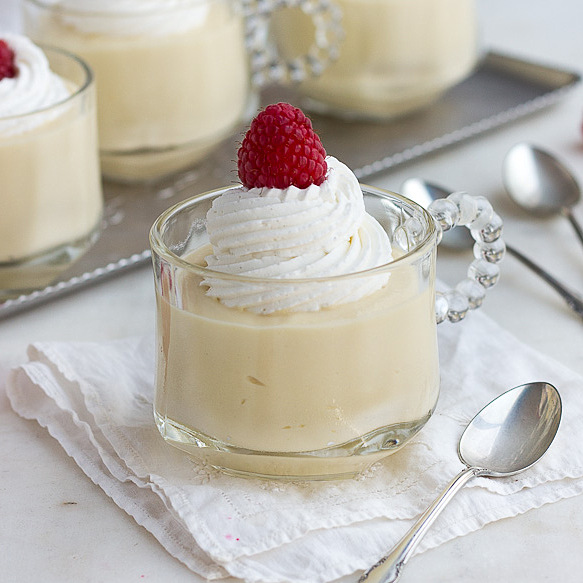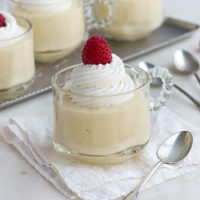 Low Carb Vanilla Pudding
Enjoy homemade vanilla pudding like grandma used to make! This easy comfort-food recipe is sugar-free and perfect for any low carb and ketogenic diet.
Print
Pin
Rate
Ingredients
Simmer
1

cup

heavy cream

1/2

cup

almond milk

Whisk Together

1/3

cup

low carb sugar

1

tablespoon

cornstarch

1

pinch salt

2

large eggs

3

large egg yolks
Add at the End
1

teaspoon

vanilla

1/4

teaspoon

stevia glycerite

2

tablespoons

butter

3/4

teaspoon

gelatin powder "bloomed" in 1 tablespoon water

A sieve that fits over a medium

heat proof bowl
Instructions
Bring the heavy cream and almond milk to a simmer in a small pot over medium heat.

Place the dry ingredients (erythritol, cornstarch, and salt) into a medium heat proof bowl and whisk together. Add the egg yolks and whisk. Whisk in the whole eggs. Ready the sieve near the bowl. Sprinkle the gelatin over the tablespoon of water.

When the cream is hot and bubbling around the side of the pot, slowly pour it into the egg mixture whisking continuously until fully incorporated. Pour the mixture back into the pot and place over medium low heat. (Once you become familiar with making pudding you can do it over medium heat, adjusting up and down as needed.)

Continuously whisk the mixture for the next 5 minutes, until it begins to thicken all-at-once. Turn the heat down a tad and continue to whisk for 1-2 minutes. The mixture should very slowly simmer if whisking is stopped. Remove from heat and whisk for 1 minute more. Place the sieve over the bowl and pour the pudding through the sieve to catch any bits of egg that may have cooked.

Whisk in the butter, vanilla, and stevia glycerite. Taste and adjust sweetness per your liking. Add the gelatin and whisk again until it's completely melted and incorporated.

Cover with plastic wrap by pushing it right down onto the surface of the pudding. Chill at least 8 hours. Before serving, whip the pudding with a hand mixer so it is lighter in texture. Serve.
Notes
Nutrition Facts
Low Carb Vanilla Pudding
Amount Per Serving
Calories 235
Calories from Fat 207
% Daily Value*
Fat 23g35%
Carbohydrates 3g1%
Protein 4g8%
* Percent Daily Values are based on a 2000 calorie diet.
Nutrition
Calories:
235
kcal
|
Carbohydrates:
3
g
|
Protein:
4
g
|
Fat:
23
g
Low Carb Chocolate Lasagna (keto)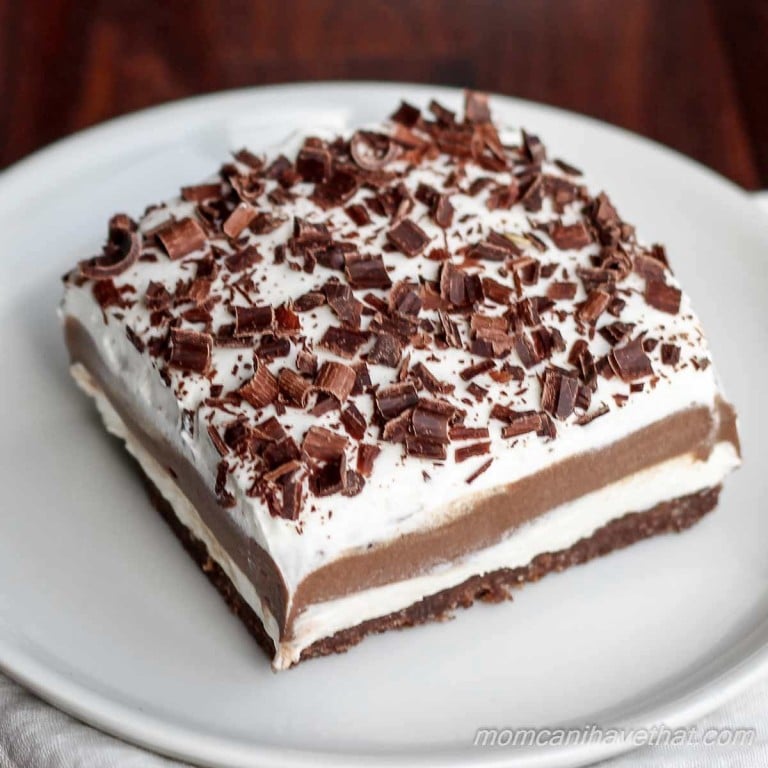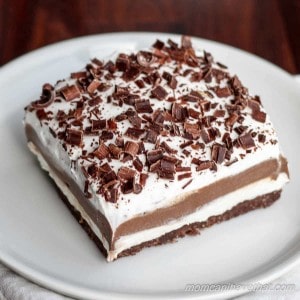 Coconut Cream Layered Dream (low carb, keto)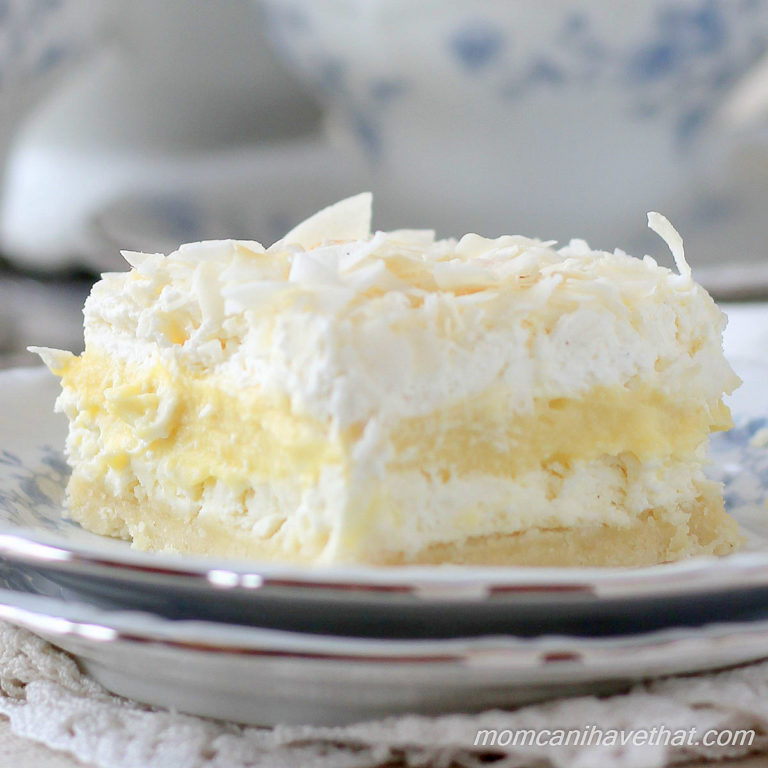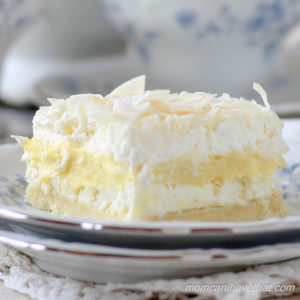 Peanut Butter Pie (low carb, Keto)