Chicken Thighs with Mushrooms and Tarragon Cream features golden chicken thighs in a white wine and cream sauce flavored with shallots and fresh tarragon.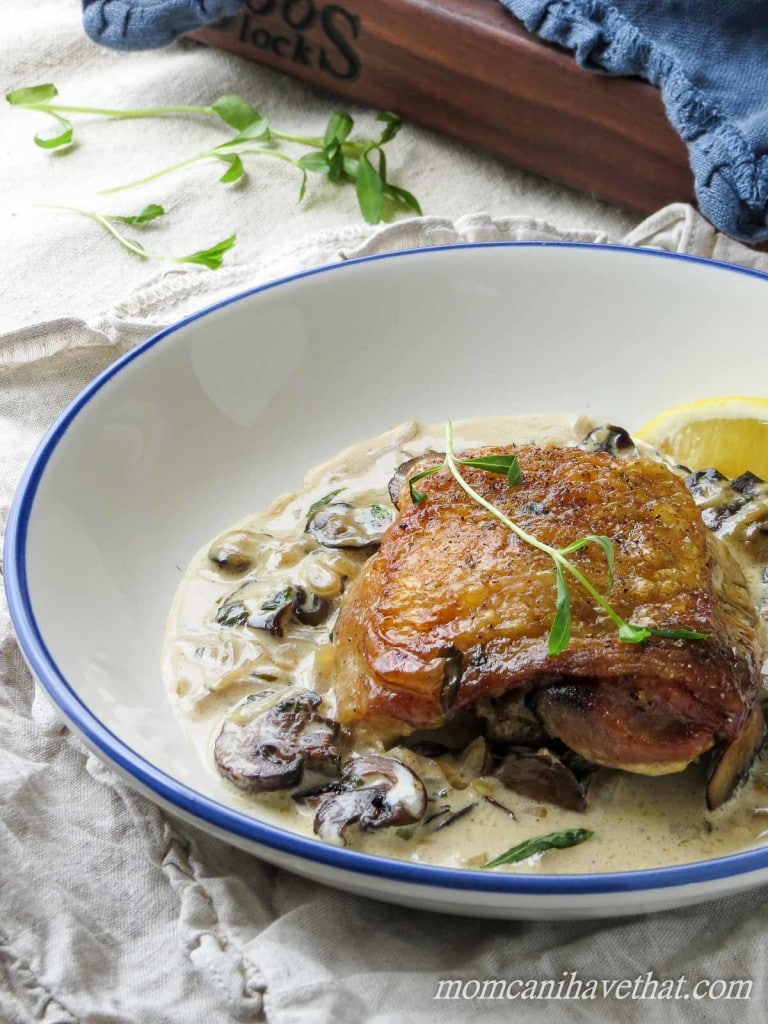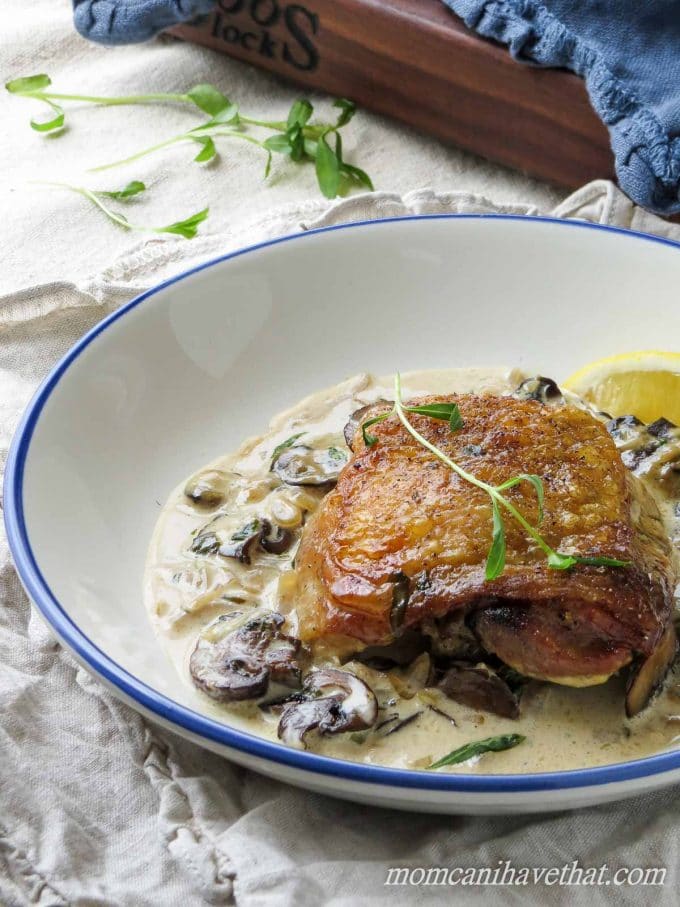 I have been totally crushin' on mushrooms lately. Which is strange because I don't often go for mushrooms at the grocery store. I'm not sure if it's the meaty texture, or the rich and complex flavor they bring to a dish, or the amazing way the house smells when they're are browning in the pan, or what – but they have found their way into at least two other dishes I've posted recently.
Check out the Turkey Marsala and the Sherry Chicken Saute with Mushrooms and Peppers (aka Chicken Cacciatore) if you like mushrooms, too. I'm sure I will get tired of mushrooms at some point, but I see this trend continuing for at least a while.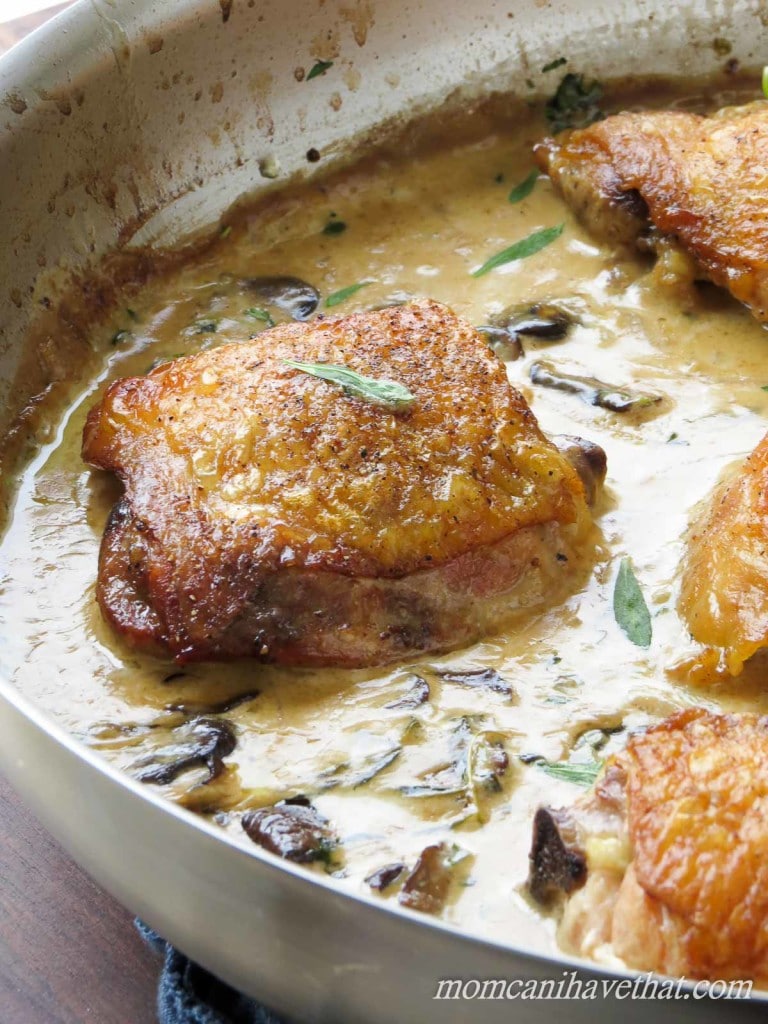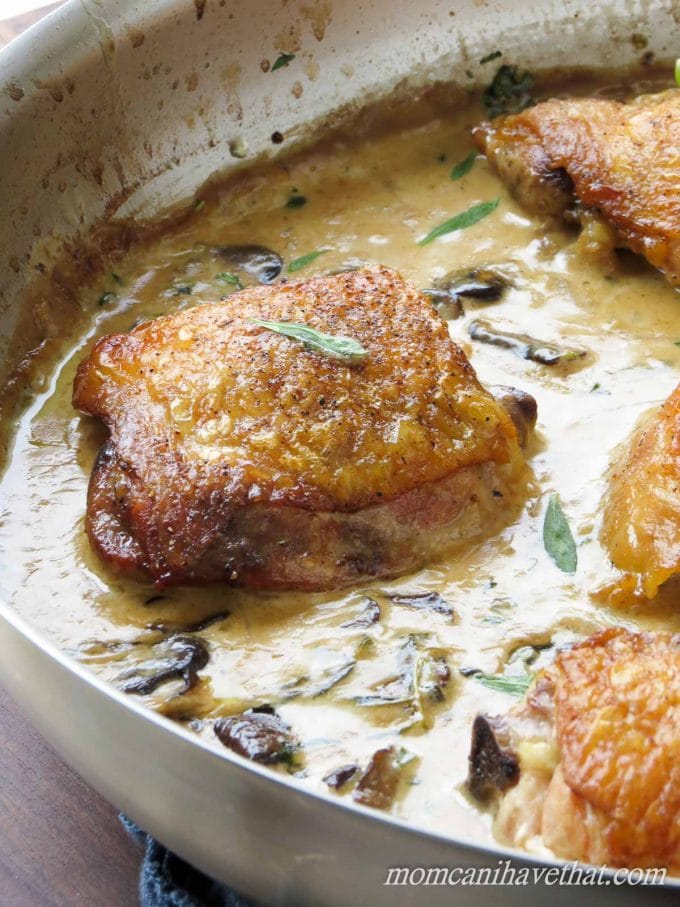 Chicken thighs is another thing I don't usually buy, but in an effort to be frugal, I have taken advantage of the Summer price break and purchased a few big-packs for the freezer. When chicken thighs and mushrooms meet in the saute pan, it's like they were meant for each other; add chicken thighs with mushrooms and tarragon cream, and you have a match made in culinary heaven. Yum!
I think most of you would agree that because we all live busy lives, fast and easy meals are in order. But I would argue that in a fast paced world, there are times we need slow down and enjoy the process to really appreciate the end product. This is one of those times and one of those dishes. WAIT!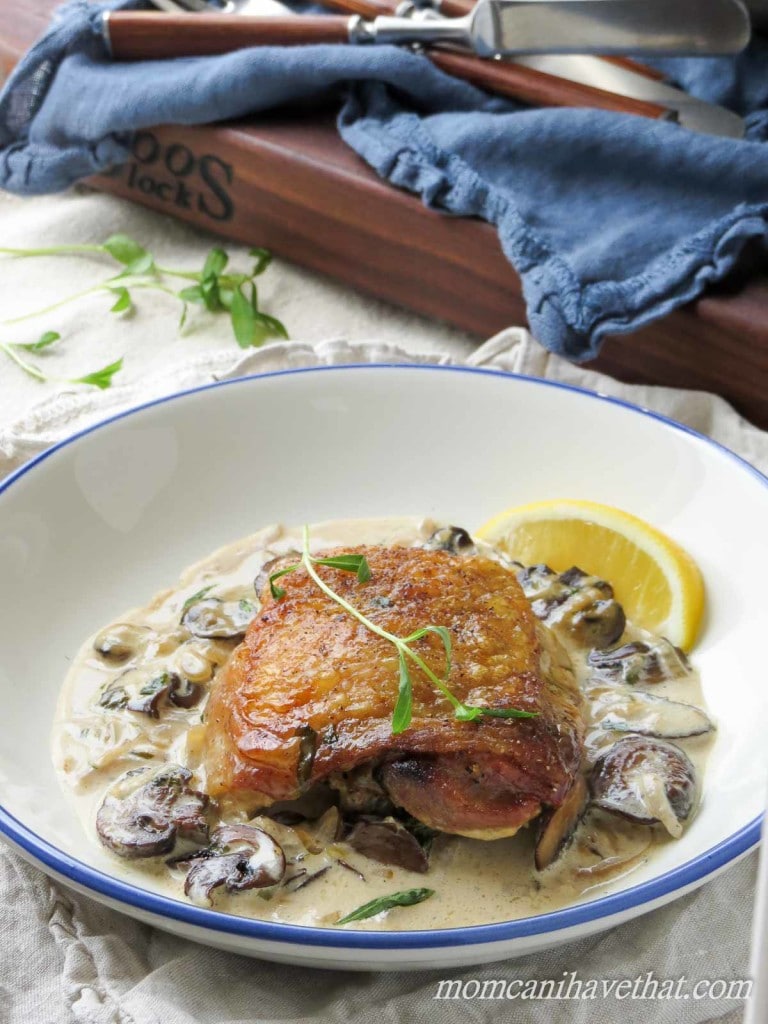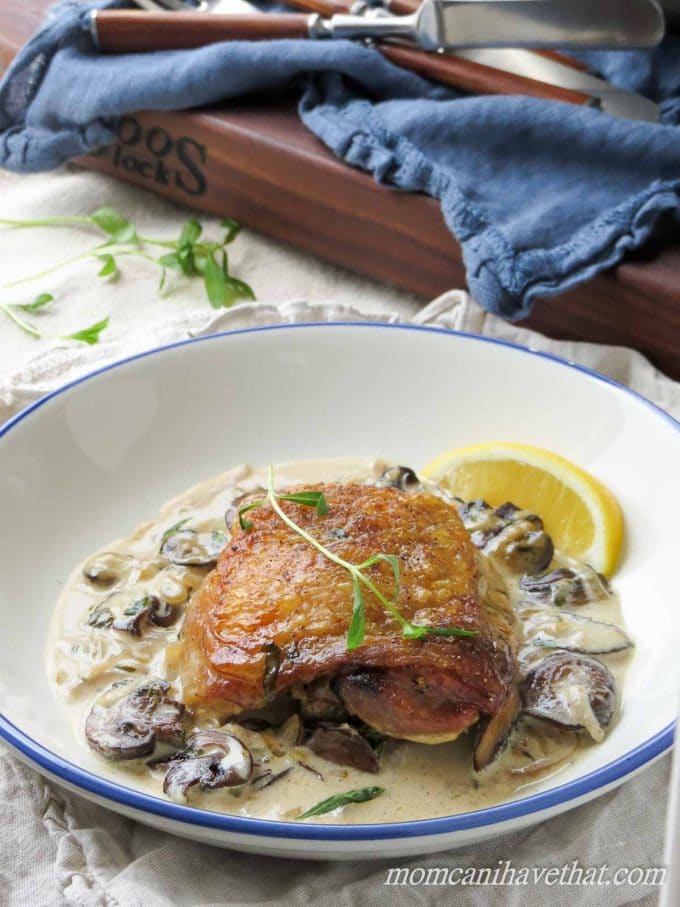 Wait! Before you hit the back button or go and check your Facebook, hear me out. These chicken thighs with their creamy mushroom and tarragon goodness, don't take much hands-on-time to prepare. Do you have a timer? It will be your best friend.
Let's see… 7 minutes per side for the chicken thighs, 4 minutes per side for the mushrooms, 3 minutes for the shallots, 2 minutes for the wine, add the cream, everyone back in the pan, and 30 minutes in the oven. That's just over an hour of cooking time, but hands-on-time is about 10.
All of that in-between time leaves plenty of room to make a side, put a few dishes in the dishwasher or set the table.
As I've mentioned, this recipe does not take a lot of hands-on-time, but it does take a little more time than a one-pot-cook-everything-at-once kind of meal — and it should. This recipe builds layers of flavor in every step and it's worth it — and your loved ones are worth it. Bring dinner back to the table with these crispy chicken thighs with mushrooms and tarragon cream.
A perfect dessert would be my Nana's Cheese Pie. It's 4 net carbs a serving and always delicious.
Chicken Thighs with Mushrooms and Tarragon Cream 7 net carbs a serving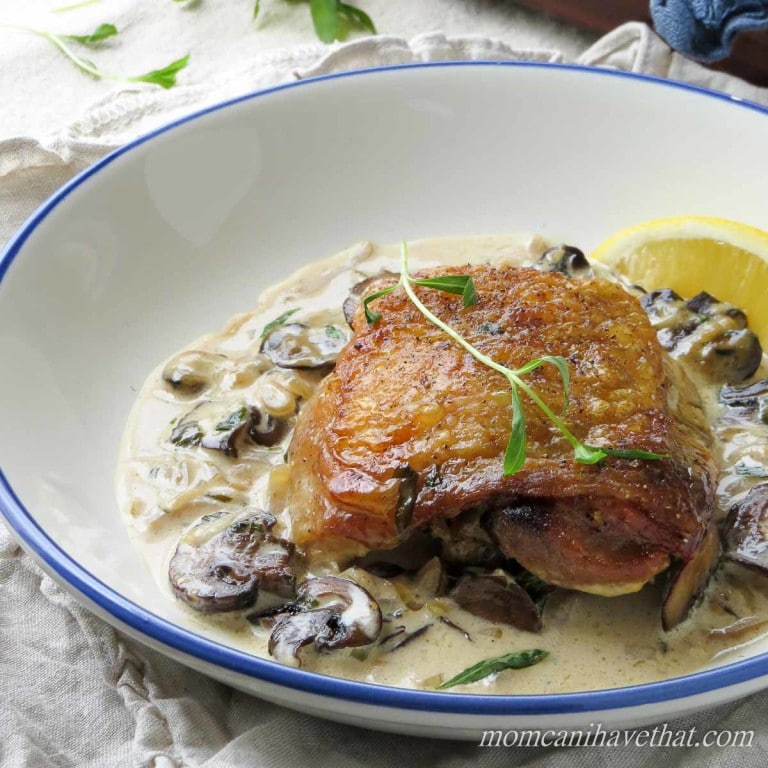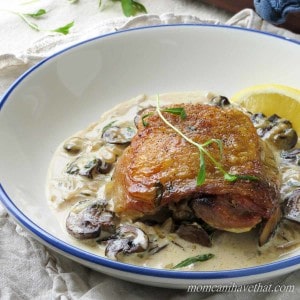 Chicken Thighs with Mushrooms and Tarragon Cream
Chicken Thighs with Mushrooms and Tarragon Cream features golden chicken thighs in a white wine and cream sauce flavored with shallots and fresh tarragon. Bring dinner back to the table with these Chicken Thighs and Mushrooms in Tarragon Cream. 7 net carbs per serving.
Print
Pin
Rate
Ingredients
6

chicken thighs

salt and pepper

8

ounces

sliced crimini mushrooms

baby portabella

4

ounces

shallots

sliced

1/4

cup

oil

divided

1/2

cup

dry white wine

1

tablespoon

lemon juice

1

teaspoon

lemon zest

1

in

cube bouillon

I use Better Than Bouillon a jar

2

tablespoons

chopped tarragon

1 1/2

cups

heavy cream

More tarragon for garnish

optional
Instructions
Preparation:

Put a platter, small sheet pan or a pyrex 9×9 dish by the stove. Locate your tongs and spatter screen. Pat the chicken thighs dry to reduce spattering. Trim any extra fat and excess skin off of the chicken thighs and liberally season both sides with salt and pepper.

Chicken:

Heat a large oven proof skillet over medium high heat. When nice and hot, add two tablespoons of oil to the pan swirling it around to coat the entire bottom surface. Add the chicken thighs, skin-side-down and use a spatter screen if you have one. Set the timer for 7 minutes and check the chicken when the timer sounds. The skin should be a rich golden color and crispy and most of the fat should have been rendered. If not, let it go another 1 minute. Using tongs, flip the chicken thighs over and cook for another 7 minutes. Remove the chicken from the pan. NOTE:

It's better to do two batches than to crowd the pan and have soggy chicken skin. Pour out some of the rendered chicken fat between batches to reduce spattering.

Mushrooms:

Turn the pan down to medium. Pour out all of the oil that has accumulated in the bottom of the pan except for 2 tablespoons.

I added the extra fat to my bacon grease jar.

Add half of the mushrooms to the pan, arranging them into an even layer. Set the timer for 4 minutes, flip each one with the tongs and set for 4 more minutes. When browned, remove the mushrooms to the plate with the chicken. PREHEAT OVEN TO 350. If the pan is dry, add a little more oil. Cook the other half of the mushrooms 4 minutes per side and remove to the plate with the chicken and other mushrooms.

Make the sauce:

While the chicken or mushrooms are cooking, peel and slice the shallots and chop the tarragon. If the pan is dry after the mushrooms are browned, add a little more oil and then the shallots. Cook the shallots for about 3 minutes until they start to soften. Turn off the heat. Move the pan off of the burner. Add the wine, lemon juice, and bouillon to the pan. Put the pan back on the burner, turn it up to medium high and simmer approximately 1 1/2 – 2 minutes scraping up all of the brown bits from the bottom of the pan. Simmer until the liquid is reduced by half.

Add the cream, lemon zest, and tarragon to the pan, giving it a stir, and bring the cream up to a simmer. Add the chicken thighs back to to pan, skin-side-up and arrange mushrooms around in the empty spaces. If you wish, add a few sprigs of tarragon around the chicken thighs.

Place the pan into the oven and cook uncovered, for 30 minutes or until the internal temperature of the chicken is 165 degrees.

Finishing touches:

When the chicken comes out of the oven, stir the sauce and taste. Add salt if needed. For a thicker sauce, remove the chicken to a serving platter and simmer the sauce to desired thickness. Taste for seasoning and adjust after simmering.
Notes
Crimini mushrooms work best in this recipe because they are sliced thicker and are a little meatier or more substantial. If using sliced button (white) mushrooms, brown 3 minutes per side.
If you don't like tarragon, use 1 tablespoon of chopped fresh rosemary.
Change-up the flavor of the sauce by adding a little Dijon mustard or worcestershire. Just a little will do.
Nutrition Facts
Chicken Thighs with Mushrooms and Tarragon Cream
Amount Per Serving
Calories 516
Calories from Fat 405
% Daily Value*
Fat 45g69%
Carbohydrates 7g2%
Protein 19g38%
* Percent Daily Values are based on a 2000 calorie diet.
Nutrition
Calories:
516
kcal
|
Carbohydrates:
7
g
|
Protein:
19
g
|
Fat:
45
g