These no-sugar added Blueberry Tarts are full of complex sophisticated flavors.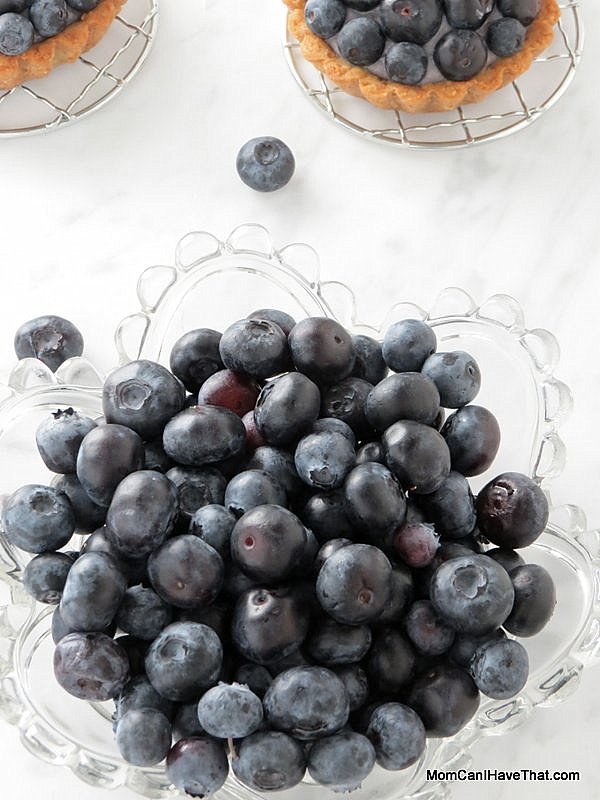 I have always loved blueberries. I am intrigued by everything about them. I love the light blue powdery coating on the skins (the bloom) that partially rubs away while washing. I love that the skins are a phenomenally dark indigo-blue (from anthocyanins) that intensifies to an outrageous purple-blue when cooked. And I love the creamy, greenish-white flesh hiding under all of that dark, mysterious color.
It was a no-brainer to use them in the pastry cream, which makes these Bluesy Blueberry Tart special.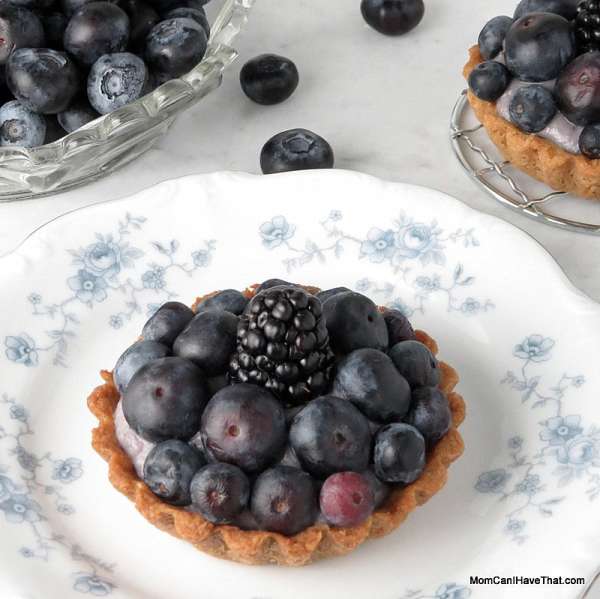 Blueberries are becoming a big specialty crop here in Southern California since the prices for citrus and stone fruits have been on the decline. UC Davis has done extensive studies on the feasibility of blueberries being grown as a viable specialty crop in SoCal, where high bush varieties do well in some areas but low bush varieties are wining out in many others, because of their low chill requirement.
The commercial low bush blueberry was developed by crossing high bush varieties with a native Florida variety (low bush) that tops out at about 2 feet. The cross results in a medium-sized bush ranging from 4 – 6 feet tall.
There is a large, organic blueberry farm about ten minutes from my home, where we bring our kids every year to pick our own blueberries — The Temecula Berry Co. They often provide classes to the public on the best ways to establish blueberry bushes at home. With our California soil, one must pay careful attention to proper soil amendment to have success with growing blueberries. It is a lot of work up-front, but the work pays off.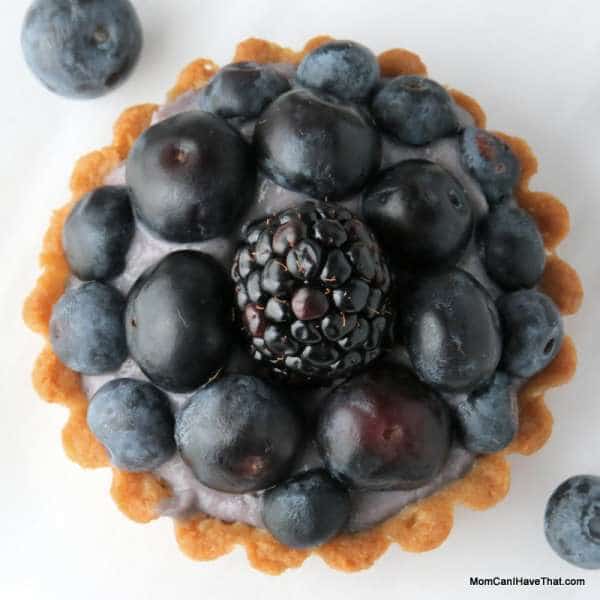 Blueberries need a good acidic and sandy soil. It's not enough to apply Muracid and expect the bushes to become big producers, one must think several years out and actually change the properties of the soil with lots of peat moss — and in some cases sulfuric acid, acetic acid (vinegar) or citric acid need to be applied to the soil and then watered well to force absorption. Once amended and the pH changed, the process continues with soil testing to ensure that the proper acidity continues, as using municipal water (which is often more alkaline) can raise the pH over time.
Raising healthy blueberry bushes requires work, persistence, patience and love – much like growing a healthy prized rosebush – love and attention, but mostly love.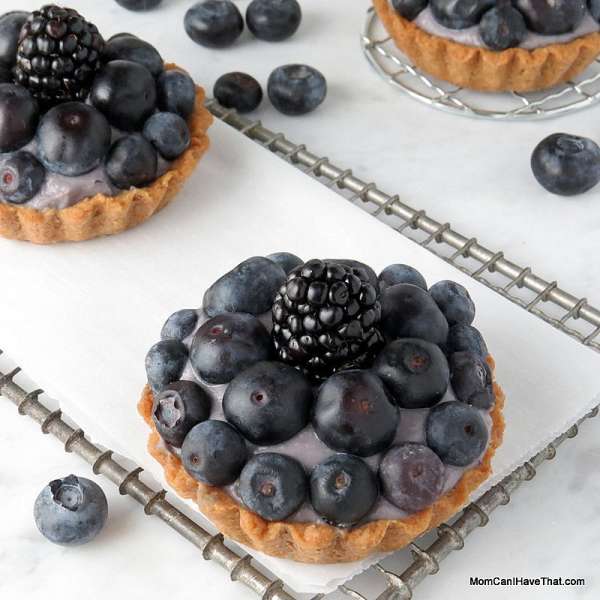 These Bluesy Blueberry Tarts are my homage to my love of blueberries. I enjoy making tarts. I enjoy the contrasts in textures and flavors each bite brings and especially love the rich and indulgent pastry cream which is often the preferred filling for tarts. This one is filled with a fancy blueberry pastry cream. I borrowed the idea from Stella Parks, at Bravetart. She made a violet liqueur flavored blueberry pastry cream. I originally tried that, but the coconut milk totally dominated the delicate Violette Creme liqueur.
With a little experimentation, I found that adding Cassis liqueur and blueberry extract produced a nice tasting low carb, blueberry pastry cream – except that it was gray. Thank you egg yolks! It was nothing a few drops of red and blue food coloring couldn't fix.
The recipe for these Bluesy Blueberry Tarts is not hard but involves preparing both a pastry cream and the shortbread. I usually make the pastry cream the day before and the tart shells several days before and then assemble the day I need them. Tarts are famous for becoming soggy and although the shortbread crust is very crispy, it will get soggy after a few days. That's why I assemble the day of.
This recipe makes 8, 4-inch tarts. They are large enough to be shared.
Each Bluesy Blueberry Tart is 11 net carbs. Shared, they are 5.5 net carbs per half.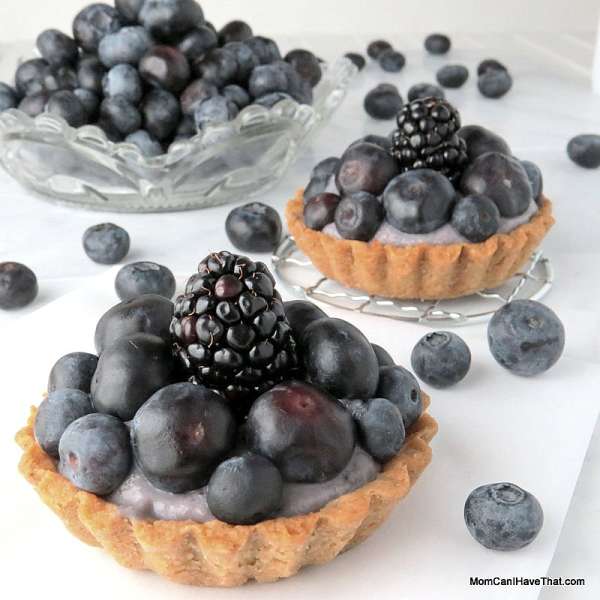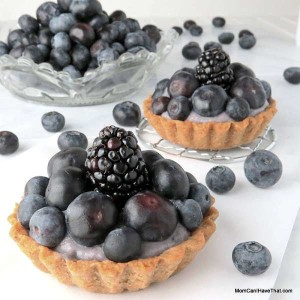 Bluesy Blueberry Tarts
Blue pastry cream give these low carb, gluten-free, dairy-free & Paleo Bluesy Blueberry Tart a unique look and taste.
Print
Pin
Rate
Ingredients
5

ounces

blueberries

1

cup

coconut milk

8 ounces

1/4

cup

erythritol

1

large egg

2

large egg yolks

2

teaspoons

cornstarch

1/8

teaspoon

salt

1

teaspoon

blueberry extract

1

tablespoon

Cassis Liqueur

2

tablespoons

ghee

red and blue food coloring
Shortbread Tart Shells
1/2

shortbread cookie dough

half batch only

1/2

teaspoon

sesame seeds

2

ounces

blackberries

8 large

10.5

ounces

blueberries
Instructions
For the Bluesy Blueberry Tart pastry cream

: Place the 5 ounces of blueberries in a blender or food processor and process until smooth. Pour the blueberry puree into a small pot and reduce by half over medium-low to low heat. Cool.

Pour the coconut milk into a medium pot and bring up to a simmer. In the meantime, measure the erythritol, salt and cornstarch into a medium bowl. Separate the eggs and add the whole egg and yolks to the bowl and whisk together. When the coconut milk simmers, turn off the heat and begin to slowly pour the coconut milk into the bowl with the egg mixture a little at a time, whisking all the while. When fully incorporated, pour the pastry cream mixture back into the pot and place the pot over medium low heat. Stir with the whisk continuously. All at once, the mixture will begin to thicken. Gently simmer the pastry cream for one minute to cook out the starch. Remove from the heat and add the blueberry puree, Cassis liqueur, blueberry extract and ghee (if you are using). Cool. The blueberry pastry cream should be a lovely shade of grey, thanks to the egg yolks! I added 2 drops of red food coloring and 4 drops of blue.

For the Shortbread tart shell

: Preheat the oven to 350 and place the wrack in the bottom position. Prepare the shortbread cookie dough per directions. Roll it between two oiled sheets of parchment paper to a thickness of 1/8-1/4 inch. With a cookie cutter, cut out 8 circles. Prepare the tart pans by spraying them with baking spray and sprinkling a few sesame seeds on the bottom of the pans to prevent sticking. Place a round of shortbread dough into a tart pan and gently work it into the pan. Patch the tart dough with any left over scraps. There should be exactly enough dough. Dock the dough with a fork and place the tart pans on a cookie sheet. Bake until golden brown. Cool and remove the tart shells from the tart pans.

To assemble the Bluesy Blueberry Tarts

: When ready to assemble. Spoon the blueberry pastry cream into the tart pans and decorate the blueberry tarts with blackberries and blueberries.
Notes
Nutrition Facts
Bluesy Blueberry Tarts
Amount Per Serving
Calories 276
Calories from Fat 198
% Daily Value*
Fat 22g34%
Carbohydrates 15g5%
Protein 7g14%
* Percent Daily Values are based on a 2000 calorie diet.
Nutrition
Calories:
276
kcal
|
Carbohydrates:
15
g
|
Protein:
7
g
|
Fat:
22
g
|
Fiber:
4
g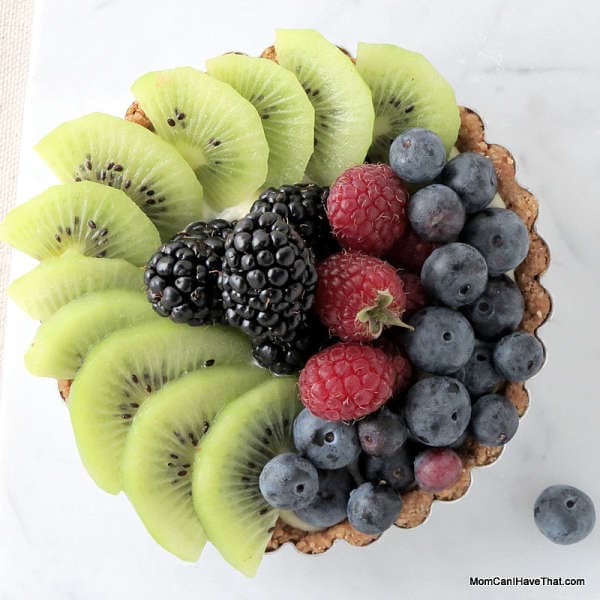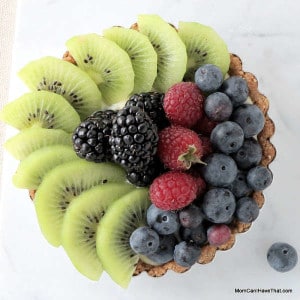 Blueberry Buttermilk Ice Cream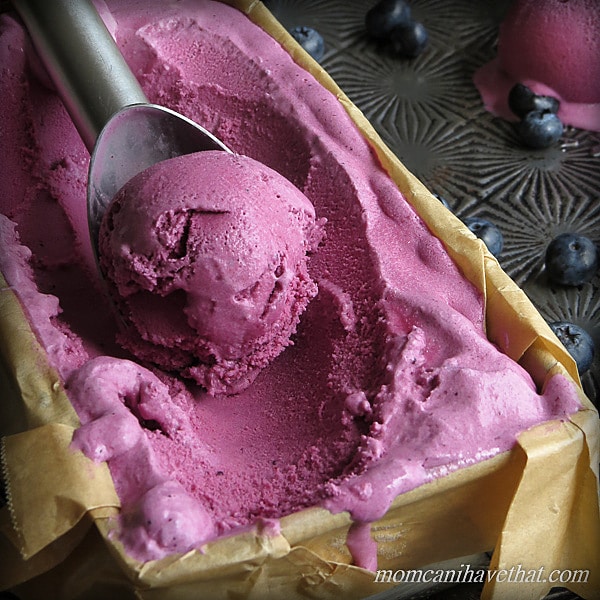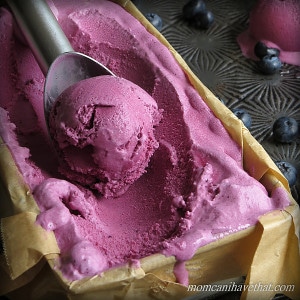 Low Carb Blueberry Topping ( 3 ways)