In my last article, Low Carb Sweeteners: Choose What's Best For You, I talked about the differences between artificial sweeteners, natural low carb sugar alternatives, and natural sugar substitutes. I also listed the pros and cons of each, summing up with the statement that "choosing the best sweetener for you depends on your goals and what you are most comfortable with."
I've done a lot of low carb baking over the years, and have tried almost every sweetener on the market. I discovered early on that mixing several sweeteners together produces the best "sugar taste" while minimizing the negatives of any one sweetener.
I still mix my sweeteners, preferring to use natural low carb sugar alternatives in lieu of artificial. Why? Well, it's MY personal preference and what I feel most comfortable doing – especially with kids in the house. But I don't judge, use what you want.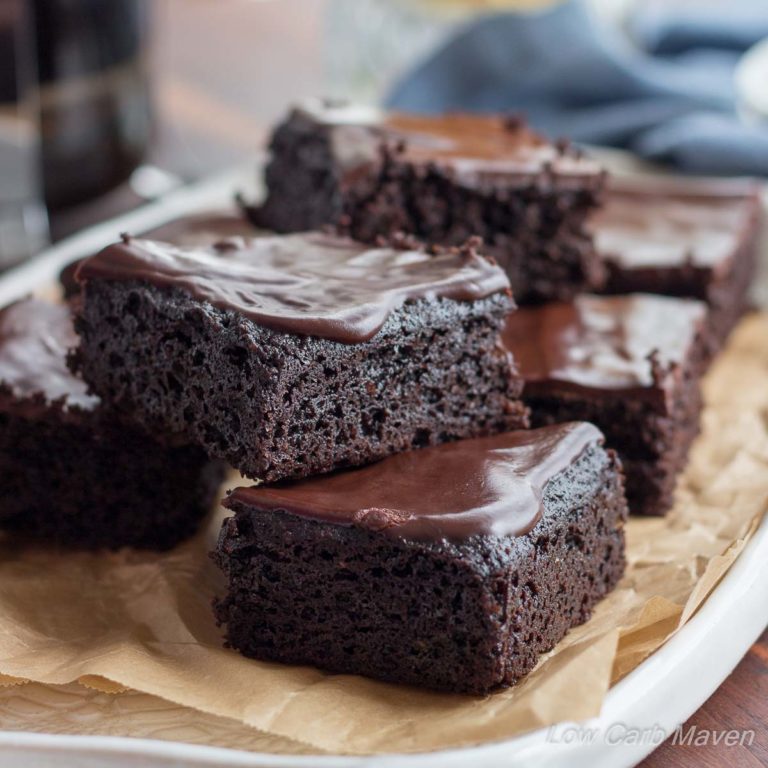 My two Favorite Low Carb Sweeteners?

Erythritol and Stevia
Now let me just quickly say that my very favorite sweetener is Xylitol. It has a clean sweet flavor most like sugar, but it has three strikes against it…
So, I have come to rely on the dynamic duo of Erythritol and Stevia
What is erythritol?
Simply put, erythritol is a sugar alcohol, named so because it's chemical structure looks more like that of an alcohol rather than a sugar. It comes in crystalline form (looking like sugar), has 60% the sweetness of sugar, and produces a cooling effect as it melts. The great thing about erythritol is that it has no calories and does not spike blood sugar. How? Our human bodies can not process it, so it passes harmlessly through, virtually unchanged.
What is Stevia?
Stevia is an herb which contains compounds called glycosides (stevioside and rebaudioside) which are up to 150 times the sweetness of sugar and does not raise blood sugar. It has long been used in South America to sweeten drinks, has been used in Europe and in Japan for many years, and is sold in commercial in products like Truvia and PureVia. The Rebaudioside is the form most commonly used in U.S. and is commonly mixed with other products like erythritol, alcohol, water, or glycerine.
THIS POST INCLUDES AFFILIATE LINKS TO SHARE THE THINGS I LOVE. LCM may earn small commissions through the Amazon affiliate program and others.
How to Use The Best Low Carb Sweetener in Baking
First let me say that how one combines sweeteners is completely individual. Everyone's taste buds perceive sweetness in a unique way.
This is how I sweeten my baked goods…
If a regular recipe calls for 1-2 cups of sugar, I typically use 1/3 – 2/3 cup of granulated erythritol and then increase the sweetness with approximately 1/4 – 1 teaspoon stevia glycerite. Why? For me, erythritol produces a very sharp taste and burning feeling at the back of my throat. I've found that using a minimal amount of erythritol and augmenting with super-sweet stevia counteracts both the sharp taste from the erythritol and mitigates any bitterness from the stevia. Using erythritol and stevia together lets me use less erythritol, which saves me money.
Is erythritol the perfect sugar substitute? No, but it's a pretty darn close! Drawbacks? It's expensive, it tends to recrystallize resulting in a "crunchy" texture in frostings, puddings, and cheesecakes. This tendency also causes hardening upon cooling, ie. a thin crust on cakes or a very hard caramel sauce when cool. Trying to melt it, like one would sugar, to pour into a meringue frosting is disastrous as it seizes.
Is stevia the perfect sugar substitute? No, but I love it and use it every day! Some people find stevia bitter, think it tastes like licorice, or are allergic to it. Not all brands are the same! Some brands and forms of stevia taste and perform better than others. After trying all of the liquid stevia brands and flavored liquid stevias, I settled on Now Stevia Glycerite for my baking and KAL Pure Stevia (powder) for use in my coffee and smoothies. They're the only products I find tolerable (SweetLeaf Liquid Stevia is not too bad!). But taste is subjective and there may be another brand that you like.
Mixing erythritol and stevia together produces a nice punch of sweetness!
Note: If you've never used stevia before, it does require a few days for the taste buds to adjust. Until they do, you will probably detect a "diet" taste. Also, if I have a tasty treat that contains a lot of erythritol and then try any of the stevia forms, the stevia will taste extremely bitter! Why? Erythritol leaves a sweet taste in the mouth. If you don't believe me, put a little in your mouth and let it dissolve. Now, have a drink of water. The water tasted sweet, right?
The Best Low Carb Sweeteners List: Natural Low Carb Sugar Alternatives
Granulated Low Carb Sweeteners:
Brown Sugar Substitutess
Powdered Low Carb Sweeteners:
Liquid Low Carb Sweeteners:
[** indicates products that I like and/or have used on the blog]