Rich lemony blender Hollandaise, perfectly poached eggs, pan crisped prosciutto and tomato on a great zucchini fritter base.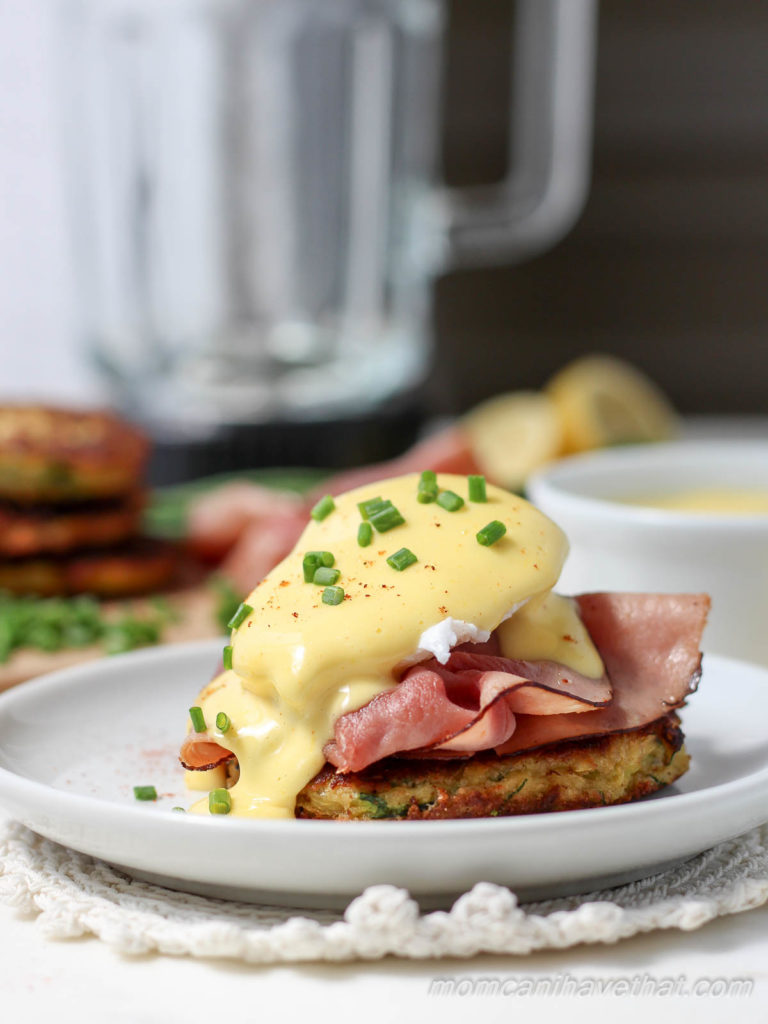 I've know that this site has been lacking variety in the low carb breakfast department for quite some time. I blame it on quiches. Quiches are so satisfying and flavorful that I almost never get tired of eating them. With a quiche in the fridge almost every week, I have no excuse to try and make anything else.
But I also love a good Eggs Benedict, and thought it was time to share a few recipes with all of you wonderful breakfast lovers.
But what's a low carber to do without an english Muffin? One could use a juicy heirloom tomato like I did in this recipe for Heirloom Tomato and Swiss Chard Eggs Benedict or one could use a zucchini fritter! Who doesn't love zucchini fritters? Don't have zucchini but have lots of yellow squash? That's okay, just sub one for the other and make a squash fritter instead.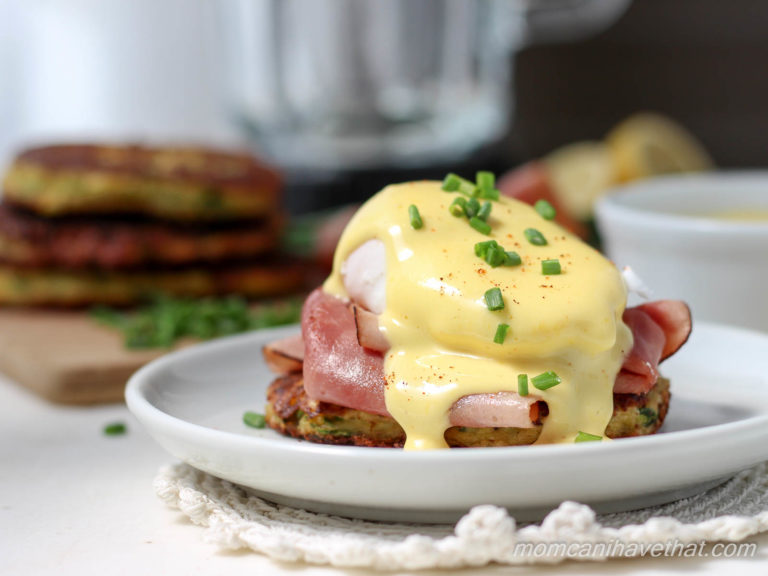 There are many techniques to poach an egg and this one is great for poaching multiple eggs.
My kids love 'em for breakfast, so I make poached eggs in a big old frying pan filled almost 3/4 of the way full with water, 2 teaspoons of vinegar and a good pinch of salt. This lets me poach 4-6 eggs at a time and I have been known to squeeze up to 7 poached eggs in that pan.
The only thing one needs to watch for is eggs sticking to the bottom which is easily corrected by loosening the eggs from the bottom of the pan with a spatula so they can float. Another thing to be mindful of is that because the eggs are close to the bottom of the hot pan, they can overcook a bit if not flipped over in time.
And the final consideration is that poaching time may need to be slightly increased, or the heat attended more closely the more eggs that go in the pan. Since this isn't Masterchef, we aren't looking for the perfect poached egg, but these beauties come pretty close.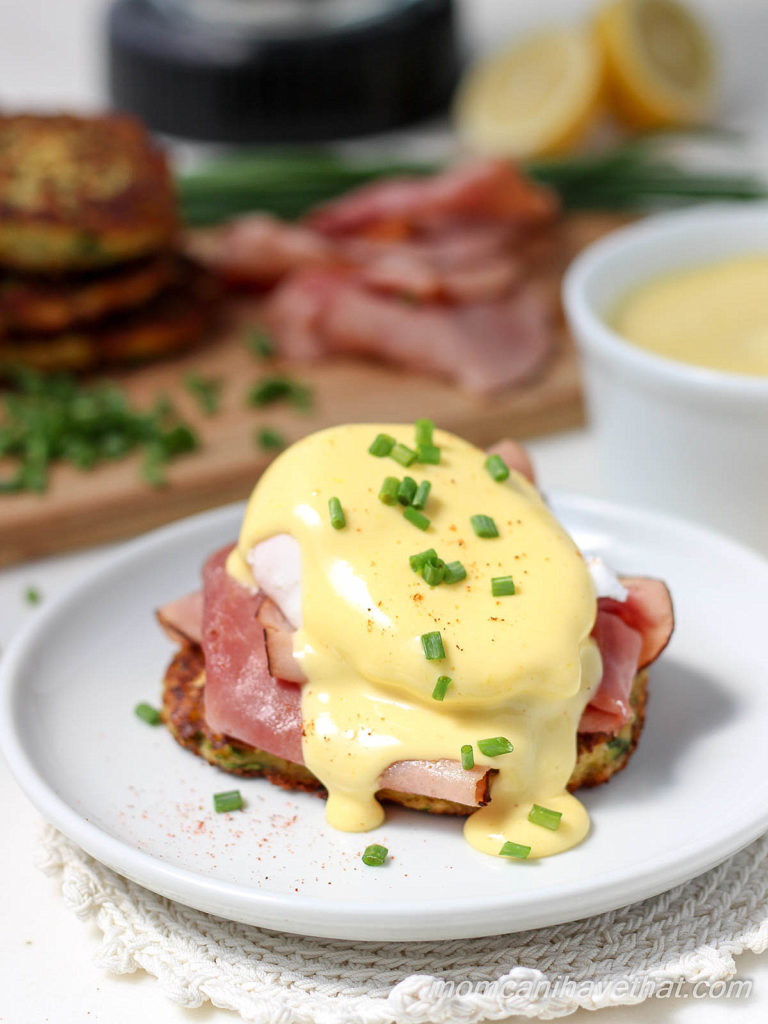 This zucchini fritter eggs Benedict recipe uses prosciutto. I wasn't trying to be fancy – that is just what I had in the fridge, but this can be made with cooked ham, deli-ham or turkey, Canadian bacon, or regular bacon. If you want to use proscuitto, too, here's a little tip. I fried the prosciutto in the pan because it is very hard or tough to cut if it's right out of the package – like impossible.
I added a tomato to balance out the richness of this dish with a little acidity and sweetness, unfortunately it can be seen under the proscuitto. And Hollandaise is just about the most scrumptious thing in the world. With this super easy recipe for Blender Hollandaise, there really is no excuse for not making it. It can be made with ghee, too. If you would like to see all of the variations possible to change up the Hollanadaise, check out my post on Blender Hollandaise.
Zucchini Fritter Eggs Benedict with Prosciutto & Tomato is 5 net carbs per serving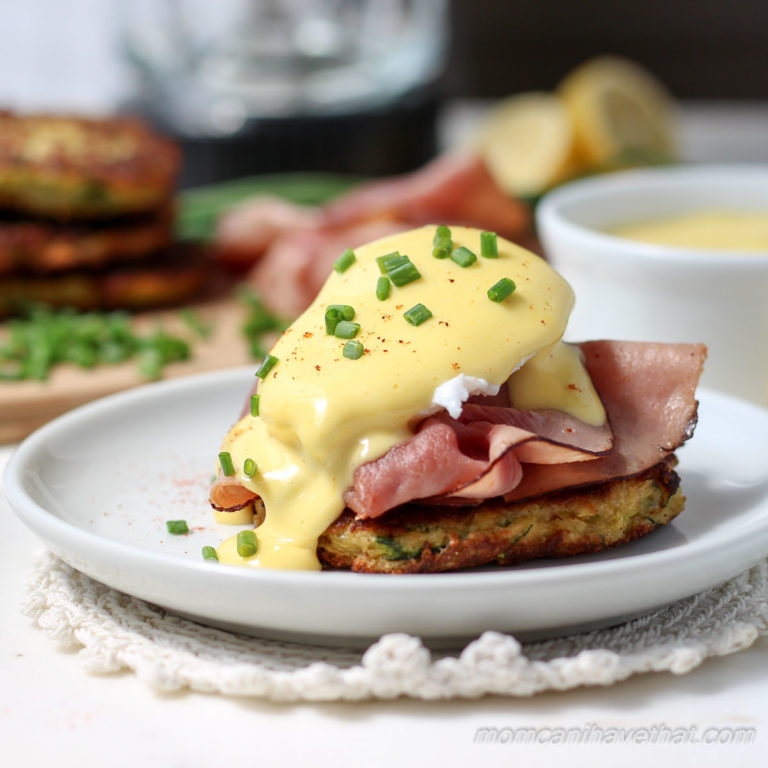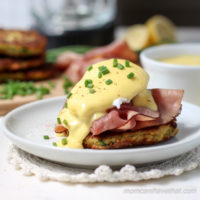 Zucchini Fritter Eggs Benedict with Prosciutto and Tomato
This zucchini fritter eggs Benedict has it all… Rich, lemony blender Hollandaise, perfectly poached eggs, pan warmed prosciutto, & tomato on a great zucchini fritter base.
Print
Pin
Rate
Ingredients
Blender Hollandaise
4

ounces

salted butter

3

large

egg yolks

1 – 3

teaspoons

lemon juice

1/8 – 1/4

teaspoon

cayenne pepper or white pepper
Eggs Benedict
4

ounces

prosciutto

deli ham or turkey

4

large

eggs

8

ounces

tomato

4 thick slices

1

tablespoon

snipped chives
Instructions
Blender Hollandaise:

Add the yolks to a blender. Put the top onto the blender but remove the middle piece. Pre-heat a small frying pan over medium heat. Add the butter and let it melt. Continue heating until it bubbles and stops foaming.

Turn the blender on low and begin pouring the hot butter into the blender – very slowly at first, and then a little faster as the Hollandaise begins to emulsify Add the lemon juice and pepper and turn the blender to a faster speed. Scrape down the sides and add the middle back to the top of the lid. Let the sauce sit in the blender until ready.

Prosciutto or ham:

Put the butter coated pan back on stove over medium heat. Cook the prosciutto until it begins to brown. Turn off the heat.

Poached Eggs:

Meanwhile, fill a medium – large frying pan ¾ fill of water, add two teaspoons of vinegar and a big pinch of salt. Turn the heat to medium high until it begins to simmer slowly, then turn it down to medium. Crack the eggs one at a time and gently open them into the barely simmering water. Watch the heat under the pan because we don't want the water to boil. Cook the eggs 1 minute, then with a spatula, gently loosen the eggs from the bottom of the pan so they can float freely. Poach the eggs for another minute, then gently roll them over with a slotted spoon. Continue poaching for about 2 minutes more. Remove the eggs from the pan and drain on paper towels.

Assemble:

Put 1 zucchini fritter on each serving plate. Add a slice of tomato on top of each zucchini fritter. Season with salt and pepper. Divide the Prosciutto evenly among the 4 servings and place it on the tomatoes. Next, place a poached egg on each serving, seasoning with salt and pepper. Sauce each Egg Benedict with the Hollandaise. Garnish with the chives.
Notes
I did not take into account the amount of oil that may be used to cook the zucchini fritters as it would vary. The calories and fat of this dish will be higher depending on how much oil one uses to cook the zucchini fritters.
Nutrition Facts
Zucchini Fritter Eggs Benedict with Prosciutto and Tomato
Amount Per Serving
Calories 457
Calories from Fat 360
% Daily Value*
Fat 40g62%
Carbohydrates 8g3%
Protein 18g36%
* Percent Daily Values are based on a 2000 calorie diet.
Nutrition
Calories:
457
kcal
|
Carbohydrates:
8
g
|
Protein:
18
g
|
Fat:
40
g
|
Fiber:
3
g