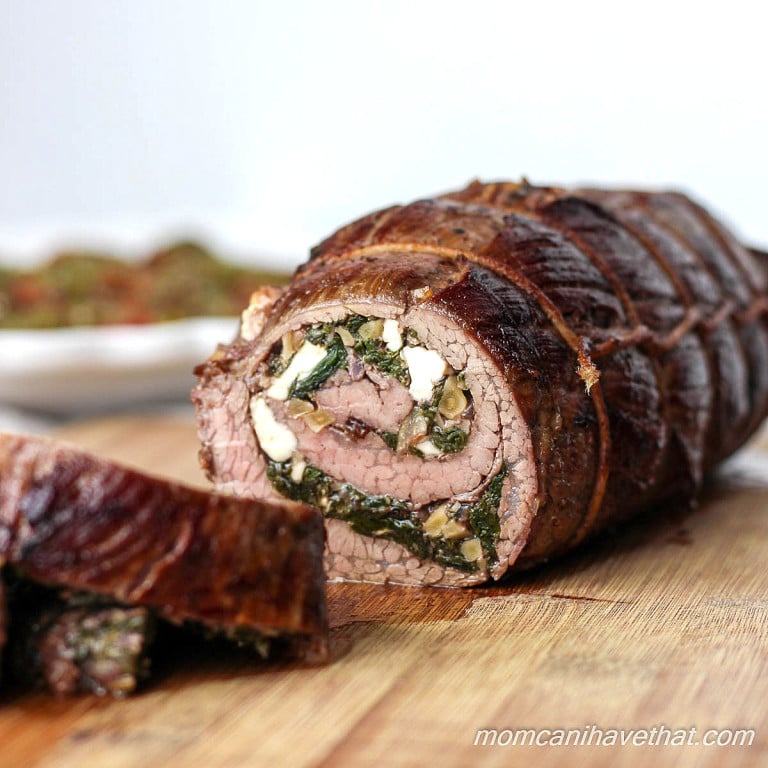 Print
Swiss Chard Stuffed Flank Steak with Feta and Walnuts
This fantastic flank steak is stuffed with sauteed garlicky Swiss chard, salty feta cheese, sweet raisins and toasted walnuts.
Preparation
Preheat the oven (or a toaster oven) to 350 and toast the walnuts until they are lightly browned and fragrant. Chop finely.

Meanwhile, wash, stem and roughly chop the Swiss chard. To stem the Swiss chard, fold it in half and with a sharp knife, cut out the rib from top to bottom with one nice slice. Stack the halves, cut again lengthwise and give it a few good chops horizontally. Set the Swiss chard aside in a very large bowl.
Method
Preheat a frying pan over medium heat and add the oil. Next, add the onions and garlic and saute until softened. Add as much of the Swiss chard as the pan can hold and as it wilts, turn it over in the pan and add new Swiss chard until all is wilted and tender. Add the lemon zest and juice and stir. Taste and season with salt and pepper. It should taste good at this point, because it won't magically taste any different in the stuffed flank steak. Season it until you like it! Let cool.

While the Swiss chard is cooling, take a sharp knife and starting along a long edge, slice the flank steak in half, horizontally or lengthwise, stopping about 1/2 an inch from the other side. Open the flank steak like a book. Rub oil into both sides and salt and pepper liberally.Snip each of the raisins in half and into thirds if large.

Mix the cheese, walnuts and raisins into the Swiss chard.

Spread the Swiss chard stuffing onto the flank steak leaving a 1/2 border all around. Roll the flank steak tightly around the stuffing and tie it with linen or cotton kitchen twine at 1 inch intervals.

Grill Method: Grill the stuffed flank steak until the outside is browned and the inside temperature reaches 160. Remove from the heat and let rest 10 minutes before slicing and serving. Don't forget to remove the twine before slicing! Let the stuffed flank steak rest at least 10 minutes before removing the kitchen twine and slicing.

Oven Method: Preheat the oven to 375 degrees. Preheat a large skillet oven medium high heat. Add 2 tablespoons of oil and brown the stuffed flank steak on all sides. Place the skillet into the oven and cook for 30-40 minutes depending on your desired degree of done-ness. Let the stuffed flank steak rest at least 10 minutes before removing the kitchen twine and slicing. Don't forget to remove the twine!

Serves 8 at 5 net carbs each.
Nutrition Facts
Swiss Chard Stuffed Flank Steak with Feta and Walnuts
Amount Per Serving
Calories 299
Calories from Fat 189
% Daily Value*
Total Fat 21g 32%
Total Carbohydrates 7g 2%
Protein 21g 42%
* Percent Daily Values are based on a 2000 calorie diet.
Calories:
299
kcal
|
Carbohydrates:
7
g
|
Protein:
21
g
|
Fat:
21
g
|
Fiber:
2
g