A vegetarian dream, this keto lasagna replaces meat with a rich mushroom ragu resulting in a hearty low carb family friendly meal. (slow cooker option).
Nothing says L-O-V-E like homemade lasagna. And while it does take some time, none of the steps are hard and the end result is worth every minute!. Serve this great tasting vegetarian keto lasagna for Sunday supper or for meatless Monday. Bake in the oven or cook in the slow cooker.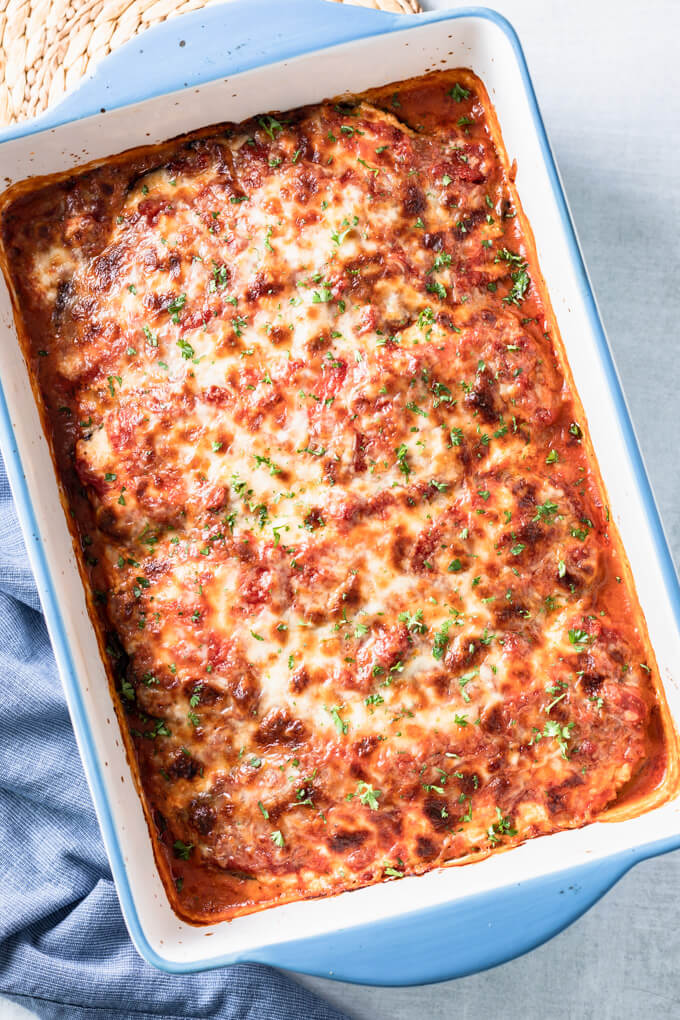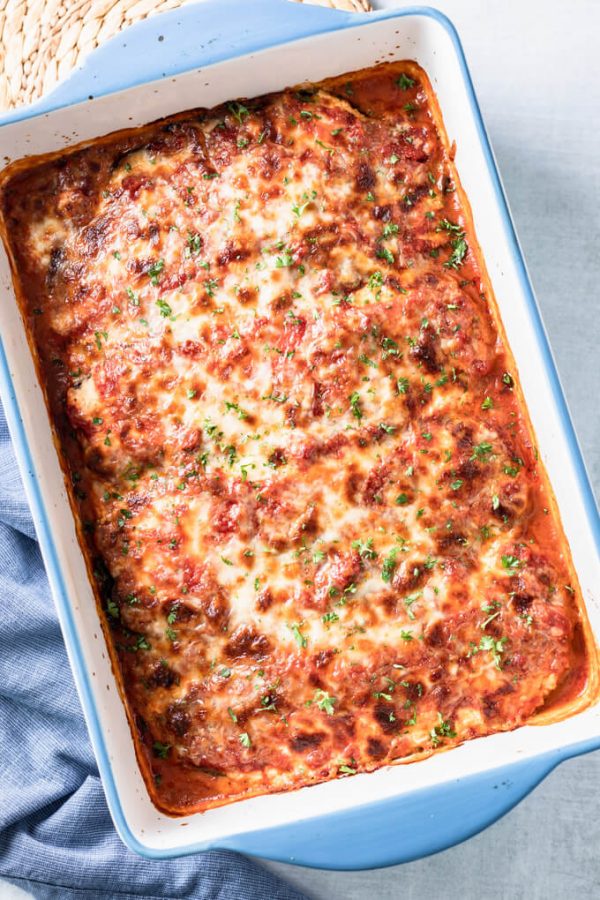 THIS POST INCLUDES AFFILIATE LINKS TO SHARE THE THINGS I LOVE.
Yes, A Keto lasagna recipe which uses sliced eggplant as low carb noodles.
I love posting great tasting vegetarian keto recipes for my low carb friends. This low carb vegetarian lasagna is just my latest. Converting my delicious eggplant lasagna recipe with meat sauce into a suitable dish for keto vegetarians was easy. And replacing ground beef with a rich mushroom ragu keeps this healthy lasagna flavorful and hearty.
New low carb cooks may be wondering "how do you make a keto lasagna" and what do you use for noodles? Don't worry, all it takes is a little thinking outside the box. Make keto vegetarian lasagna the same way you make regular lasagna except it's key to choose low carb ingredients. In this case we'll use sliced eggplant as a low carb noodle substitute.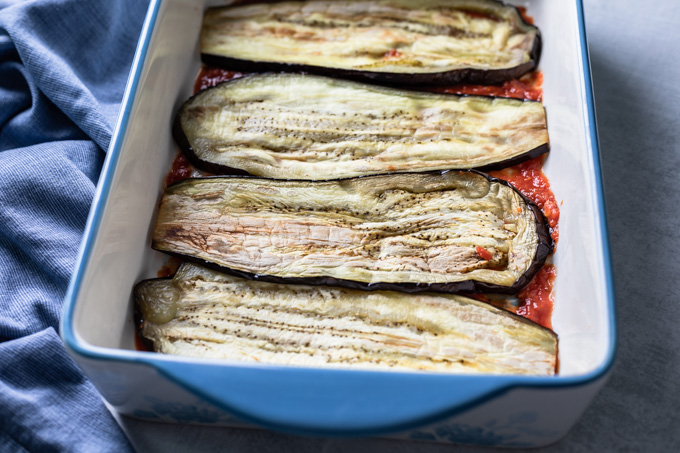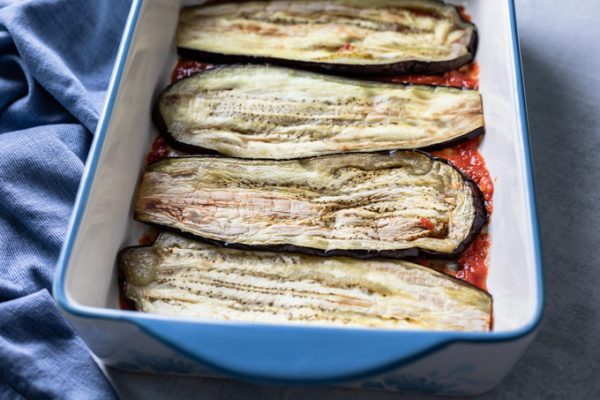 How to Slice Eggplant for Low Carb Keto Noodles
Eggplant is a great low carb noodle option for vegetarian keto lasagna. Eggplant's oblong shape is perfect for slicing and layering in a pan. Male eggplants have smaller and less seeds than female eggplants. Look at the blossom end to tell them apart. Male eggplants have a small, shallow round circle at the blossom end of the fruit. Female eggplants have a wider and deeper impression that looks like a line or a dash.
To cut the eggplant, slice-off the stem end and blossom ends. This results in two flat, stable surfaces to place on the cutting board. Now, with a sharp knife, slice vertically from the top of the eggplant straight down, with a slight sawing motion.
Then, bake. Baking the sliced eggplant in a 400 F oven both cooks the eggplant and allows water to evaporate. The eggplant becomes pliable and easy to work with. Baking also tones down the bitterness in the vegetable.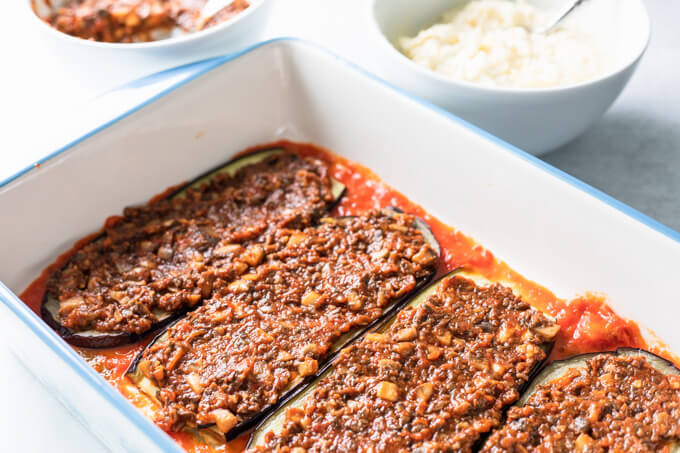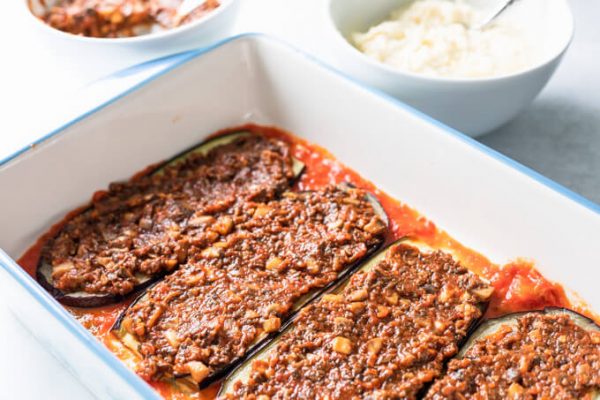 Use Whole Milk Ricotta Cheese and an Egg
The ricotta cheese layer is my favorite layer in keto lasagna recipes. Whole milk ricotta cheese has less carbs per serving than part skim and fat free ricotta cheese, so it's the best choice. Mixing a beaten egg into the ricotta cheese is very traditional. This prevents the cheese from thinning and becoming grainy. Stirring the mozzarella and parmesan cheeses into the ricotta is also important since the eggplant releases a little moisture during cooking.
TIP: Don't skimp on the cheese. Consuming enough protein can be a challenge for some Vegetarians. The dairy in this recipe contributes 21g of protein and more than 4X the daily recommended amount of calcium.
Hearty Mushroom Ragu
Mushrooms are a great vegetarian meat substitute because they are meaty in texture and very flavorful. This mushroom ragu increases both the flavor and heartiness of this vegetarian lasagna recipe. To use mushrooms as a ground beef substitute quarter them and pulse a few times in a food processor. Then, saute them in olive oil and cook to remove excess water. Add your favorite low carb tomato sauce to the pan and simmer to evaporate any excess moisture. Add a pop of fresh flavor with chopped basil or parsley.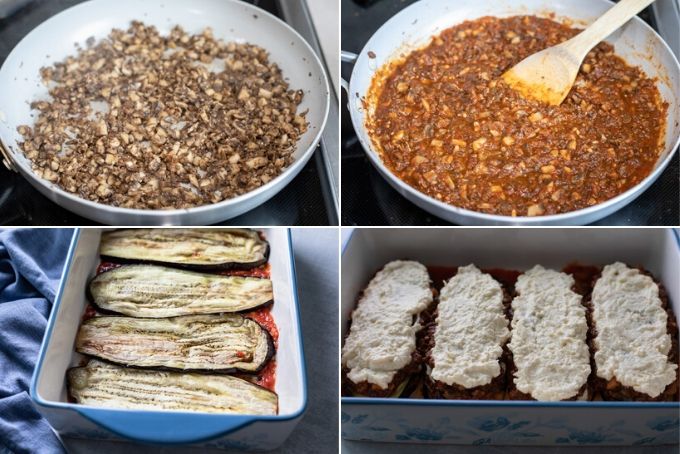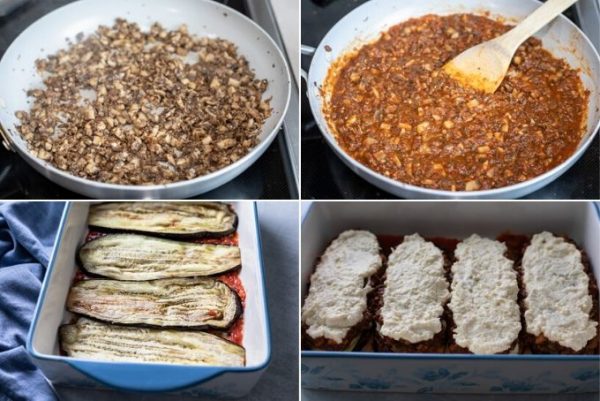 Low Carb Sauce Options
The base for any good Italian recipe is the sauce. Make your own low carb tomato sauce (marinara sauce) or use store bought but be sure to choose one that's low in carbs. My favorite pre-made keto sauces are Rao's Marinara and Organico Bello.
Layer
There is a proper way to layer a lasagna which is no different for keto lasagna. The only difference is the number of layers and noodle ingredients.
Spread a thin layer of sauce in the pan.
Layer half of the sliced eggplant into the pan.
Spread half of the ricotta mixture over the eggplant noodles.
Spoon half of the mushroom ragu over the ricotta cheese.
Repeat layers.
Top with mozzarella cheese.
NOTE: my layers are switched in the photos. That happens when young kids distract busy mothers one too many times! The lasagna was still delicious!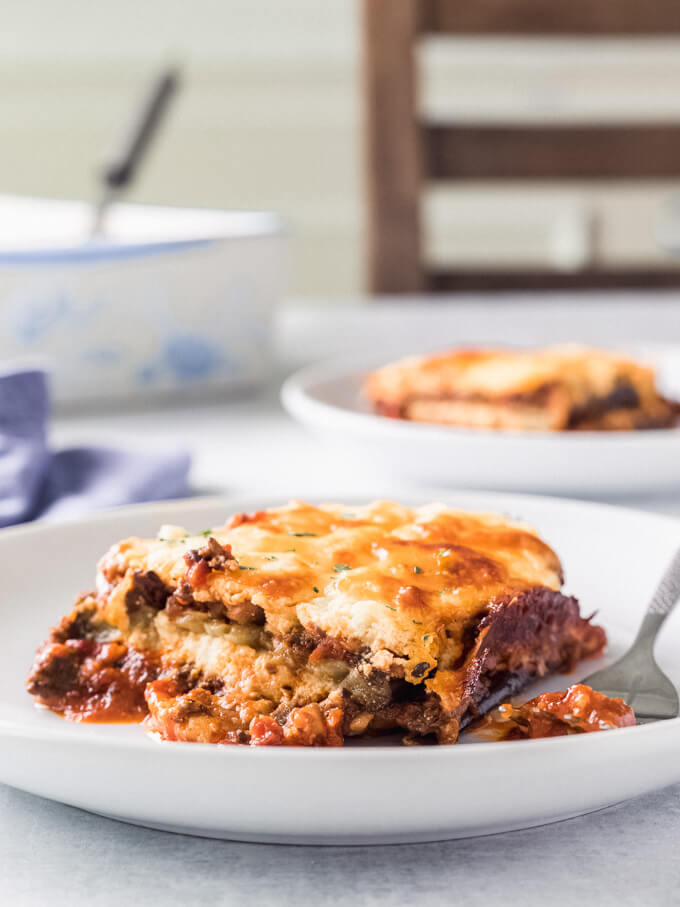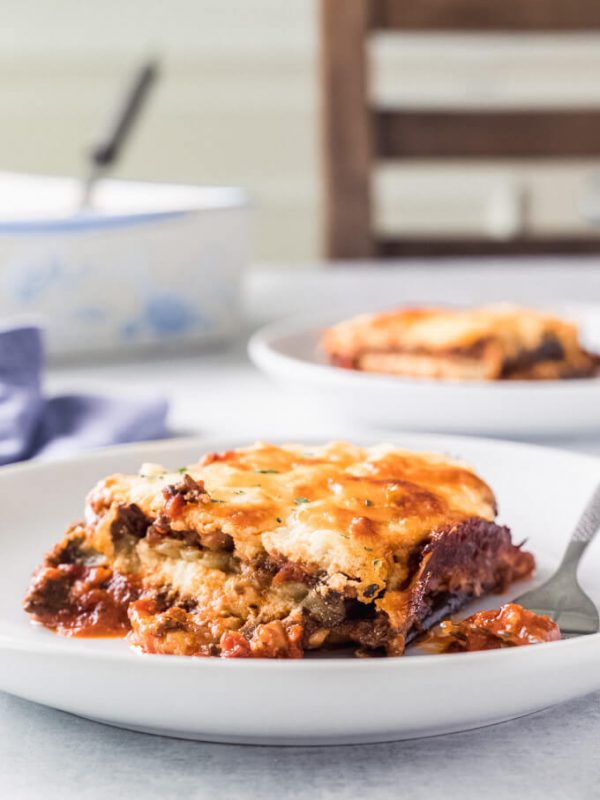 Bake this Vegetarian Keto Lasagna or Cook in Slow Cooker!
Although it's traditional to cook eggplant lasagna in the oven, this recipe can also be made in the crockpot. Since slow cookers employ a wet cooking method (in the form of trapping steam) and "make liquid" as they cook, I recommend baking the eggplant noodles in the oven to remove excess moisture before layering the lasagna in your slow cooker.
Serving, Storing, Reheating and Freezing
Serve with a green salad and your favorite oil and vinegar dressing. Cover and refrigerate any leftovers. Reheat in microwave safe dish or cover in foil and warm in the oven for about 20-30 minutes at 350F.
To freeze individual portions, wrap in parchment paper then place into a zippered bag. To freeze a whole recipe, place a piece of parchment over the lasagna then wrap the dish tightly in foil. The parchment protects the acid in the tomato sauce from reacting with the aluminum foil. Freeze up to 3 months. Thaw in the freezer overnight.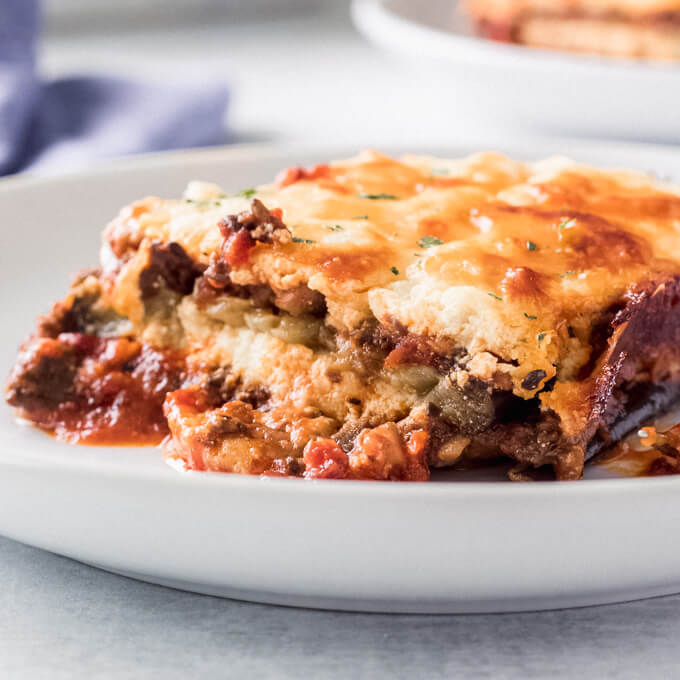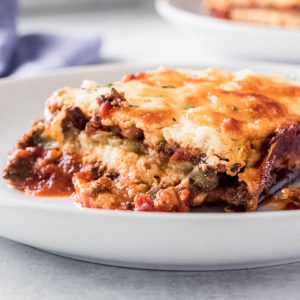 Vegetarian Keto Lasagna with Mushroom Ragu
A vegetarian dream, this full-flavored keto lasagna replaces meat with a rich mushroom ragu which results in a hearty low carb family friendly meal. Bake or cook in the slow cooker.
Print
Pin
Rate
Equipment
9×13 inch lasagna pan (or slow cooker)

2 large sheet pans

cutting board

chef's knife

medium saute pan or skillet

measuring cups and spoons

Bowl
Ingredients
1

large

eggplant

(1 1/2 pounds)

3

tbsp

olive oil

(divided use)

1

pound

mushrooms

rinsed and wiped

3

cloves

garlic

sliced

1/2

tsp

dried basil

1 1/2

cup

Marinara Sauce

15

oz

whole milk ricotta cheese

3

cups

grated mozzarella cheese

(divided use)(12 oz)

1/2

cup

(30 g) Parmesan cheese,

1

large

egg

beaten
Instructions
Eggplant (Preheat oven to 400F)
Cut off a thin slice from the bottom and cut off the top of the eggplant. (I angle the knife under the leaves and cut them off, exposing more of the eggplant to decrease waste before cutting.) Place the eggplant standing up on the cutting board, holding the top with the fingers of one hand. Carefully cut the eggplant from top to base with a slight sawing motion, starting at the side of the eggplant. You want 8 slices about 1/4 inch thick.

Grease two large cookie sheets with 1 tbsp of oil each. Lay 4 slices of eggplant per sheet. Bake for 6-8 minutes per side then, flip, then bake for an additional 6-8 minutes. Set aside.
Mushrooms Ragu
While the eggplant cooks, place the mushrooms in a food processor fitted with a metal blade and chop until roughly the size of peas. There will be bigger and smaller pieces. (Or chop by hand.)

Slice the garlic and put it in a medium saute pan. Add 1 tbsp olive oil, turn the heat to medium and saute the garlic until slightly softened and the oil is flavored. Add the mushrooms and cook to remove as much moisture as possible. Add 1 cup of Marinara sauce and the dried basil. Stir and simmer until the sauce thickens. (Cook until almost dry if using a slow cooker.) Remove from heat.
Ricotta Cheese
While the sauce simmers, scoop the ricotta cheese into a 4 cup bowl. Add the egg and stir with a fork to combine. Stir in 1 ½ cup of mozzarella cheese and ⅓ cup parmesan cheese.
Layer
Spread 1/2 cup sauce in the bottom of the lasagna pan, then add 4 slices of eggplant. Spread the half the ricotta cheese mixture over the eggplant. Spoon and spread half the mushroom ragu over the ricotta cheese. Repeat the layers and top with remaining mozzarella and Parmesan cheese.
Bake (Preheat oven to 375F)
Place a piece of parchment over the lasagna to prevent the acid in the sauce from reacting with the aluminum foil. Cover tightly with foil and bake at 375 covered for 30 minutes, then 10 minutes uncovered. Let the lasagna sit 10-15 minutes before cutting into 8 equal pieces and serving.
Slow Cooker
Spray the slow cooker sleeve with non-stick cooking spray. Follow the instructions except layer the eggplant lasagna ingredients in the slow cooker. Cover with lid and cook on high power for 2-3 hours or until a knife inserted into the lasagna meets little resistance. Turn the slow cooker off and let the lasagna sit covered, for 30 minutes to an hour to absorb excess liquid. Cut and serve.

SERVES 8. EACH SERVING IS 8g NET CARBS.
Nutrition
Serving:
1
eighth of casserole
|
Calories:
347
kcal
|
Carbohydrates:
11
g
|
Protein:
21.55
g
|
Fat:
24.64
g
|
Saturated Fat:
11.74
g
|
Polyunsaturated Fat:
0.83
g
|
Monounsaturated Fat:
5.67
g
|
Cholesterol:
89
mg
|
Sodium:
523
mg
|
Potassium:
298
mg
|
Fiber:
3
g
|
Sugar:
4.44
g
|
Vitamin A:
5775
IU
|
Vitamin C:
20
mg
|
Calcium:
4208
mg
|
Iron:
8.4
mg