A great way to use left over turkey and cranberry sauce, Turkey Cranberry Tostadas are fast and easy to prepare.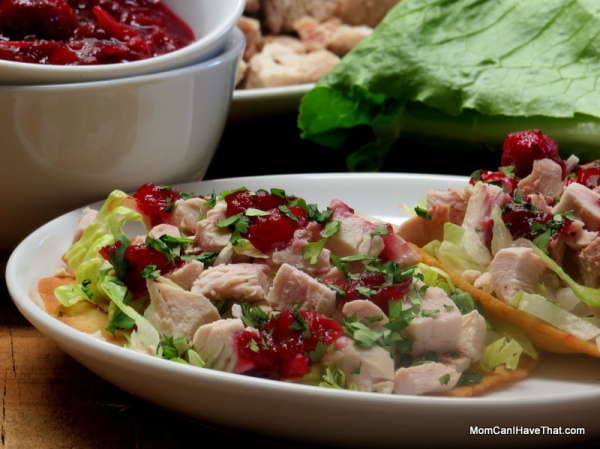 This was so easy to make that I am almost embarrassed to create a post for it. Sometimes, I spend so much time working on recipes or typing out posts, that I need a meal I can put together, literally, in minutes. This was that meal for me the other night.
I had some One-Carb, Gluten-Free Tortillas in the fridge and left overs from Thanksgiving. Frying the tortillas took no time at all. I had already cubed some of the left over turkey, so I just needed to wash and chop some romaine lettuce and assemble our tostadas. My kids went nuts for these Turkey Cranberry Tostadas. Can you believe I felt guilty because I didn't try to make these gourmet? I had some left over Faux Mole Sauce in the fridge and could have mixed it with the cranberry sauce, but sometimes simple is best. All I did was chop some fresh cilantro for the top of our tostadas. You might not think that cranberries and cilantro go together, but they were a great combination.
If you read my Thanksgiving Menu 2014 post, then you know that my lower carb Apple Pie Spiced Amaretto Cranberry Sauce was simple in its ingredients. I am now, imagining my mother's cranberry sauce with orange juice and chopped orange peel, on these simple tostadas. It would be awesome!
I didn't type this recipe for Turkey Cranberry Tostadas into MasterCook, because your carb counts will depend upon how you prepared your Thanksgiving dishes. But, I will give you an estimate based on my ingredients.
Turkey Cranberry Tostadas
They were great! I hope you try your own version.